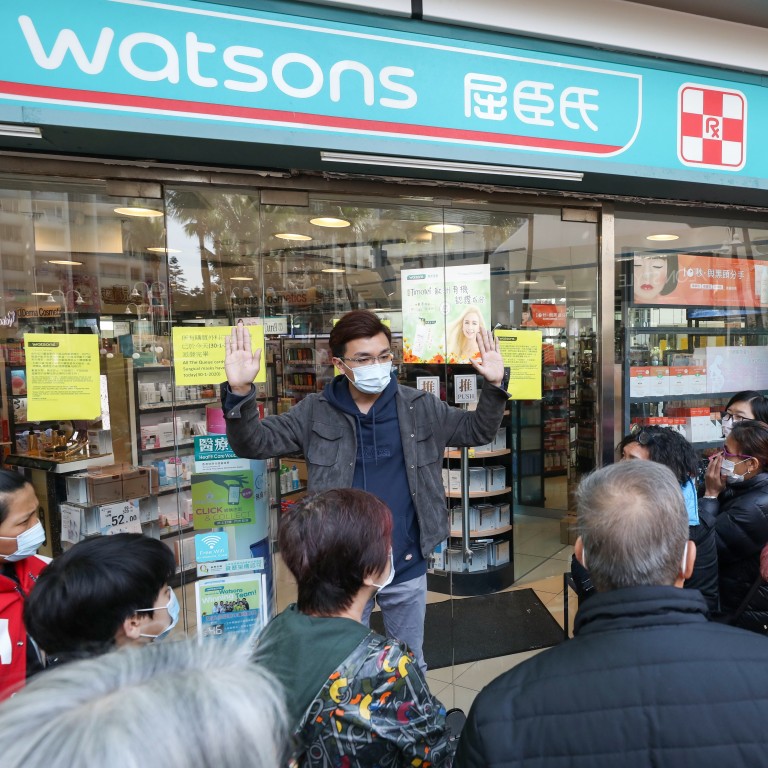 China coronavirus: tensions high as thousands queue in Hong Kong desperate for masks, many leaving empty-handed
Anger as those waiting hours outside Watsons cannot get hold of coverings to protect themselves from deadly Wuhan contagion
Police called after men seen kicking the front of a store, while members of staff face abusive shoppers
Tensions boiled over outside some shops in Hong Kong as thousands queued for surgical masks to protect themselves from the
Wuhan virus
amid growing fears of supply shortages.
Braving the cold weather warning, some defied pleas not to camp out overnight after Watsons announced on social media that a small quantity of the protective coverings would be available at 230 of its stores on Thursday.
There were a handful of disturbances including at the Tin Shui Wai branch, where police arrived after some men were seen kicking the front of the store and shouting abuse at a member of staff who said a total of only 20 boxes of the masks were available.
A shop manager in North Point was also confronted by an angry crowd desperate to get hold of masks amid the novel coronavirus outbreak, which has infected thousands across the world, including 10 in Hong Kong, and killed 170 in mainland China.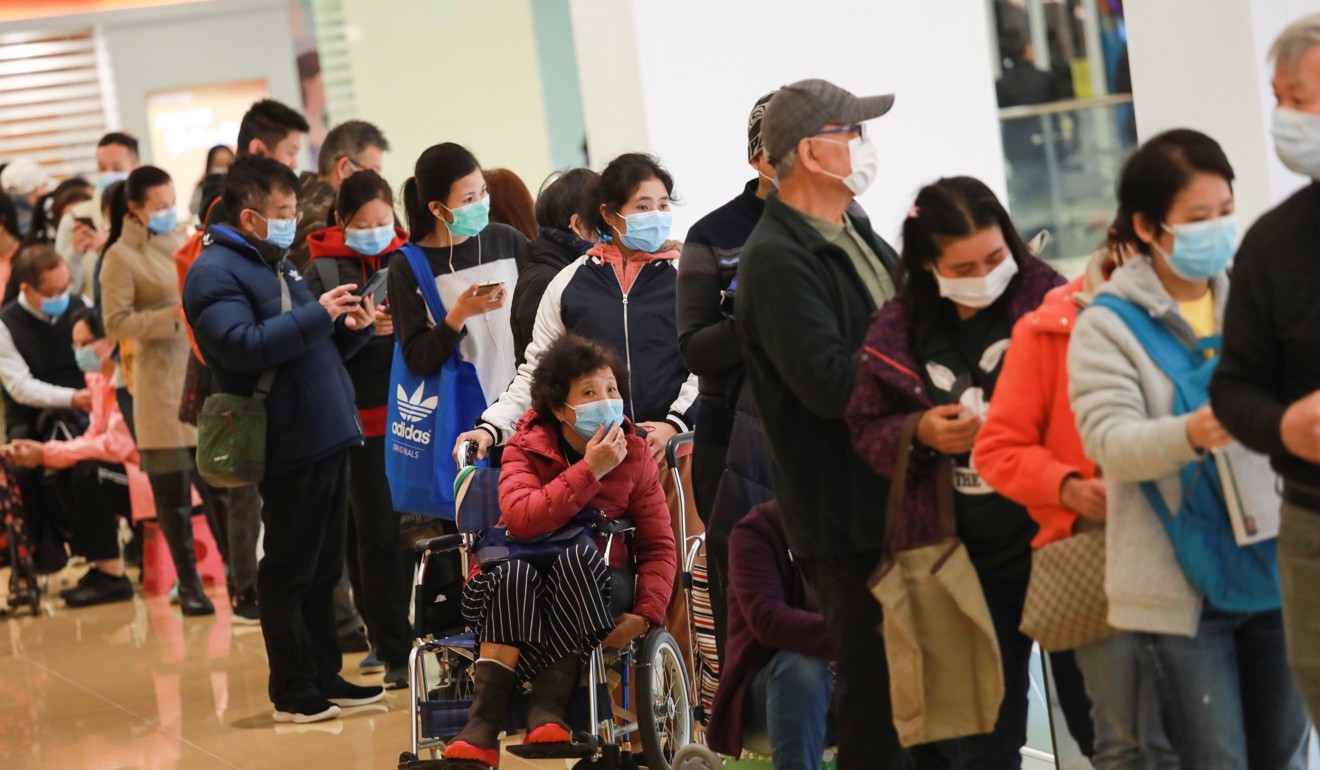 Meanwhile, cosmetics chain Bonjour announced on Thursday morning that a shipment of 2,000 boxes of masks would arrive from Japan at about noon.
They would be on sale at four of its stores, with sales limited to one box per customer and without prices marked up, the retailer said.
Rationing sales, the health store chain Watsons earlier posted on Facebook: "Please understand that the numbers are limited, every person is limited to purchasing one box [of 50 masks]." It added that the next shipment was due early next month.
After midnight on Thursday, the company urged people not to wait overnight in the cold weather because it would risk their health.
Watsons added each store would only have about 20 boxes in stock, but that did not stop people from forming long queues outside their shops and other pharmacies.
At its branch in North Point, many in the queue became angry after learning of the rationing.
A shopkeeper was surrounded by customers who were not able to buy masks. Some of the aggrieved shoppers shouted verbal abuse, while others quizzed staff over when more supplies would arrive.
A 40-year-old, who gave his name as Wong and works for a foreign trading company, woke up in the early hours to try and source some masks.
"I woke up at 4am and started trying my luck at other branches that opened earlier first. But by the time I got there, there were already hundreds waiting for just 10 boxes," he said.
He said he needed to buy more masks for his household of seven, who are aged between three and 80.
Wong said the government should at least try and provide 100 boxes to each shop, but also thought Watsons should have been clearer about the number of masks available.
"The notice came out so late, and those old people they don't look at Facebook, so of course they are angry after standing out in the cold all morning," he said.
Watsons, one of the largest health care and beauty care chains in Asia, is owned by CK Hutchison Holdings, which is part of tycoon Li Ka-shing's business empire.
On Wednesday, Thai lifestyle chain AbouThai, which has 14 stores citywide, also drew hundreds of shoppers hours before the supplies of masks arrived.
Lee, a 20-year-old student, said she had been waiting in line since about 9am on Thursday, adding: "We have some at home from before, but now we need more. I'm also here to see if there are hand sanitisers left."
She said the government should have enough surgical masks in storage and should be giving them out to residents for free.
"Rather than this situation where all these traders keep raising the price and ripping people off … they should start giving out masks."
At the Tin Shui Wai branch, some men were seen hitting the front of the store and shouting profanities.
One of the men yelled: "We will call the police, have the cops come here." Police later arrived at the scene.
Speaking on the radio, Secretary for Food and Health Sophia Chan Siu-chee said the government had been sourcing surgical masks from across the globe and had recently been in touch with more than 140 suppliers from about 10 countries.
Asked if she could sense the public's anger with the government, Chan said: "I can feel that. I feel the public's concerns."
Chief Executive Carrie Lam Cheng Yuet-ngor earlier said she had written to Beijing's State Council in the hope of sourcing surgical masks from mainland China. The government has not yet reported progress on the matter.
Meanwhile, Hospital Authority chief executive Deacons Yeung Tai-kong revealed it no longer had a three-month stock of surgical masks for public hospitals, but said the authority had already placed orders and was aiming to secure supplies lasting until June.