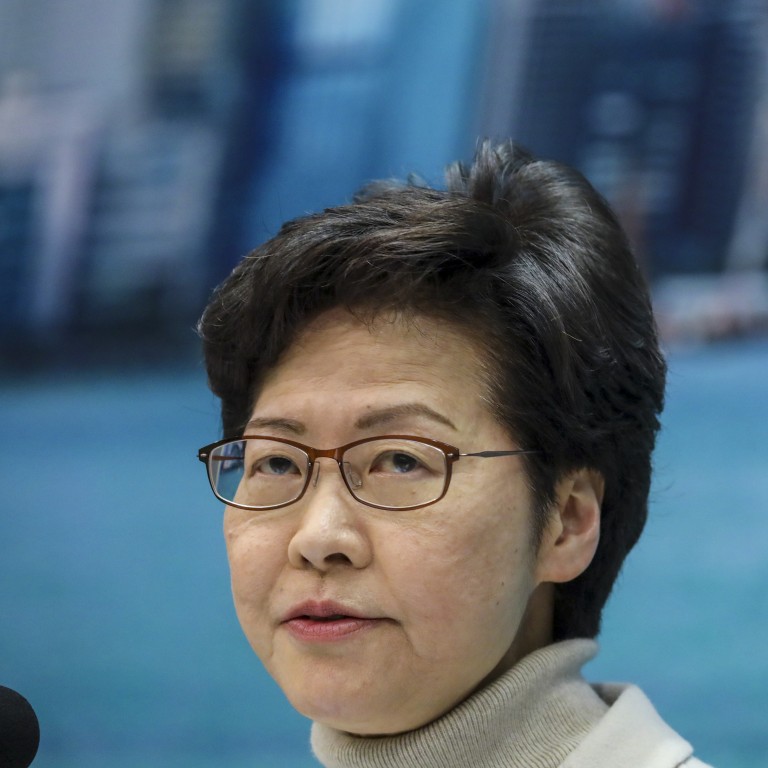 Coronavirus: Carrie Lam orders Hong Kong officials not to wear masks to save stocks for medical workers
City's chief executive bars civil servants from wearing the surgical masks, providing only three exemptions
On the day Hong Kong confirms its first coronavirus death, Lam urges others to consider reducing mask use amid global supply shortages
Hong Kong's leader has ordered government officials not to wear surgical masks except in limited circumstances, to save supplies for medical staff on the front line of the coronavirus outbreak.
Chief Executive Carrie Lam Cheng Yuet-ngor, who for the second day in a row was not wearing a mask when she appeared before the press on Tuesday, said her government would slash its use of the facial coverings in response to surging global demand.
But medical experts said the approach was not based on any scientific evidence, while the city's largest pro-establishment party expressed concern that her remarks would only lead to further panic among the public.
Lam also said that to protect medical professionals, a new electronic platform holding patient's travel history would be created.
"We believe the government should take the lead, so we have issued internal guidelines asking all departments to follow this in wearing masks," Lam said. "The goal is to save stocks for medical staff."
Only those government staff who feel unwell, work in frontline services, or attend crowded places should wear the masks, the city's chief executive said, referring to advice issued by the World Health Organisation.
"We look at all officials who are going to meet the media, and in their regular duties. If they do not match those criteria, they are not allowed to wear masks," Lam said.
"I actually told them they cannot wear [the masks], and they have to take them off, even if they are already wearing [them]."
Lam said the media should consider adopting a similar approach as people using several masks every day imposed "a lot of pressure on an already tight supply".
However, Lam was spotted wearing a mask on Tuesday morning when receiving petitions outside her office from protesters angered at her government's response to the outbreak, just before she met reporters.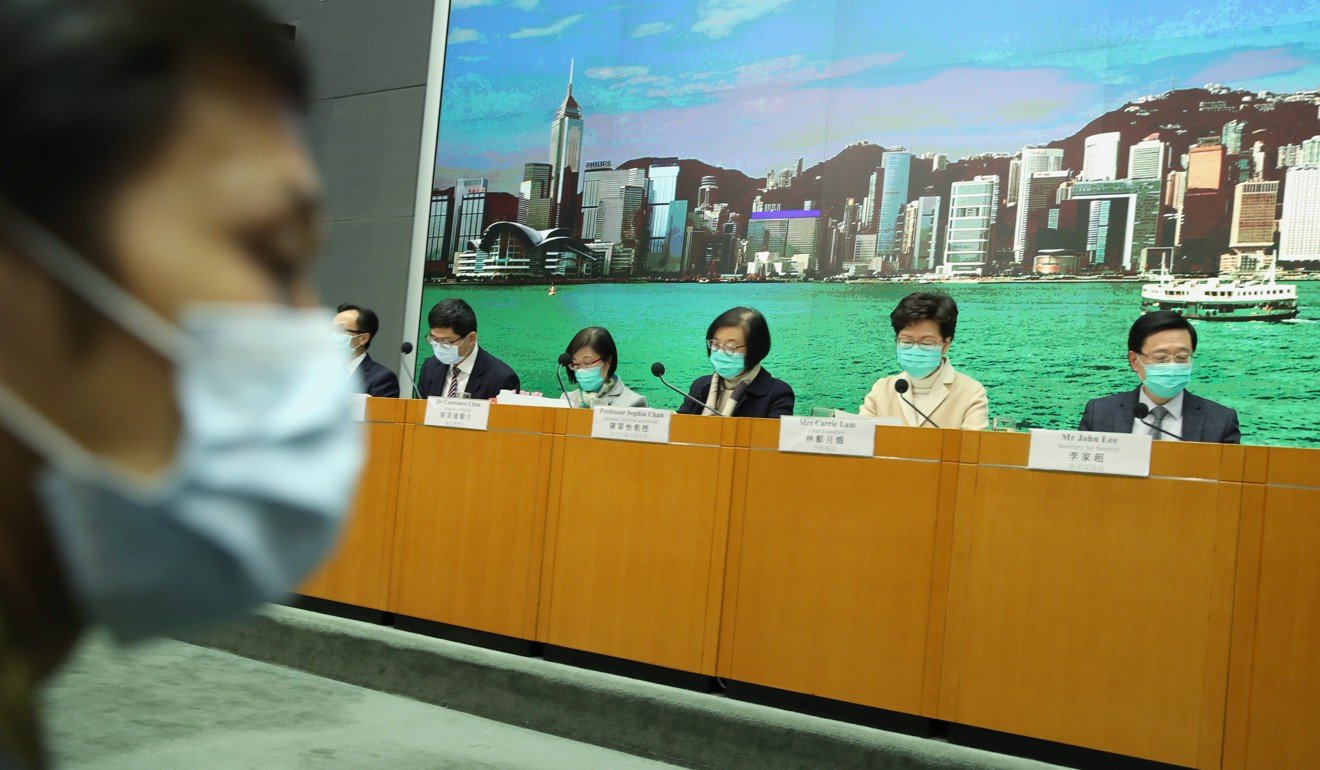 The Chief Executive's Office later clarified Lam's remarks, and said the guidelines did not apply to masks brought by civil servants, and said "the government had not asked colleagues not to wear masks".
It also said that Lam had warn a mask as a precaution because she was in close proximity to other people.
Dr Joseph Tsang Kay-yan, a specialist in infectious diseases, said there was little scientific reason behind Lam's approach, with the virus already in the city.
"We already have cases in the community and it is possible there are already some hidden carriers of the virus," he said. "You don't have a way to identify whether people you came in contact with carried the virus or not."
He said if the government was serious about its approach, it should consider stop giving out masks completely to its employees.
"If there are such conditions, why doesn't the government give all its masks to the community," he said.
The Democratic Alliance for the Betterment and Progress of Hong Kong called on the government to distribute their stock of 10 million masks to the public, and list them under the reserved commodities ordinance to restrict the market price.
"Lam's remarks will only raise fear and panic that there are no masks left on the market," said lawmaker Holden Chow Ho-ding. "It may only further stimulate needs in the market."
In the first cross-departmental press conference on the new virus on January 25, Lam and officials did not wear masks.
Democratic Party's lawmaker Helena Wong Pik-wan accused Lam of neglecting the safety of civil servants.
"If you are a humane leader, you should source globally for more masks but not to finger point if they are overusing masks," Wong said. "Don't pretend to be a health expert and endanger lives of others."
On January 31, Lam and seven officials all wore masks for another media briefing, using supplies made by prisoners.
Lam and two officials were mask-free on Monday, while four other officials wore the face coverings. Her remarks came as Hong Kong confirmed its first death from the novel coronavirus, which originated in the central Chinese city of Wuhan, and has so far infected more than 20,000 people, and killed hundreds.
While Lam said she was saving supplies for medical workers, Dr Deacons Yeung Tai-kong, director of Hospital Authority's cluster service division, said the public hospitals have not used masks provided by the correctional service. But he added that the government had pledged their full support in providing protective gear.
A 39-year-old man from Hung Hom who was being treated for the virus in Princess Margaret Hospital, and had underlying health issues, died on Tuesday morning of sudden heart failure.
Additional reporting by Elizabeth Cheung and Tony Cheung