Coronavirus: Hong Kong hospital workers vow to press on with strike as union rejects city leader's quarantine plan for travellers from mainland China
Hospital Authority Employees Alliance challenges effectiveness of Carrie Lam's plan and criticises the lack of details
Anyone entering city from mainland, including Hong Kong residents, have to comply with a 14-day mandatory quarantine period starting on Saturday
A union for public hospital workers on Wednesday rejected the Hong Kong leader's plan to implement mandatory quarantine measures on travellers arriving from mainland China rather than a full closure of the border to combat the new
coronavirus
, vowing to take its strike into the fourth day.
The Hospital Authority Employees Alliance said 7,000 took part in the third day of the strike – about the same as on Tuesday. The Hospital Authority, which runs the city's public health facilities, said 5,100 staff were recorded absent. The alliance attributed the difference in the tally to staff on leave who would refuse emergency duties.
Hours after the strike resumed on Wednesday, with the alliance marching to the government headquarters in Admiralty joined by opposition lawmakers who supported the workers' cause, the city's leader Carrie Lam Cheng Yuet-ngor unveiled her
new measures
.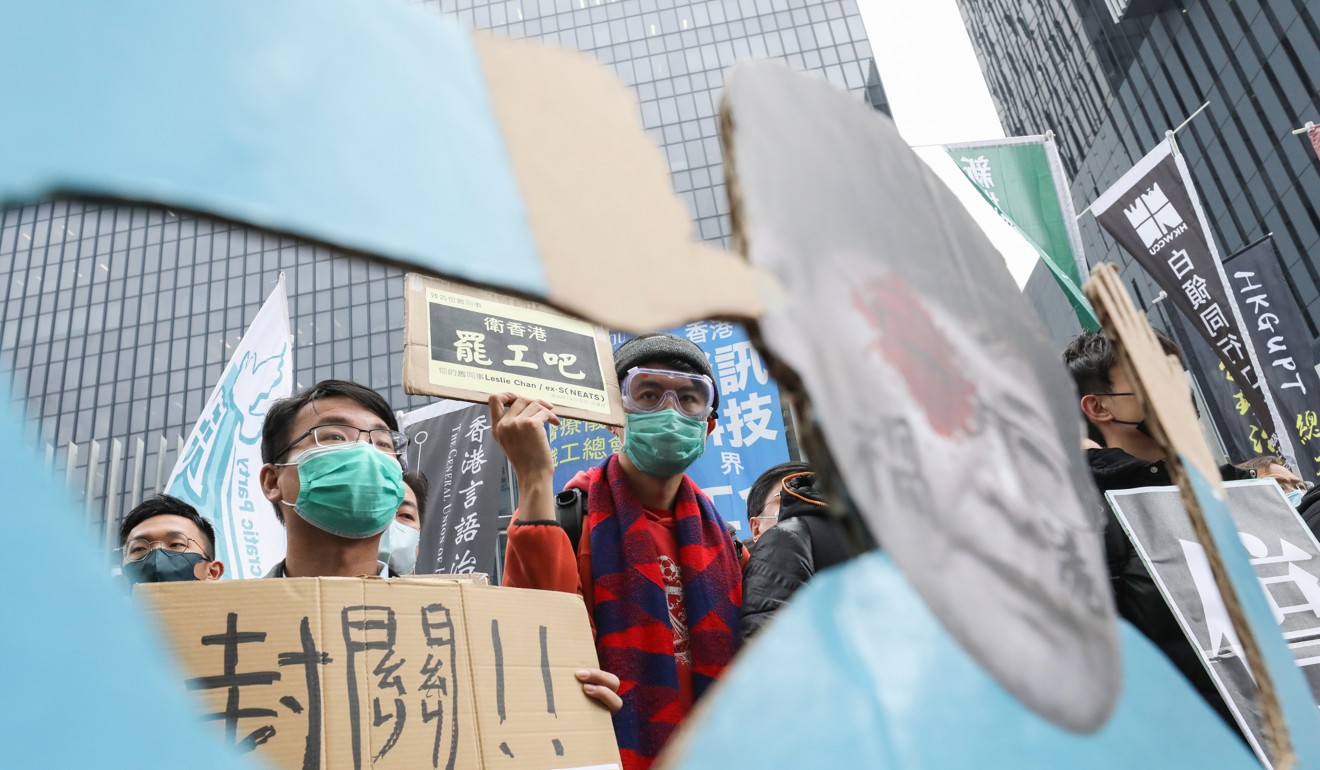 Lam announced that anyone entering Hong Kong from the mainland, including the city's residents, had to comply with a 14-day mandatory quarantine period starting on Saturday.
She also shut the border at the Kai Tak Cruise Terminal and Ocean Terminal in Tsim Sha Tsui following confirmed cases on cruises in Italy and Japan.
But Winnie Yu Wai-ming, chairwoman of the alliance, a group that emerged recently from the months-long anti-government movement, vowed to press ahead with the strike, challenging the effectiveness of Lam's plan and criticising the lack of details.
"How can the government process more than 10,000 people arriving from mainland China?" she said.
Earlier in the day, organisers, opposition lawmakers and district councillors marched to the government headquarters and handed over a petition of more than 30,000 signatures from citizens who support a total border shutdown in a bid to fend off the coronavirus outbreak.
Ian Cheung Tsz-fung, the authority's chief manager of cluster performance, said 3,100 nurses and 300 doctors were absent.
Cheung said services at the neonatal intensive care unit, operating theatres and cancer departments had been affected, although there had not been major blunders arising from the strike.
"But if this carries on, I dare not guarantee it will not go wrong," he said, adding that one cardiac catheterisation centre had to be closed for the day.
He also said obstetrics and gynaecology departments were greatly affected.
While Cheung urged strikers to return to their posts, saying they were "one big family", he stopped short of assuring them there would be no follow-up action. He said each case would be assessed on the basis of "legality, reasonableness and compassion".
An authority spokesman advised affected patients to reschedule their appointments, while those suffering from mild symptoms should turn to private hospitals and doctors instead.
After submitting their petition, Yu said: "We are aware this strike will have an impact on patients and I hereby offer our sincere apology."
But she said the government should also shoulder the blame because Lam had repeatedly refused to meet them, nor agree to their demands to stop all non-Hong Kong residents from entering the city from the mainland.
On Monday, Lam announced the closure of all but three border checkpoints – the Hong Kong-Zhuhai-Macau Bridge, Shenzhen Bay Port and the airport, hours into the first day of the strike, which involved some 2,700 non-essential medical workers.
She stood her ground on not imposing a total border shutdown, despite calls from prominent medical experts and pro-establishment parties. Lam said it would be discriminatory and affect locals wishing to return from across the border.
Her refusal sparked an escalation of action from the alliance, which called for essential medical staff to join Tuesday's strike.
The authority said apart from disruption at accident and emergency departments and neonatal intensive care units, some cancer patients had to reschedule their treatments.
Joined by a host of pro-democracy legislators and district councillors, the alliance marched to government headquarters with banners saying: "Save Hong Kong now. I am HA staff on strike".
Lawmaker Charles Mok, for the IT sector, said he expected other countries to ban Hong Kong visitors soon if Lam, as chief executive, did not promptly shut all borders with the mainland.
Medical sector legislator Kwok Ka-ki urged the public to see beyond the impact of the strike on patient care. "Have you ever seen a strike which is not about salary or promotion? They want to save Hong Kong."
He accused Lam of exploiting babies when she cited how the industrial action had affected neonatal intensive care services, when for years, according to Kwok, the government had not properly addressed the issue of staff shortage at public hospitals.
Yu said nurses from that unit who went on strike had practical issues to face. She cited a case of a pregnant mainland woman who concealed her travel history when she sought help for flu-like symptoms at a hospital, and later gave birth to triplets.
The patient in question was not diagnosed with the coronavirus, but the alliance said the example showed how there should be consequences for those who hid their travel records.
Hong Kong's tally of confirmed coronavirus cases stood at 21, including three new cases confirmed on Wednesday afternoon. The city reported its first fatality related to the disease on Tuesday, a 39-year-old diabetic patient who succumbed to his condition.
This article appeared in the South China Morning Post print edition as: Hospital workers reject latest border plan, say strike will go on