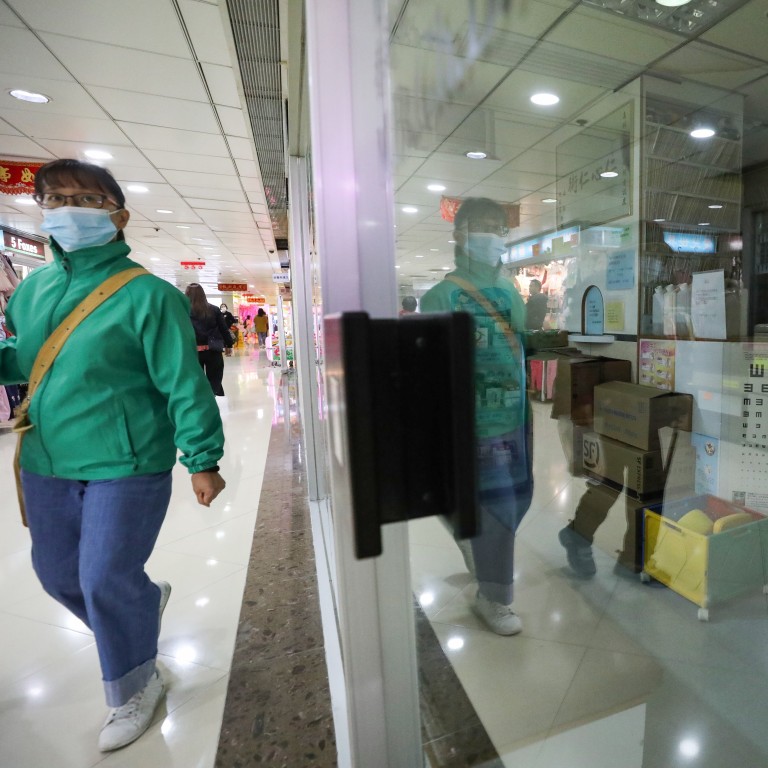 Coronavirus: mask shortage forces Hong Kong clinic closures, while cleaners' group warns of looming service disruption
Hong Kong Doctors Union chief says more than 100 doctors in urgent need of masks
Some cleaning firms could run out of masks within the next week or two, according to contractors association
At least 15 clinics in Hong Kong have been closed until further notice after running out of masks amid
the coronavirus outbreak
, while a doctors' association warned 400 more could run out in the next two weeks.
Meanwhile, one of the city's biggest cleaning contractors associations warned of services being potentially disrupted in coming weeks because of
a limited supply of masks
, saying some cleaners had already been forced to reuse their masks at work.
The two sectors sounded the alarm as the scramble for masks at retail outlets continued on Wednesday with thousands of Hongkongers camped out overnight in the cold for 11,000 boxes of surgical masks at Luck Well International Holdings in Kowloon Bay.
The people at the front of the queue started waiting on Tuesday afternoon, and the crowd grew to 10,000 by the following morning. The company restricted the sale to Hong Kong residents, who could buy up to two boxes each. Each box of 50 masks sourced from Dubai cost HK$80 (US$10).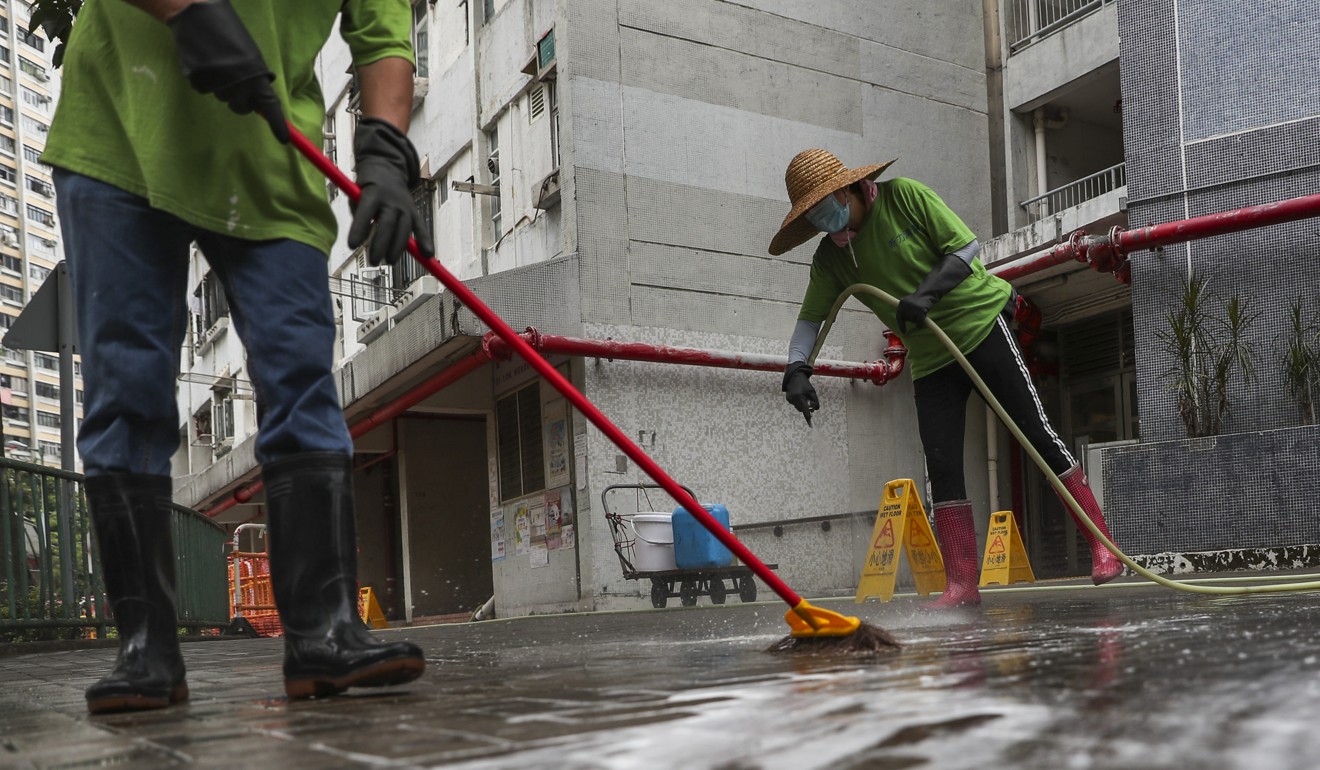 Hong Kong Doctors Union president Dr Henry Yeung Chiu-fat said numerous physicians had complained about an increasing shortage of masks.
"Some clinics have been closed because of a lack of masks, or out of worries of [tight supply], while there are also others who were closed for half a day, or staying closed for more days in the week," Yeung said.
He added that more than 100 doctors said they needed urgent help in looking for fresh supplies, amounting to about 60,000 to 80,000 masks.
"Let's say there are at least two nurses and one doctor per clinic, who need at least six masks a day [between them], plus if you provide masks to patients, one clinic could use up to 10 masks or more per day," he explained.
Yeung said the union had attempted to order more than 50,000 masks last week from a US-based online retail platform, only to be told the goods were out of stock.
Cheng Chi-man, a family doctor and vice-president of the Hong Kong Medical Association, said he had heard of a handful of clinics forced to close amid the shortage, adding that more than 400 doctors could run out of masks in the coming two weeks.
The city has about 6,000 private doctors, with 4,000 of them family physicians, he said.
Cheng said about 30,000 masks, or a total of 600 boxes, which the government had promised to provide for the private medical sector to purchase at cost had arrived on Tuesday, and the association would distribute the masks to about 600 doctors as early as Thursday.
Each box of 50 masks costs HK$170.
"Based on an honour system, we will first provide the masks to doctors who have told us they have already run out … The rest we will distribute by drawing lots," he said.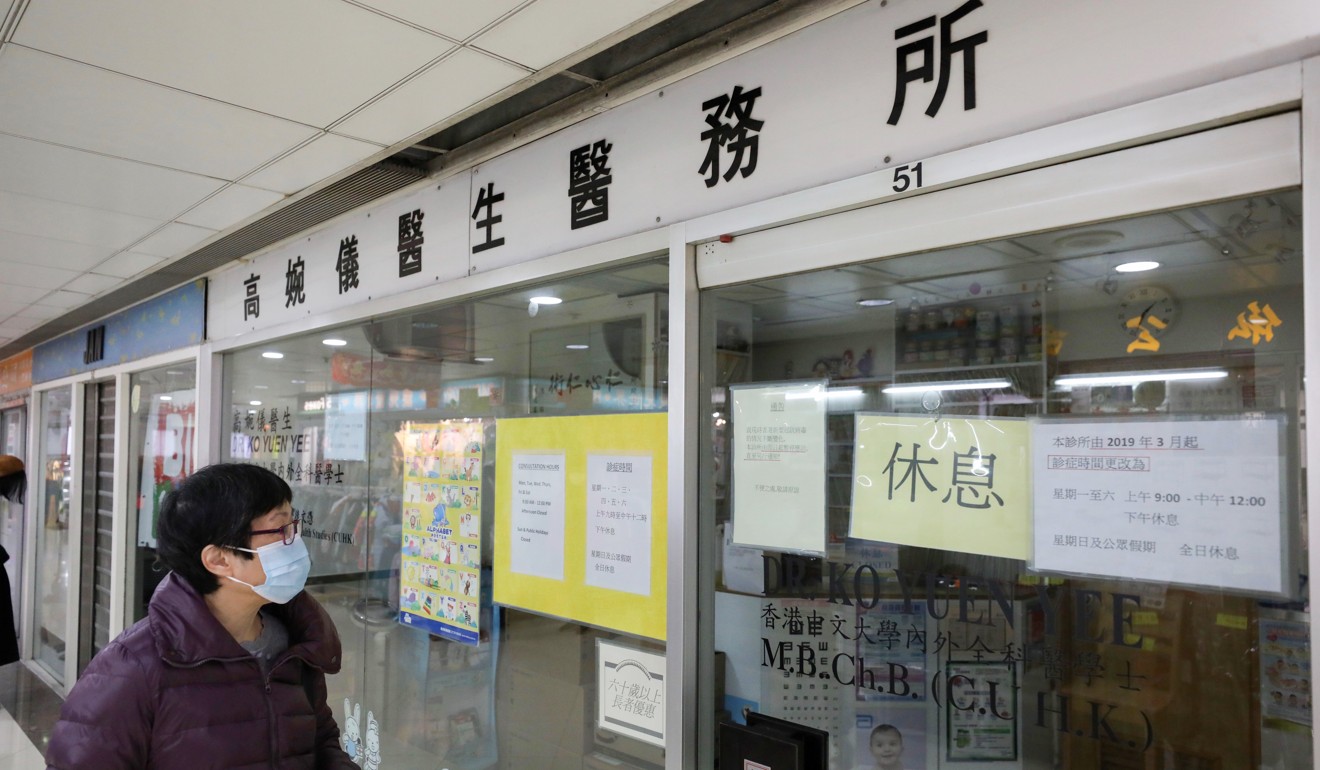 "But as the outbreak is expected to last for two months or more, the current supply is still far from enough," Cheng said, adding that the association had been looking for masks with the help of overseas suppliers. Even those, however, could be delivered in a month's time at the earliest.
He added that his clinic in Western district had roughly two months' worth of masks, as he had bought new batches in the outbreak's early stages.
Meanwhile, thousands of cleaners are also facing a looming mask shortage. Catherine Yan Shui-han, convenor of the Environmental Services Contractors Alliance, which represents about 80 per cent of cleaning companies in the city, said some firms could run out of masks in the next week or two.
One company that employs about 4,000 people only had around 10,000 masks in stock by Tuesday, she said, adding that 5 million masks were urgently needed, an amount that would last about 14 days.
Cleaners who work for the alliance's member companies work under private contracts at shopping malls, commercial complexes, private housing estates and schools, as well as under government contracts for things like street cleaning, she said.
Yan added that some cleaners had been reusing masks at work, and warned that if the shortage continued, cleaners who were not distributed masks might have to stop working out of safety concerns.
"We are not going on strike. But based on different individual situations, if some companies are no longer able to provide masks to their staff, some cleaners may have to stop working," Yan said, urging the government to facilitate adequate supply.
"A frontline cleaners' situation is somewhat similar to health care workers, as we face contact with germs and bacteria at work every day," she said.
About 10,000 street cleaners provide services under the city's Food and Environmental Hygiene Department and Yan estimated there were up to 250,000 working under both private and government contracts.
This article appeared in the South China Morning Post print edition as: 15 city clinics close as mask shortage worsens