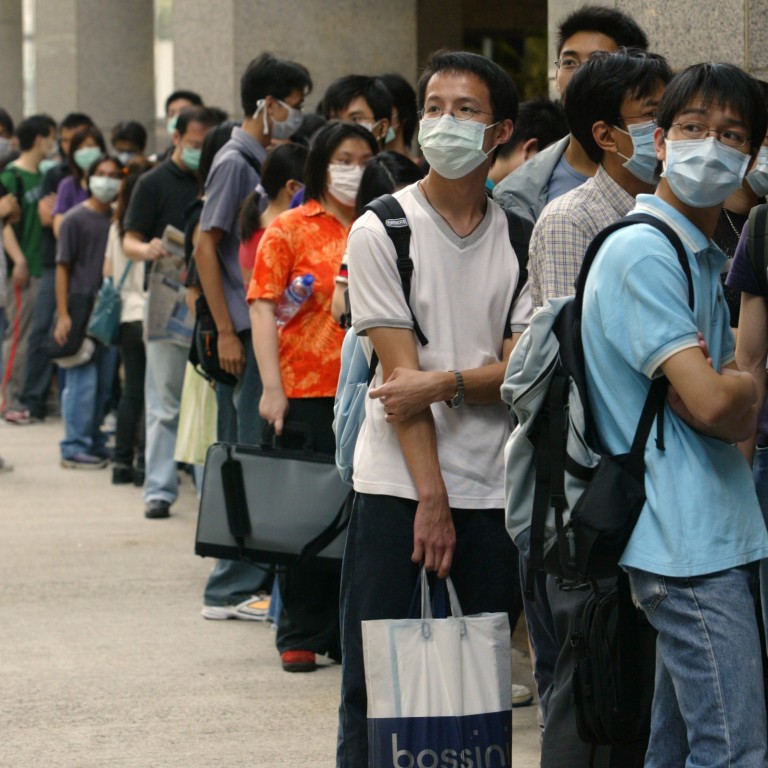 Coronavirus: Hong Kong reliving Sars nightmare as outbreak spreads
While health officials have cautioned against comparisons between the case at Cheung Hong Estate and 2003's Amoy Gardens outbreak, this week's scenes have brought a sense of déjà vu
Four of those affected back then share their stories
Health officials cautioned against comparisons between the case at Cheung Hong Estate and 2003's Sars outbreak at Amoy Gardens in Kowloon Bay, but the overnight evacuation brought a sense of déjà vu, and a reminder of residents being moved to quarantine camps 17 years earlier.
Back then, the 19-block estate became ground zero for the deadly disease when a sick Shenzhen man visited his brother at block E. The entire block was later sealed off.
Sars – severe acute respiratory syndrome – ripped through the city, killing 299 of the 1,755 people it infected. Among the fatalities were eight medical staff.
Surgical masks served as the first line of defence against virus-carrying coughs and sneezes, and for months were considered essential daily attire.
Recently they have become sought-after once again, as desperate parents, housewives and elderly people queue for hours trying to get hold of some overpriced masks, in the hope of fending off the coronavirus, believed to have originated in Wuhan, Hubei province.
Sars, a close relative of the new coronavirus, rocked Hong Kong almost two decades ago after a 64-year-old mainland medical professor, Liu Jianlun, introduced the pathogen to the city.
Later dubbed "patient zero", Liu, a doctor from the nearby Chinese city of Guangzhou, had treated Sars patients north of the border before he checked into the Metropole Hotel in Mong Kok on February 21, 2003, on a trip to visit family friends. He soon fell ill and subsequently died.
In no time, the contagious virus had spread like wildfire, infecting medical officers and hotel guests, who also took it to other countries such as Vietnam and Canada.
Another Sars epicentre in Hong Kong was ward 8A of Prince of Wales Hospital in Sha Tin, whose accident and emergency department was at one point closed, after dozens of staff fell ill.
Some of those who survived have suffered lingering effects of all sorts, from psychological trauma to bone pain. The ominously familiar signs have in recent weeks brought back nightmares some of them have been fighting to bury for years.
A few survivors feel the urge to share their experiences again, reminding Hong Kong why it is better to be safe than sorry.
Professor David Hui Shu-cheong, chairman of the department of medicine and therapeutics, Chinese University of Hong Kong
Nearly two decades on, memories of colleagues infected, one by one, by the unknown virus were still vivid for Professor David Hui Shu-cheong, an expert in respiratory medicine who was an associate professor in 2003 and cared for patients on ward 8A of Prince of Wales Hospital, a teaching hospital of the university.
"Many of my patients were actually my colleagues," Hui said. "There was a little bit of pressure to find out what was going on."
He recalled how health care staff at wards 8A and 8B started to develop fever and respiratory illness after someone infected by "patient zero" Liu was admitted on March 4, 2003.
About a week later, around 50 members of hospital staff were on sick leave.
"We realised that there might be something wrong around the ward, because all these workers, they were like cardiologists, hepatologists and haematologists, and also some general physicians … also 16 medical students," he said.
Eventually, 20 doctors, or 40 per cent of health care staff in Hui's department, were infected.
Those who remained healthy were divided into the "dirty team", who took care of Sars patients, and the "clean team", who looked after patients with other illnesses.
He said many workers were keen to take on the riskier jobs.
"People from other departments – like surgery, ophthalmology and orthopaedics – they actually volunteered to join the 'dirty team'," he said.
During the current outbreak, some hospital staff have reportedly drawn lots to decide who takes care of the suspected or confirmed patients, something Hui said did not happen in 2003.
But he agreed that the overall situation was "more complicated" in the recent case.
"Before the outbreak … Hong Kong went through a lot of political turmoil," he said, noting the social unrest sparked in 2019 by the government's since-withdrawn extradition bill.
"People tend not to trust the government, and they don't like the management of the government in some aspects."
This all added up to frustration among people, even among health care workers, he said.
Despite that, Hui was confident that the city would be able to overcome the challenge, as health care staff were working in a "much safer environment" than during the Sars epidemic. More isolation rooms and personal protective equipment were in place, he said, and the overall awareness of infection control among staff and the public had improved.
Cathy Kong Ching-wah, 59, Sars survivor
"What I can remember most is that the day before I was diagnosed, I had a shiver just like you would normally have when you catch the flu," said Cathy Kong Ching-wah, a secondary school teacher, who was living in Amoy Gardens' block E with her septuagenarian mother when Sars hit.
Kong was admitted to United Christian Hospital in Kwun Tong on March 24, 2003, among the first batch of residents to be diagnosed with the virus.
She did not experience serious symptoms, such as shortness of breath. But her 26-day stay at two hospitals left an unforgettable imprint on her mind.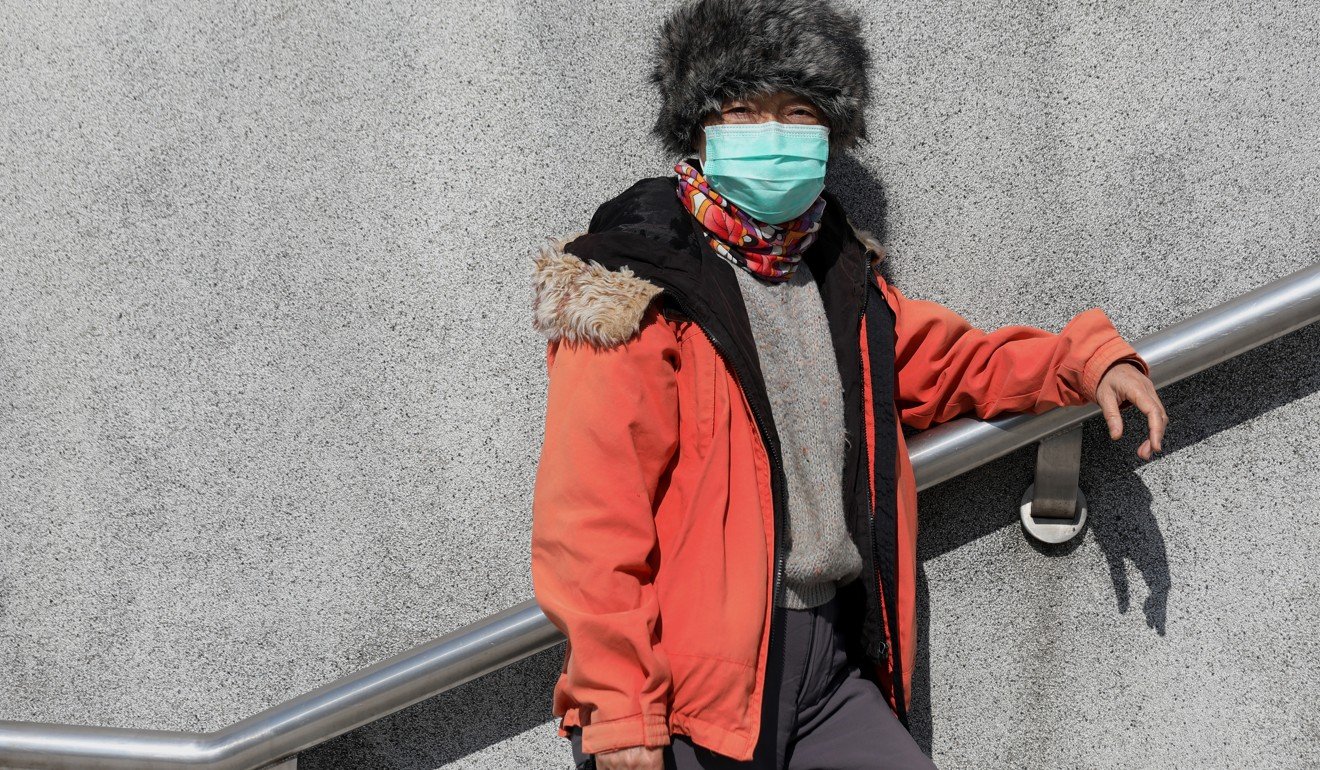 She recalled lying in bed, seeing medical staff punch a tube into a patient's foot because his hands had too many scars from previous insertions, and wondering what would come next.
"Every day you watched the news and learned that people were dying, and the ages of the deceased were getting younger and younger," Kong said. "I was a little bit worried."
"I just kept telling myself I have to be the first one to leave the room," she said.
She considered herself lucky because she managed to recover and experienced few lasting effects. Some survivors are haunted by avascular necrosis, a degenerative bone disease, because of the large doses of steroids used in the treatment.
But it still took her two years to move on, she said, citing some sleepless nights, during which she would burst into tears. She felt uneasy when her mother would switch the television channel to the one they showed in hospital.
She and her mother had moved out of Amoy Gardens by the end of 2003, which she said had nothing to do with the deadly virus. They had always wanted a move, she said.
Her mother died two years ago, but she is still thankful. "I am just glad that it was I who got infected at the time, not her. Otherwise she would not have made it," said Kong, who now lives in Tung Chung with her two cats.
But she worries about the recent outbreak.
"You knew immediately when you got Sars. But [in the current outbreak], you don't. It didn't give you fever and whatnot. The patients can travel everywhere with the [virus]," she said.
She is a member of the Sars Mutual Help Association, a group providing help to survivors. She said they had lately reminded their 300-odd members to pay attention to their hygiene.
Wilson Yip Hing-kok, chairman of Amoy Gardens owners' committee
As the chairman of the Amoy Gardens owners' committee, Wilson Yip Hing-kok ventured to the some of the most dangerous zones during 2003's outbreak, constantly going in and out of block E to help residents.
He proposed to the government that residents of the block be quarantined when things were spiralling out of control. They were sent to Lei Yue Mun Park and Holiday Village and Lady MacLehose Holiday Village, where people who have come into close contact with coronavirus patients have been kept in recent weeks.
When residents were put in the camp amid Sars fears, Yip was there to help channel their requests to officials.
The quarantine proposal, deemed controversial at the time, was "a really bold move," he reflected.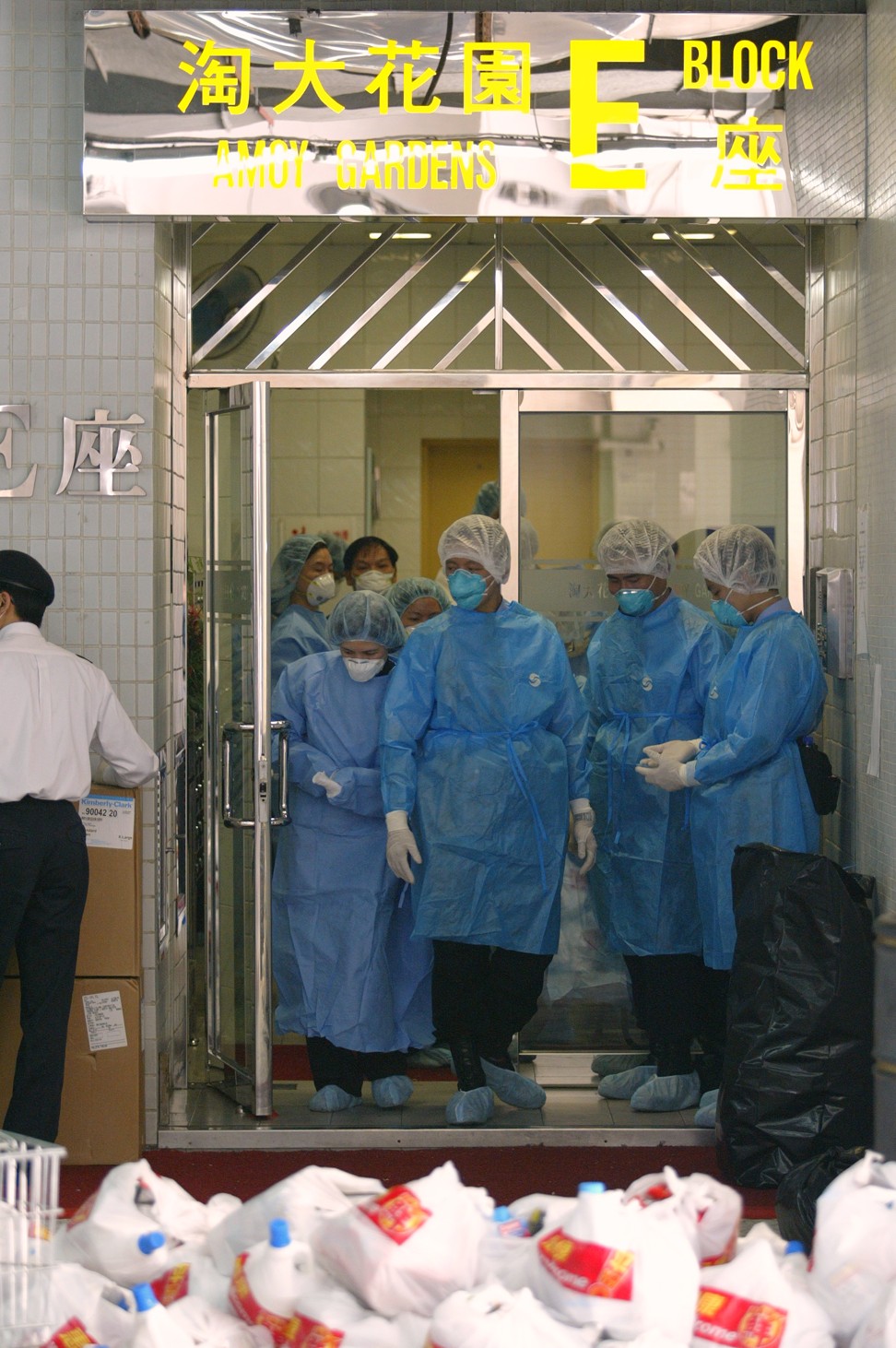 He believed it was destiny that he never caught the virus, so he could continue to serve. He remains the chairman and a resident, too emotionally connected to the estate to move out, he said.
Because of the experience, Amoy Gardens is more prepared than ever to combat the new coronavirus, Yip said. During the early days of this year's outbreak, residents there wore masks and started washing their hands more frequently long before other Hongkongers.
But he estimated at least half of the people who lived in block E before the 2003 outbreak had since moved out, many too traumatised to speak about the outbreak again.
Shelley Lee Lai-kuen, former permanent secretary for home affairs, set up the We Care Education Fund for children whose parents were killed by Sars. Among other co-founders were current city leader Carrie Lam Cheng Yuet-ngor and former director of health Margaret Chan Fung Fu-chun, who went on to be director general of the World Health Organisation between 2007 and 2017.
She said in a recent meeting that she had urged the Social Welfare Department to pay more visits to Sars survivors, to make sure their traumatic memories would not re-emerge during the coronavirus crisis.
The fund supports the education of 75 children until they reach the age of 25. Lee said 60 had since graduated from university.
Ken Chan Kai-yuen, 37, owners' representative of block E, Amoy Gardens
Ken Chan Kai-yuen was only 20 years old when he contracted Sars, and being in hospital meant he had to miss his university entry exams.
He remembered feeling helpless, listening to the English listening exam, which was broadcast on the radio, from his hospital ward.
Like Kong, he did not experience many symptoms. But scary thoughts ran through his mind. "The moment I found out someone was in the intensive care unit. What [will] happen? What will be next? Will I be next?" he said.
"The experience totally changed my life. Now I am standing here to motivate more people to protect themselves," he said, having recently urged people on the estate to protect their mouths and eyes, and placed hand sanitiser prominently in the lobby. Though he added he did not want people to act "in a panicked way".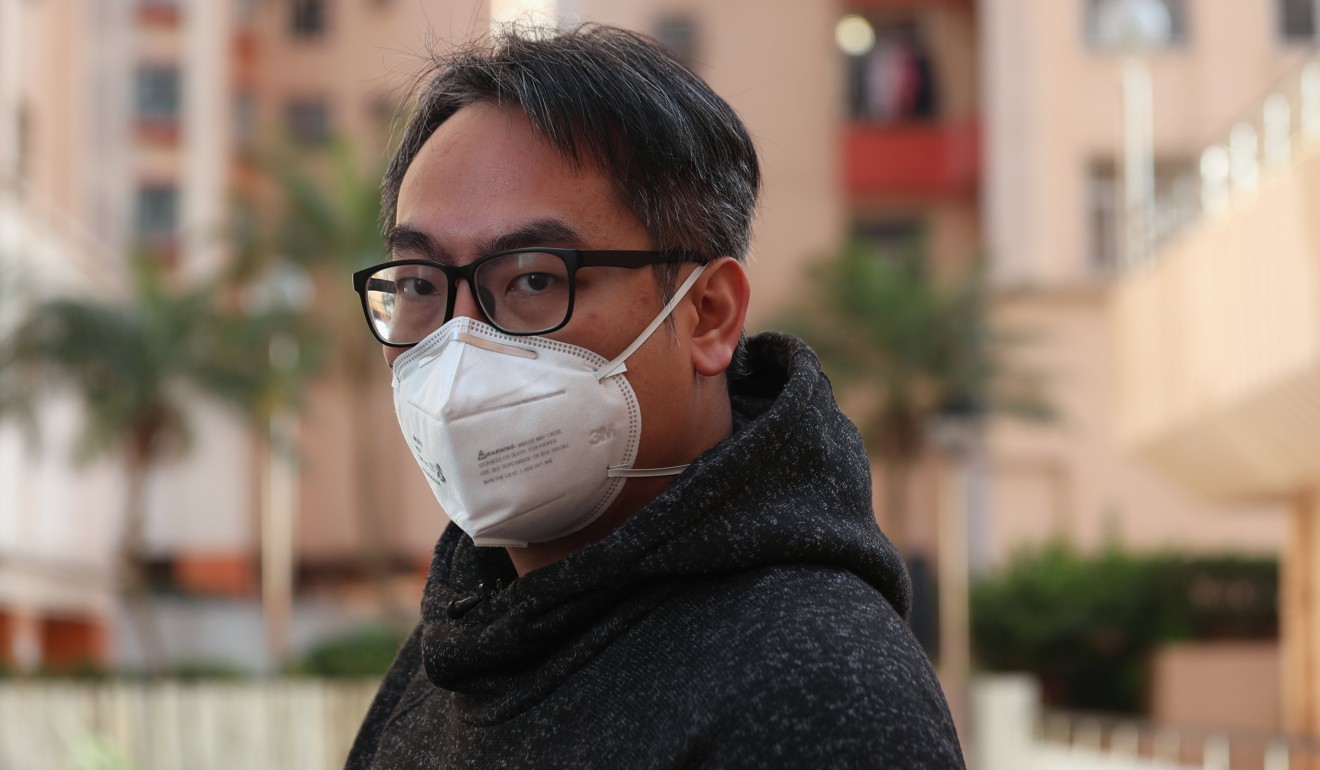 He said the government should have reacted more quickly this time, by imposing better border restrictions and supplying enough masks.
Since missing the 2003 exam, he has graduated from university and is now a 37-year-old father of a three-month-old daughter.
He planned to save his experience for now, rather than turning what could have been good bedtime story material into a nightmare. "She is not [old] enough," he said.
But he will try to get the moral of his story across, just as he is issuing his call to Hong Kong: "I will tell her why she needs to protect herself."
This article appeared in the South China Morning Post print edition as: Hongkongers relive Sars nightmare as coronavirus outbreak spreads