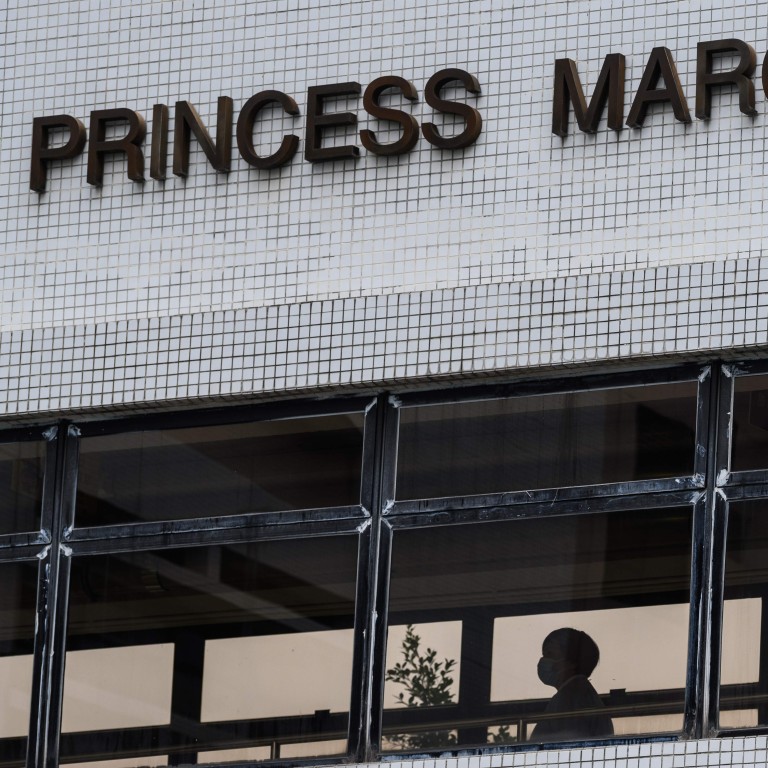 Coronavirus: Hong Kong confirms three new cases, as hospital staff say patients violated mandatory quarantine to visit doctors
One woman newly confirmed with the virus attended a family dinner party with 29 others, five of whom are among those infected
But two infected family members also lived at the recently evacuated Tsing Yi housing block, leaving doubts about where they contracted the virus
Hong Kong reported three more confirmed coronavirus infections on Friday, bringing the city's total to 56, even as evidence emerged that some residents recently returned from mainland China were flouting the new
mandatory home quarantine policy
.
One of the three new cases, a 41-year-old woman who lives in Shek O and works in Quarry Bay, attended a 29-person family dinner at a North Point restaurant on January 26.
At the dinner were five others since confirmed to have the virus, health officials said, including a couple who lived in the same Tsing Yi public housing block that was
evacuated on Tuesday
after a leaking toilet vent pipe raised concerns the virus had travelled between flats.
Officials now say they are unsure whether the couple's infection traces back to the dinner or to the leak, as first suspected. The couple had lived with one of the two confirmed cases at Hong Mei House, the man's 62-year-old mother.
"It is still under investigation whether it is an environmental reason or the dinner that caused the transmission," Chuang Shuk-kwan, head of the communicable disease branch at the Centre for Health Protection (CHP), said at a Friday news conference.
Further complicating matters is the fact that one of the infected group had exhibited symptoms weeks before the dinner.
"So far, we have not been able to find the virus source of the family dinner group," she said.
All but one of those evacuated from Hong Mei House, meanwhile, have tested negative, Chuang said, with one man's status still "undetermined".
The newly confirmed case, meanwhile, was revealed to have worked in Berkshire House in Taikoo Place, according to an internal memo sent by the building's owner, Swire Properties. The memo said that the affected office had been closed and that a cleaning and disinfection of all common areas had been conducted.
Addressing the other new cases, the CHP said one involved a man who lives in Kwai Chung's Shek Lei Estate and had returned from a day trip to the mainland via the Lok Ma Chau border crossing on January 22.
The man, who did not disclose his travel history when visiting Princess Margaret Hospital on Wednesday, is in critical condition after suffering shortness of breath for more than 10 days, and has since been intubated.
The third confirmed case was a woman who works at a dim sum restaurant in Sheung Wan. Her husband had visited their son in Guangdong province from January 23 to 28, but neither father or son are infected.
Separately on Friday, eight Hong Kong residents were revealed to have violated mandatory home quarantine to visit Ruttonjee Hospital in Wan Chai this week, two medical staff at the hospital confirmed to the Post.
Lawmaker Jeremy Tam Man-ho first brought the violations to light at an afternoon news briefing, where he said medics from the hospital told him all eight had misled registration staff or nurses when asked if they had been to the mainland in the past 14 days.
They were only found out when doctors checked their immigration records. None, however, showed fever symptoms.
Tam said that while doctors had refused to treat some of them, four cardiology patients had received medication. Two others in the group had visited surgery clinics, while the remaining two went to see orthopaedics specialists.
It was not immediately clear how long the eight were inside the hospital.
Tam said the illegal outing exposed a loophole in the mandatory – if largely honour-based – system and criticised hospital management, who he said had failed to report the case to the proper authorities.
"The law, the penalty is here, but the government is pretty reluctant to bring people to court [for violating quarantine]," he said.
Asked to address Tam's assertion, Dr. Sara Ho Yuen-ha, Hospital Authority chief manager for patient safety and risk management, said she did not have information about those who had allegedly violated quarantine, but implored the public to respect existing health protocols.
"For anyone who returned from mainland China, please do not visit our specialist outpatient clinics. Please call us or find relatives for help with medications," she said.
"This is for both the public's health good, controlling the disease and the health of our health care profession."
Under the new law, which went into effect on February 8, doctors from public hospitals can request that patients declare their travel history. Those providing misleading information can face six months in jail and/or fines as high as HK$10,000.
Secretary of Security John Lee Ka-chiu said on Friday that the Department of Health had appointed officers from four disciplinary forces to assist in ensuring those under compulsory quarantine stay in their homes.
During spot checks, the officers will wear their uniforms or a vest from their respective departments and produce warrant cards as proof of identity, he added.
Separately, HSBC on Friday said it was informed the night before that a member of the bank's supporting staff who had been in close contact with relatives diagnosed with the coronavirus was in mandatory quarantine.
HSBC said it had cleaned and disinfected the areas where the person worked at the bank's main building in Central and its Tseung Kwan O office, and asked staff members who had come into close contact with the employee to stay home for 14 days.
This article appeared in the South China Morning Post print edition as: Isolation law flouted as three more cases reported