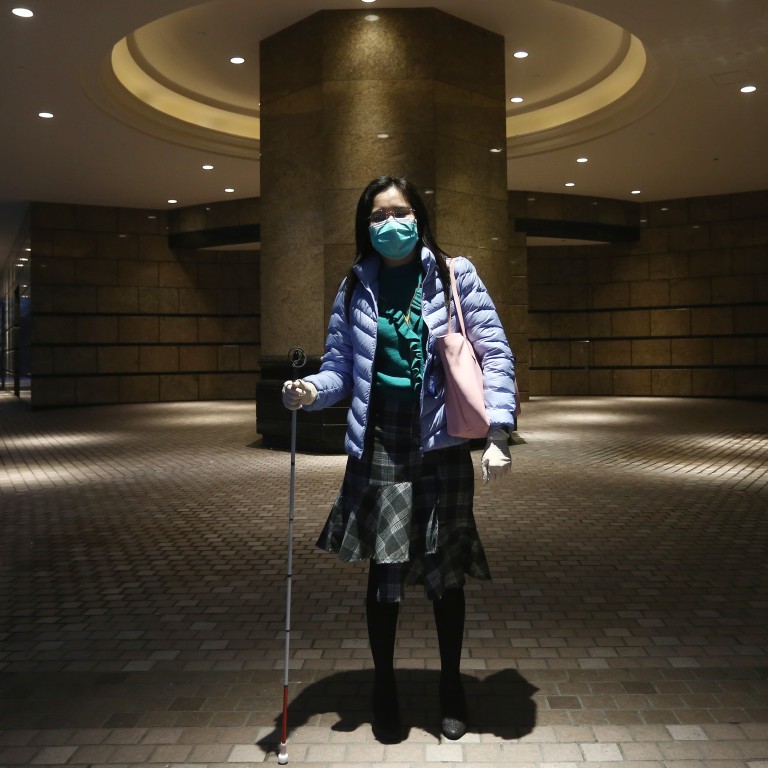 Coronavirus outbreak makes life even tougher for Hong Kong's disabled
A reliance on touch to get around leaves blind people vulnerable to infection
They and other disabled people are finding it hard to compete for supplies in contagion-hit Hong Kong, and to get basic services and information
One hand on a walking cane and the other outstretched to feel her way, Jess Shek Kin-chong worries about catching the deadly coronavirus during her daily commute.
Shek, who was born blind, said she had no idea what her hands or the tip of her cane could touch in public. Apart from a surgical mask, she wears a pair of gloves to protect herself, but has to take them off to run her fingers along the tactile dots on lift buttons, to find her floor.
To keep her hands clean, Shek, who is in her 30s, uses hand sanitiser frequently. She also disinfects her cane after every use. But a citywide shortage of hygiene products makes her feel vulnerable.
She said she could not compete for protective items against crowds of panicked buyers, while online ordering is not easy for the visually impaired.
"I'm concerned as the situation worsens," she said. "We rely on our sense of touch in our daily lives, which puts us at high risk of being exposed to viruses, but we can't get hold of hygiene necessities."
By Sunday night, the deadly coronavirus, which causes the disease Covid-19, had killed more than 1,700 people and infected more than 70,000 worldwide, mostly in mainland China. Locally, the virus had infected 57 people, one of whom died.
The contagion has left Hong Kong's 578,600 disabled people – including those with physical disabilities, visual impairment, hearing loss, and others – in fear, frustrated, and lacking support.
Many see the services they rely on cut back and, like Shek, struggle to get items to protect themselves against the highly infectious disease, especially as about 70 per cent of them are aged 60 or above.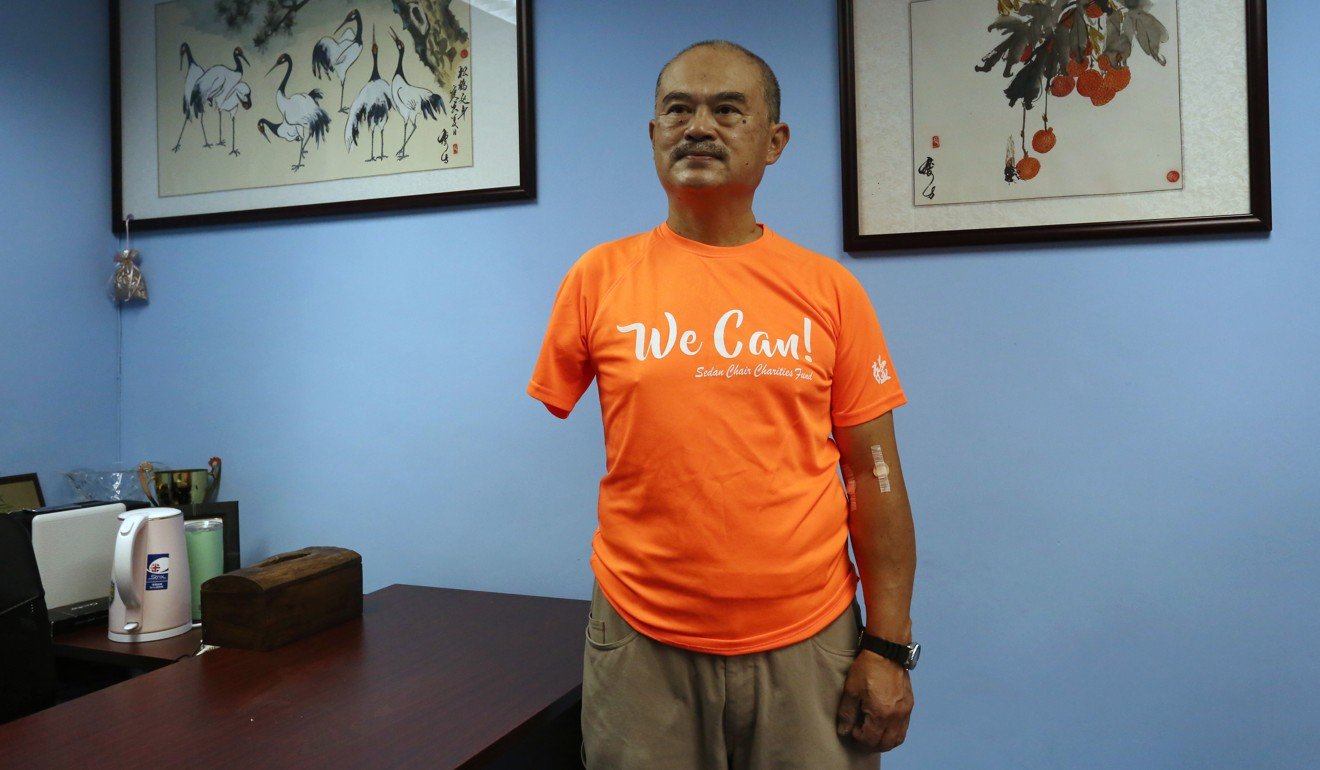 Derek Ko Chi-kin, 62, lost his right arm in an accident aged 12. He cannot wash his left hand thoroughly, and finds it difficult to follow the steps suggested by medical experts to don a mask without contaminating it.
But the outdoor-activity trainer said he still tries his best to protect himself.
He uses masks sparingly, wearing one for two to three days until it becomes completely damp. He shares other hygiene products, such as hand sanitisers and gloves that he cannot use, with others in need.
"We don't have privileges, and we are not given priority," he said. "We help each other and go through this together."
NGOs and social workers have called for more support for the disabled, whose physical and mental challenges make them highly vulnerable during a health crisis.
Kim Mok Kim-wing, chief executive of the Hong Kong Network for the Promotion of Inclusive Society, a non-profit organisation dedicated to the disabled, said most of their about 300 members with disabilities faced a shortage of masks, hand sanitisers and toilet paper to maintain basic personal hygiene.
The 56-year-old, who is blind, said the members' physical difficulties hindered them from searching the city for supplies like others have.
He said: "When the whole city is in panic, those with disabilities feel even more helpless and frustrated."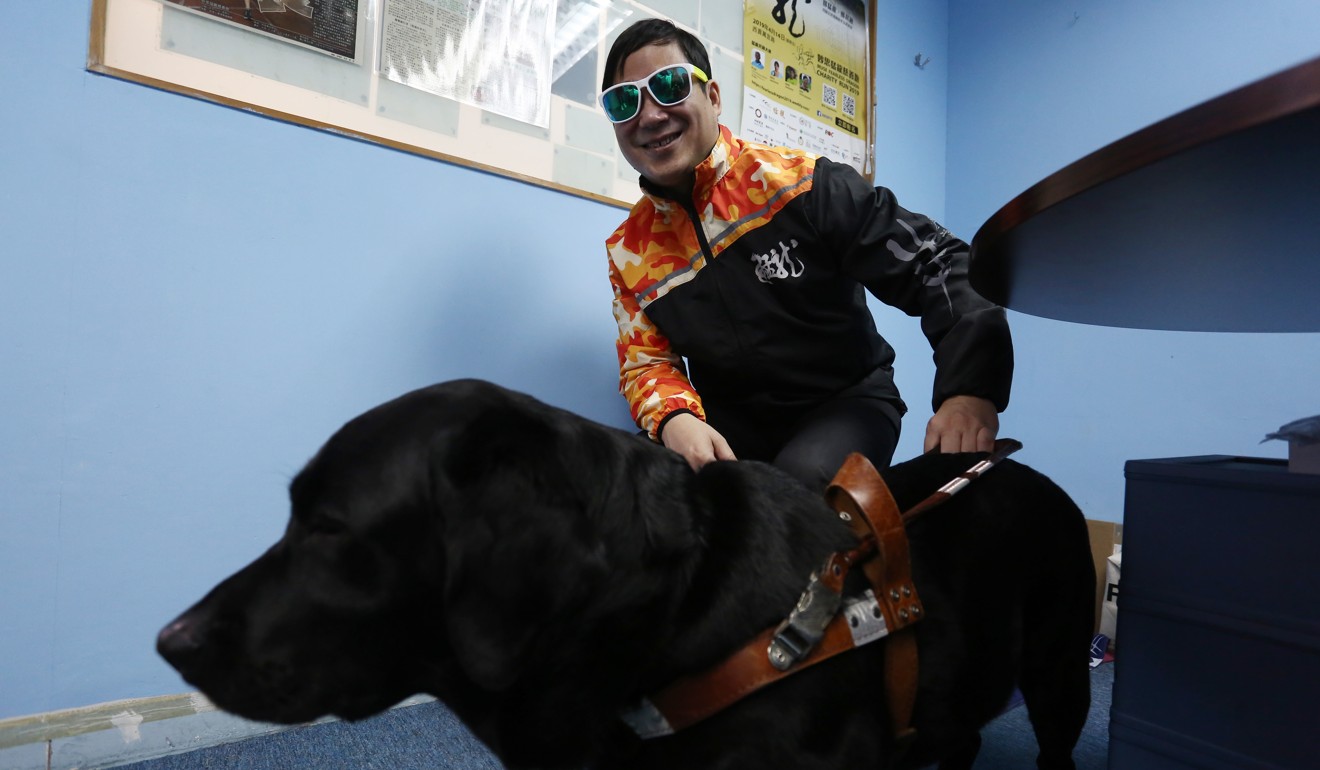 The visually impaired – who number 174,800 in the city – are more prone to contracting the virus, because they rely on their hands to detect risks. They also lack access to information, as not everything is readable for them, according to Peggy Ko Pik-kei, executive director of non-profit organisation the Hong Kong Blind Union.
Ko said she had received calls for help from more than 300 visually impaired members, especially elderly people living alone.
"Because of the supply shortage, many elderly people avoid going outside, but many have to go to work and visit hospitals regularly," she said. "The situation is dire."
Winnie Wong, director of the Hong Kong Society for the Deaf, said the hearing-impaired rely on lip-reading and observing facial expressions to communicate. With almost all city residents wearing surgical masks, she said, they struggle with daily communication.
She urged the government to provide more information in sign language and, in the case of videos, with subtitles.
Many of the city's disabled are poor, taking low-paying jobs and living on welfare allowances, said Ng Wai-tung, community organiser with the Society for Community Organisation (SoCO).
"They can barely make ends meet, and are priced out of increasingly costly hygiene products," he said.
Mok, a social worker for more than 20 years, added that many people with disabilities were worried about losing their jobs as the virus worsened the city's recession.
To prevent the spread of the virus, the Social Welfare Department has suspended many services, including those for the disabled, since February 10. Some NGOs have followed suit.
Still, some have come to help, but they face limited resources and staffing.
NGO Hong Kong Society for the Blind has maintained its residential and rehabilitation services for the visually impaired, and has been sourcing donations and supplies of hygiene products.
Shirley Tsang, director of the organisation's rehabilitation services, said its stocks of masks could last until early March, but the citywide shortfall made it hard to guarantee new supplies would arrive in time.
SoCO's Ng said the group had received donations of cash and about 16,000 masks, but with too many people in need, the supply could not last long.
To relieve some of their burden, the Hong Kong Council of Social Service – which represents about 450 non-governmental social services organisations – provided 500,000 masks for their member organisations last week, said Chua Hoi-wai, the council's chief executive.
"It is difficult to find supplies. We have searched various countries and channels, and many are insufficient and costly," he said.
Chua said the council was sourcing masks and hand sanitisers to benefit more than 100,000 households over the next month, including those with disabilities.
Apart from two tranches of grant money provided for day- and residential-service units, including those for the disabled, the Social Welfare Department said it was considering providing funding for relevant residential homes and home-based service units to hire relief workers or pay overtime allowances in the face of staffing shortages.
Labour Party lawmaker Fernando Cheung Chiu-hung said disabled people should be given priority for supplies of protective items, along with medical staff and people providing essential services.
Despite the coronavirus outbreak, he said, their essential needs should be taken care of, and their services could be maintained in a way that limits human contact.
"The epidemic is not going away any time soon," he said. "You can't just let someone not take a bath for a long time."
This article appeared in the South China Morning Post print edition as: Outbreak leaves disabled people in vulnerable position