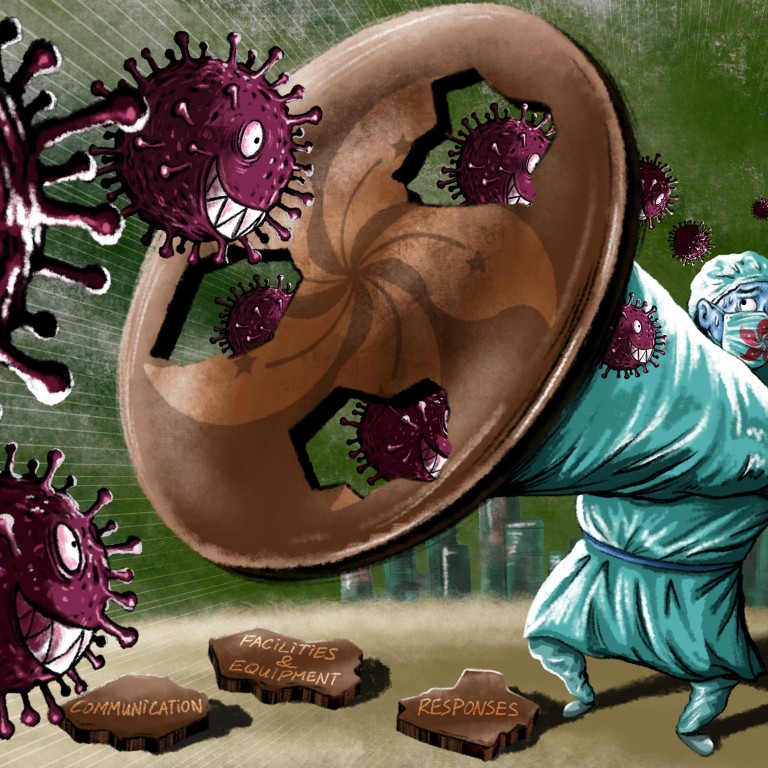 Coronavirus: has Hong Kong learned the hard lessons of Sars or is it repeating the same mistakes?
Communication, response time, and facilities all under the spotlight as epidemic takes hold
For former health minister Yeoh Eng-kiong the current crisis is bringing back painful memories of 17 years ago
After the Sars outbreak of 2003 claimed 299 lives in Hong Kong, a postmortem of the city's missteps held a handful of senior officials accountable. The most high profile figure was health minister Yeoh Eng-kiong.
A Legislative Council report in 2004 found Yeoh responsible for a catalogue of failings, including insufficient communication with the public, poor supervision of the health department, and inadequate monitoring of the Hospital Authority, which did not have a contingency plan for large-scale outbreaks.
Yeoh had become the city's health minister in 1999, but after this searing assessment, he bowed to public pressure and resigned, becoming a key fall guy for a crisis that devastated the economy, as tourism dried up and investors stayed away.
As with many Hongkongers who lived through Sars,
the current coronavirus epidemic
is bringing back painful memories for Yeoh. The minister-turned-academic is now head of public health at Chinese University, which gives him a better vantage point than most to study if the city is handling the current crisis better than it did 17 years ago.
"One of the most important responses for any outbreak is communication," he said. "It is not simply about handing out leaflets or holding daily press conferences. It is also the understanding of the impact on every sector of the community."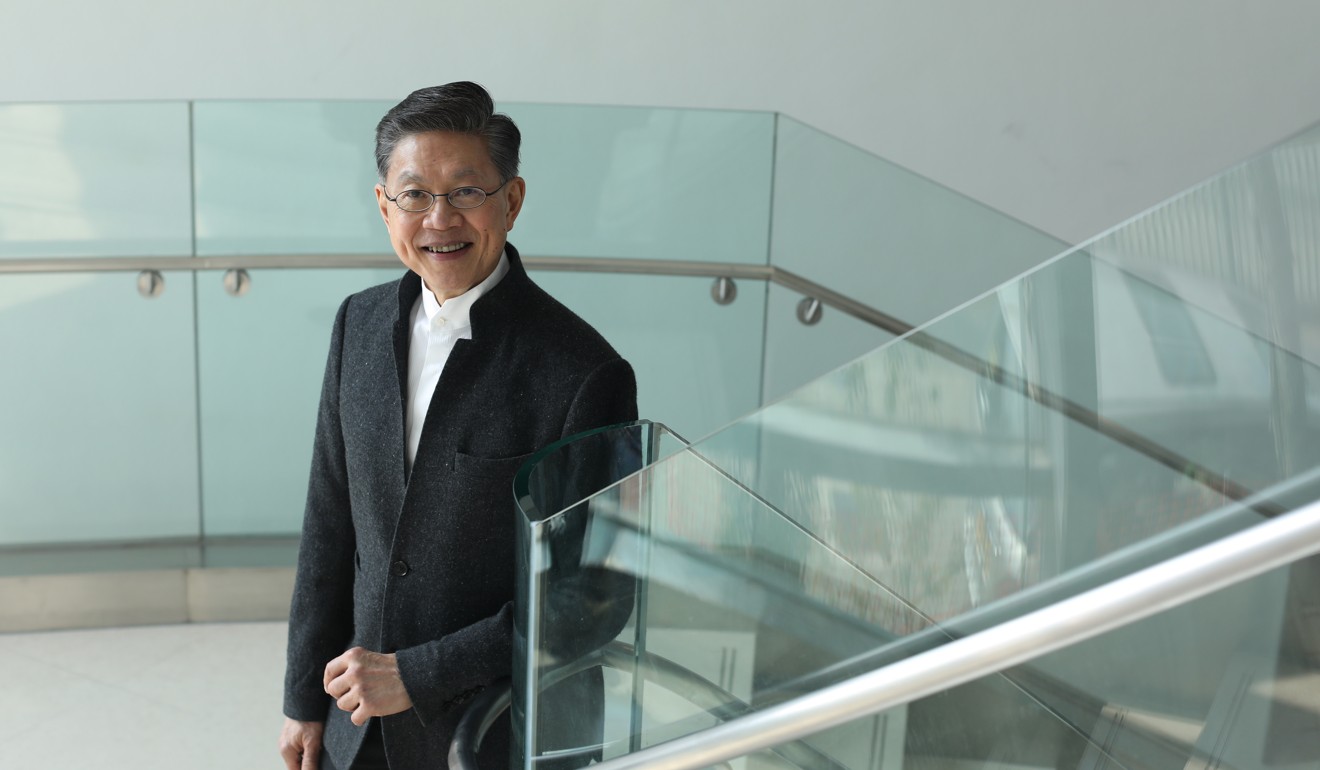 With the experience of combating Sars, which stands for severe acute respiratory syndrome, together with the swine flu epidemic in 2009, the city's government was expected to be more adept at handling the coronavirus epidemic.
It was tardy on several fronts: it was too tentative in enforcing tougher border restrictions, and slow to secure supply networks for protection equipment. It also lacked the foresight and will to roll out quarantine facilities, as a result of a complacency that had set in over the years, critics said.
Since January 23, when the first two cases were officially confirmed, Hong Kong has
81 confirmed infections of Covid-19
, the disease caused by the coronavirus, as of Monday morning.
Responses
There is little argument that Sars had made its residents more alert and the authorities more experienced in handling epidemics. Back in 2003, when the first Sars case entered Hong Kong quietly in late February, officials were relatively unprepared.
Health authorities at the time were criticised for their inaction between the time when Hong Kong's Sars index patient, a professor from Guangzhou, was admitted to Kwong Wah Hospital in late February, and when the Prince of Wales Hospital admitted a close local contact of the professor.
This time, the Hong Kong government reacted more quickly to the coronavirus.
It launched a response plan on January 4
, and activated it to the "serious" level, the second in a three-tier scale, after Wuhan health authorities revealed to the public on December 31 a cluster of unknown pneumonia cases. That was also after Hong Kong reported a few suspected cases.
Soon after, the government amended the law to make the viral infection, which was then relatively unknown, a statutory notifiable disease.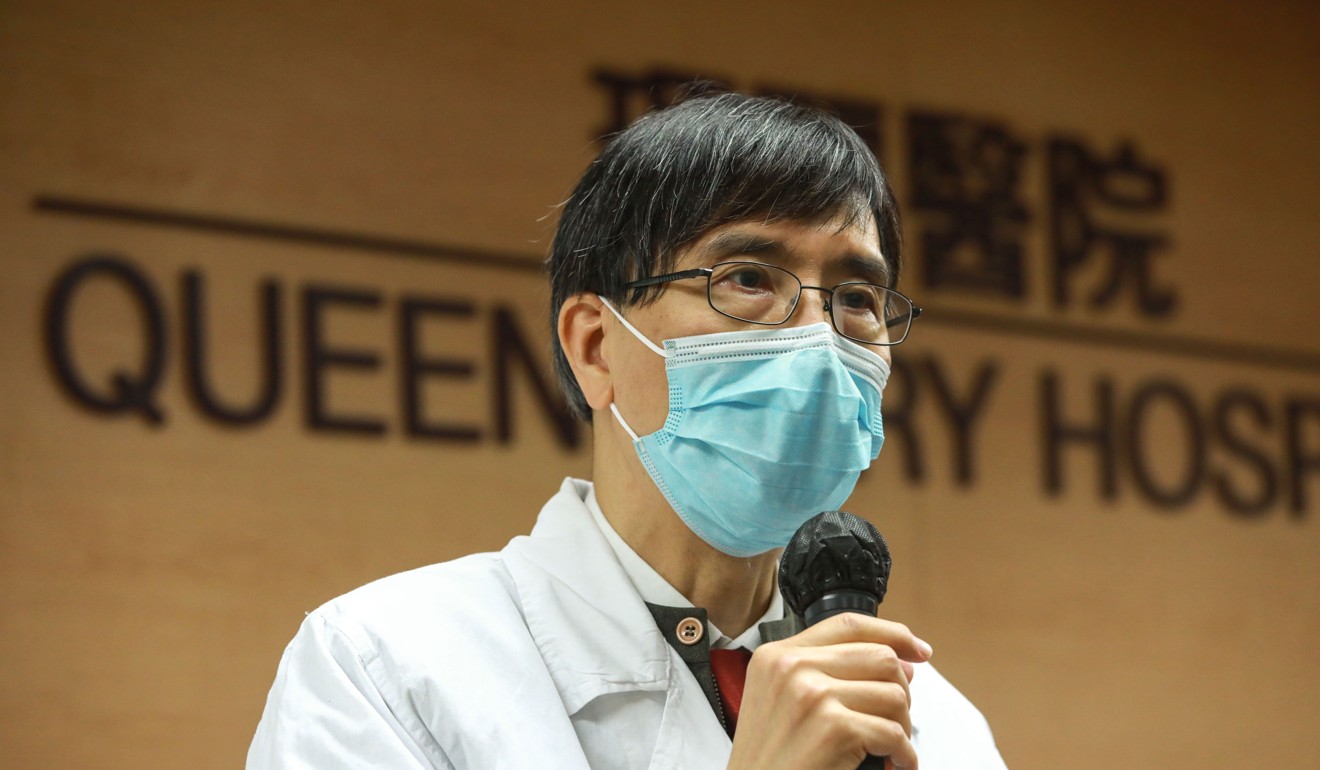 These steps were carried out more than two weeks before the city confirmed its first cases.
Professor Yuen Kwok-yung, a top infectious disease expert from the University of Hong Kong (HKU) who is currently advising the government, said the city's measures had been "three steps ahead" at the beginning, but lagged behind after the first cases were confirmed.
Chief Executive Carrie Lam Cheng Yuet-ngor only moved to shut down six border control points on January 28, when the number of mainland cases had reached 4,500 cases, with over 100 deaths. By then there eight cases in Hong Kong, all imported.
Four more border control points that handled higher volumes of travellers, such as Lo Wu and Lok Ma Chau, have closed since February 4, when the city reported its first death related to the virus. At that point, Hong Kong had 18 confirmed cases, some of which involved patients potentially with local infection.
Four days later, the government implemented a mandatory 14-day quarantine for all people, regardless of nationality, arriving from the mainland.
A specialist with a public health background, who declined to be named, criticised the government for not raising the alert level when the city reported its first few cases.
"When there is a case, the emergency level of the response plan should be activated immediately," he said, adding many health care staff had expected the highest level of the three-tier scale to be activated earlier.
The emergency level was activated two days after the first two cases were confirmed in Hong Kong.
He also accused the government of a lack of coordination among officials in combating the epidemic, as medical students, civil servants, and scouts, were urged to help monitor people in quarantine.
"The government is looking for outsiders to help … how could you rely on volunteers when we are in a war?" the doctor said.
Questions have lingered over whether the government had made the scientific risk assessment of the outbreak a high enough priority when making decisions on how to tackle it, especially on the debate of whether to impose a full border shutdown.
"It appeared that political considerations came first, which is not appropriate," said Alex Lam Chi-yau, chairman of Hong Kong Sars Mutual Help Association.
Yeoh said when making decisions for public health measures, science alone was not enough.
"Science is a good and necessary but insufficient for decision making," he said. "You need to deal with public perception of risk too."
A source close to the government dismissed the notion that opposition from, or fear of Beijing, was the reason for the seeming indecision.
Every discussion paper on major policy initiatives submitted to the Executive Council usually includes a paragraph on assessment of possible "mainland implications". "Possible mainland authorities' opposition was never cited in the relevant paragraph," the source said.
Former Hospital Authority chairman Anthony Wu Ting-yuk said the government would need various other factors into consideration. "From the public health point of view, the earlier closure of the border the better … but a decision could not be made only on one factor," he said.
Communication
In 2003, health officials were criticised for not being transparent in releasing information to the public. They began meeting the press daily only in mid-March, after a group of health care workers in Prince of Wales Hospital were infected.
A standardised press conference did not come until a month later, when there were already community outbreaks and hundreds of people infected.
During the coronavirus epidemic, more effort has been made to release information. Health authorities have held press conferences daily at 4.30pm since Hong Kong reported its first cases.
They also launched an interactive map to show residential locations of confirmed cases and people under home quarantine.
But the government has faced difficulties designating buildings, other than remote holiday campsites, as quarantine centres.
Fai Ming Estate, a new and unoccupied public housing estate in Fanling, was damaged by fire started by protesters after the government suggested using it as a quarantine site or a dormitory for medical staff. The proposal was eventually abandoned.
The government also faced frequent protests from people opposing the use of Chun Yeung Estate in Fo Tan as the fifth quarantine centre, and the activation of designated clinics in local communities for people suspected to be infected, but only presenting with mild symptoms.
Communication in dispelling fears was highlighted by Yeoh as the key in every disease outbreak. He said the government had to engage different sectors, such as health care professionals and NGOs, to understand society's needs and the reasons behind public anxiety.
Without commenting directly on the current administration's handling of the epidemic, he said "some things are better done before the crisis".
While the health authorities already had some plans in place in the event of an infectious disease outbreak, he said details of these should have been explained to the public much earlier too.
"All those are already there, but the public doesn't know. They don't know the contingency plan," Yeoh said, noting that earlier explanations could make implementing the measures easier.
Allan Au Ka-lun, a professional consultant from Chinese University's School of Journalism and Communication, agreed on the need for advance public messaging. "If the government could explain the entire contingency plan earlier, and give the public a more comprehensive concept, the force of opposition would not be that strong," Au said.
Yeoh acknowledged the political environment now is even more challenging than 16 years ago when he was forced to resign as health minister, making it harder to win over public support.
The doctor who declined to be named agreed that people's hostility towards the authorities was a barrier. "It is now difficult for the government to proceed at every step," he said.
Facilities and Equipment
Infection control resources in public hospitals were limited in 2003. Except surgical masks, other protective gear was not commonly bought for use before the Sars epidemic. Isolation beds were also lacking.
Of the 1,755 Sars patients in the city, 386 were health care workers, eight of whom died.
Former health minister Yeoh recalled the scene back then. "Our system was not developed. We put all patients with fever together. We were nursing people incubating Sars with people who did not have Sars together. We had a great difficulty as we had limited resources." 
Since then, around 1,400 isolation beds have been built in public hospitals. An infectious disease centre was also opened at Princess Margaret Hospital, and began operating in 2007.
In a Sars report written by local and overseas experts, Hong Kong was suggested to have quarantine facilities that could be "made available for use at short notice".
But in the latest epidemic, the biggest gap appears to be adequate quarantine facilities. Apart from Lady MacLehose Holiday Village in Sai Kung, and Lei Yue Mun Park and Holiday Village – the two holiday campsites that were used for quarantine during Sars – the government has also brought into play the Heritage Lodge campsite in Lai Chi Kok, and Chun Yeung Estate in Fo Tan to quarantine people who came into close contact with confirmed cases, but did not develop symptoms.
In a rare move, the government also built 450 more temporary units in holiday campsites to quarantine people.
The high demand was brought not only by the growing number of infected cases, but also by the hundreds of Hongkongers returning from the virus-stricken Diamond Princess cruise ship, where more than 600 people on board were infected. Among them, at least 70 were Hongkongers.
And for those who were subject to forced quarantine upon returning to the city from the mainland since February 8, home and hotel quarantine options were introduced. So far, more than 17,000 people, mostly Hongkongers, have been subject to the forced quarantine.
While most of them opted to spend their isolated days at home, around 600 were quarantined at hotels and over 200 were sent to two government campsites.
The doctor, who declined to be named, expressed concern over the lax arrangements for home quarantine.
"There could be lots of problems, given the living environment in Hong Kong. How many people have their own rooms with toilets?" the doctor said.
He also pointed out that family members of people under quarantine could leave the flats freely.
But the biggest criticism of the government has been over the lack of surgical masks in both public hospitals, and the community.
Dr Arisina Ma Chung-yee, president of the Public Doctors' Association, accused the government of not taking the epidemic seriously at the beginning of January, when the cases were still confined to Wuhan.
"At that time we could see that the epidemic on the mainland would not be a mild one, but [health officials in Hong Kong] thought it was a minor issue," Ma said. "They did not take any measures on masks, protective gear, and border control."
She said health authorities only woke up to the stark fact that protective equipment was in short supply globally after the Lunar New Year holiday, when more cases were reported in Hong Kong and elsewhere.
The Hospital Authority has revealed that its current stock of masks and protective gear could only last for around a month, far fewer than the usual pledge of maintaining stocks for three months at all times.
Hongkongers have also needed to spend more money and time to source for surgical masks, an item deemed crucial in preventing the spread of the disease.
Not only has the price of a box of 50 masks – usually sold for less than HK$100 in the past – surged to more than HK$1,000 in some pharmacies, long queues outside stores are frequent.
"It seems the government doesn't have the leadership to give public confidence that they could overcome the epidemic," said Lam, from the Sars Mutual Help Association. "Now people cannot buy masks and toilet paper."
In comparison, Hong Kong's neighbouring city of Macau reacted more quickly. After the first case was confirmed on January 22 in the casino hub, its government implemented a scheme to ensure each Macau resident could purchase 10 masks every 10 days.
But the Secretary for Commerce and Economic Development Edward Yau Tang-wah initially brushed off suggestions that prioritised Hongkongers buying masks and capping retail prices. Yau said such moves were not practical.
A source familiar with the Hong Kong government's position said authorities had sought help from the mainland for the procurement of masks and personal protective equipment last month, but the effort proved to be in vain. "The central government can't help much because the outbreak on the mainland is more acute," the source said.
Raymond Young Lap-moon, chief executive of the Chinese Manufacturers' Association of Hong Kong, said he had approached the government late last month, and told them a few manufacturing companies had sourced machinery for producing masks from Malaysia, and the mainland, and could introduce production lines to the city. But he got the cold shoulder.
"They hope the government could provide premises at reasonable levels of rent and provide an undertaking of purchasing certain number of masks to reduce their risks in investment," he said.
Young, a former permanent secretary for home affairs, said the officials rejecting him said the government had no such precedent of subsidising production lines.
"The government cannot cope with the current crisis, including the acute shortage of masks, if it sticks to a free-market philosophy and leaves the matter to market forces," he said.
But on February 14, the government pledged to offer direct subsidies to firms making masks, a belated move welcomed nonetheless by Young.
With no end in sight for when and how the current epidemic could be tamed, Yeoh said there could be an opportunity in a time of crisis – to once again learn how to enhance Hong Kong's resilience in combating infectious diseases.
"We should all see what things we can always do better," he said.