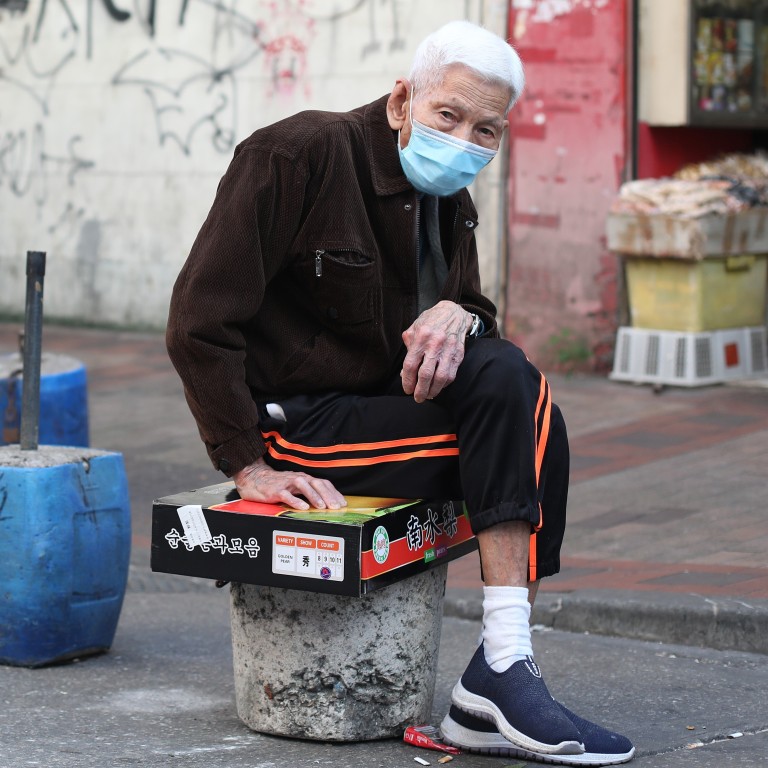 Amid coronavirus outbreak, bigger killers lurk for Hong Kong's elderly living alone – isolation and panic
City's most vulnerable groups are left to face contagion alone, with lack of masks and no physical ability to source for them
They are stuck at home with no companions, feeling anxious over news images of panic buying citywide, while community activities have been cancelled
This story has been made freely available as a public service to our readers. Please consider supporting SCMP's journalism by  subscribing.
Chau Mee-heung, 84, lives alone in a 100 sq ft public rental flat in Hong Kong's Lam Tin. She lost her husband to colorectal cancer in 2003, and her younger son to the severe acute respiratory syndrome epidemic that year.
She has hypertension and diabetes, and does not go out unless necessary, but amid the coronavirus crisis in the city and down to only five masks, Chau recently queued up at 7am with thousands for fresh supplies, only to go home empty-handed after three hours in the cold.
It was not her first time standing in line on aching knees to get protective items, and having her efforts come to naught.
"I stood for hours until my legs were hurting, but the masks were sold out long before it was my turn," she says. "But what can I do about it? I can't see or hear clearly, and I'm slow."
Now living on the government's monthly welfare allowance of a few thousand dollars, Chau says she tries not to trouble her daughter and elder son.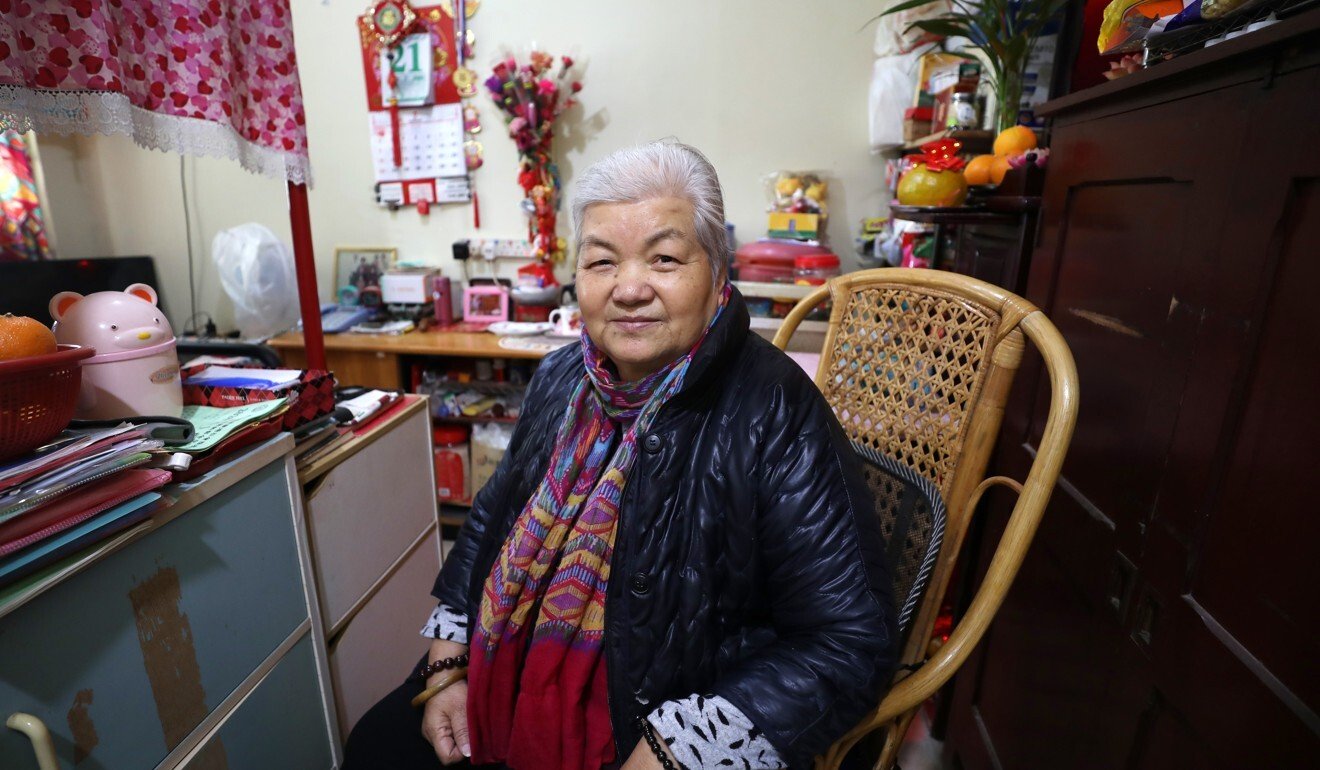 "I understand that they have their own difficulties. So I try to rely on myself as much as I can," she says.
But the outbreak has made life harder. Because of a shortage of masks, Chau uses one piece for days, and has to visit the hospital for medical treatment.
She used to volunteer and attend social activities at community centres. But as they have been closed to control the spread of the virus, she has nowhere else to go.
"I have managed to get by. I hope this epidemic will be over soon," she says.
Globally, the coronavirus has killed more than 2,800 people and infected over 82,000. As of Friday noon, Hong Kong had recorded more than 90 cases, with two fatalities.
The city's second coronavirus death on February 19 involved a 70-year-old man who had diabetes and kidney problems, and lived alone. He fell ill on February 2, but was sent to hospital 10 days later, after suffering a fall. It was only then that he tested positive for Covid-19.
Hong Kong has more than 152,000 people aged 65 and above and living alone. The figure was up 54.3 per cent from 98,829 in 2006, according to the 2016 population by-census.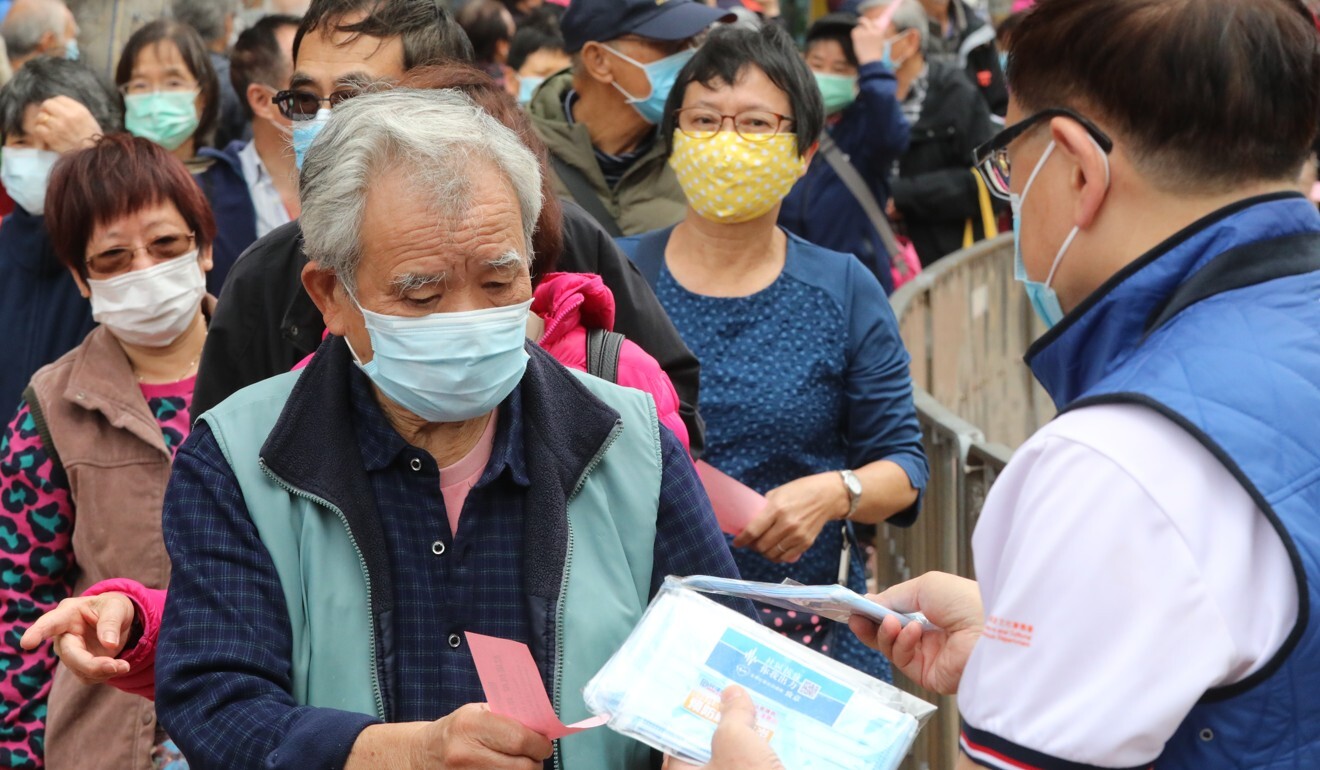 The sick and the elderly are most at risk from Covid-19, according to the biggest study released so far on the outbreak by the Chinese Centre for Disease Control and Prevention. The report, published on February 18, puts the overall fatality rate at 2.3 per cent, but this rises to 3.6 per cent for people aged 60 to 69, 8 per cent for those between 70 and 79, and 14.8 per cent for those aged 80 and above.
Infectious diseases expert Dr Joseph Tsang Kay-yan says the elderly are more vulnerable than young people, as they have weaker immune systems and may suffer from pre-existing conditions like diabetes.
Yet, some among the city's most vulnerable live alone and are left to face the contagion in fear and isolation.
'Nobody knows how many times I've cried at night'
Tam Sau-lan, 81, also lives alone in a public rental housing flat in Lam Tin. Her husband died more than 20 years ago, while her two sons and two daughters live and work in the mainland city of Guangzhou.
Because she did not have a mask, she cancelled her colonoscopy appointment at the hospital earlier this month. She had waited for more than a year for the test, but is now looking at another three months because of the rescheduling.
Relying on a walking cane to support her weak left leg, Tam is unable to go out and source for masks on her own. She depends on NGOs for protective gear, and uses these sparingly.
Living alone amid a public health crisis makes her feel helpless, she says.
She remembers suffering a fall while reaching for a quilt from a rack four years ago, and could not get up until a patrolling security guard happened to hear her cry for help half an hour later and called an ambulance. She was hospitalised for half a year for breaking her left arm and left leg.
"Facing the four walls at home, all I can do is eat, watch television and sleep," she says. "Nobody knows how many times I've cried under the covers at night."
Danny Li Ka-fai, service director of the Hong Kong Society for the Aged – an NGO dedicated to the elderly, notes a surge in loneliness and anxiety among those who live alone amid the epidemic.
"Reducing social contact makes them feel lonely, while watching the news and seeing the panic buying of masks and toilet paper makes them anxious," he says. "We are concerned about their mental state and the risks arising from negative emotions."
Li says his NGO – which serves some 10,000 elderly people – has suspended activities at their centres since Lunar New Year to reduce infection risks. Instead, volunteers and social workers from the organisation call them every day, and provide delivery services for those with special needs.
The Social Welfare Department has also cut back its services for the elderly, with some NGOs following suit.
'It is not the coronavirus that could kill them'
Professor Paul Yip Siu-fai, associate dean of the faculty of social sciences at the University of Hong Kong, says the suspension of services for the elderly and the severance of social connections have disrupted their lives.
"It is not the coronavirus that could kill them, but the social disconnection, isolation and panic," he says.
Many elderly people live in poverty and survive on welfare allowances, says Ng Wai-tung, community organiser with the Society for Community Organisation. He says many are in low-paying jobs such as street cleaners and security guards, and are highly exposed to Covid-19.
Hong Kong leader Carrie Lam Cheng Yuet-ngor said on February 14 that the government would strive to ensure mask supplies for residential care homes for the elderly as well as persons with disabilities, and give out 1.6 million masks from donors to the underprivileged through NGOs.
Lam personally handed out masks and other goods to elderly people who live alone and on the government's Comprehensive Social Security Assistance (CSSA) welfare scheme in Lam Tin on February 17.
The Social Welfare Department said it also distributed masks to NGOs operating residential service units for the elderly, and provided two batches of grant money for them. The department said it would provide funding for relevant NGOs to hire relief workers or pay overtime allowances in the face of staffing shortages.
Labour Party lawmaker Fernando Cheung Chiu-hung says essential services that are directly delivered to the homes of the elderly, such as house cleaning, should be strengthened instead of being cut back during the epidemic.
He also urges social services agencies to maintain connections with the elderly they serve through phone calls and social media.
"They are trapped at home and lacking supplies. They feel insecure and isolated," he says.