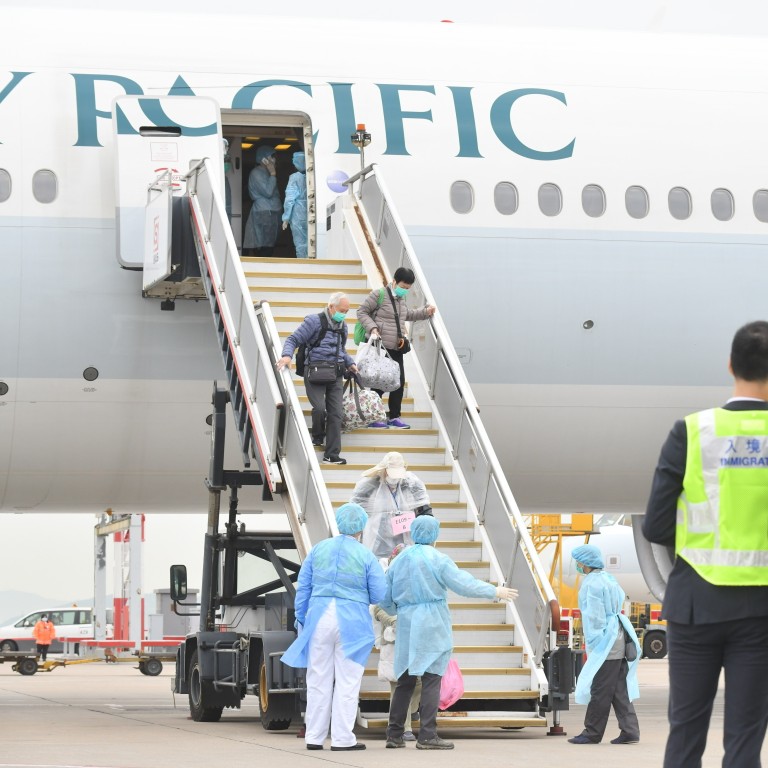 Coronavirus: airlines reluctant to bring Hongkongers back from Japan over infection fears, government says
Dozens who had been in close contact with passengers infected on Diamond Princess stranded, government admits
Those that remain are dispersed across 11 different prefectures and cities in the country
A number of airlines have expressed reservations about flying home the dozens of Hongkongers who have been in close contact with passengers infected with the coronavirus aboard the Diamond Princess cruise ship in Japan, the government said on Thursday evening.
The problem was acknowledged in a statement that revealed two more Hongkongers aboard the ill-fated vessel had been confirmed to have the virus that causes Covid-19.
The newest cases, who were close contacts of those previously known to be infected, bring the total number of infected Hongkongers who were aboard the Diamond Princess to 72, out of a total 705 infected passengers.
A spokesman said about 100 Hong Kong passengers, including other close contacts, were now being treated or quarantined at 11 different prefectures and cities in Japan, including Kyoto and Chiba.
The statement provided a glimpse into the problems the government has faced when trying to fly Hongkongers classified as close contacts back to the city.
"For the past few days, the government has been trying to devise a plan to bring close contacts home. However, because of the risk they pose, several airlines approached by the government have expressed reservations to take them on," the statement said.
"Additionally, they are dispersed across 11 different prefectures and cities in Japan, and many land transport companies are unwilling to drive them."
The statement also revealed that eight of those confirmed with the virus have now recovered and been released, with four already having returned to Hong Kong on their own. Four others have opted to stay in Japan to wait for government arranged flights, or to remain with infected family members.
All of the recovered patients tested negative for the virus in two consecutive tests in Japan and are no longer thought to be contagious, according to the statement, which said recovered patients were still expected to contact Port Health authorities upon arrival for 14-day medical surveillance.
"All other close contacts of sick passengers have left the ship and are being quarantined on land, and the government is working to bring them back to Hong Kong," the statement said.
In total, 218 Hong Kong residents on the cruise have been brought back to Hong Kong on three chartered flights, and 25 more have returned on their own flights. All of them were placed in quarantine camps after returning to the city.
Hong Kong presently has 93 confirmed cases of Covid-19, while two people with underlying health issues have died. More than 82,000 people have been infected globally, mostly in mainland China.
Meanwhile, pro-establishment commentator and activist Robert Chow Yung was revealed to be in quarantine at the Heritage Lodge in Lai Chi Kok on Thursday after attending a wedding with a Jockey Club member who was confirmed to be infected.
The 60-year-old woman is Chow's niece, and both attended a wedding at the JW Marriott Hotel on Sunday. A group of 20 relatives who were also at the wedding have also been quarantined.
"None of us have shown any symptoms, and so we have not been tested for the virus," Chow said.
"I am treating this as a chance to have some peace and quiet and relax, and I have downloaded some books to read," he said.
Chow, who is sharing a room with his wife, is expected to be in quarantine until March 9.
He said he had not noticed his niece was ill during the wedding, and only knew after finding out he had to be quarantined.
His niece, who lives in Tai Hang and became Hong Kong's 85th confirmed case on Tuesday, had also visited the Jockey Club in Happy Valley and Man Mo temple in Sheung Wan before she was hospitalised.
There was a delay of 13 days from when she first started exhibiting symptoms and when she was sent to a public hospital.
She had sought treatment at least five times during the period, including at the Sanatorium and Hospital, in Happy Valley.
Apart from the wedding banquet, she had visited a number of places between February 12 and 24: the Workingberg Commercial Building and Block 1 of the Fleur Pavilla housing estate in North Point; the Jockey Club clubhouse and Levade gift shop in Happy Valley; Fook Lam Moon Restaurant and Hang Wai Commercial Building in Wan Chai; Royal Hong Kong Yacht Club, World Trade Centre and a hair salon in Causeway Bay; Man Mo Temple and Yardley Commercial Building in Sheung Wan; Jolly Villa in Tai Hang; and the Lamma Rainbow Seafood restaurant.