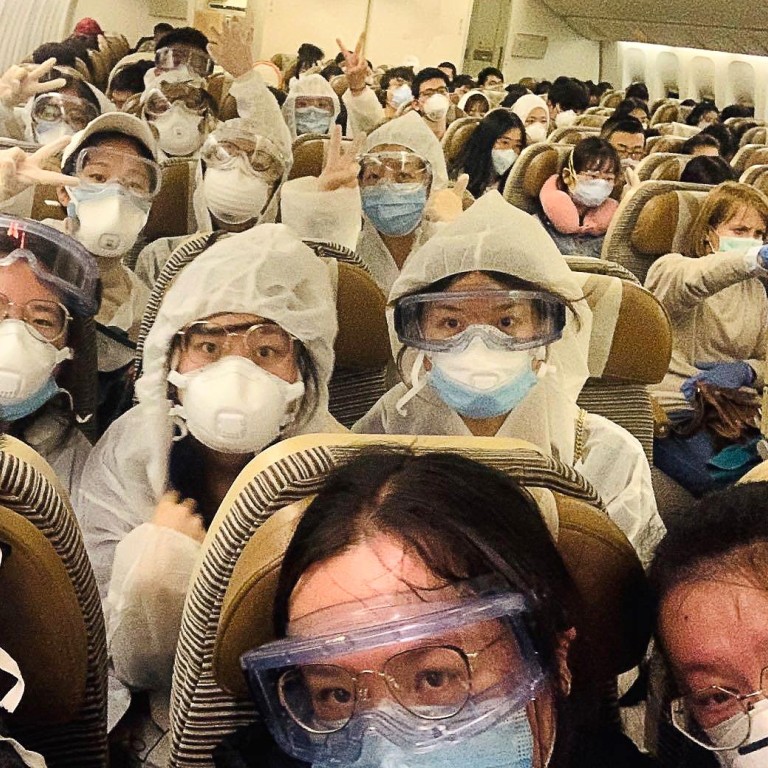 Coronavirus: 10 new Hong Kong cases is the city's biggest daily increase, as health officials express fears about rise in imported infections
Officials reveal record daily tally in Hong Kong on Tuesday, which includes three people returning from their overseas studies
Hospital Authority officials express worries about the capacity of public hospitals with rise in imported cases
Ten new coronavirus cases were confirmed in Hong Kong on Tuesday, marking the city's largest daily increase and taking its total to 167.
At least eight of those had travel history, with four returning to the city on Monday, and students rushing back from overseas universities ahead of
new restrictions on arrivals
among them.
The latest cases were recorded as Hong Kong authorities revealed they would start inspecting the vent pipes of all buildings where Covid-19 cases had been confirmed, after tests revealed the coronavirus was present in toilet piping in a Tai Po block where infected Hongkongers lived.
Dr Linda Yu Wai-ling, a chief manager of the Hospital Authority, said at a regular coronavirus press briefing that 21 patients were diverted from Hong Kong airport to nine hospitals on Monday night. Three of those were later confirmed infected with the virus.
Yu expressed concern about the capacity of public hospitals with the rise in imported cases.
"As there are more imported cases, and more overseas students returning to Hong Kong, we believe the figures of [isolation bed usage] will remain at a high level," Yu said.
Among the 10 newly confirmed cases, one was a 69-year-old man who had travelled to Britain, Paris and Spain.
The others included an 18-year-old female university student who studied in Switzerland and lived in Tai Tam, a 37-year-old female Cathay Pacific flight attendant from Tuen Mun who had been to Madrid in Spain, and a 30-year-old woman who had travelled to Paris and London.
A 36-year-old man from Yau Ma Tei contracted the virus locally. He had dined twice with friends, one of whom had been to Switzerland but officials did not know if he had been tested after feeling unwell.
Three of the latest cases confirmed involved a 21-year-old male university student who studied in London, a 24-year-old who worked in Denmark, and a 27-year-old student who studied elsewhere in Britain.
A rush of Hong Kong students are returning from overseas after the city announced the introduction from Thursday of
a red travel alert covering all countries
, which imposes quarantine or medical surveillance on all arrivals into Hong Kong.
Chuang said asking students back from overseas to quarantine themselves at home could put their families at risk.
"It's hard to arrange for overseas students to live at quarantine centres because the number will be very large, unless we can find a proper place," Chuang said.
She suggested that families either distanced themselves from their children at home or moved out over the quarantine period.
"The purpose of home quarantine is to quarantine the students, not their family," Chaung said, suggesting family members could live with relatives or even hotels.
"It will be safer to leave the [home] space to the [quarantined] students," she said.
A patient confirmed as infected on Saturday lived in the block which was also home to an infected couple who had been on holiday to Egypt.
The third case, a 59-year-old man who lived in flat 13 on the 34th floor while the pair lived in the same flat number on the 32nd floor.
Among the four positive samples, two were taken from an intact waste pipe and a cut-off sewage pipe in the toilet of the lower unit, one from the vent pipe surface in the toilet of the higher unit and another from the inner area of the vent pipe on the rooftop, Chuang explained at a press conference.
The latter positive reading supports the theory of the "wake effect" of the wind leading to infection, which suggested that particles could have travelled through a vent pipe – that has an opening on the roof of the block – and become aerosolised, whereupon the wind might have carried the aerosols back to homes near the top floors.
"With regard to the virus found inside the rooftop ventilating pipe of the foul water stack, it is suspected that the height difference between the rooftop parapet of unit 13 and unit 14 might be relatively conducive to cause wake effect in the re-entrant of top floors in Heng Tai House," the government statement read.