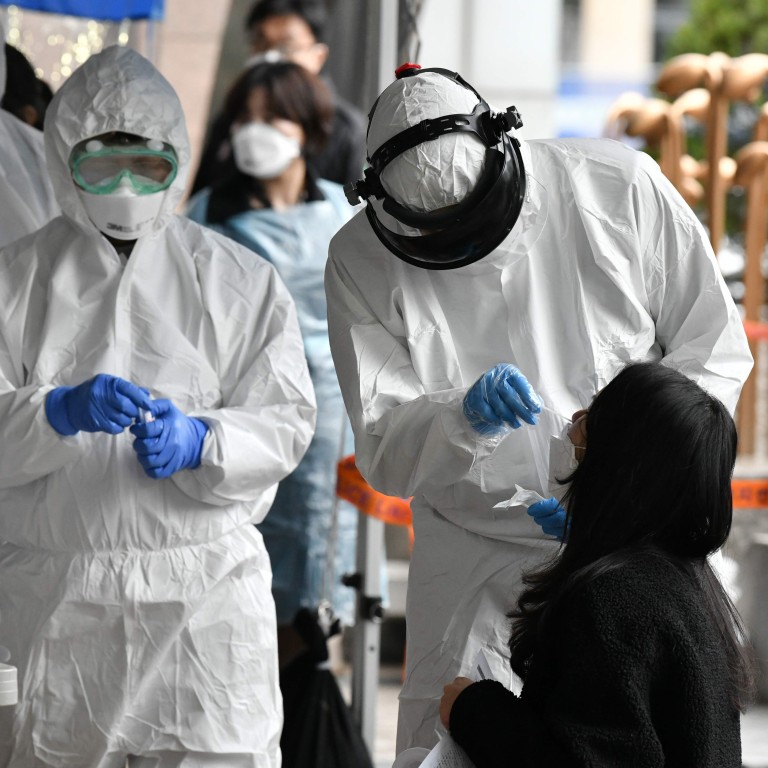 Coronavirus can be transmitted through faeces, Chinese University study confirms, with experts suggesting stool tests as alternative screening tool
Some respiratory system specimens tested negative for Covid-19 but coronavirus was detected in faecal samples from all 14 patients in study
None of the urine specimens contained the virus, and it was only detected in the blood of four patients
People showing symptoms of the deadly
coronavirus
could have their stool tested as an alternative screening tool to deep throat saliva, Chinese University of Hong Kong experts say, after their study confirmed Covid-19 can be transmitted through faeces.
The university's faculty of medicine recently tested 339 stool, sputum, nasopharyngeal swab, deep throat saliva, blood and urine samples from 14 Covid-19 patients in Hong Kong.
It found that, for three patients, some specimens from their respiratory system – sputum, nasopharyngeal swab and deep throat saliva – tested negative for the coronavirus.
But the coronavirus was detected in faecal samples from all 14 patients, regardless of how ill they were.
None of the urine specimens contained the virus, and it was only detected in the blood of four patients.
"If you have sputum, then of course it's best to test it to find out if a person has the coronavirus. That's because it has a high viral load," the university's Professor Paul Chan Kay-sheung said on Tuesday. "But not everyone has sputum."
Those who do not have sputum – also known as phlegm – need to have their deep throat saliva tested. But a problem with testing deep throat saliva is that many Hongkongers do not know how to spit a specimen correctly, and thus the test has a 42 per cent chance of producing a false negative result.
The study found that sputum had a viral load of 3.2 million per millilitre. The viral load for faeces and deep throat saliva was 12,000 and 10,000 respectively for every millilitre.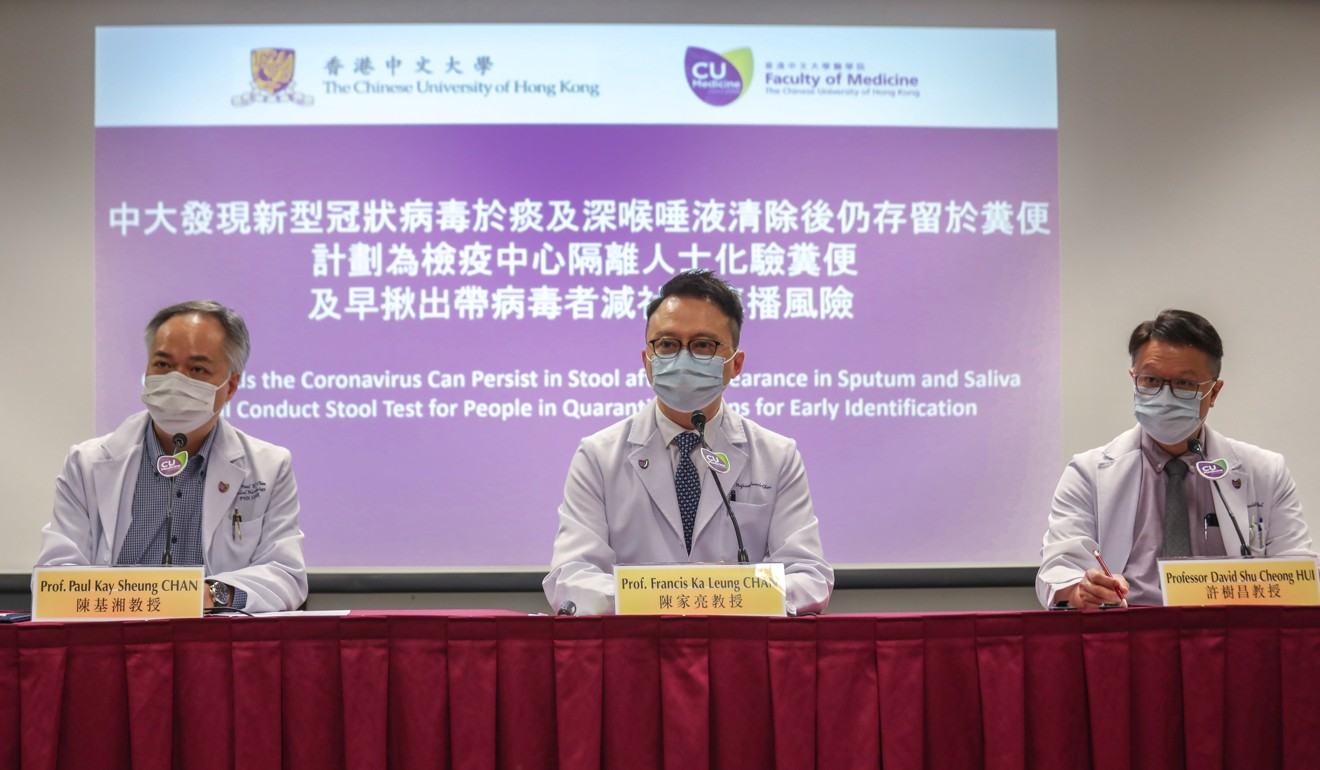 Chan said those who tested negative from their deep throat saliva should practise proper hygiene and wear masks because of the high chance of a false result.
He added citizens should be careful about hygiene in public toilets now that it had been confirmed the coronavirus could be transmitted through stool. That was because infected patients had no choice but to touch the flushing buttons and the taps before they could wash their hands, he said.
Professor Francis Chan Ka-leung said those who worked at elderly care centres and had to help people in the toilet needed to be careful. If they accidentally touched the stool and then delivered food, then the elderly residents could be infected.
"Caretakers and food handlers should be particularly vigilant about their hand hygiene," Chan added.
The university's medical school would take the study further by testing 100 asymptomatic people moving into government quarantine centres.
Professor David Hui Shu-cheong, also from the university, urged citizens to fill enough water into the U-shaped water traps connected to the bathroom floor drains and to close the toilet lids when they flushed.
Asked about the university's study at a daily press conference on Tuesday, Dr Chuang Shuk-kwan from the Centre for Health Protection said the government was aware of it and would follow up, without elaborating.
Dr Linda Yu Wai-ling, a chief manager at the Hospital Authority, said: "If a patient has bowel conditions such as diarrhoea at the beginning, the authority will collect and test the stool sample. If the sample is positive, two negative results of the stool samples will be required before the person can be discharged."
This article appeared in the South China Morning Post print edition as: Experts suggest stool tests for suspected cases