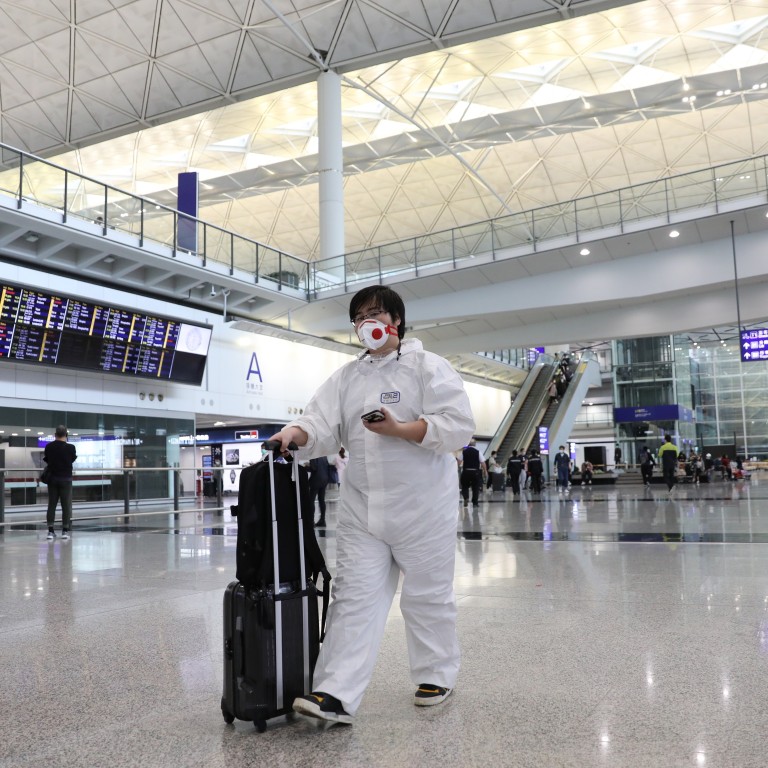 Coronavirus: imported cases threaten Hong Kong's efforts to contain disease as 25 infections confirmed in one day
Total number of cases surges to 192 even as city prepares to enforce mandatory quarantine on all arrivals, except for those from Taiwan and Macau
Mainland faces a similar risk from outside as it, for the first time, does not report any new domestic suspected case of Covid-19
Hong Kong confirmed 25 coronavirus cases on Wednesday, the highest number in a single day, most of them coming from overseas, reflecting the new risk confronting the city after its initial success in keeping a lid on infections.
The total number of cases surged to 192 even as the city prepared to enforce mandatory quarantine orders on arrivals from any part of the world, except for Taiwan and Macau, in a drastic move starting at midnight to shut out imported cases.
Mainland China was facing a similar risk from outside as it, for the first time, did not report any new domestic suspected case of Covid-19, suggesting the pandemic was waning on the home front.
While China only recorded 13 new confirmed infections at the end of Tuesday, of which one was from ground zero in Wuhan and 12 were imported cases, it documented a total of 155 imported cases.
That the country's leaders were worried a rise of imported cases would scuttle China's hard-won efforts to contain the pandemic was evident on Wednesday when President Xi Jinping chaired a Politburo Standing Committee meeting in Beijing to urge vigilance against a resurgence of the disease.
"We also face new circumstances and problems now," Xi told members of the top policymaking body of the Communist Party.
"Especially as the disease spreads across the world, creating disadvantages for the global economy, and that has also brought new challenges to our efforts to prevent and control the epidemic and affected our economic growth."
The global total of confirmed Covid-19 cases has crossed the 200,000 mark, and China's infection tally has been surpassed by the rest of the world.
On Wednesday the death toll in Europe rose above 3,400, overtaking Asia's toll of nearly 3,400 for the first time.
Starting from midnight on Wednesday, all travellers arriving in Hong Kong, except those from Macau and Taiwan, will be put under mandatory quarantine for two weeks. The measure will last for three months.
Secretary for Food and Health Sophia Chan Siu-chee said it was expected that tens of thousands of travellers would arrive in the coming weeks, and they would be required to wear a smart wristband so their whereabouts could be checked.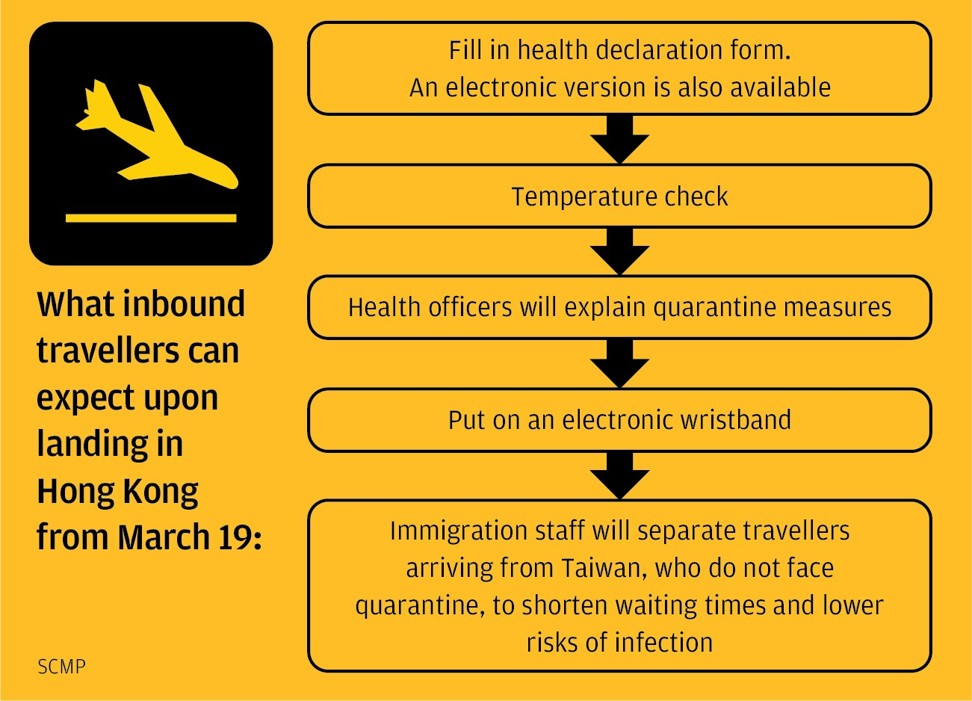 She said the government would consider setting up triage centres at North Lantau Hospital and the Asia World-Expo, an exhibition centre near the airport.
Centre for Health Protection controller Dr Wong Ka-hing appealed to travellers landing at Hong Kong International Airport to be patient, as screening could take time, and urged those who had beaten the midnight deadline to self-isolate at home for 14 days.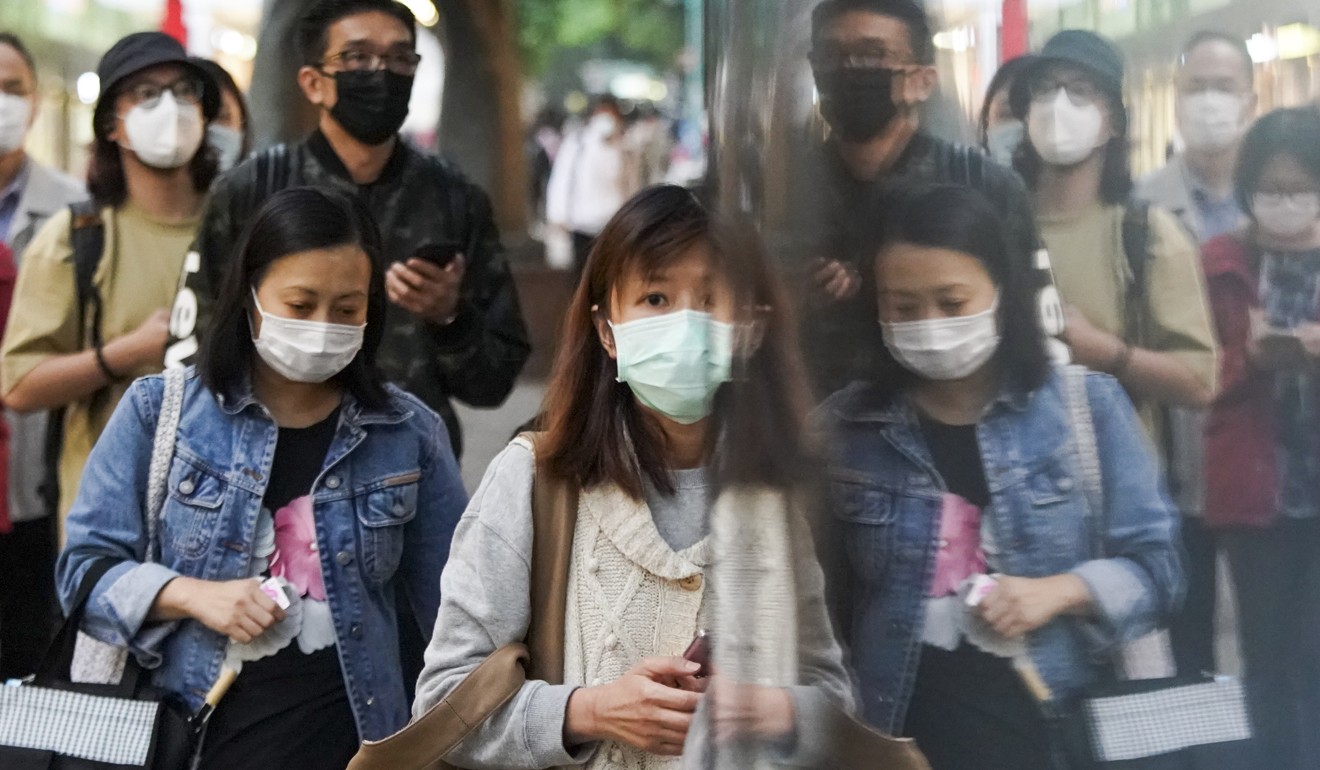 Of the 14 new cases first confirmed, only one – a 50-year-old woman – did not have a recent history of travel.
Dr Chuang Shuk-kwan of the centre said the patient worked as a secretary at an international school and had been out with friends in Central's Soho bar and restaurant area before she tested positive.
Among the new cases was 28-year-old karate athlete Lee Chun-ho, who had trained in France and Austria before returning home, according to the Hong Kong Sports Institute.
Among the others, a 27-year-old man who returned from London had attended a wedding banquet with 20 tables at Marriott's Courtyard Hong Kong hotel in Sha Tin.
One patient, a 55-year-old man, had been to western Europe in a group arranged by Miramar Travel. Another was a 30-year-old man who had stayed at the Hotel Hyatt Centric Victoria Harbour in North Point after he returned from Germany.
Others had been to Japan, Thailand and various parts of Europe. Three returned from Britain.
After the first 14 cases, authorities confirmed 11 more suspected cases, some of them students returning from Britain. One was a freelance reporter at the Post, who had been to London in late February and early March.
Executive Council member Dr Lam Ching-choi warned that Hong Kong was facing a third wave of imported infections after residents first returned from the coronavirus-stricken Diamond Princess cruise ship and then from the mainland's Hubei province, the original epicentre of the epidemic.
With more students and expatriates expected to come back to the city, he said, the government could consider even tougher steps.
"It is possible we will ban all foreign visitors from entering Hong Kong," he told a radio programme on Wednesday.
Lam said the mandatory self-quarantine measures should provide "enough incentives" to deter foreign visitors, but the government would monitor closely whether people were coming to the city for better treatment.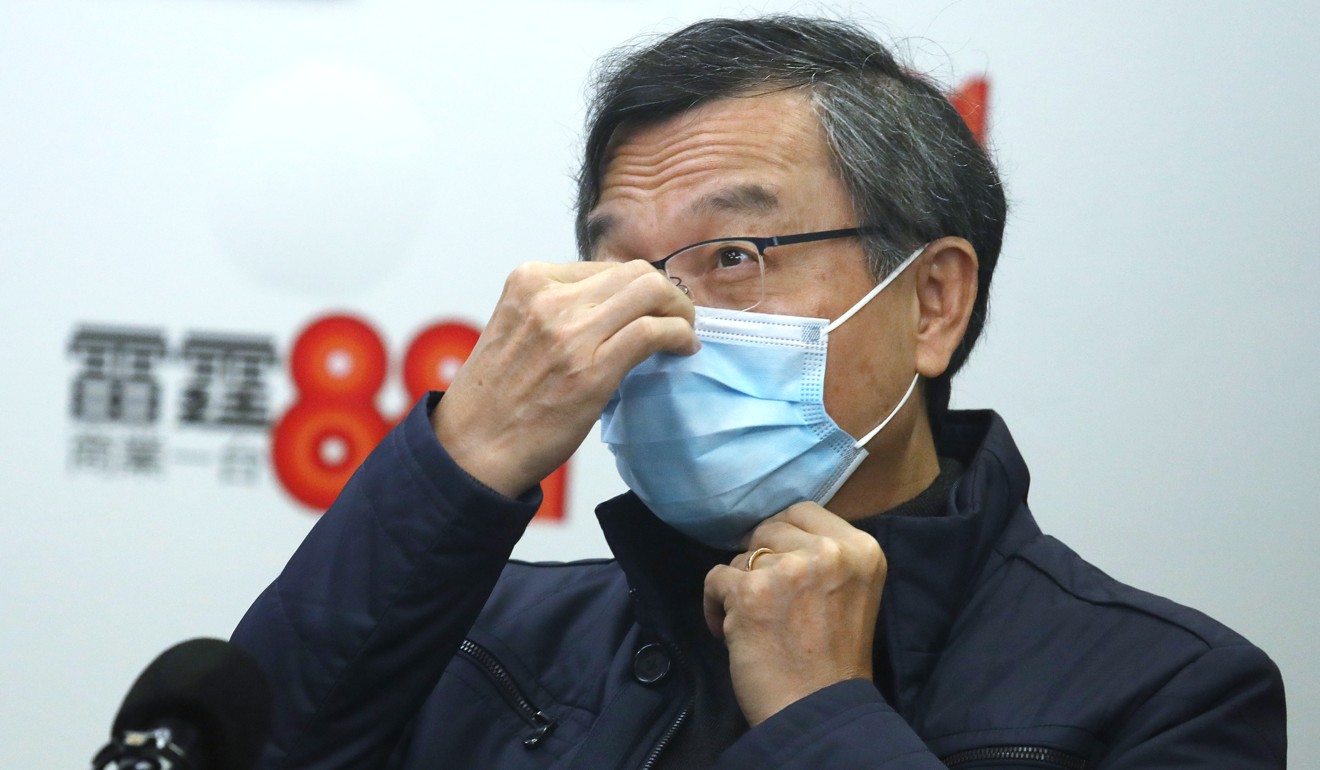 Wong of the CHP said a pilot scheme would be launched at the airport, with incoming travellers getting bottles to take home and hand back with saliva samples for testing. He said samples could not be collected on the spot without causing long queues.
Wong expected a further rise in the number of infections in the coming two weeks, with half of the city's quarantine centres already full.
"From what we expect in the short run, the situation is still critical," he said, adding that the government was considering building prefabricated units at new sites to house those requiring isolation.
On the national front, China said it had discharged nearly 1,000 recovered patients on Tuesday, leaving some 8,000 still under treatment in hospitals.
"It is necessary to continue to stop the epidemic [being] imported from abroad," National Health Commission spokesman Mi Feng said. "At the same time, we need to vigorously carry out international cooperation to take joint responses."
China is feeling the pressure of imported cases as a daily 120,000 border entries have been recorded since March 11.
Beijing's Centre for Disease Control and Prevention advised Chinese students overseas to "stop returning" home if the trip was not necessary, in a bid to avoid contagion during the journey.
"The imported cases were highly contagious," China's top epidemiologist Zhong Nanshan said at a press conference in Guangzhou on Wednesday. "We should pay high attention."
He said arrivals from severely hit countries should be screened with test kits rather than checked for symptoms.
"China is facing a big risk of imported cases," said Zhang Ke, a communicable disease specialist at Beijing's Youan Hospital.
This article appeared in the South China Morning Post print edition as: Imported cases send city's daily infections to new high