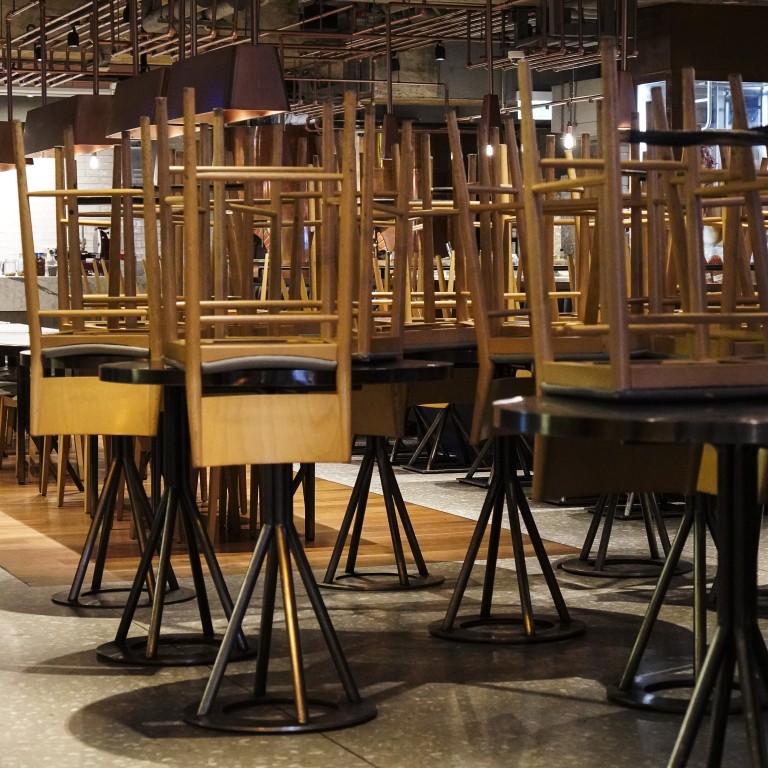 Coronavirus: with alcohol ban looming, Hong Kong bars, restaurants announce own anti-epidemic measures
'We're taking the initiative and hope there is no need for legislation,' catering sector lawmaker says at Wednesday press briefing
Voluntary moves include operating at half capacity and spacing out tables, while stakeholder group petitions for benefits for furloughed workers
Dozens of restaurants and bars around Central's entertainment district have temporarily shut their doors as the coronavirus epidemic batters the industry, while those staying open in famed pub hub Lan Kwai Fong have voluntarily halved their seating capacity, as
harsher measures mandated by the city government
loom on the near horizon.
Health authorities on Wednesday revealed that three more Covid-19 patients had visited the bar Insomnia in Lan Kwai Fong, bringing the tally of cases linked to the popular nightlife area to 20.
The self-initiated containment measures, announced Wednesday, come as the food and beverage sector is up in arms over Chief Executive Carrie Lam Cheng Yuet-ngor's controversial plan to ban alcohol sales at the 8,600 Hong Kong restaurants, bars and clubs with liquor licences.
Allan Zeman, chairman of Lan Kwai Fong Group and the area's dominant landlord, said some businesses had already seen revenue to this point in March cut in half from a year ago, with the worst case seeing revenue decline by 70 per cent.
Zeman noted about 10 per cent of some 120 restaurants and bars in the area had already suspended business as potential customers stayed home to guard against the spread of contagion.
Business has plunged since the cluster of infections emerged in the nightlife district last week, with a waiter, a band member and a customer at Insomnia on Wednesday upping that tally by three.
"The unfortunate thing is those cases that come up, most of them are returnees from overseas, they didn't get sick in Lan Kwai Fong," Zeman said.
He added that the band, with eight members so far infected, played multiple other venues around town, including ones in Tsim Sha Tsui and Wan Chai.
Anthea Cheung, director of the Lan Kwai Fong Association, said Insomnia was just one of several area businesses that had suspended operations earlier this week for disinfection.
"They want to safeguard the reputation of Lan Kwai Fong," Cheung said, adding the staff would rest for a week or two to ensure they were healthy before returning.
Ravi Beryar, operations director of the bar Rula Live, believed the number of local businesses making similar moves was even greater, estimating about 30 businesses in Lan Kwai Fong and Wyndham Street had temporarily closed their doors from Monday or Tuesday to minimise the risk of spreading the virus.
He could not, however, say how long that would last at his bar.
"We want to show our guests we want to act proactively and we care about their safety, so we have to take large measures," he said. "If we wait for the legislation and then close, it looks like we're only doing it because Carrie Lam told us to."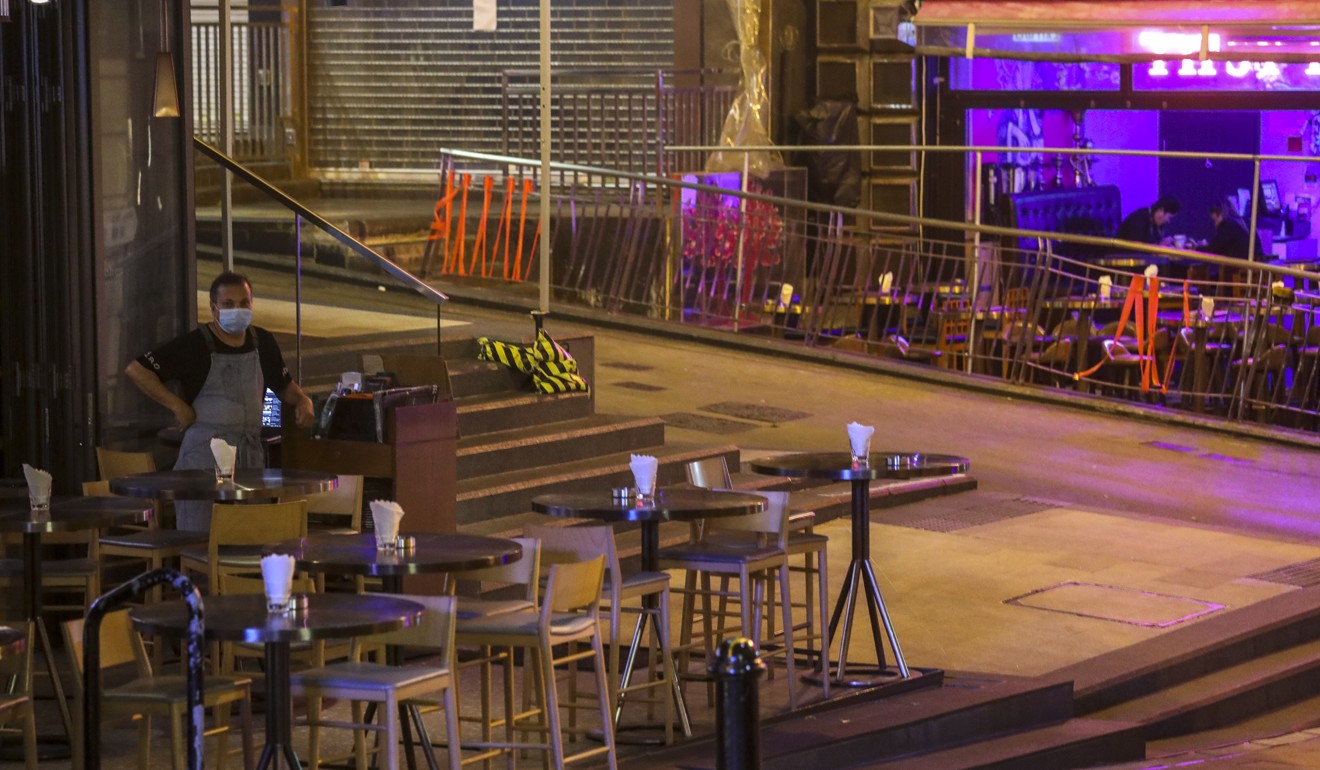 After a meeting with Lam on Wednesday, Liberal Party lawmaker Tommy Cheung Yu-yan, who represents the city's catering sector, said some businesses were launching their own anti-epidemic initiatives that would last from two to three weeks.
"We're taking the initiative and hope there is no need for legislation [regulating restaurants]. Doing it voluntarily is always faster than setting up laws," he said.
Cheung said a number of bars and restaurants had agreed to halve their service capacity, saying outlets with 50 seats, for example, would serve only 25 people at a time.
Eateries will also promote takeaway service, offering customers 20 per cent off dine-in prices, while live band performances in Lan Kwai Fong and some other areas are being cancelled.
Most sector representatives have also agreed to seat no more than four diners at a table, while the tables themselves will be separated either by a space of 1.5 metres or partitions, he added.
Others, however, including those running wedding banquet businesses, have said that would be a difficult measure to implement.
Lan Kwai Fong restaurants were among those that would be halving capacities, Zeman said.
"My people were there this morning at the [press conference with] Tommy. They agreed to back whatever Tommy has said," he said.
Meanwhile, Cafe de Coral group said its chain restaurants Cafe de Coral, Oliver's Super Sandwiches, Super Super Congee & Noodle and Mixian Sense would suspend dine-in services from 6.30pm from Friday for about two weeks. Only takeaway services would be provided during that period.
The move followed McDonald's in Hong Kong introduction of similar measures on Tuesday.
Separately, other industry stakeholders have launched a petition calling for more relief measures from the government, including a temporary suspension of MPF contributions from both employees and employers.
They are also demanding immediate support in the form of emergency unemployment benefits for all hourly and salaried workers furloughed during the health crisis.
Scott Chiesa, one of the petition's organisers, said they had secured nearly 4,300 signatures as of 4.30pm on Wednesday, and planned to send the petition to Financial Secretary Paul Chan Mo-po when that number reached 5,000.
Purchase the China AI Report 2020 brought to you by SCMP Research and enjoy a 20% discount (original price US$400). This 60-page all new intelligence report gives you first-hand insights and analysis into the latest industry developments and intelligence about China AI. Get exclusive access to our webinars for continuous learning, and interact with China AI executives in live Q&A. Offer valid until 31 March 2020.