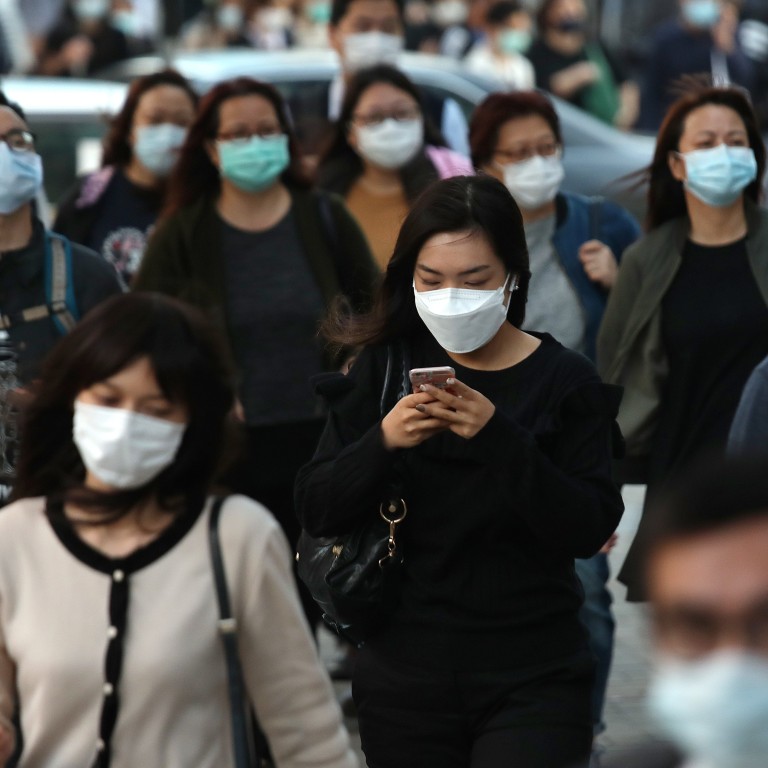 Coronavirus: 400 isolation beds to be added to Hong Kong's public hospitals to ease pressure from surging number of infections
'Second-tier' beds will be in negative-pressure wards for recovering patients in stable condition to free up space for fresh cases
News comes as another five cases confirmed from growing bar cluster, bringing number of linked infections to 48
Hong Kong hospital chiefs have added 400 isolation beds for coronavirus patients, as the city reported 64 new cases, 47 of whom had a recent travel history.
The latest infections on Saturday brought the city's tally to 582, after the biggest single-day jump on Friday of 65 cases.
Dr Sara Ho Yuen-ha, the Hospital Authority's chief manager for patient safety and risk management, revealed at the daily press conference that 400 "second-tier beds" had been converted from ordinary wards across seven public hospital clusters to cope with increasing demand.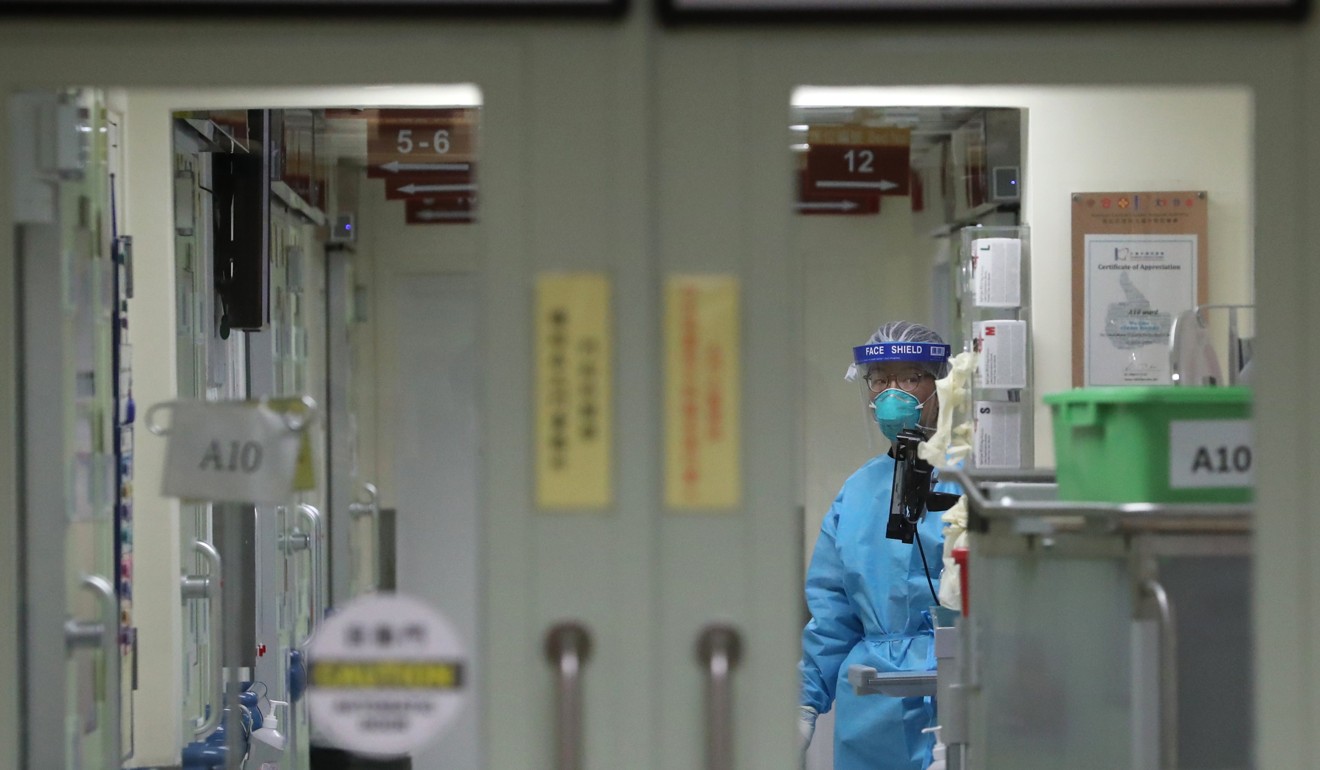 Such units are fitted with ventilator machines to create a negative interior air pressure, preventing air and the virus which may be suspended in droplets from leaving the rooms. They will be put to use next week.
Ho said Covid-19 patients in stable condition would be moved to those beds first, freeing up space for new cases, adding "we will continue to consider various plans to increase our hospitals' capacity and work hand in hand with the government on its anti-epidemic strategy".
As of Saturday, there were 1,012 isolation beds and 534 wards citywide, with an occupation rate of 60 per cent and 77 per cent respectively.
The announcement came as leading infectious diseases expert David Hui Shu-cheong from Chinese University called for hospitalised patients in stable condition and who no longer had fever to be transferred to "step-down wards" to ease the pressure on isolation beds.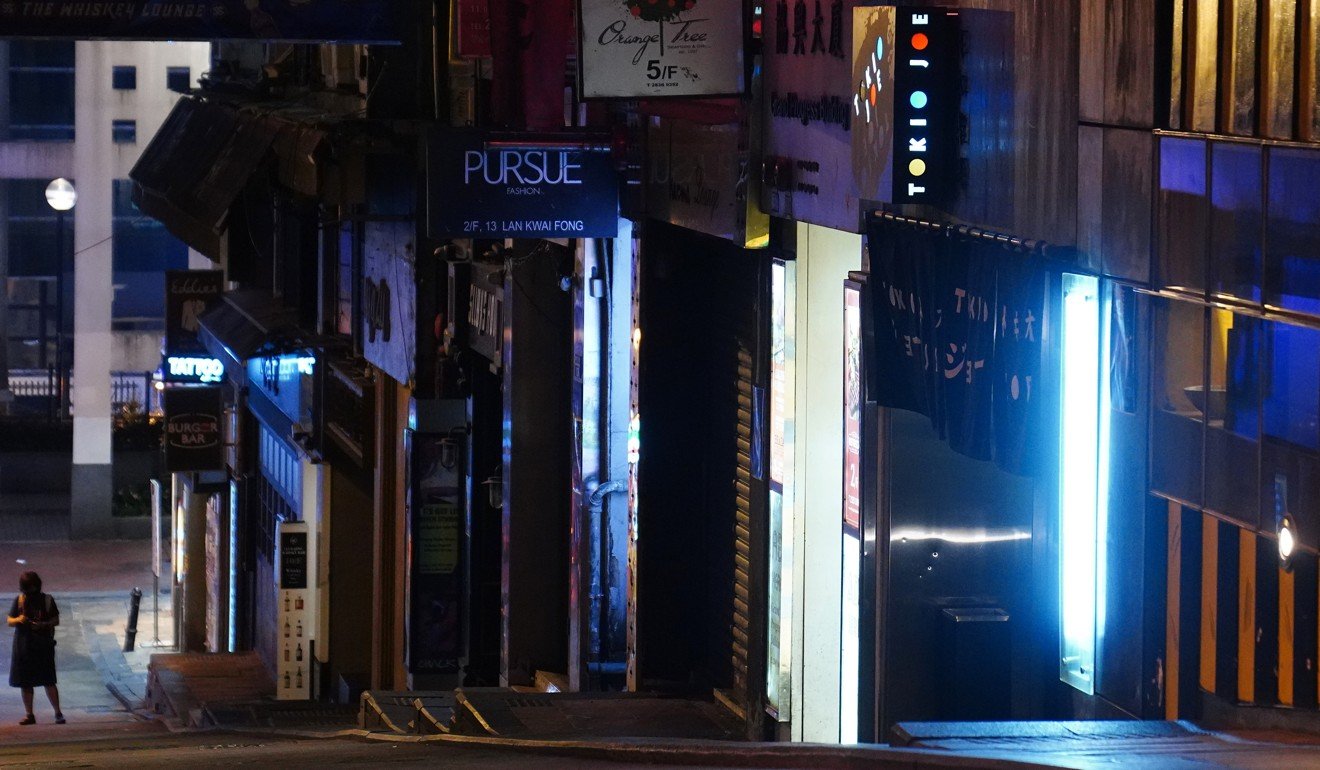 But he said a strict containment strategy was still needed, and patients should only be discharged after they tested negative twice for the virus.
Among the fresh cases on Saturday, 47 had a history of recent travel, including 26 returning students. Many did not have any symptoms of the disease, said Dr Chuang Shuk-kwan, head of the Centre for Health Protection's communicable disease branch.
Of all new cases reported, five were linked to a growing
bar cluster
, bringing the number of infections tied to musicians, staff and customers at popular drinking venues in the city to 48.
The five infections centred on pubs in Soho, Lan Kwai Fong, Tsim Sha Tsui and Wan Chai, including two employees and two customers. The remaining patient from this group is a family member of an employee at Dusk Till Dawn in Wan Chai.
Chief Executive Carrie Lam Cheng Yuet-ngor on Friday unveiled a raft of new social-distancing measures, including banning public gatherings of more than four people, shutting cinemas, gyms, party venues and other social venues for two weeks.
But she stopped short of moving on an earlier plan to ban the sale of alcohol in bars and restaurants, amid backlash from an industry already hit hard by the public health crisis.
Chuang on Saturday said the flurry of imported cases was "expected" as many had returned from virus hotspots such as Britain. She said local authorities could run 2,000 diagnostic tests a day.
Separately, police revealed on Facebook that eight officers at Sham Shui Po station were classified as close contacts of a female colleague earlier confirmed to be infected. Of those, five have tested negative in preliminary screenings and all of them will self-isolate at quarantine centres.
The force apologised a day before after the policewoman was found to have defied instructions from medical workers to wear a mask when they were obtaining blood samples from her in hospital.
The Hospital Authority's Ho confirmed the two health care staff had tested negative for the virus, adding: "I remind citizens once again to listen to our medics' instructions and wear masks in hospitals."
In Japan, a Hongkonger who was on the ill-fated Diamond Princess cruise ship died in the early hours of Saturday.
Pro-establishment lawmaker Vincent Cheng Wing-shun said the elderly woman, who contracted the dreaded disease in February, was treated in intensive care at a Japanese hospital. She died at around 5am.
Earlier this month, the Security Bureau said two other Hongkongers, who had been on the cruise, died from the disease in Japan.
The ship departed Hong Kong on January 25, when a passenger from the previous batch disembarked. He was later confirmed to be infected.
About 369 Hong Kong residents were stranded on the ship when it was quarantined for more than a week in Yokohama, with dozens aboard contracting Covid-19. Most residents have returned.
The Post has reached out to the Security Bureau for comment.
The Society for the Prevention of Cruelty to Animals meanwhile cautioned Hongkongers against abandoning their pets after a cat in Belgium was found to have contracted Covid-19 from its owner, stressing there was no evidence of animal-to-human transmission of the virus.
"Our pets are especially important during these times of anxiety and isolation, offering companionship and comfort … Abandoning pets irresponsibly will result in regret and remorse, which will do nothing to help our emotional state at this already trying time," its spokesman said.
This article appeared in the South China Morning Post print edition as: Wards add 'second-tier' beds