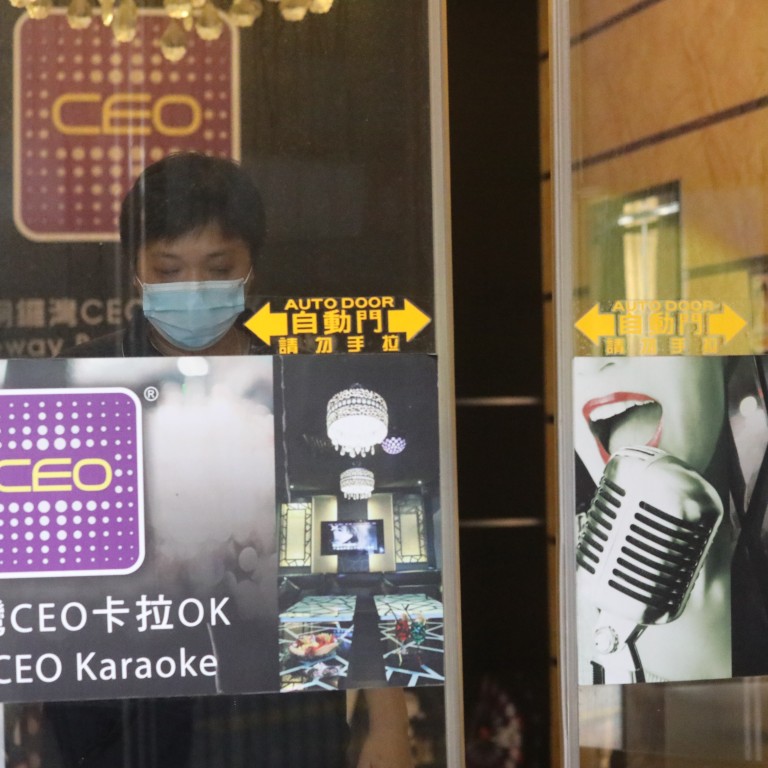 Coronavirus: Hong Kong shuts karaoke lounges, mahjong parlours and nightclubs to control outbreak
Government widens its blanket over popular gathering spots but venues are caught off guard
Beauty parlours among businesses that can stay open, even though a member of the industry is among 51 new infections
Hong Kong suddenly shut down karaoke lounges, mahjong parlours and nightclubs on Wednesday, getting tougher on growing community-spread
coronavirus infections
as the city confirmed another 51 Covid-19 patients, 17 of them with no recent travel history.
Most of the new infections were once again identified as imported cases, taking the city's steadily rising tally to 765, but two more patients were added to a list of five who were traced back to a karaoke parlour in Tsim Sha Tsui, amplifying concerns about the need to further discourage social gatherings.
Unclear and last-minute messaging by the government sparked confusion before it was confirmed that the newly targeted venues must close for two weeks starting from Wednesday, but beauty parlours, massage establishments and clubhouses were allowed to remain open, subject to necessary precautions.
"Many [Exco] members have told the government for a long time to take action in banning more entertainment areas where people might gather," an Executive Council member told the Post. "The confirmed cases in a karaoke lounge on Monday proved we cannot wait."
The government announced in its electronic gazette that the regulation would come into force at 3pm for the six types of venues.
A government source said Chief Executive Carrie Lam Cheng Yuet-ngor and the Executive Council had approved the move, but it was ultimately up to Secretary of Food and Health Professor Sophia Chan Siu-chee to decide which businesses must shut and which only needed to adopt additional health protection measures.
That call was not made public until 5.56pm, four minutes before the venues were to close.
Chan, acknowledging the rushed announcement, said the government would give businesses a grace period where they would receive a verbal warning for any offences.
"We feel sorry, but as I said, this is time-critical given it is an emergency regulation," she said.
"On one hand, we would like to start as soon as possible, but on the other hand, we understand practically these premises may have difficulties in terms of closing preparations. In the beginning, the enforcement will be more leaned towards providing advice."
Chan denied that the government had left loopholes in its social distancing policy by failing to include karaoke lounges in its
first round of closures
affecting cinemas, gyms, saunas, among other venues, on Saturday. She said that only when confirmed cases were tied to a karaoke lounge did the government decide to order the places shut.
"It's risk-based. All these premises [ordered closed] are those that have more opportunities to gather," Chan said. "We discovered there was a karaoke cluster infected, and therefore we responded right away."
"For beauty parlours, we think they also have some risks, but at this point, we have given directions for infection-control measures. But we will continue to monitor the situation and will not rule out measures, such as closures if the situation changes," she said when asked why these establishments were not shut after a beautician was confirmed among the newly infected on Wednesday.
Chan said customers visiting beauty parlours could be exempted from wearing masks given they would be receiving facial treatments.
Violators of the new rules will be punishable by up to six months in jail and a maximum fine of HK$50,000 (US$6,450).
Among the new local cases were a five-week-old infant, an Immigration Department employee and two people who joined a group of seven at a RedMR karaoke lounge in Tsim Sha Tsui on March 24. The group is linked to another confirmed case revealed on Monday. All seven have now tested positive.
Other cases included a performer and customer from an earlier reported cluster of infections tied to bars, as well as the beautician.
The employee tested positive after performing a facial on a woman, who was later confirmed infected, at a branch of the Reenex beauty parlour chain in Tsim Sha Tsui on March 25. The parlour said on its Facebook page that its locations in the area had been closed and staff sent to quarantine for 14 days.
But medical authorities expressed concern over the new cases that lacked a clear source of transmission. Dr Chuang Shuk-kwan, head of the communicable diseases branch at the Centre for Health Protection, said one of the newly infected had visited a bar in Lan Kwai Fong and another in Central, neither of which had known cases.
Another person had frequently visited a gym in Pok Fu Lam, but no other cases had been identified there. A third involved a taxi driver who did not recall taking anyone to the airport, hospitals or hotels, all high-risk areas.
"There might be some hidden chains of transmissions," said Dr Leung Chi-chiu, chairman of the Medical Association's advisory committee on communicable diseases. "When we see new cases from bars [that did not have infections before], this could be a dangerous signal."
The government continued to fall short with its latest containment measures, Leung warned, calling for all non-essential leisure venues to close.
"One staff member could contact many customers and there are often close contacts involved. Masks and hand sanitiser would not be able to offer protection on everything," he said. "Infection could be spread from a customer to a massage therapist, then to another customer – it is a network."
Even though beauty parlours have been spared for now, Juliana Yang Hui-chun, chairwoman of the International Professional Make Up Artists Federation (HK), said the haphazard way the government had introduced measures made business difficult, likening it to "squeezing out toothpaste".
"Why didn't it shut [the sector] all together if it thought the industry bore a high risk?" Yang said. By naming the industry as a risk, the government had "already made customers hesitate".
Last week, Lam said a second wave of handouts would be released, targeting badly hit sectors such as tourism and those left out of the earlier fund. But that would still not be enough to keep businesses from going under, warned Liberal Party lawmaker Tommy Cheung Yu-yan.
After meeting Lam on Wednesday, Cheung, who represented the catering industry, said he understood the latest round would focus on safeguarding jobs and not helping businesses cover rent.
"I foresee that when we get the money, maybe we can only pay wage bills," he said, calling on landlords to at least halve rent for three months. He would not rule out naming and shaming the ones who only cared about their own profits.
"You guys are fat," Cheung said. "We have fed you for years. I hope you don't only talk about the spirit of the contracts. I hope you can talk about the conscience of corporate social responsibility."
As the health care sector comes under increasing strain, the government has been looking to shift its approach to quarantine. Patients recovering in hospital
might be sent to quarantine facilities
, while those already there could be sent home after 10 days to complete their isolation, instead of the current two weeks.
The
Post
earlier reported
sources as saying some of Hong Kong's largest sports and exhibition centres could be converted into isolation space, and insiders said on Wednesday that after consulting medical experts, the government agreed to rely on Chun Yeung Estate in Fo Tan as a quarantine centre. But if the situation deteriorated, other venues including AsiaWorld-Expo will be reconsidered.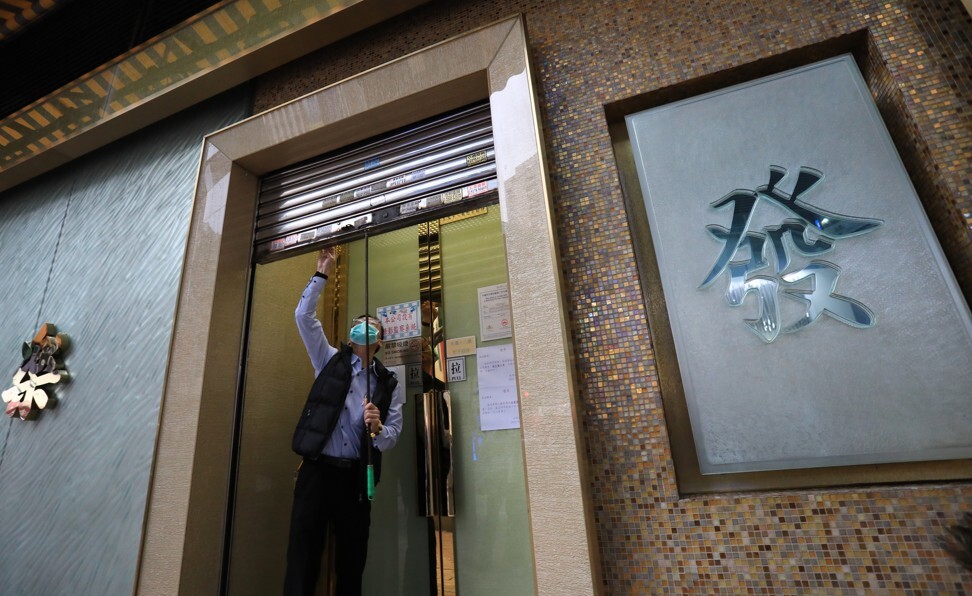 Four mahjong parlours in Mong Kok visited by the Post were closed after 6pm with notices on the shutdown posted outside. Inside one on Argyle Street about 10 staff members in masks were resting at mahjong tables.
"I think the government did the right thing to close down these premises because the outbreak is getting more and more serious," said a man who gave only his surname Lau.
"I played mahjong two to three times a week when I had time. But in these past weeks, I haven't played at all. The place has a high risk of getting infection. You don't know if people you are playing with have a travel history."
At a shuttered nightclub on Portland Street, employee Pang Kam-wah said he understood the government's latest move but was worried about money. "We won't get any salary if the nightclub is closed," Pang said. "The government should think about subsiding individuals that suffer the losses instead of just subsiding the companies."
This article appeared in the South China Morning Post print edition as: leisure venues ordered to close