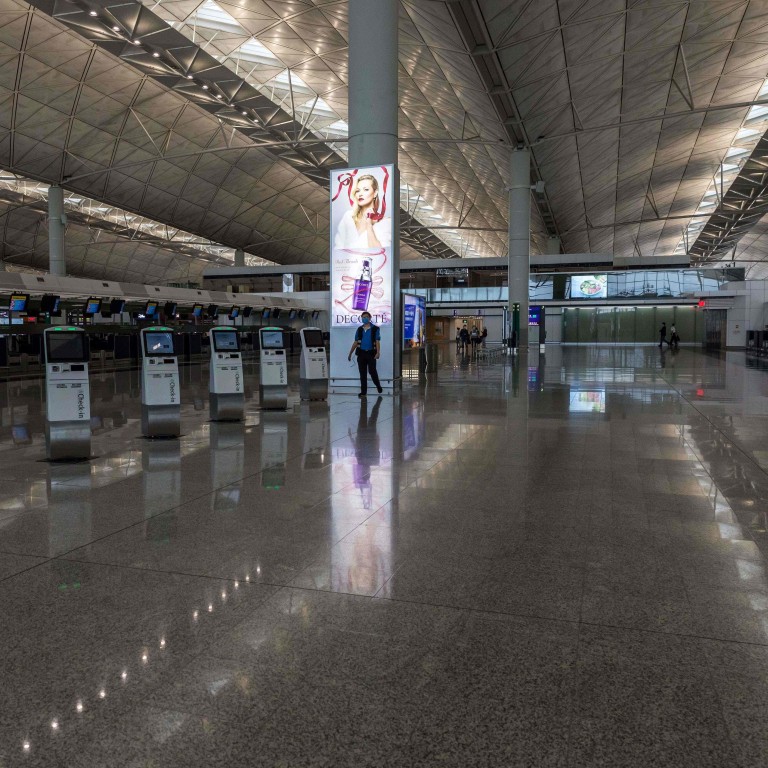 Coronavirus: Hong Kong extends ban on non-residents indefinitely as cases rise to 914
The city extends its ban on arrivals after most cases over past two weeks have come from overseas
Only six of 24 newly infected are local transmissions, but all are linked to entertainment venues already closed
The city recorded 24 fresh Covid-19 infections on Monday, nearly all imported, continuing a trend where most recent cases involve travellers. Just six were local transmissions, all involving entertainment venues already shut under a sweeping campaign to limit social gatherings.
But calls are mounting for the closure order to be extended beyond the initial two weeks and even for all non-essential businesses to close.
Hong Kong now has 914 cases and one listed as probable, more than double the 357 from a fortnight ago, a government spokesman said. Among the newly infected are five residents
evacuated from Peru this past weekend
after the country locked down its borders weeks ago to contain the contagion. Roughly three-fourths of cases in the past two weeks have been tied to travellers or close contacts of arrivals.
The government will keep in place its current restrictions on travel introduced two weeks ago.
Returning residents must continue to spend 14 days in isolation at home, while everyone coming from mainland China, Macau or Taiwan will be quarantined in hotels or at home, including Hongkongers.
People coming from those three places who have been overseas in the past 14 days will be denied entry, except residents of Hong Kong. All transit flight services remained suspended and the rules would be in place until further notice, the government said.
In addition to imported cases, more community-spread infections are causing serious concern, with Dr Ho Pak-leung, an associate professor of microbiology at the University of Hong Kong, calling for a new law making mask wearing compulsory. "Mask wearing works," Ho told a radio programme. "It can block the spread of the virus by people who may not show symptoms yet."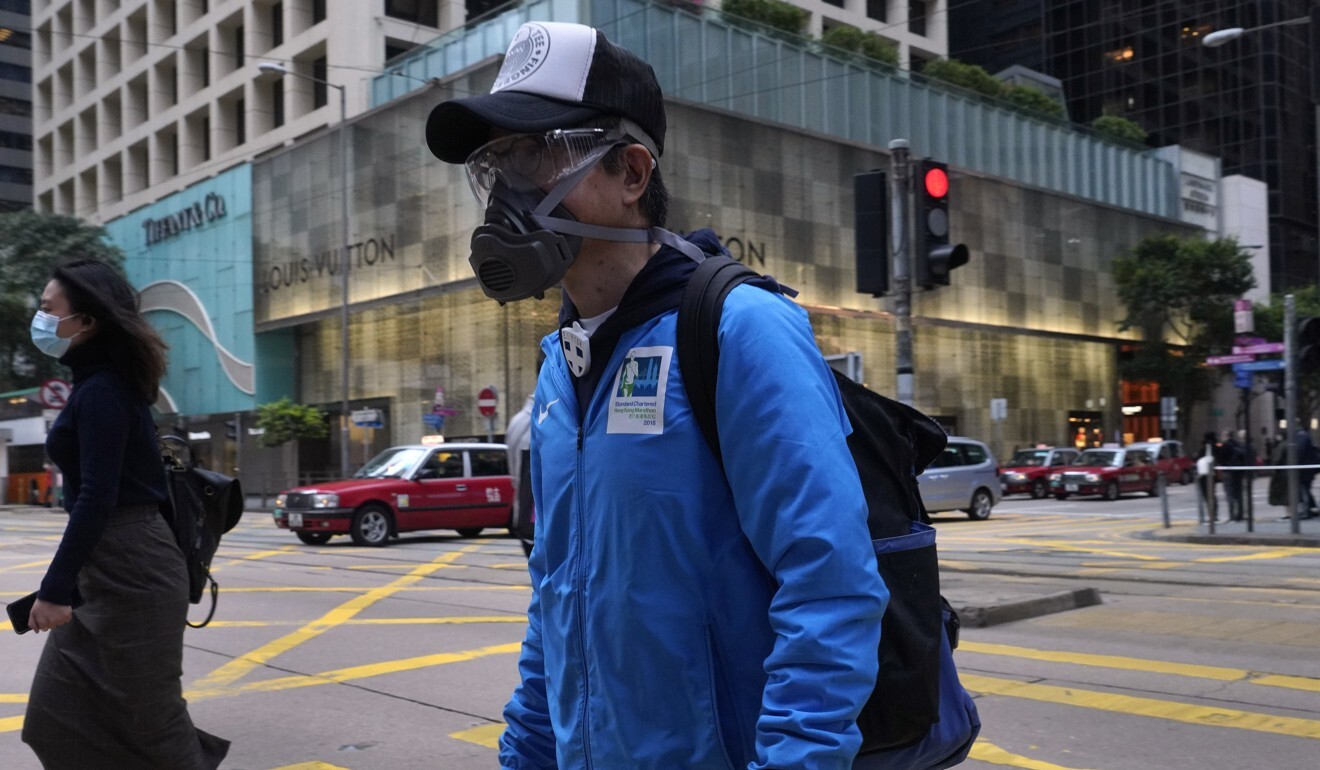 Most residents have already taken to wearing the protective item when out in public. Their widespread use has been credited with helping to slow the spread of the disease in the early weeks of the outbreak, although the demand was also blamed for worsening a shortage among health care workers.
Property giant New World Development said it would give out 10 million masks this month, with 2 million distributed to low-income families through NGOs.
Authorities around the world are struggling to limit transmissions from infected people who do not display symptoms, yet continue to move freely around in public. Ho said making mask use mandatory would help prevent asymptomatic patients from spreading the virus.
The expert also called for stronger enforcement of a rule limiting group gatherings to four.
Already some residents have been slapped with fines for violating the ban. Six men were ordered to each pay HK$2,000 (US$256) after authorities found them playing chess outside at Kwai Shing East Estate in Kwai Chung at the weekend and they refused an order to disperse. Another 13 people were issued fixed-penalty tickets for defying the ban at Sand Martin House at Sha Kok Estate after a call to police on Monday afternoon.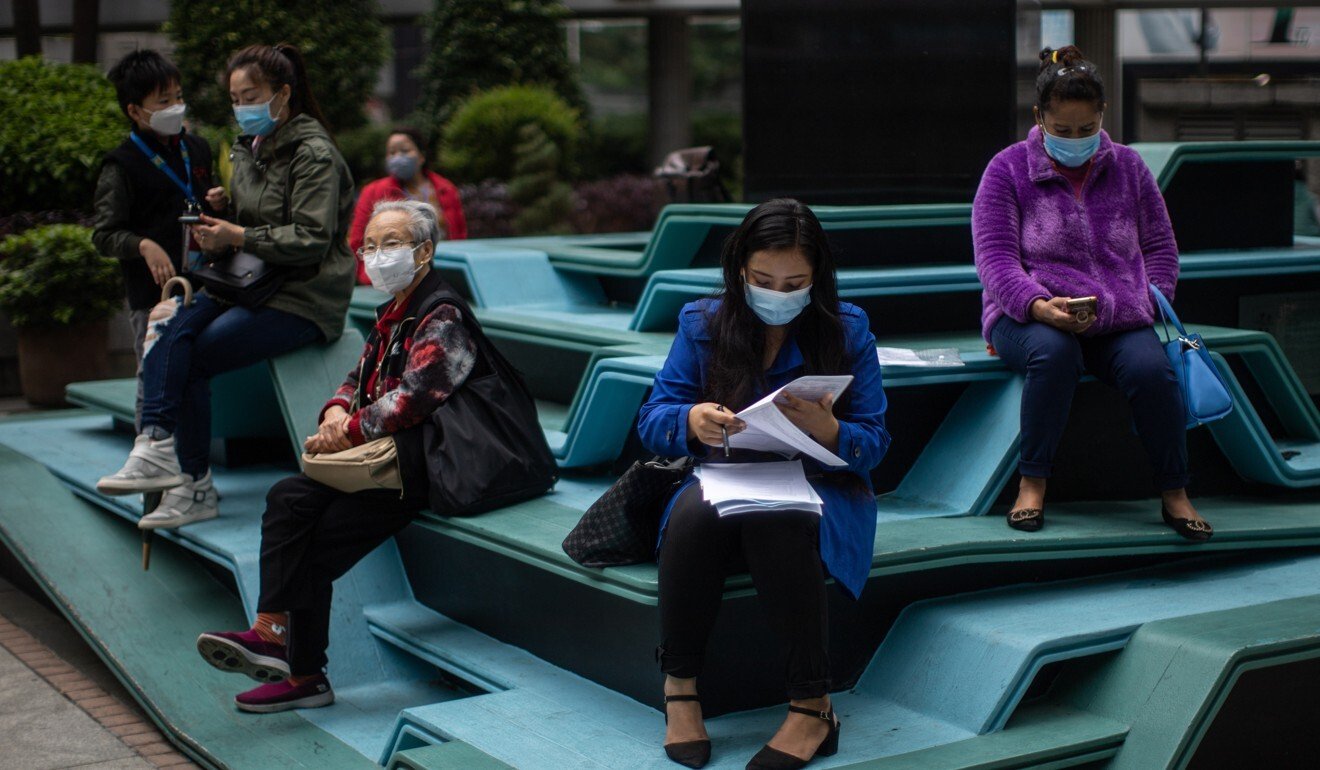 Senior government adviser Bernard Chan has warned that all non-essential businesses could be forced to close as part of a strict lockdown.
"[Expanding precautions] would obviously add to the economic costs," Chan told a radio programme on Sunday. "It could also risk spreading panic. But we have to accept that it may be necessary, if the alternative is the risk of something worse."
Eighteen of the latest cases had a history of recent travel, with Britain, Japan, Argentina and Nigeria among the countries involved. With the help of the government, more than 60 residents who were stranded for weeks in Peru arrived home on Sunday and were immediately sent for testing at AsiaWorld-Expo.
Three of the five confirmed infected belonged to a tour group organised by Morning Star Travel, according to Dr Chuang Shuk-kwan, head of the communicable disease branch of the Centre for Health Protection.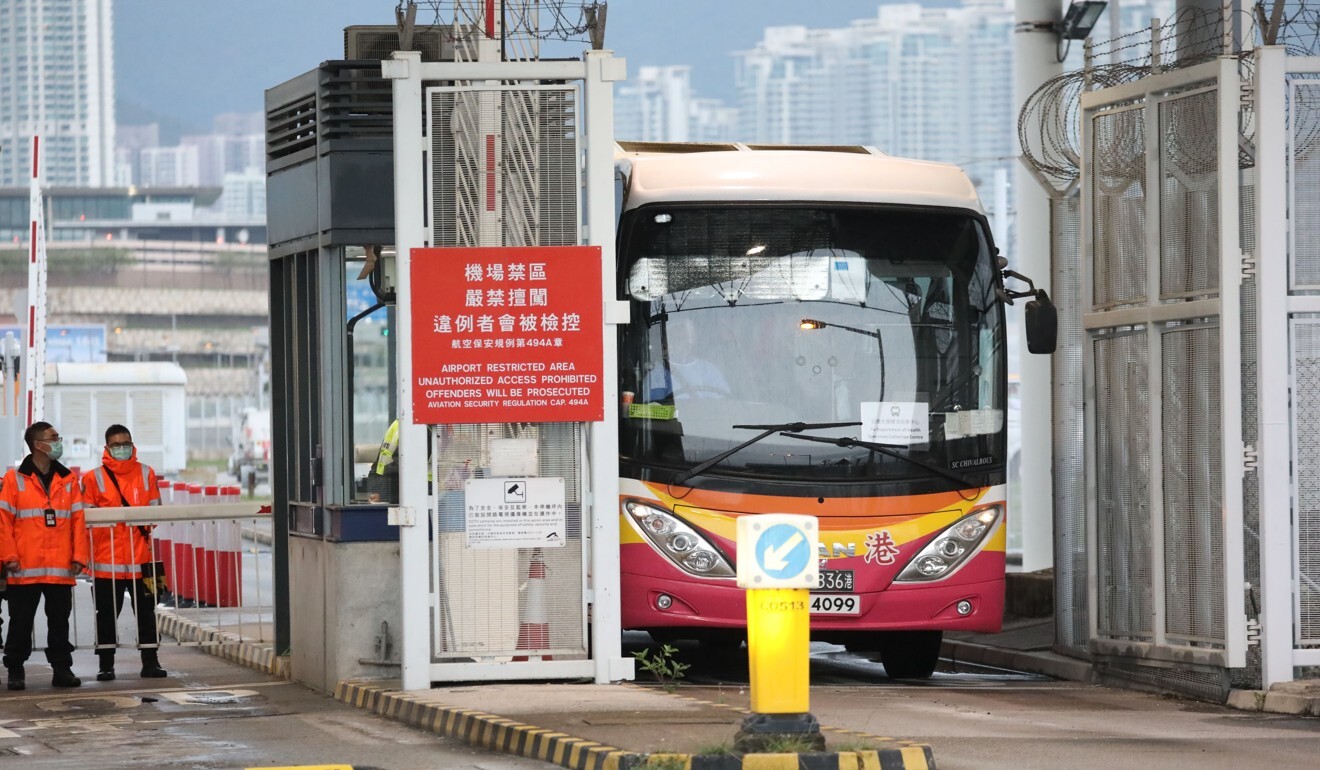 More than a dozen others in the group plus a tour guide would be sent to quarantine centres, Chuang said. The remaining two residents returned from Peru were a couple, she said.
The other passengers on the flight had not come into close contact with the infected and would be isolated at home. The repatriation was organised after an infected 64-year-old Hong Kong resident died in the southeast of the South American country late last month.
Among the six local cases were two boys, aged three and eight, whose mother, earlier confirmed as infected with Covid-19, tested positive, the centre said. She worked at the All Night Long bar in Tsim Sha Tsui, where two more of the newly infected worked as staff members.
A fifth case involved a man whose girlfriend contracted the virus after visiting the bar and a second venue with a history of transmissions, Insomnia in Lan Kwai Fong.
In the sixth, a man tested positive after attending a farewell party for a colleague at a Causeway Bay branch of the CEO Neway chain of karaoke lounges two weeks ago. His wife was confirmed infected earlier. Previously, seven people became infected after visiting a karaoke lounge run by RedMR in Tsim Sha Tsui.
The government has ordered all those venues, along with cinemas, gyms and saunas, among others, to shut as part of an ever-widening campaign to force social distancing. But Ho said the closures needed to be extended beyond the initial two weeks.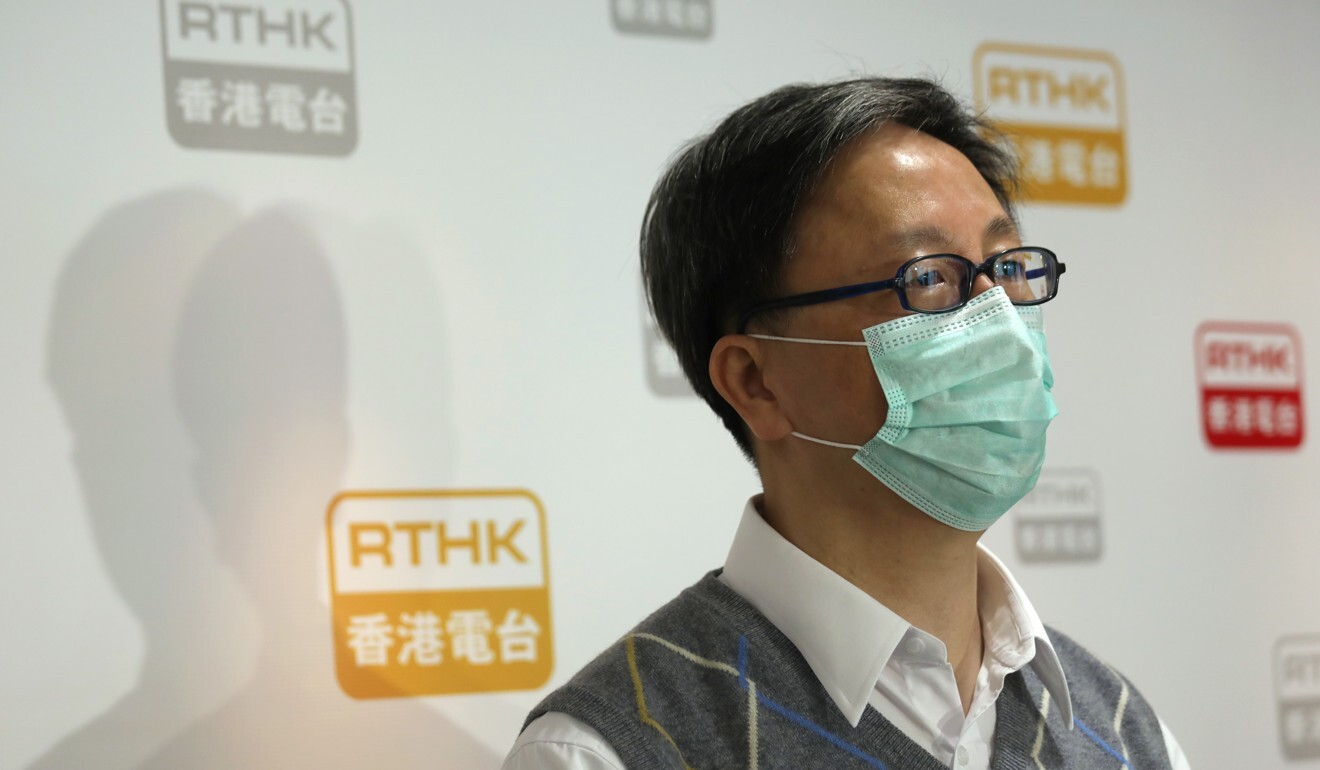 The number of global Covid-19 cases continues to rise sharply across the world, with more than 1.2 million infected and over 70,000 people killed.
But Hong Kong's daily number of infections fell over the weekend – to 17 on Saturday and 28 on Sunday – after a resurgence in recent weeks fuelled by people returning to the city from overseas. The highest number recorded in a single day was 65 on March 27.
But Chuang cautioned against complacency and premature optimism, saying the dip had been across only a few days. "So it's difficult to judge the trend at this moment," she said.
When asked about Ho's suggestion to mandate the use of masks, Chuang described the willingness of people wearing them as already "quite good".
Chuang said authorities had contacted private doctors about carrying out testing and she urged anyone displaying symptoms to come forward.
With public hospitals under strain from the outbreak, Hospital Authority chief executive Dr Tony Ko Pat-sing said patients who were not Covid-19 cases would continue to be transferred to private facilities. Other options for cooperation were also being explored.
"In overseas experiences, some stable patients were treated in private hospitals. We are in close discussion with [local] private hospitals," Ko said.
But Dr William Ho Shiu-wei, chairman of the Hong Kong Private Hospitals Association, said discussion had not started. "So far the Hospital Authority has not yet requested private hospitals to take in recovering Covid-19 patients," Ho told the Post.
He said that each private hospital had some isolation beds, but fewer than in public hospitals, and what beds were available were needed for suspected cases of Covid-19 or other kinds of infectious diseases.
If those beds were given to recovering coronavirus patients from public wards, private hospitals might need to stop taking in new cases.
This article appeared in the South China Morning Post print edition as: Foreign visitor ban to stay