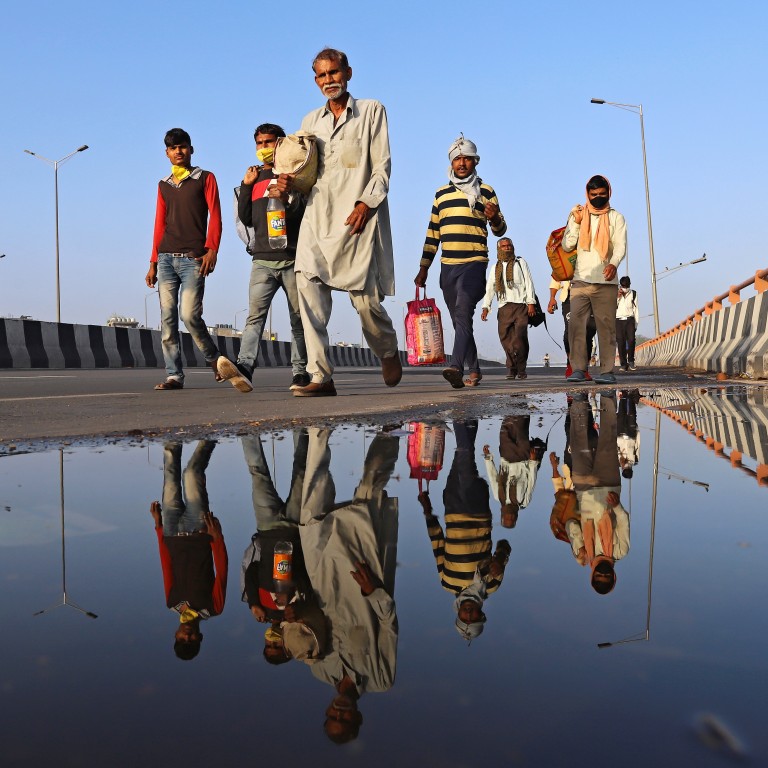 Coronavirus: more than 1,000 Hong Kong residents stranded in India call for evacuation
Former president of the India Association Hong Kong Mohan Chugani accuses city government of 'double standards' for dragging its feet on evacuation
Security Bureau spokesman says the government may help those stranded in various countries considering the situation on the ground
Kavita Khosa's hopes of coming home to Hong Kong from the west Indian city of Pune are growing dim.
The 57-year-old Hong Kong permanent resident, a social enterprise boss and lawyer, went to India in February on a business trip, with a plan to return in a few weeks. But she has been stranded in the South Asian country since its government declared a three-week lockdown in March that was supposed to end at midnight on Tuesday.
But the sky fell on her when Prime Minister Narendra Modi announced on Tuesday that the lockdown would remain in place until May 3, and there could be "no alternative" to saving human lives.
All that is left in Khosa's flat are six eggs, a watermelon, some vegetables and rice, while food supplies at nearby grocery stores have also been scarce.
"I'm not back home in India now. I am here all alone and my family is in Hong Kong," said Khosa, who moved to Hong Kong from India 33 years ago and considers herself a Hongkonger.
"The situation here in India is so unbelievable and dire. Why is the Hong Kong government refusing to evacuate its own people? It begs the question, is it racial profiling? Is it because we are considered the ethnic minority? What are the reasons?"
More than 1,000 Hong Kong residents, mostly of Indian origin, have been stranded in India, according to Mohan Chugani, former president of the India Association Hong Kong. Among them are 150 Hong Kong passport holders, he said, accusing the city's government of "double standards" for dragging its feet on the evacuation.
There were about 30,000 to 40,000 people of Indian origin in Hong Kong, he added.
In response, the Security Bureau told the Post the Immigration Department had received 1,527 requests for help from Hong Kong residents stranded in 62 countries, with a "relatively large number" of them being stuck in Vietnam, Pakistan and the Philippines. It did not mention India.
"When necessary, the government of [Hong Kong] may render assistance in liaising with relevant airlines to reserve seats for the journey to return to Hong Kong, and where the circumstances so warrant, the government would assess the need to exceptionally charter a special flight for the return of stranded Hong Kong residents," a spokesman said.
He added that factors to be considered included the ground situation in the countries, the availability of transport facilities, the number of Hong Kong residents involved and their locations, the feasibility for airlines to operate chartered flights in the countries, as well as the readiness and capacity of quarantine facilities in Hong Kong to receive the returning residents.
As of Wednesday, Hong Kong has recorded 1,016 Covid-19 cases, many of the residents returning from overseas, straining the city's medical resources and quarantine facilities.
Khosa and others stranded in India feel they have been abandoned by the city's government. They said the government had arranged chartered flights to bring stranded residents home from the mainland Chinese city of Wuhan, Japan and Peru, but had turned a blind eye to those in the South Asian country.
Khosa considers herself a "true Hongkonger", having lived in the city for 33 years, practising law, running a social enterprise and actively engaging in social activities.
"How much more of a Hongkonger can I be? I just want to be home," she said. Her husband and two children were all born in Hong Kong.
She knew of some stranded Hongkongers in India who had already been fired by their employers.
Manish Suri, another Hong Kong resident who has worked in the city for seven years, was also stuck in India after going there to visit friends in January. He now stays at his friend's house.
"No one is helping us," the 41-year-old said.
Hundreds of those stranded in India have signed a petition urging the Hong Kong government to evacuate them as soon as possible, saying some foreign governments have already done so.
The Indian consulate in Hong Kong has said if the city's government requests an evacuation, it would process the application.
As of Wednesday, India had recorded more than 11,500 Covid-19 cases, with at least 394 deaths.
Humayun Umer, who holds a Hong Kong passport, said he and about 20 other residents had been stranded in Pakistan and were unable to leave because of the lockdown that was expected to end on April 28.
Umer, who went to Pakistan to visit his relatives in January, said he had called the Hong Kong Immigration Department and asked for help, to no avail.
This article appeared in the South China Morning Post print edition as: Residents stranded in India call for government rescue