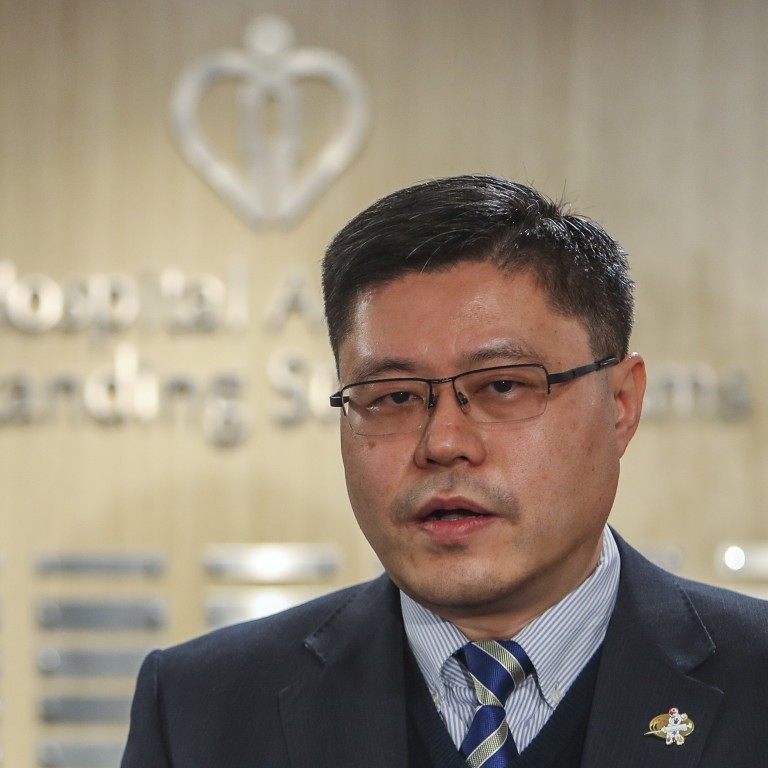 Hong Kong public hospitals begin return of services cancelled because of coronavirus
Senior medical officer warns services will struggle to return to 'pre-epidemic levels' as staff begin contacting patients for appointments
Dr Ian Cheung says city will need to be on permanent alert to guard against resurgence of Covid-19
Hong Kong public hospitals have begun rescheduling non-emergency services for thousands of patients affected by cancellations because of the coronavirus.
But on Tuesday a senior hospital officer warned services would "struggle to return to pre-epidemic levels" and the city would need to be on a "permanent war footing"
to guard against a resurgence of Covid-19
.
Dr Ian Cheung, the Hospital Authority's chief manager for cluster performance, made his remarks despite infection rates easing over the past two weeks.
In a radio programme, Cheung said non-emergency procedures would resume in three phases, starting with radiodiagnosis, followed by day care and outpatient clinic services, and lastly by inpatient services and surgeries.
"Even as the epidemic has improved in Hong Kong, the situation remains quite unstable around the world … we have to balance different considerations like epidemic control and manpower allocation," Cheung said.
"It appears the pandemic won't disappear like severe acute respiratory syndrome (Sars), and instead may come back in waves. Therefore we have to place [public hospitals] on a permanent war footing,"
But a new operation model would be required, Cheung said, with more stringent infection control measures, and harnessing of technology as well as collaboration with the private sector to cut waiting times.
So far, 900 confirmed and probable Covid-19 patients have been discharged, and 151 remain in public hospitals.
The authority, which manages 43 public hospitals and institutions in the city, activated its emergency response level in public hospitals on January 25, and for more than three months has only provided about half of the non-emergency and non-urgent services, affecting thousands of patients.
Cheung said public hospital staff had already started making phone calls to affected patients to reschedule appointments.
Those patients would be seen in the order of the severity of their illnesses, he said, while those whose appointments had not been cancelled would be seen on time.
There would also be increased infection-control measures, such as fewer entrances and exits in hospitals, as well as more temperature screening and questionnaires for visitors.
In addition, a new simplified version of the HA Go mobile app, containing the latest information and waiting times, would be available next month.
"It can help minimise waiting times and risks of cross infections," Cheung said.
Collaboration between public and private hospitals would also be strengthened, with more patients referred to the private sector for the treatment of cancer, caesarean sections, radiotherapy, and orthopaedic operations.
Help us understand what you are interested in so that we can improve SCMP and provide a better experience for you. We would like to invite you to take this five-minute survey on how you engage with SCMP and the news.