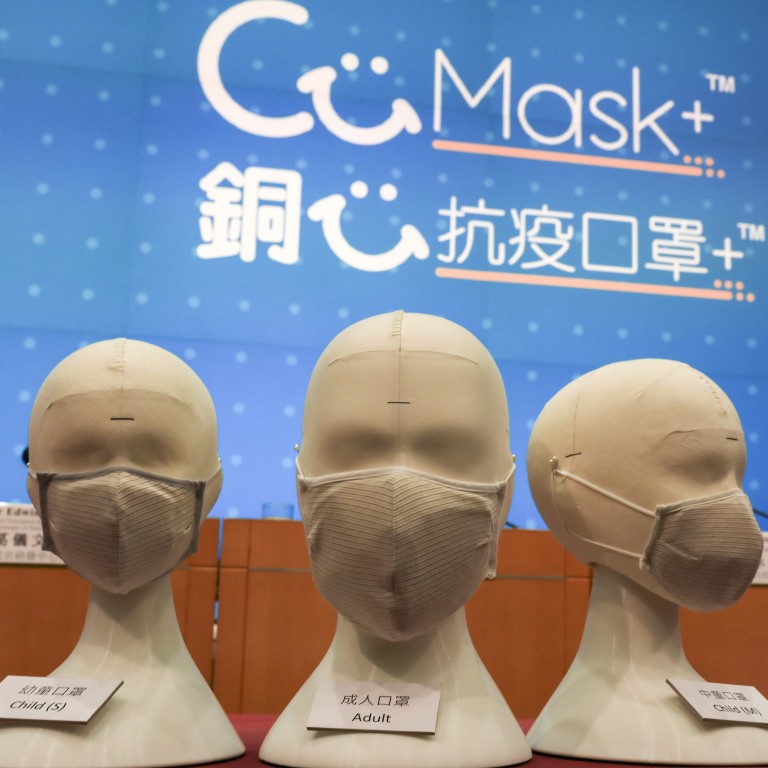 Coronavirus: 1.5 million apply for Hong Kong's free mask scheme in first 11 hours after website goes live
Government is giving every one of city's 7.5 million inhabitants mask that can be used 60 times
Website went online at 7am and people can apply until June 6
Hong Kong's reusable mask scheme sparked an application rush when
online registration
opened on Wednesday, with more than 1.5 million signing up for a free one for each person, to be delivered to their homes.
The government scheme has been well-received as the city seeks to return to normal, with no new local coronavirus infections for 17 straight days, while also keeping its guard up to avoid a relapse.
Secretary for Innovation and Technology Alfred Sit Wing-hang said there was no need to rush as the registration period would remain open for a month.
Chief Executive Carrie Lam Cheng Yuet-ngor, who visited the mask factory in Tsuen Wan to thank workers and staff, said 1.57 million people had applied online by 6pm for the CuMask+, its name derived from the chemical symbol for copper, a key filtering component, and also playing on the words "see you".
"The system is operating well. I accessed the page and some of my colleagues also finished registration," Sit told a radio programme in the morning.
Costing about HK$40 each, the masks are being given away to the city's 7.5 million residents.
The government plans to distribute at least 8 million masks, including two each to kindergarten and primary pupils, meaning the cost could be about HK$320 million (US$41 million).
"The masks are environmentally sustainable," Sit said. "We heard from health experts that the coronavirus threat will not go away for some months, so Hong Kong people will need them."
Shelly Ci was among the hundreds of thousands signing up when she registered herself at noon.
"My friend sent me the registration link early in the morning. I thought it would take a long time to access the page, so I didn't click on it," said Ci, who works in the financial industry. "I didn't expect it to take just one minute."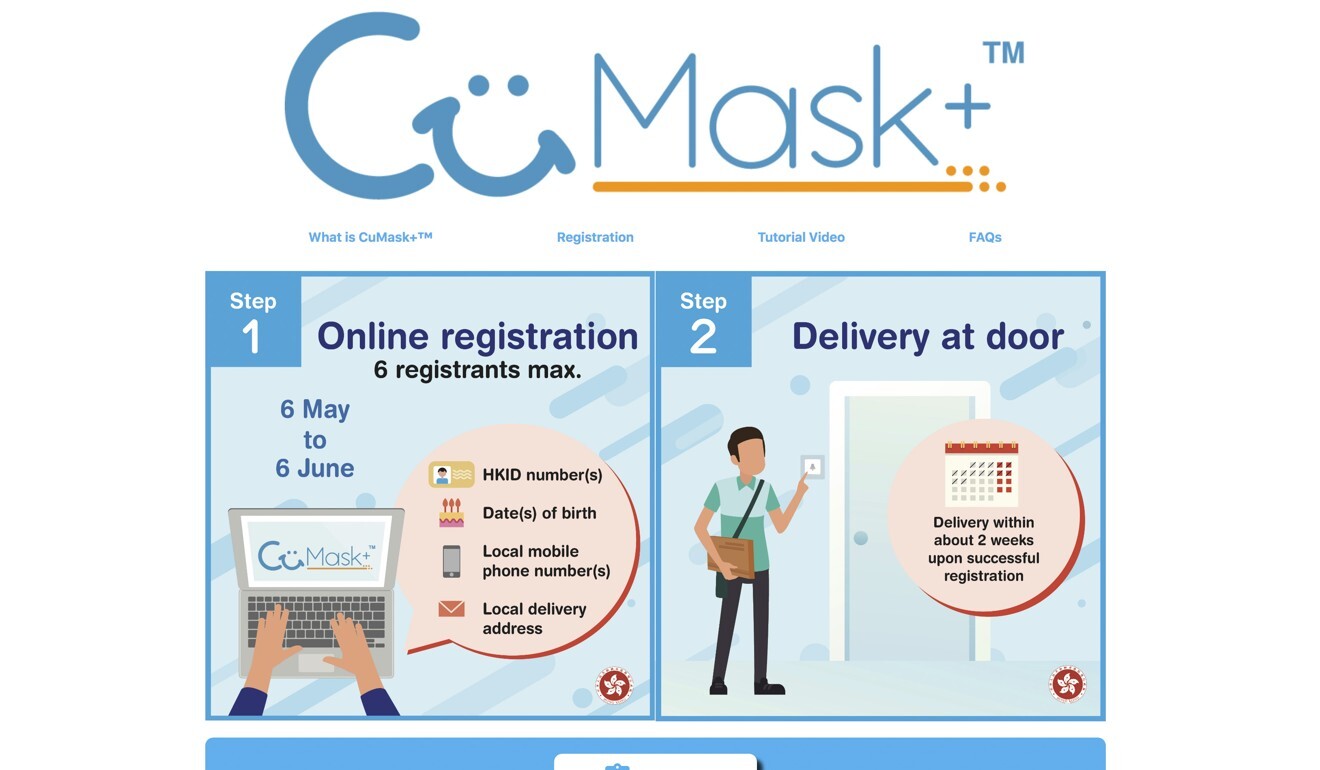 Post reporters who tested the application process found it generally easy to use. When landing on the registration page, applicants receive a queue number which tells them how many users are ahead of them, as well as the expected time to access the page.
The page had more than 60,000 users queuing to register within the first five minutes, and by 7.33am, the number had surged past 110,000.
Despite the heavy traffic, the actual waiting time to access the registration form ranged from 12 minutes to 17 minutes, as of 7.30am. The waiting time fell to about five minutes or less after 8am.
Each Hong Kong resident is allowed to fill in the registration form for a maximum of six people. They get 30 minutes per session online to fill in and submit personal information including Hong Kong ID number, date of birth, local mobile number, and delivery address. The information will be run through the Immigration Department's data system for verification.
A text message is sent once that information has been verified. The masks are expected to be delivered within two weeks of a successful registration, the period for which lasts until June 6.
Applications for Hongkongers living abroad begin on May 13, but they will have to provide a local address for delivery, along with a local mobile phone number.
Those unable to apply online can collect masks from post offices after June 6 by showing their Hong Kong identity card.
Sit urged people to apply in one go for their family members as well and help collect the masks for the elderly.
"For a family of five, you need to receive registered letters five times if it's a separate registration … So I think one family can apply as a whole," he said.
"People can also help collect the masks for the elderly to be given to them, even if they are not living together."
Sit also said applicants need not re-register for new filters in the future if they had already signed up to receive other protective materials. They could register again if they had not taken that option, he added.
The masks would be delivered by Hongkong Post, which had rehired staff to help with the process, the Hong Kong Postal Workers Union said.
"Dozens of retired postal officers will help deliver the masks," union chairman Cheung Wai-kuen said.
"We will do the deliveries like registered mail. If the delivery fails, postal officers will leave notices for people to pick up their masks at nearby post offices.
"If we cannot manage to deliver masks to the households, one concern is that we may not have sufficient space at our counters but I believe most of the deliveries should be smooth since people applied for the masks themselves."
A spokeswoman from Hongkong Post said it would use more than 2,000 staff to deliver the masks.
"Our target is to complete the delivery despatches received daily from the government," she said.
According to the spokeswoman the service would be to deliver around 1 million masks every week, and would also rehire 80 retired staff with postal experience temporarily for the task.
Asked why the government had not tendered for a manufacturer, Sit cited past experience in which a public tender had failed to attract submissions. He said the government chose not to reveal the manufacturer's name as the process had been kept under wraps to minimise outside competition over materials.
Liberal Party leader Felix Chung Kwok-pan, who represents the textile industry in Legco, said it was understandable the government had not sought bids.
"The copper threads [used in the mask] had to be sourced globally. If word got out too early, prices could have been hiked," he said.
But now that the masks had been made, Chung added, it was time for officials to reveal more details about the manufacturer and material providers, as it involved a large sum of money.
Dr Ho Pak-leung, a top microbiologist from the University of Hong Kong, said the masks were not suitable in four instances.
They should not be used on visits to a hospital or elderly care home. They were also not suitable for those with a fever or respiratory symptoms, people undergoing quarantine, or those suspected or confirmed with Covid-19 and their close contacts.
"As the reusable masks cannot be disinfected, there could be virus left on the surface of the mask, leading to transmission risk," Ho told a radio show on Wednesday morning.
Dispelling online rumours, the government said the masks were not manufactured by the Sun Hing Knitting Factory, a firm linked to Legislative Council president Andrew Leung Kwan-yuen's brother and son.
Additional reporting by Chan Ho-him, Elizabeth Cheung and Sum Lok-kei
Help us understand what you are interested in so that we can improve SCMP and provide a better experience for you. We would like to invite you to take this five-minute survey on how you engage with SCMP and the news.
This article appeared in the South China Morning Post print edition as: 1.5m in online rush for free masks