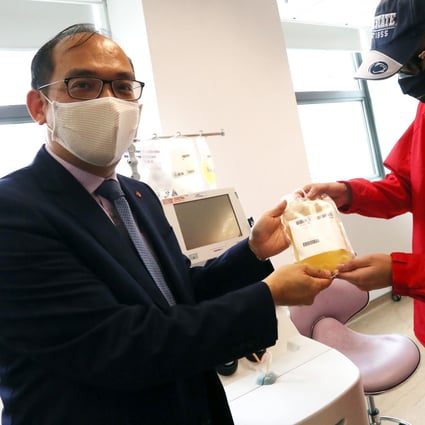 Red Cross Blood Transfusion Service chief executive Dr Lee Cheuk-kwong (left) with donor "Ah Chung", and a plasma donation. Photo: Jonathan Wong
Coronavirus: call for Hong Kong Covid-19 survivors to donate plasma, which tests show kills infection
Current patients' viral load 'dramatically lowered' after application of the antibody-rich liquid
But so far, only three packs have been donated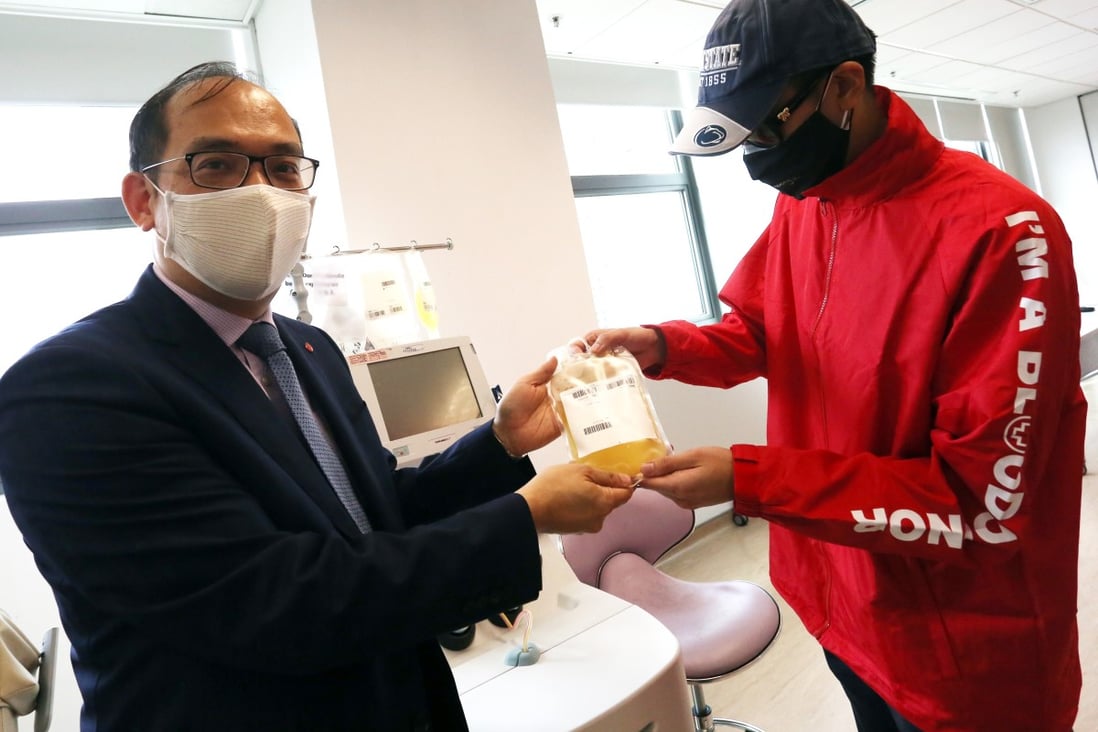 Red Cross Blood Transfusion Service chief executive Dr Lee Cheuk-kwong (left) with donor "Ah Chung", and a plasma donation. Photo: Jonathan Wong
The Hong Kong Red Cross has appealed to recovered Covid-19 patients in the city to donate blood plasma to help those still sick with the disease, saying it can dramatically improve their condition.
Since the Red Cross Blood Transfusion Service started collecting the plasma – the straw-coloured, liquid part of blood – about two weeks ago, only three packs of blood have been donated, by three recovered patients.
Plasma from two of the three packs had already been given to patients via transfusion, with the service's chief executive Dr Lee Cheuk-kwong saying it had an encouraging effect.
"The patients' viral load has been dramatically lowered," Lee said on Thursday.
"What I am worried about most is whether there will be more coronavirus patients in the future," he said, noting a recent re-emergence of locally transmitted cases. "The virus is going to stay with us in the long run. If that happens, we need to be prepared."
By Thursday, the city had recorded 1,051 coronavirus infections, with four related deaths. According to the Hospital Authority, 1,009 confirmed and suspected patients had been discharged.
Researchers at the University of Hong Kong, led by Professor Ivan Hung Fan-ngai, recently found that blood plasma from coronavirus survivors could kill 99 per cent of the virus in patients still fighting Covid-19, because they contain the necessary antibodies to fight the infection.
Last week, Hung said a patient treated with plasma, having been in a serious condition, improved enough to be taken off a ventilator.
The Red Cross's Lee said many coronavirus survivors were so far reluctant to donate because they had spent such a long time in hospital that, now recovered, they just wanted to get on with their lives.
"I know they want to go back to their normal lives. But I hope they can come. The whole process is just going to take about an hour," Lee said.
But not every recovered patient can donate plasma. Lee said the ideal donor was aged between 18 and 60, weighed at least 60kg and had no chronic illnesses.
For now, Lee said, the Red Cross did not accept female donors because they could be unwittingly pregnant. Plasma from a pregnant woman could cause lung problems for coronavirus patients, he added.
Each donor can have 500ml to 600ml of plasma extracted each time.
One of the three donors so far was "Ah Chung", who asked not to be named because his family did not know he had been infected.
"I have never given blood before," he said. "I can donate my plasma because I am lucky enough to have recovered … if you are still wondering whether you should do it, there might be new patients already who need the plasma. Why not just do it now?"
Help us understand what you are interested in so that we can improve SCMP and provide a better experience for you. We would like to invite you to take this five-minute survey on how you engage with SCMP and the news.