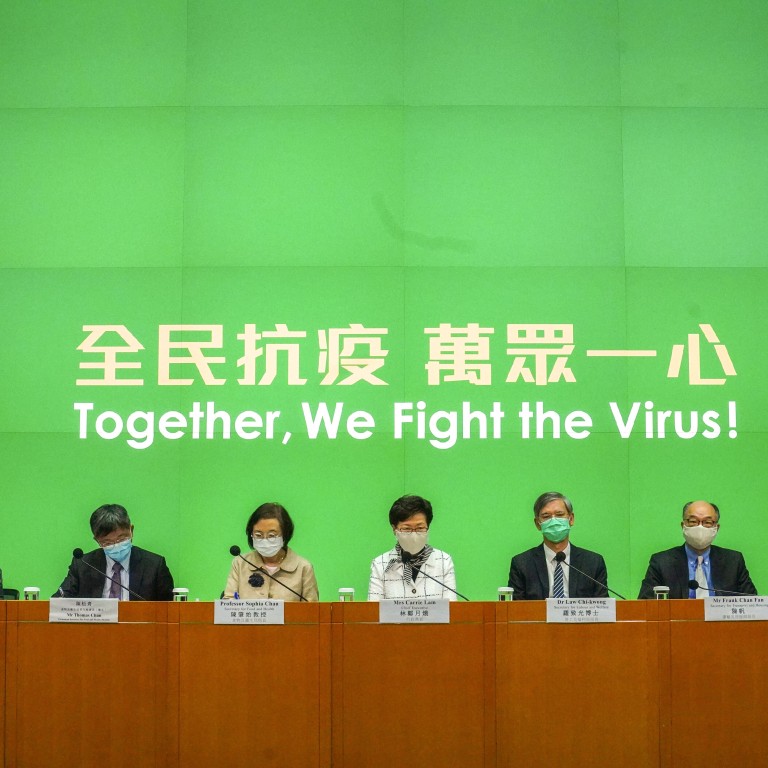 Coronavirus: Hong Kong unveils most sweeping social-distancing rules yet as 52 new cases emerge
City will enter new phase in battle to stop escalating health crisis, with restaurants and bars among venues facing tough restrictions
Government has hired two mainland Chinese firms to help with testing, admitting 400,000 residents at higher risk of contracting virus
Key points:
• All public transport passengers required to wear masks, with offenders facing up to HK$5,000 fine
• Ban on dine-in service from 6pm until 5am, with only four people allowed per table in restaurants
• Closure of bars and 12 other types of premises, including gyms, karaoke lounges, as well as Ocean Park and Hong Kong Disneyland
• Scale back public gatherings from 50 people to four
• Empower health minister to require passengers from high-risk countries to produce test result showing they are free of Covid-19 before boarding flight to Hong Kong
Hong Kong has drastically tightened social-distancing rules, banning dine-in services at restaurants from 6pm to 5am, and making mask-wearing mandatory on public transport, as the city recorded 41 local
coronavirus
cases on Monday, nearly half untraced.
Chief Executive Carrie Lam Cheng Yuet-ngor held a press conference at night after a meeting with her cabinet to announce the toughest prevention measures so far, effective starting on Wednesday.
The limit on the size of public gatherings would be tightened from 50 to four people, while the number of patrons allowed at a table in restaurants would be capped at four, Lam said.
Bars and 12 other type of premises, including gyms and karaoke lounges, must shut down, while two of the city's biggest tourist attractions, Hong Kong Disneyland and Ocean Park, will temporarily close. The annual book fair, scheduled to begin on Wednesday,
has also been postponed
.
Lam warned the Covid-19 situation was bound to fluctuate but urged the public not to panic, vowing her government would remain vigilant.
"The measures I announced today will be more stringent than in the past," Lam said. "But whether we can suppress the latest round of the pandemic still depends on whether the whole city can put its head together to fight the virus."
To bolster testing capacity, two companies from mainland China would be contracted to process samples, she said.
Confirming an earlier
Post
report
, the health minister will be empowered to require passengers from specific high-risk countries to present a negative test result before boarding a flight to Hong Kong. Airlines will be penalised if they fail to ensure compliance. Eleven of the latest infections were imported, helping to push Hong Kong's overall coronavirus tally to 1,521, with eight related deaths.
Authorities are growing increasingly concerned over the number of cases that are untraceable, with 20 of the latest infections falling under that category. According to Lam, 54 of 182 local cases recorded since July 6 are of unknown origin.
At the same time, community clusters are expanding, with 21 new cases linked to previously known infections, including ones involving Dim Sum Square in Sheung Wan, a canteen at Tuen Mun River Trade Terminal and Green River Restaurant in Tsz Wan Shan.
Another three cases were confirmed at the Kong Tai Care for the Aged Centre Limited in Tsz Wan Shan, taking the total to 40. A 95-year-old resident of the facility died on Monday, becoming the first fatality from the cluster.
Lam said the situation at elderly homes had always been her "biggest worry", but the city faced a hurdle in the number of tests it could carry out daily, despite experts repeatedly calling for a greater number.
But with the help of the two mainland firms, the government planned to test residents and staff at all elderly care centres, along with employees in the food and beverages and property management sectors, as well as taxi drivers. She put the number of residents deemed at risk at 400,000. "We have now solved that," Lam said.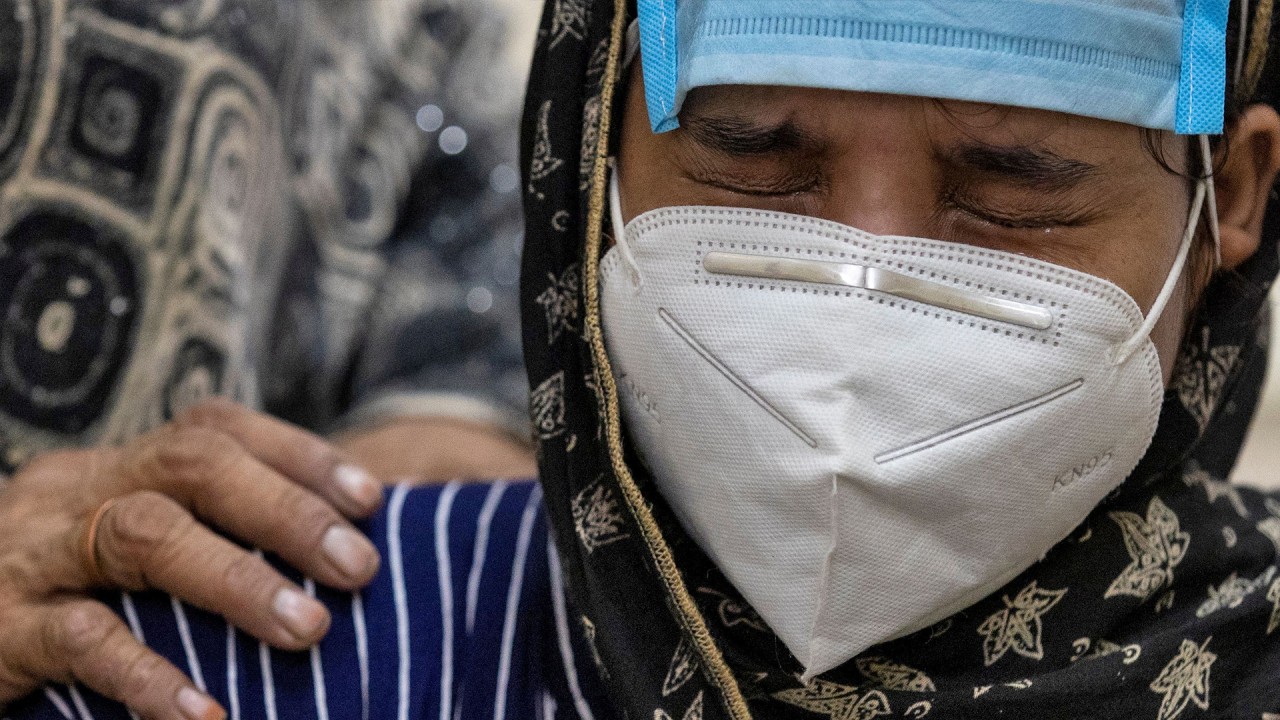 01:48
Worldwide reported coronavirus infections top 12 million
Worldwide reported coronavirus infections top 12 million
A man who gave blood at the West Kowloon Donor Centre on July 5 was among the confirmed infected. He was being treated at Queen Elizabeth Hospital in Yau Ma Tei and a patient had received a blood platelet transfusion from him, but the risk of passing on the virus was low, said Dr Lau Ka-hin, a chief manager at the Hospital Authority. Under current regulations, anyone who has come into known contact with an infected person or has a travel history must wait 28 days before giving blood.
South Korea also had a case where a blood donor was infected and the virus was not passed onto the recipient.
"The hospital will follow up with the patient who underwent the blood transfusion and arrange for the patient to stay in an isolation ward and be tested," Lau said.
The limit on public gatherings and mask-wearing will last at least two weeks, while the measures affecting premises will remain in place for just one.
Secretary for Food and Health Professor Sophia Chan Siu-chee was asked about why people would still be allowed to eat breakfast and lunch in restaurants, as well as making masks mandatory only for people taking public transport.
Chan said the government has adopted a "targeted approach" so the residents could still get to work with as minimal disruption as possible. Masks were required on public transport given the streak of cases in the past week related to taxi drivers and passengers. Anyone violating the requirement can be fined up to HK$5,000 (US$645).
Although Chan admitted the food and beverage sector had not been consulted on the latest measures, Lam said the government had factored in previous suggestions and shortened the length of the curbs from 14 days to seven.
But Simon Wong Ka-wo, president of the Hong Kong Federation of Restaurants and Related Trades, said it was difficult to say whether the new measures were too harsh for the sector.
"Of course we all want to do more business, but we also don't want the outbreak to expand," Wong said. "I think the government needs to strike a balance between helping the sector and containing the pandemic."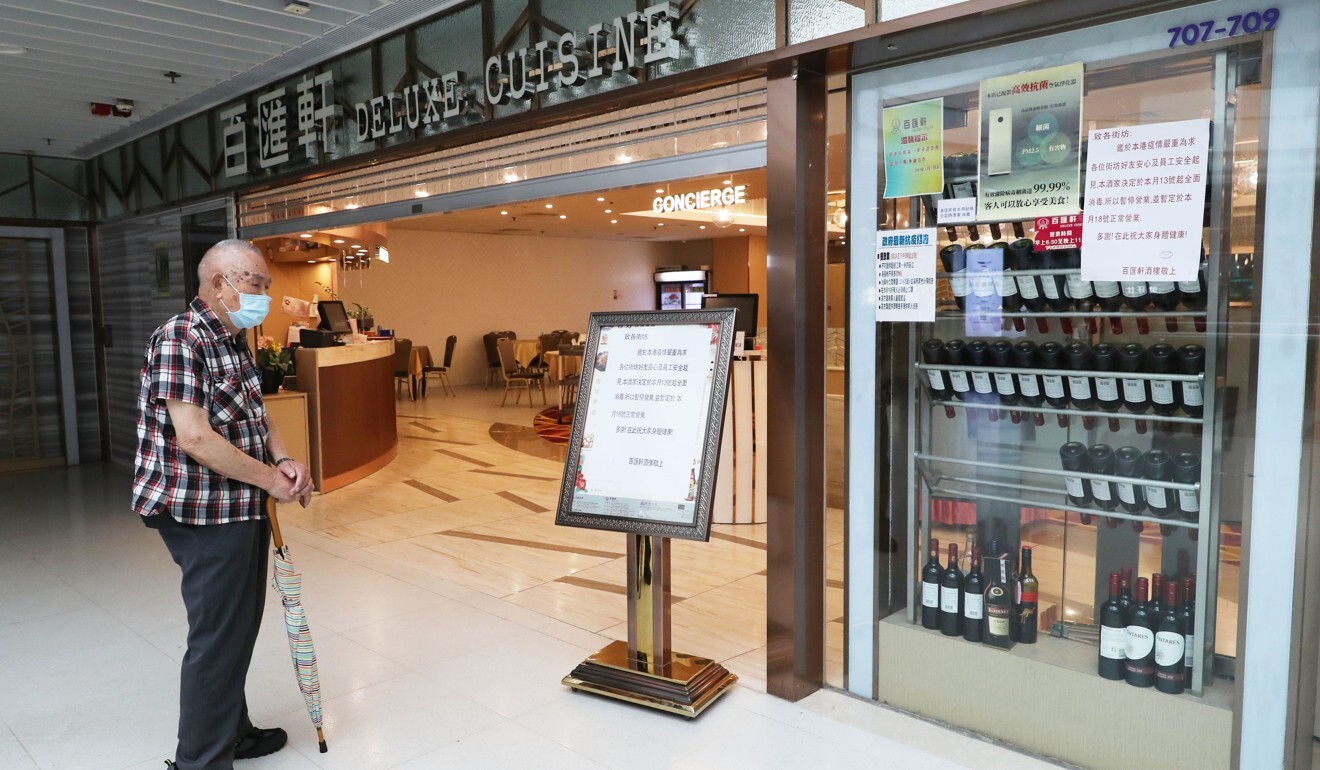 Wong admitted the new strategy could deal a bigger blow than what it underwent in March and April, when preventive measures were at a height. "I think the new measures will deter many people from dining out at night," he said. "But takeaway orders can only recover about 30 per cent of a restaurant's overall business."
If the outbreak continued, another wave of closures and lay-offs might follow. "I hope the government will also consider the livelihoods of the catering sector and offer appropriate help," he said.
Hong Kong Retail Management Association chairwoman Annie Tse Yau On-yee said she believed the new measures would strike a far more severe blow to shops than during the spring, when waves of stores closed.
"Tightened social-distancing rules will deter shoppers from going out," Tse said. "Banning dine-in services from 6pm to 5am will further dampen retail sector business. When people don't dine out in the evening, how can we expect them to go out shopping?"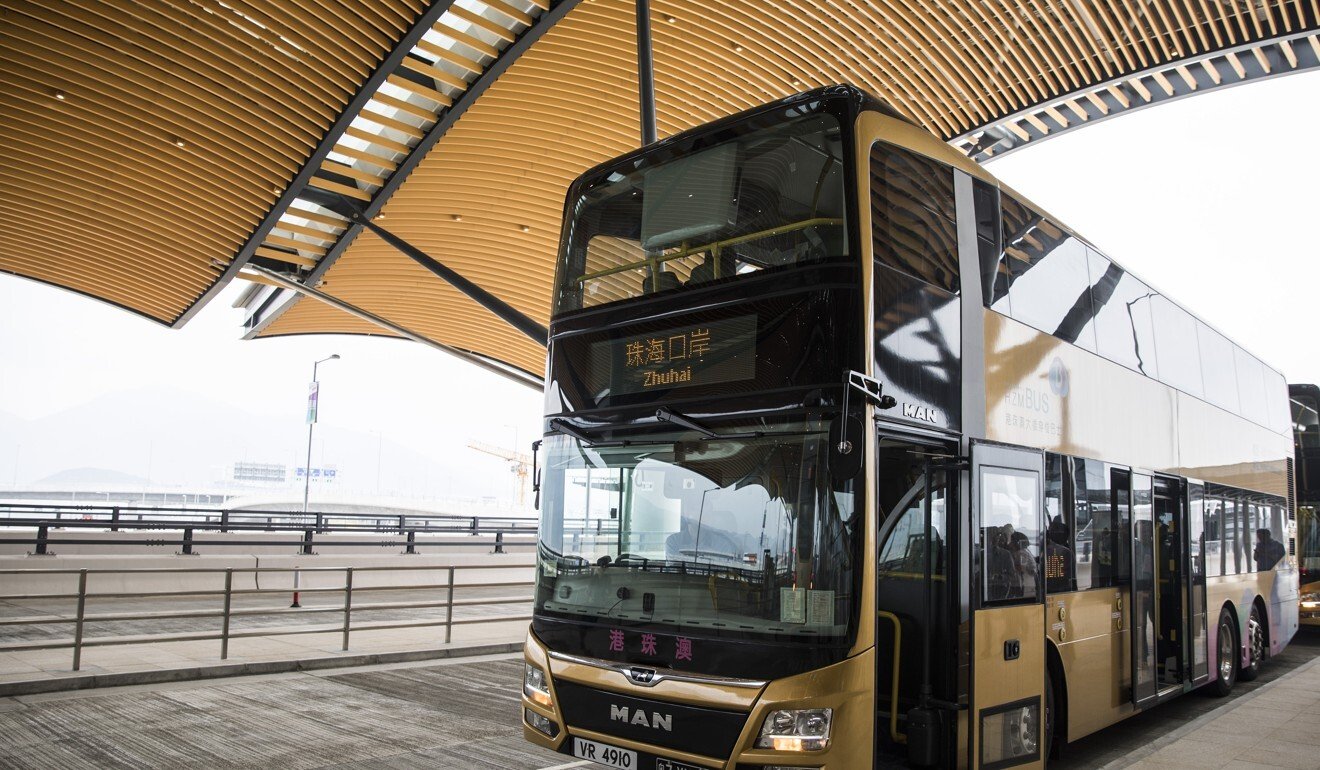 In addition to the affected premises, the Leisure and Cultural Services Department announced it was closing some facilities and suspending programmes, but parks and outdoor jogging tracks would remain open.
The government had sweeping social-distancing measures in place by the end of March, limiting restaurants to four people per table, while bars were forced to close and public gatherings were capped at four people. Curbs were eased gradually over the weeks that followed and by mid-June, all limits on restaurants lifted, and public gatherings were capped at 50 people. But last week, the government
reintroduced some measures
, including limiting the number of customers per table at restaurants to eight and increased testing among workers in public transport, retail and care homes.
Macau, meanwhile, took its own action on Monday, requiring anyone intending to travel to the city from Hong Kong via the Hong Kong-Zhuhai-Macau Bridge to produce a medical certificate showing a negative test result for the virus.
Additional reporting by Kimmy Chung
This article appeared in the South China Morning Post print edition as: stricter social-distancing rules to stop third wave