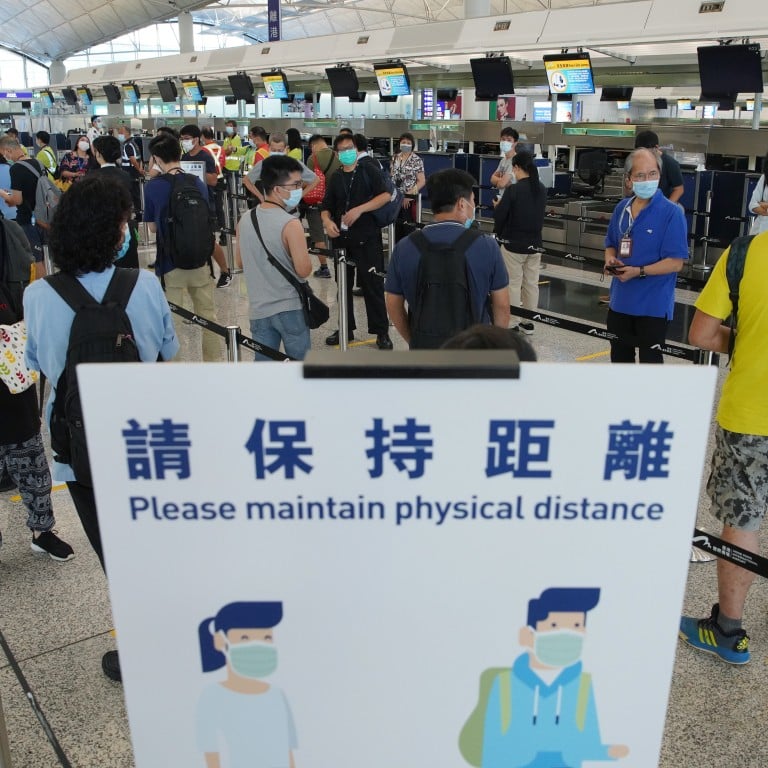 Hong Kong third wave: government tightens preventive measures as number of Covid-19 cases hits record high of 113
Masks will be mandatory in all public indoor areas including shopping malls, and supermarkets starting on Thursday
Residents coming back from high-risk nations of US and Kazakhstan must show negative test result before boarding flights from next week
Hong Kong was hit by a record high of 113 new
Covid-19
infections on Wednesday, more than half of them untraceable, as an increasingly worried government ramped up prevention measures to battle the escalating health crisis.
Mandatory mask-wearing
will be extended to all indoor public places from Thursday, and residents returning from the United States and Kazakhstan, which have now been added to the list of high-risk countries, will be
required to quarantine in hotels
rather than at home and present proof they are free of the coronavirus before boarding flights back to the city from next week.
"We do not rule out any further stringent measures, which basically would focus on social distancing," Chan said. "Whether there will be a lockdown depends on the entire situation. We are looking at some international practices. We also have to balance people's basic daily needs in Hong Kong."
Among the new infections, 105 were locally transmitted, including 63 that were untraced, taking the city's overall total to 2,131 with 14 related deaths. Since July 6, more than 330 cases of 721 local infections have come from an unknown source. The latest daily figure topped the previous record set on Sunday
when 108 cases were confirmed
.
Dr Chuang Shuk-kwan, head of the communicable disease branch at the Centre for Health Protection, said this week's numbers were a snapshot of the crisis from much earlier. 
"What we are seeing now, the number of cases, reflected the situation one or two weeks before," she said. "We are closely monitoring the trend and see whether the trend is going up, stable or decreasing."
As more time is needed to handle the larger volume of testing, authorities will process saliva samples on the tenth day of a person's stay in quarantine instead of the current twelfth. She also urged residents to stay at home to await results after being tested, noting that in some cases infected people had remained out in public for days before learning they were carriers.
Dr Leung Chi-chiu, chairman of Hong Kong Medical Association's advisory committee on communicable diseases, called the loophole shocking and urged authorities to leverage the private sector's testing capacity. He described the latest record high as "worrying", noting the case numbers had been steadily climbing all week. Between 70 to 80 people also tested preliminarily positive for the virus on Wednesday.
With hospital resources stretched to near capacity,
Lei Yue Mun Park and Holiday Village
, currently a quarantine centre for close contacts of confirmed cases and people arriving from high-risk areas, was expected to admit stable Covid-19 patients by Friday at the earliest, according to a source.
Clusters continued to expand at restaurants, hospitals and homes for the elderly.
The latest care facility hit
was the Salvation Army Lung Hang Residence for Senior Citizens in Tai Wai, where a cleaner was confirmed infected and a chef tested preliminary positive. The facility's 55 residents and more than 30 employees will all be tested.
Previously, the Kong Tai Care for the Aged Centre Limited in Tsz Wan Shan recorded more than 40 infections, while at least three cases have emerged at the Jockey Club Harmony Villa in Wong Chuk Hang.
More cases also emerged in hospitals – two at Queen Elizabeth Hospital, adding to an existing four, and one each at Pamela Youde Nethersole Eastern Hospital and North District Hospital.
A pregnant woman who was infected with Covid-19 had an urgent caesarean section. Her newborn was intubated with breathing difficulties and would be tested for the virus. Dr Linda Yu Wai-ling, a chief manager at the Hospital Authority, said according to overseas experience, the chance of a mother transmitting the coronavirus to a fetus was usually low.
Six new cases were tied to the Tao Heung restaurant in Mong Kok, while five people working in Tsz Wan Shan, a heavily affected neighbourhood, were confirmed infected, including employees at restaurants, a hair salon and a market.
Eight of the latest infections were imported, involving three domestic workers from the Philippines, two people from the US, a seafarer from the Philippines and aircrew members arriving from India and Kazakhstan.
Starting from next Wednesday, travellers from the US and Kazakhstan will be required to present health certificates before boarding showing they are free of the virus, with the test taken within the past 72 hours, and they would be quarantined at hotels upon arrival.
The government added the two countries to a list of "high-risk" nations where the pandemic was especially severe that comprised Bangladesh, India, Indonesia, Nepal, Pakistan, the Philippines
and South Africa
. Entry requirements for arrivals from those seven countries will come into effect on Saturday. Passengers will also be required to present proof they have booked a hotel for at least two weeks before being allowed entry.
The government made wearing masks mandatory on public transport last week, and residents will be required to wear them in indoor public venues, including shopping malls, supermarkets, bus interchanges and terminuses, beginning on Thursday. Anyone flouting the new regulation will be subject to a maximum fine of HK$5,000 (US$645).
Howard Chan Wai-kee, the deputy secretary for food and health, said bus stops were not included at this stage as there was no clear definition of their areas.
People involved in administering public places such as employees of property management companies would be authorised to enforce the law, according to Chan.
"If their reminder or action [is ineffective] and a person is not cooperating, we can require law enforcement officers to come to the scene to handle the situation," he said.
Johnnie Chan Chi-kau, president of the Hong Kong Association of Property Management Companies, said firms would make sure staff had enough protective equipment to perform their jobs, and would initially try to persuade offenders to wear masks.
"If they encounter continued resistance, the security guard may ask the offenders to leave the area."
Sophia Chan said traffic statistics including the number of MTR passengers had gone down in the past few days, but a small reduction was not enough.
"This is a good sign, but we need a further drop, because to cut the transmission chain in the community, we really need to quiet down and stay home," she said. "If everybody works together to minimise unnecessary social activities for a short while, one or two weeks, I am sure the situation will improve."
This article appeared in the South China Morning Post print edition as: cases hit record daily high of 113 as measures stepped up