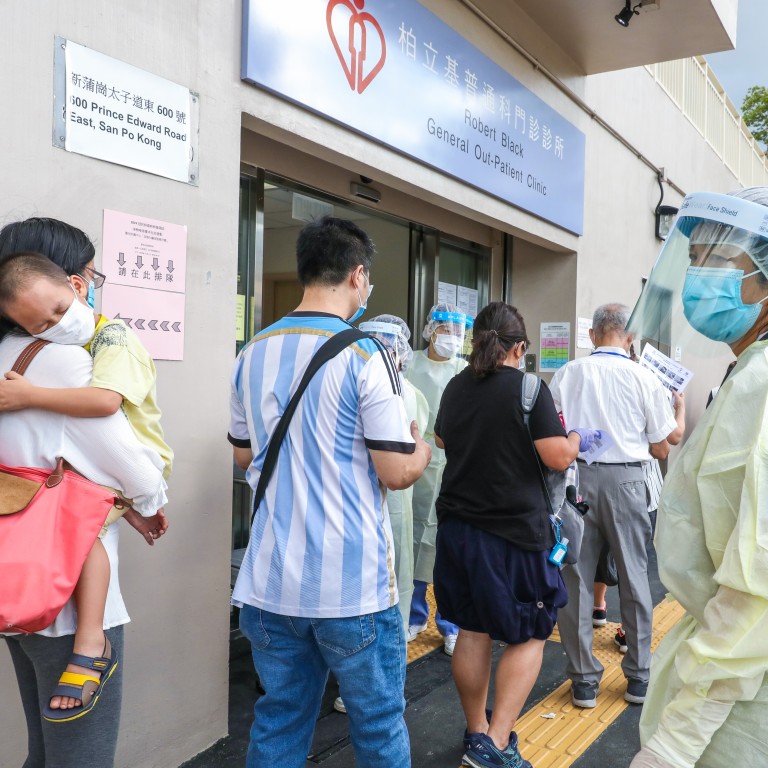 Hong Kong third wave: record 145 Covid-19 cases trigger toughest preventive measures yet
Government further limits public gatherings and makes wearing masks mandatory in outdoor public places
People line up for testing at clinics, with screening expanded to include 40,000 residents of hard-hit Tsz Wan Shan neighbourhood
Key points:
• Gatherings in public will be tightened from four to two people, but members of the same family are exempted
• No dining inside restaurants, except for exempted establishments such as eateries at public hospitals
• All residents, except those aged two or under, must wear masks in public outdoor places. No exemptions for exercising or smoking
• Sports facilities and swimming pools to suspend operations
*All measures effective from Wednesday
Gatherings of more than two people will be banned, restaurants can only offer takeaway services and mask-wearing will be mandatory in outdoor public places starting from Wednesday under the toughest rules Hong Kong has adopted so far to fight an escalating
coronavirus crisis
.
Worried health officials on Monday confirmed another record-breaking 145 Covid-19 infections, as they vowed to increase testing for high-risk groups, including 40,000 residents of the hard-hit Tsz Wan Shan area.
"This is the most severe and challenging time over the past six months and the following two to three weeks is crucial," Chief Secretary Matthew Cheung Kin-chung said. "We have to try our best to prevent the virus from spreading further, and I would like to make a sincere appeal to the public: stay at home as much as possible and reduce social contacts."
The new restrictions were endorsed by the
Executive Council
, the cabinet of Chief Executive
Carrie Lam
Cheng Yuet-ngor, and came on the sixth straight day of new cases stretching into the triple digits, pushing the overall total to 2,778.
Of the latest infections, 142 were locally transmitted, also a record high. Four more coronavirus patients died, taking the number of fatalities to 22.
Officials said more than 100 people confirmed infected were still waiting to be admitted to hospital amid a tight supply of isolation beds. They were reminded to wear masks at all times, dine apart from other family members and avoid sharing the same toilet, if possible.
Previously Hong Kong limited public gatherings to four people and required masks in all indoor public spaces. Under the stepped-up rules that will last at least one week, only toddlers aged two or under and residents with a "reasonable excuse" such as a medical condition will be permitted to go without a mask.
No exemptions will be made for people exercising or wanting to smoke. However, people can take the coverings off to eat, and the limit on two people gathering in public does not apply to members of the same family. Violators will be subject to a maximum penalty of HK$5,000 (US$645).
Hong Kong's sport premises and swimming pools will also be shut for one week, and all schools must continue to suspend on-campus activities from Wednesday until August 16.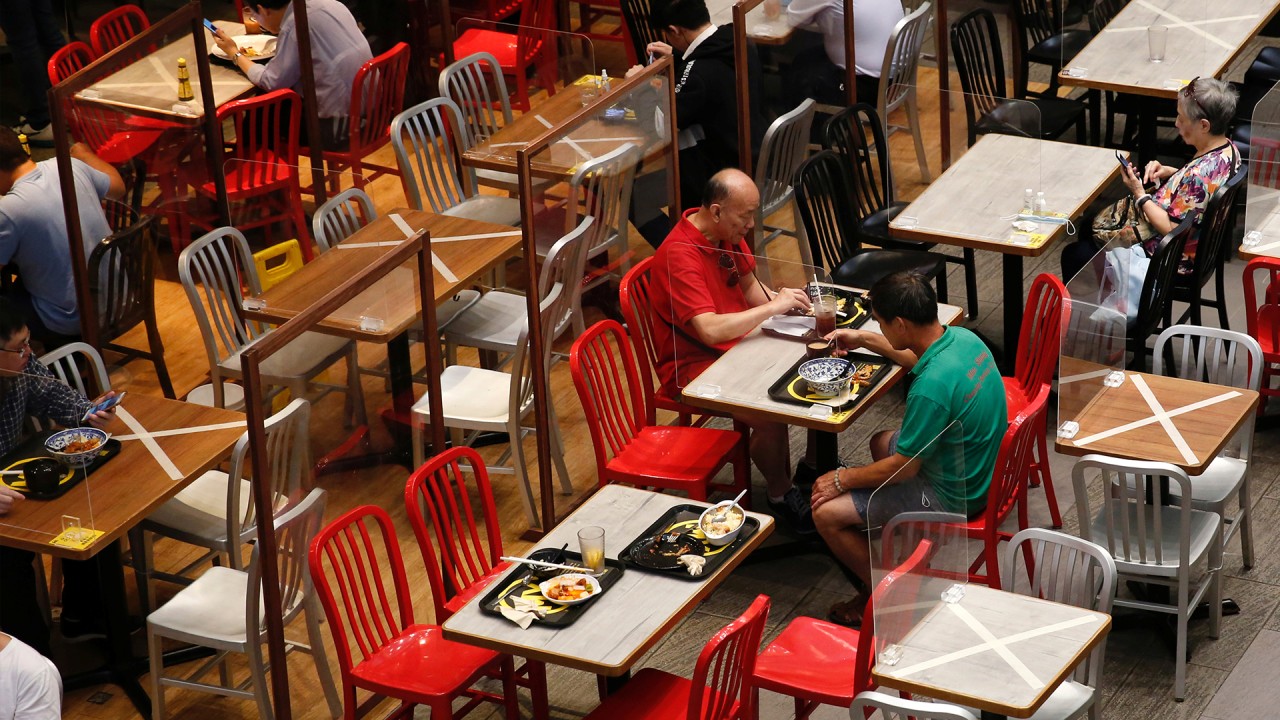 02:04
Coronavirus: Hong Kong to limit public gatherings to two people and ban dining at restaurants
Coronavirus: Hong Kong to limit public gatherings to two people and ban dining at restaurants
Restaurants, already struggling under an earlier ban on dine-in service after 6pm, are expected to take a further hit to business. Representatives from the catering sector have called on the government to provide an additional HK$8 billion (US$1.03 billion) in subsidies, warning they stand to lose out on as much as HK$7 billion in August alone. Some canteens will be exempted from the ban, including those in hospitals and care homes for the elderly.
Asked about a lockdown, Cheung said deep uncertainties remained over whether it could be implemented in Hong Kong.
"A lockdown is a very serious measure, in which people will be barred from going out," he said. "It will lead to huge consequences and will be difficult to practise in Hong Kong, as many Hongkongers do not cook. A lockdown would be very unfavourable for them."
The government will next week extend coronavirus testing to cover minibus drivers, wet market tenants and employees at special needs schools, according to Secretary for Food and Health Professor Sophia Chan Siu-chee. About 40,000 residents of Tsz Wan Shan, where more than 130 cases have emerged at public estates, will be tested across the coming two weeks.
The pledge builds on an earlier plan to screen about 400,000 workers across four high-risk groups: the elderly and employees at care homes for the disabled, taxi drivers, and workers in food and catering and property management. So far, 37,000 people have been tested with eight cases confirmed.
"If the pandemic situation continues to worsen, the government will not rule out directly purchasing more services from private laboratories to increase testing capacity," Chan said.
Already long lines were forming at 22 general outpatient clinics that began to hand out testing bottles to residents with mild respiratory symptoms. The health department admitted that asymptomatic people might have to wait up to a week to learn their results because of the high volume of testing, longer than the three days promised earlier.
Two laboratories from mainland China were processing samples and Beijing had pledged to give its full support to Hong Kong to combat the health crisis, according to Cheung.
Lam had asked the central government for help in converting parts of the AsiaWorld-Expo facility into a "mobile cabin hospital" and was seeking its assistance in securing vaccine supplies once they were available, he said.
But Cheung stressed that allowing mainland medical workers to work in the city was "not on the agenda", given concerns over communicating in Mandarin and Cantonese.
Professor David Hui Shu-cheong, a respiratory medicine expert at Chinese University who previously suggested a lockdown, described the new measures as "drastic" but believed they closed some transmission loopholes, such as people gathering outdoors to smoke.
A lockdown would be a last resort required only amid an "exponential rise in confirmed cases".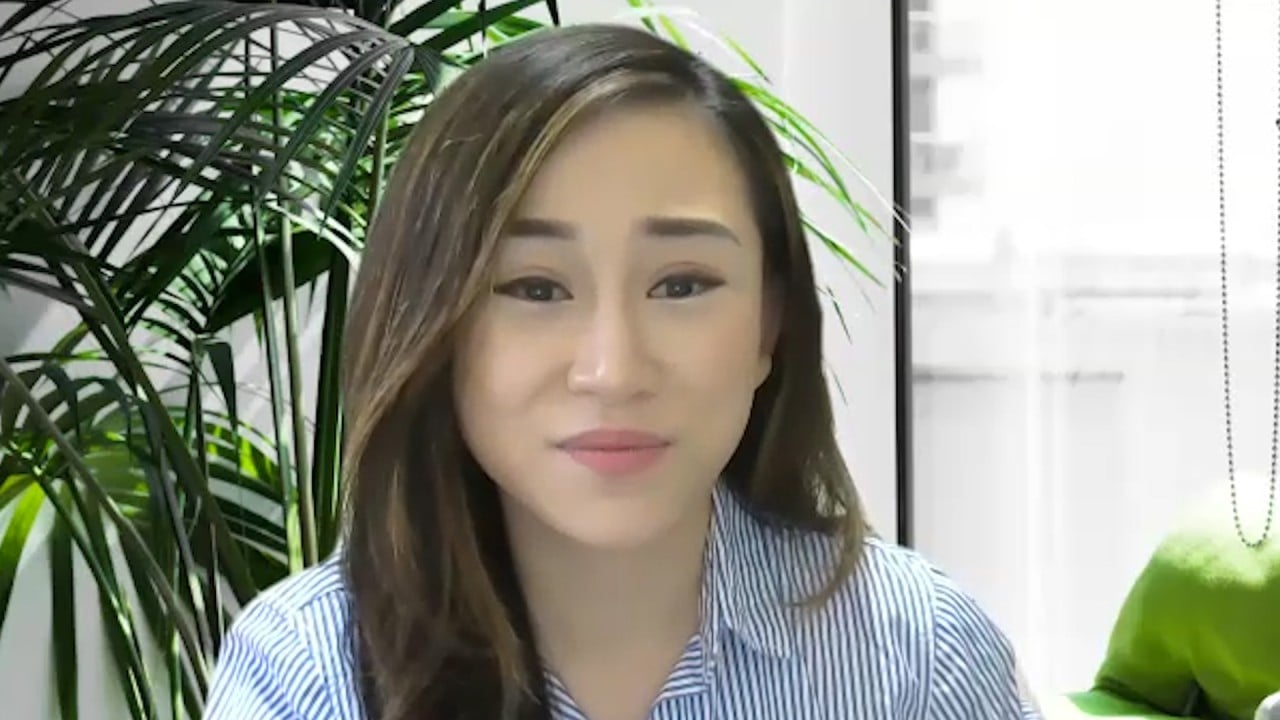 05:42
Mental health during Covid-19: 'Be patient and kind to yourself' as plans fall through
Mental health during Covid-19: 'Be patient and kind to yourself' as plans fall through
Another expert and government adviser, Yuen Kwok-yung, said a lockdown was not off the table and would depend on the effectiveness of the new measures in a week or two.
Among the new infections, 13 were from Tuen Mun Cornwall Elderly's Home, taking its total to 23, including three staff. The facility is the second care home battling a large cluster, with the Kong Tai Care for the Aged Centre Limited in Tsz Wan Shan hit with at least 45 related cases.
Other new infections involved two employees of a slaughterhouse in Sheung Shui, taking the total there to five, and another firefighter at Tsing Yi South Station, as well as a person at Po Chung Chuen Ying Home for the Elderly, under the Tung Wah Group of Hospitals, in Fanling.
Health authorities also recorded more than 60 preliminary positive cases on Monday, including two nurses working at Prince of Wales Hospital and Sha Tin Hospital. But the Hospital Authority believed neither case was linked to the work environment as both people had infected family members.
"The virus is highly infectious, and we are still seeing a rising trend," said Dr Chuang Shuk-kwan, head of the communicable disease branch at the Centre for Health Protection.
"If the situation is not controlled properly, there could be a geometric increase in the number of confirmed cases. We have to observe one or two weeks to see if the social-distancing measures introduced are effective."
The latest fatalities were four patients, aged between 76 and 95, including a person tied to the cluster at the Kong Tai facility, taking its total to five.
The administration announced on Sunday that ships without any cargo trade would no longer be allowed to change their crews in the city, a possible reason behind the recent spike in Covid-19 cases.
But Chief Secretary Cheung dismissed accusations of inconsistent policies or a slow response, saying the government had been acting responsibly based on the changes to the situation.
"The earlier exemption was partly due to humanitarian reasons, as well as Hong Kong being a shipping hub, but the epidemic has [worsened] and we will act accordingly," Cheung said. "We will not get into a rut."
Guangdong province had also strengthened immigration control measures on Hong Kong truck drivers crossing the border, the Transport Department said. If a driver lives in a building where a case has been confirmed in the past two weeks, his exemption from quarantine will be suspended. Mainland officials would not carry out any tests on the driver, it said.
This article appeared in the South China Morning Post print edition as: toughest restrictions yet to halt soaring infections