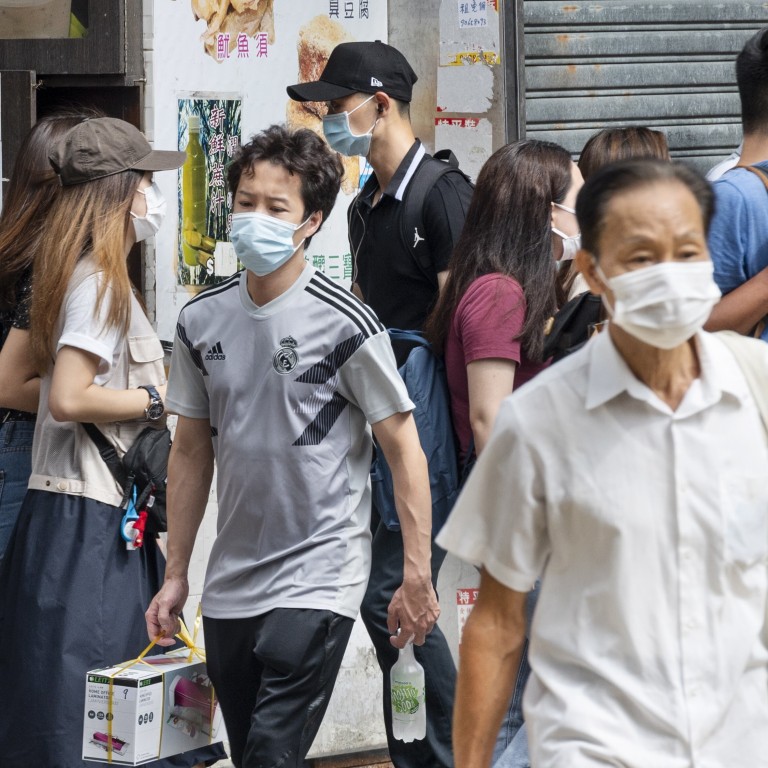 World's first coronavirus reinfection case confirmed in University of Hong Kong study
A 33-year-old man from Hong Kong was infected again 4½ months after he first caught the coronavirus
Covid-19 is likely to continue to circulate in the human population as in the case of other human coronaviruses, HKU researchers say
Hong Kong's third wave of
coronavirus
infections was not yet under control even as the city reported just nine new cases on Monday, health authorities warned, as officials mulled relaxing some social-distancing measures.
As the city registered the lowest number of daily infections since July 3, researchers from the University of Hong Kong (HKU) said they had confirmed the world's first case of Covid-19 reinfection – a 33-year-old man who was struck again 4½ months after he first caught the coronavirus.
03:49
World's first coronavirus reinfection case confirmed in Hong Kong, a university study reports
World's first coronavirus reinfection case confirmed in Hong Kong, a university study reports
On HKU's reinfection findings, the researchers, who included prominent expert Professor Yuen Kwok-yung, said the study had important implications.
"First, it is unlikely that herd immunity can eliminate [the pandemic], although it is possible that subsequent infections may be milder than the first infection, as for this patient. Covid-19 will likely continue to circulate in the human population as in the case of other human coronaviruses," the researchers said in a report.
The patient was infected in March and later discharged. In August, he went to Spain and on his return to Hong Kong via London was confirmed as infected.
Presumed reinfections had been reported overseas but the HKU study was the first in the world to confirm the reinfection with rigorous testing.
The report said that, in some instances, reinfection occurred despite a static level of specific antibodies. Vaccines might not be able to provide lifelong protection against Covid-19, and patients who had recovered from the coronavirus should also be included in vaccine studies, the report added.
Though antibodies developed rapidly after infection, the report, citing recent studies, said they started to decline as early as within one to two months.
"Although our patient is asymptomatic during the second infection, it is possible that reinfection in other patients may result in more severe infection," the HKU report said.
With the nine new infections, the city's tally of confirmed coronavirus cases rose to 4,691, with 77 related deaths. Two of the nine were imported: a student arriving from Switzerland and a domestic worker from the Philippines. Of the local cases, the authorities were not able to trace the roots of four. About 10 other people tested preliminarily positive.
"The outbreak is not entirely under control yet," Dr Chuang Shuk-kwan of the Centre for Health Protection (CHP) said when asked if it was time to relax social-distancing measures.
"Although the overall trend is decreasing, there is some daily fluctuation of the number of cases. We have a single-digit number today but we have more than 10 preliminarily positive cases at hand."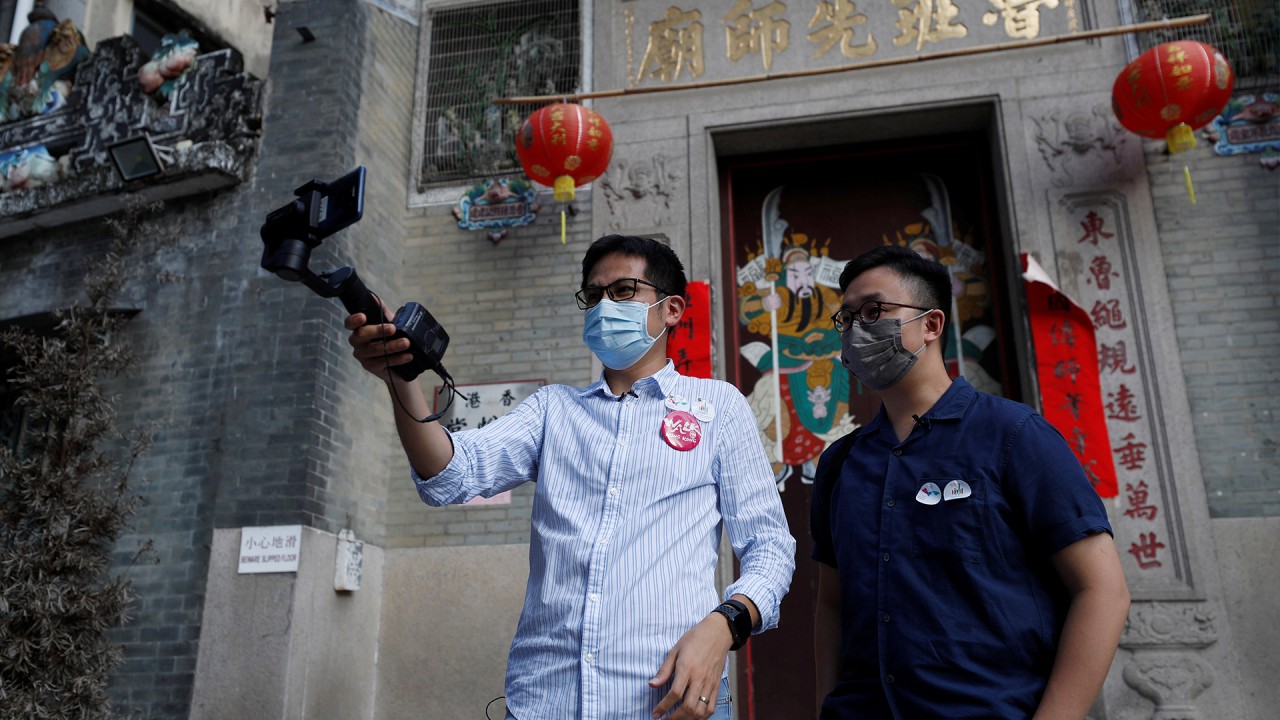 02:50
HK tourism company offers virtual tours to survive Covid-19 pandemic
HK tourism company offers virtual tours to survive Covid-19 pandemic
Chuang said that from a public health point of view, any relaxation could result in an increase in the number of infections. But the government might also have "other considerations" in deciding whether to relax some measures, she added.
Among the preliminarily positive patients was an 84-year-old woman who remained in a critical condition at Tuen Mun Hospital. She was transferred from Tin Shui Wai Hospital after suffering from shortness of breath and low oxygen levels in her blood.
Four medical staff, who did not wear appropriate personal protection equipment while treating the patient, will be sent to a quarantine centre for two weeks. Another five staff members would undergo medical surveillance for 28 days.
Social-distancing measures, including the ban on restaurant dine-in services after 6pm and public gatherings of more than two people, end after Tuesday.
Late last week, Chief Executive Carrie Lam Cheng Yuet-ngor said her administration might relax some rules including the ban on restaurants serving anything other than takeaway between 6pm and 5am.
It was also considering allowing some types of establishments, including beauty parlours and cinemas, to reopen if the coronavirus situation improved.
Normally, the government would announce an extension on Monday. But no such word came during the day. According to a source, the administration did not follow the practice this time as Lam said last week officials would monitor the situation closely so a decision would only be made on Tuesday.
The government had to consider the possibility of infections rebounding if some measures were relaxed, the source added. And if, for example, the ban on dine-in services at night was to be lifted, bosses of other businesses that had to remain shut might be upset, the source said.
A Food and Health Bureau spokesman said that only when local infections remained at a consistently low level, and when outbreaks involving several recent clusters were contained, would there be room to relax social-distancing rules.
But the government has started to discuss with different industries how to gradually allow some businesses to resume operations.
Catering sector lawmaker Tommy Cheung Yu-yan and other members of the industry met the city's No 2 official, Chief Secretary Matthew Cheung Kin-chung, on Monday and urged him to allow restaurants to resume dine-in services at night. Tommy Cheung said he also hoped that four people would be allowed to sit at each table, up from the current two.
Cheung said restaurant bosses had agreed to install air purifiers and step up disinfection of tableware.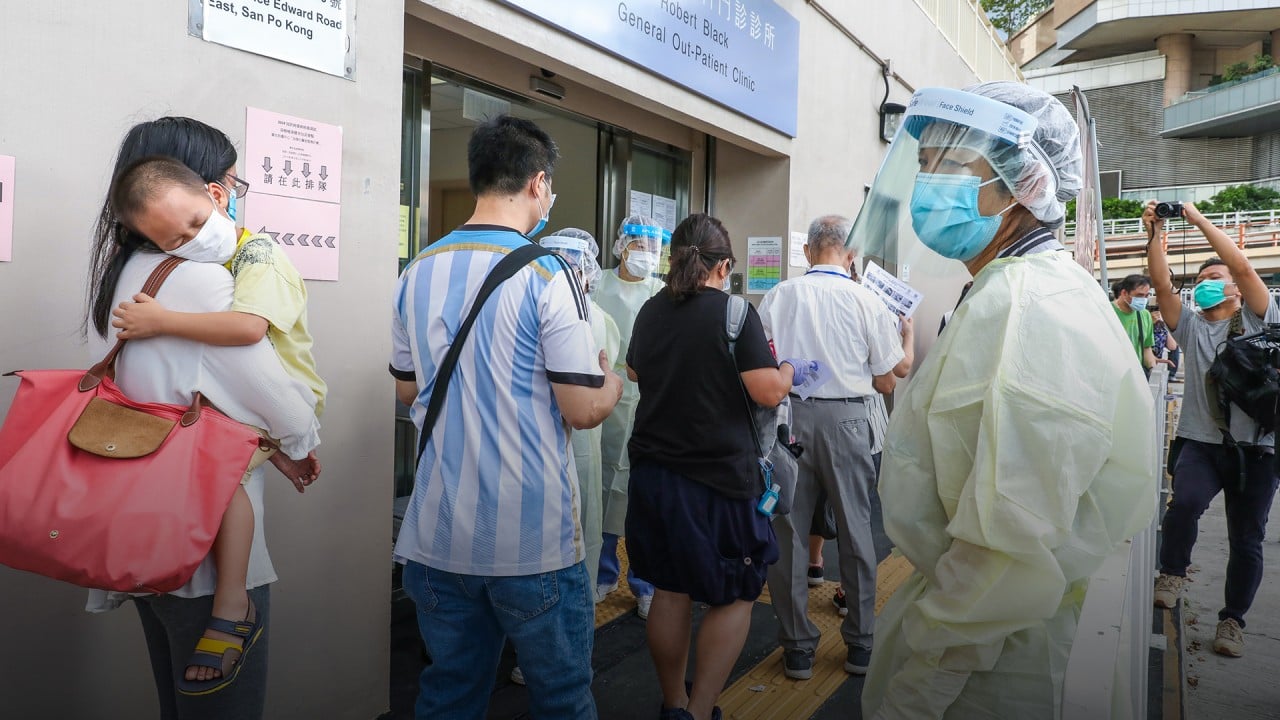 03:07
Hong Kong's mass Covid-19 testing to begin on September 1, to last at least 7 days
Hong Kong's mass Covid-19 testing to begin on September 1, to last at least 7 days
The chief executive, meanwhile, in a post on her Facebook page hit out at critics of the Beijing-backed universal Covid-19 testing scheme, urging residents to take part in the free programme so economic activities could resume as soon as possible.
Chuang of the CHP also appealed to the public to join the scheme, set to begin from September 1, to help cut off virus transmission chains. Secretary for Innovation and Technology Alfred Sit Wing-hang said the online system to sign up for the test was expected to start this week.
Professor David Hui Shu-cheong, a respiratory medicine expert at Chinese University, said community transmission would not be cut off if few people were tested.
University of Hong Kong microbiologist Dr Ho Pak-leung said he would not take part because he wore his mask all the time when going out so he did not believe he was an invisible carrier. He estimated that if 3 million people took part, only about 40 coronavirus carriers would be identified.
Earlier on Monday, Secretary for Commerce and Economic Development Edward Yau Tang-wah said the city was in talks to form travel bubbles with eight to 10 destinations.
Talks with Thailand and Japan had reached a more advanced stage compared to other places, he said.
"It's impossible to resume immigration in its totality," Yau said. "We suggest, for example, that when countries resume tourism, we can agree on a mutually recognised test and share that information through airlines and other transport companies."
If a mutually recognised standard of testing could be ensured, he said, there was no longer a need to weigh the different reasons for travel, such as business or leisure.
"The bubble cannot be built tomorrow. We also have to examine the local outbreaks in both places," he said.
This article appeared in the South China Morning Post print edition as: only nine cases, but 'third wave still poses risk'