03:13
Hong Kong launches universal Covid-19 tests for residents
Hong Kong launches universal Covid-19 tests for residents
A citizen's duty or complete waste of time? Hong Kong residents explain why they either join or avoid mass Covid-19 test
For homemaker Yuen Mi-ling, the screening is part of her responsibility in helping the city get past the pandemic
Others, such as taxi driver Yau Cheong-him, are worried about infecting passengers, while some residents vow to skip the 'wasteful' process entirely
Quick and painless, a citizen's duty and a complete waste of money were just some of the wide range of descriptions Hong Kong residents gave of the government's divisive plan to carry out citywide testing for the
coronavirus
on the day the ambitious effort began.
Considering the logistics involved, taking swabs from
roughly 126,000 people
while minimising the transmission risks posed by gathering them together, the process appeared to unfold mostly without incident on Tuesday.
People did occasionally bunch together as they lined up outside some of the 141 collection centres, some arriving early despite the online booking system allocating half-hour time slots. Elsewhere, elderly residents struggled to climb long flights of stairs to reach the testing areas.
But the screenings took less than 10 minutes on average. Most of the participants the Post talked to shrugged off the physical experience, with a few even calling the test comfortable.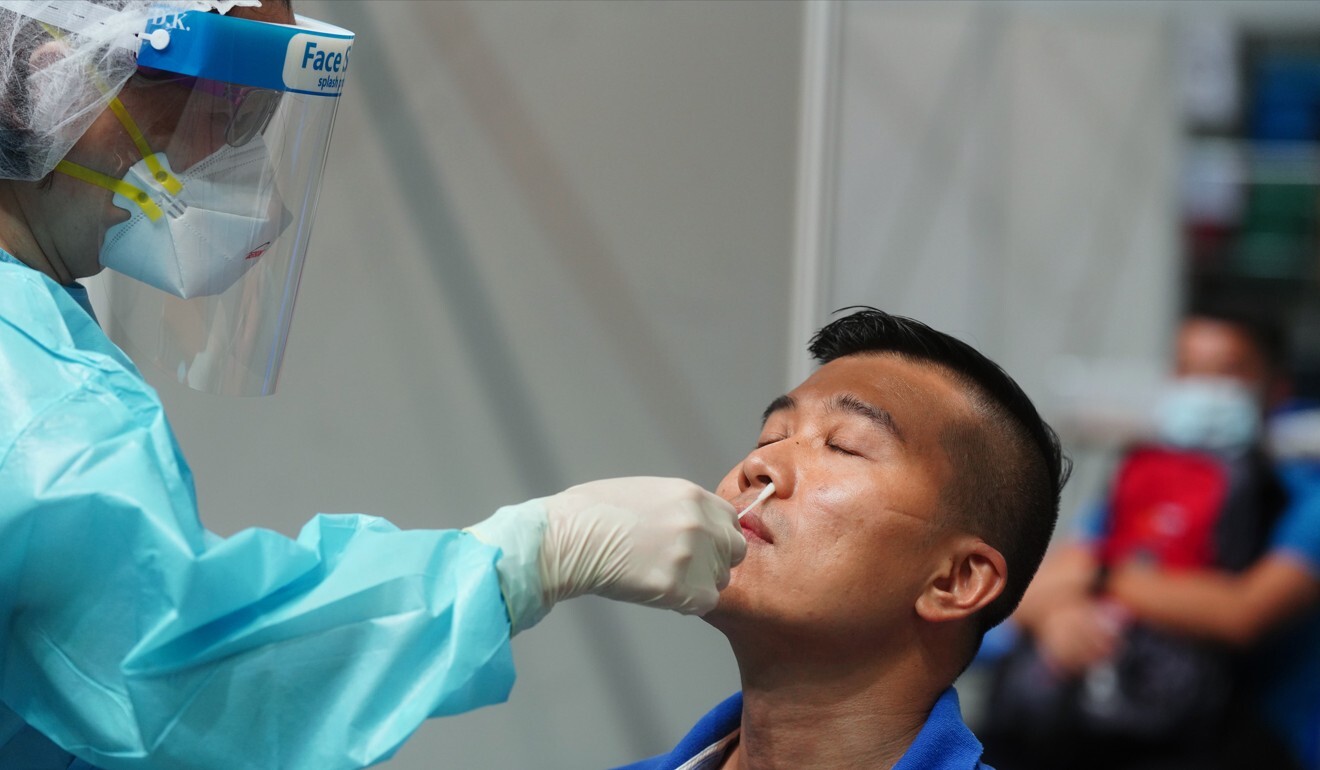 The centres, set up across the city's 18 districts, opened their doors at 8am. Upon arrival, people underwent a temperature check and were instructed to stand 1.5 metres apart while waiting inside a hall before being directed to one of several partitioned areas, where medical staff took a nose and throat swab.
Yuen Mi-ling, a 66-year-old homemaker, was among the earliest waiting at the facility on Yuen Wo Road in Sha Tin with her husband. She should know her result within three days, and even if it was negative, she vowed to follow a suggestion by the Centre for Health Protection to remain at home for 14 days as a precautionary measure.
"I'm not scared," Yuen said. "I haven't thought much about being infected. I hope I can fulfil my responsibility as a citizen. I hope eateries can [fully] reopen."
Some residents were undergoing their second round of testing for Covid-19.
"I live in a high-risk area and have underlying conditions," said Un Kin-siu, a 64-year-old retiree living in Tsz Ching Estate in Tsz Wan Shan, the Kowloon neighbourhood where at least 160 cases have been confirmed in multiple clusters.
"I think it's better to do a second test because they will take a nasal and throat swab this time, not just a deep throat saliva sample."
Taxi drivers are among the workers hard hit by the coronavirus, and Yau Cheong-him, a 57-year-old member of the trade, was also choosing to undergo a second screening. "I don't know if I am infected," Yau said."I see new passengers every day."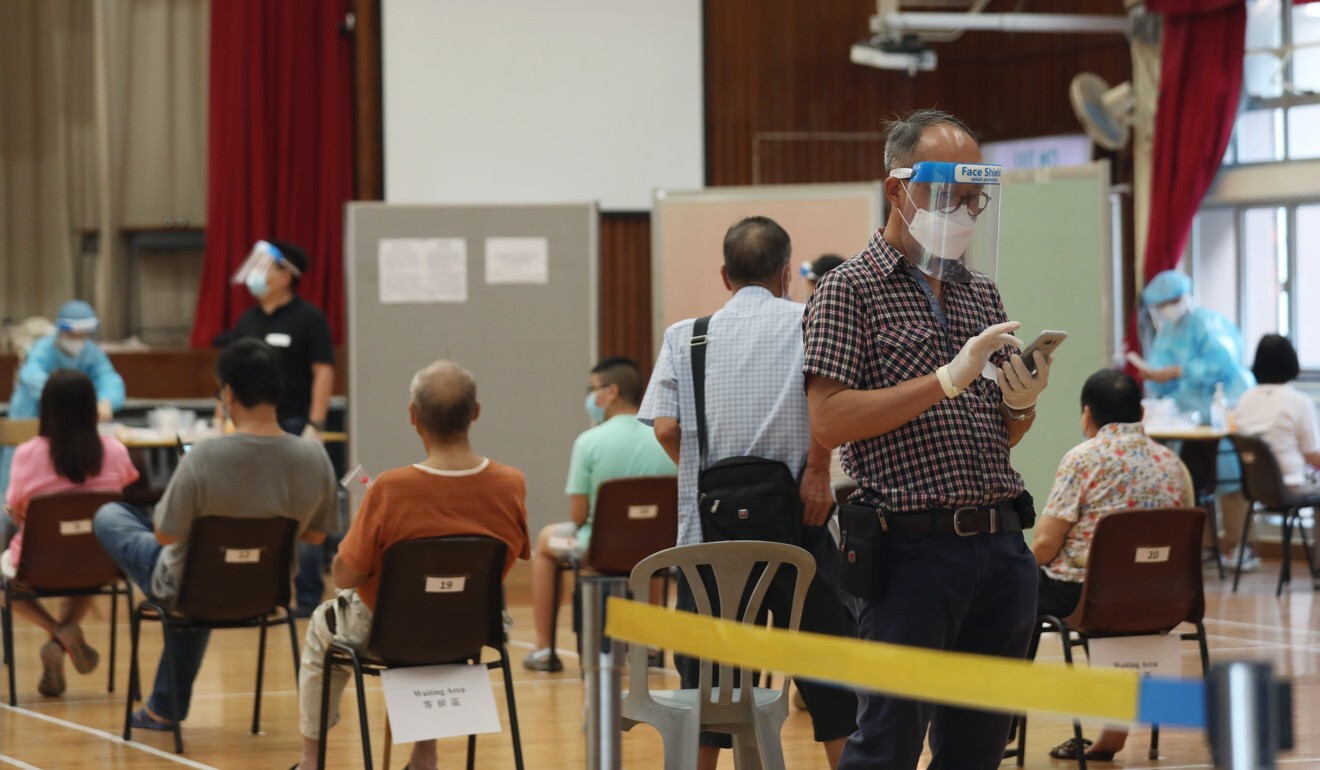 The number of participants in the scheme – due to last at least seven days – is being viewed as a barometer for public opinion on the involvement of about 220 personnel from mainland China in carrying out the tests.
Some 674,000 residents, or close to 9 per cent of the city's population, had signed up for the programme as of Tuesday evening, while the government said bookings at 99 centres for the first day of the scheme were full.
The online registration system, however, appeared to leave some elderly at a disadvantage, with some choosing to simply show up without an appointment. If a time slot was open, medical staff took their samples.
Some older residents were seen having difficulty getting to centres located uphill or at the top of stairs, like one centre in Shau Mau Ping.
But not everyone approved of the programme. A man jogging past the collection centre at City Hall said the process was "meaningless" and he would not take part.
"The only point of this would be if there is a total lockdown where nobody is allowed to leave their homes, and then we test people batch by batch, only letting them out when all the results are known," said the 50-year-old member of the legal profession.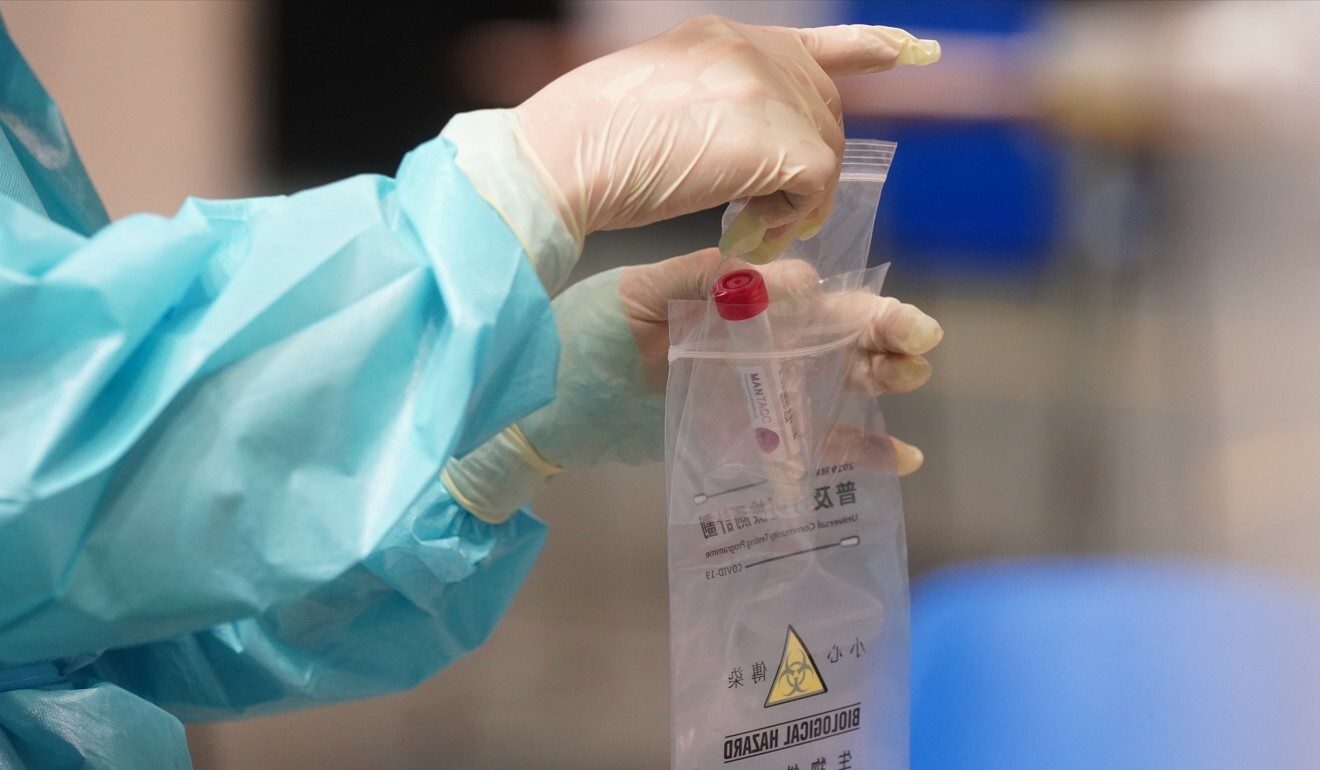 He found it perplexing the government was wasting resources on mass testing after earlier deciding to postpone the Legislative Council elections set for September 6 due to the transmission risks involved in residents gathering in large numbers to cast ballots.
Eight district councillors, including Roy Tam Hoi-pong of the Neo Democrats party, staged a small protest outside the centre on Boundary Street in Kowloon. He questioned how the government could herd residents together and allow them to temporarily take off their masks to undergo mass testing, but having them take part in the vote was deemed an unacceptable health risk.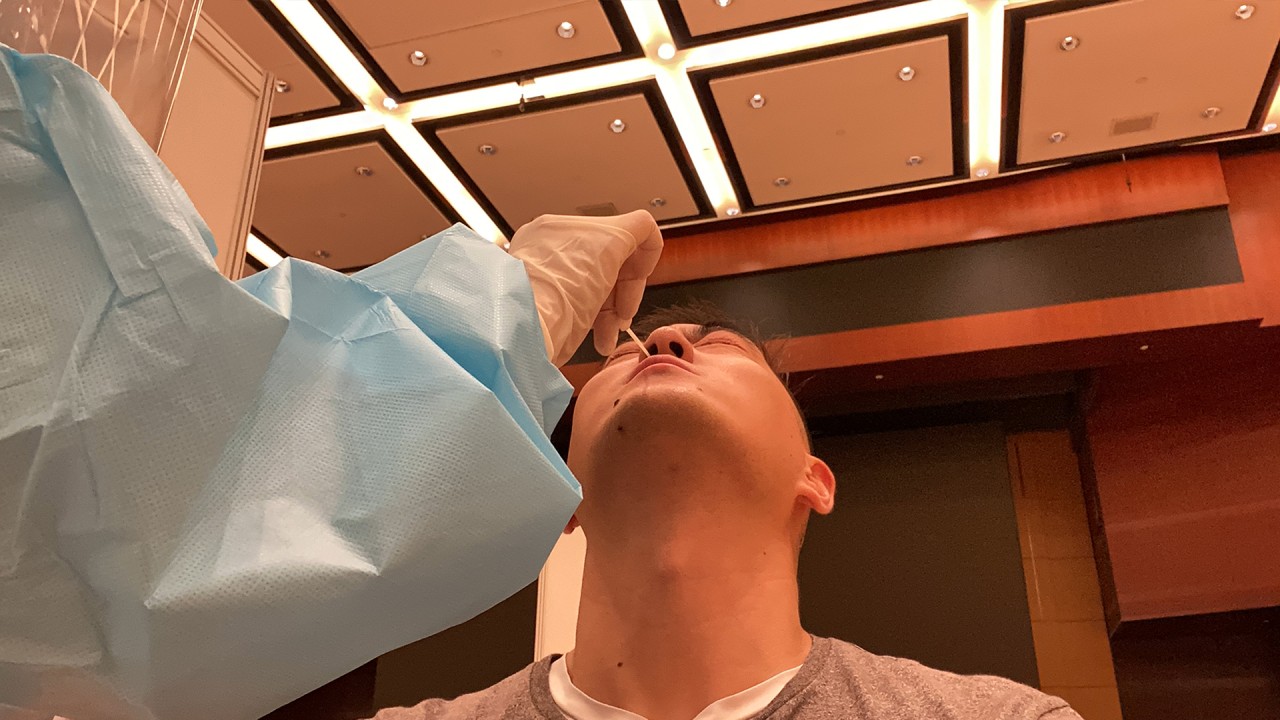 00:45
'The Covid-19 test made me cry': what it's like to get swabbed in Hong Kong's mass-screening scheme
'The Covid-19 test made me cry': what it's like to get swabbed in Hong Kong's mass-screening scheme
But Dr Ko Wing-man, a former health minister who was among staff helping to take samples at the centre, said the facility offered plenty of room to safely carry out the screening.
"The community testing is incomparable with Legco elections given appointments were allowed for the tests," he said. "There is no booking arrangement for elections, and the booking system can separate citizens and prevent too many people gathering at the same time."
Ko had helped more than 10 people undergo screening in the morning, and only two people sneezed during the process, with no one reporting serious discomfort afterwards.
Outside MacPherson Stadium in Mong Kok, district councillor Chu Kong-wai was among a group protesting against the facility being used as a collection centre. The residents said they were concerned about the contagion risks associated with a sewage pipe shared between the stadium and flats above.
This article appeared in the South China Morning Post print edition as: From quick, painless to waste of money