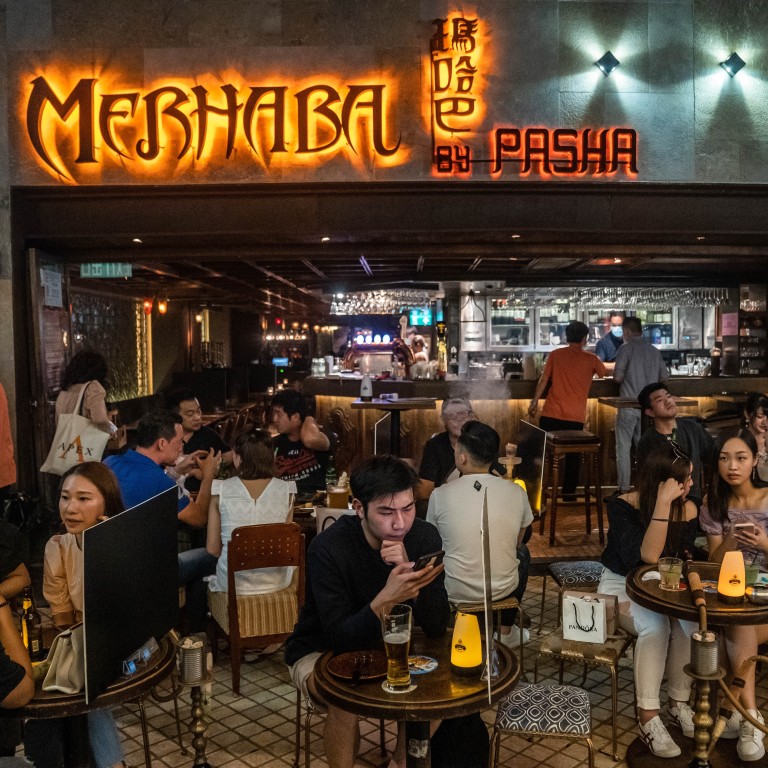 Hong Kong records no new local Covid-19 cases for first time since third wave began, as pubs, swimming pools to reopen
Four imported cases the lowest number of new infections since June 30
Premises to be allowed to reopen from Friday but conditions apply, with pools to operate at half capacity and pubs to close at midnight
Key points:
•Dine-in services are banned from midnight until 5am, and restaurants must operate at half capacity with no more than four people per table
•Bars and nightclubs can resume operations at half capacity and with no more than two people per table. Live music and dance performances are banned
•Karaoke lounges and party rooms can reopen with a maximum of four people per room. Masks must be worn at all times except when eating or drinking
•Swimming pools will reopen at half capacity, with groups capped at four people and spaced at least 1.5 metres apart. Beaches will remain closed
•Sports premises will reopen with groups capped at four. Masks must be worn indoors except in the shower
•Theme parks and exhibition centres must operate at half capacity
Karaoke lounges, swimming pools, bars and nightclubs in Hong Kong can reopen from Friday, with the city recording zero local coronavirus cases for the first time since the third wave of infections erupted in early July.
The announcement by authorities on Tuesday meant all 14 types of establishments – including the city's two major theme parks – that were forced to close earlier as the pandemic raged can resume operations after four rounds of rules-easing. But public gatherings would still be limited to four people.
"It is not a total relaxation of measures. It's with conditions centred on reducing the risks of mask-off activities, having a capacity limit on the number of people, as well as [setting] a distance between people when these activities are carried out," health minister Professor Sophia Chan Siu-chee said.
"We all know that we are under this new normal before we have vaccines. On one hand, we hope to reduce the risk of infections in the community, but on the other hand, people would like to resume their normal lives and economic activities," she added.
The city on Tuesday also recorded no locally transmitted Covid-19 cases – a first in more than two months. All four new cases were imported, involving arrivals from Japan, the Philippines, Rwanda and India.
The imported infections, the lowest figure since June 30 when the city recorded two such cases, took Hong Kong's official tally to 4,975. But a 69-year-old man passed away in Tuen Mun Hospital on Tuesday, pushing the total number of Covid-19-related fatalities to 102.
Restaurants and pubs must close at midnight, with four people allowed per table in eateries, and only two per group in bars. Live music and dance performances are banned.
The city's two theme parks will also be allowed to reopen at the end of the week as expected, after the possibility was raised by commerce minister Edward Yau Tang-wah last week. But they will only operate at half capacity.
Ocean Park said in a statement that it was set to reopen this Friday and would continue to implement an online reservation policy. Visitors can go to the park's website for bookings starting from 7pm on Tuesday.
Disneyland however did not officially announce a reopening date and said it would follow the health authorities' guidelines in a measured manner.
Most other establishments, including party rooms, massage and beauty parlours, as well as karaoke lounges and swimming pools, are allowed only four patrons per group. Pools will operate at half capacity, with groups spaced 1.5 metres apart, but beaches remain closed to the public.
Without providing further details, Chief Executive Carrie Lam Cheng Yuet-ngor revealed the government was planning for further easing of the rules, reminding the public to stay vigilant and cooperate with authorities.
"It will be the fifth round of relaxation, but at the moment we cannot tell when it can be enforced. It seems this will not happen within days," Lam said. "There could be a possibility of a rebound in cases, and it has happened elsewhere, especially in Western European countries."
Sophia Chan revealed that 53 fines were issued over the weekend to catering businesses flouting social-distancing rules, including those who did not observe the 1.5-metre spacing between tables, or who had breached the capacity limit.
In three earlier rounds of easing of social-distancing measures, the government raised the number of people allowed to gather in public from two to four. Certain businesses, including gyms, beauty parlours, ice-skating rinks, museums and game centres, were also allowed to reopen.