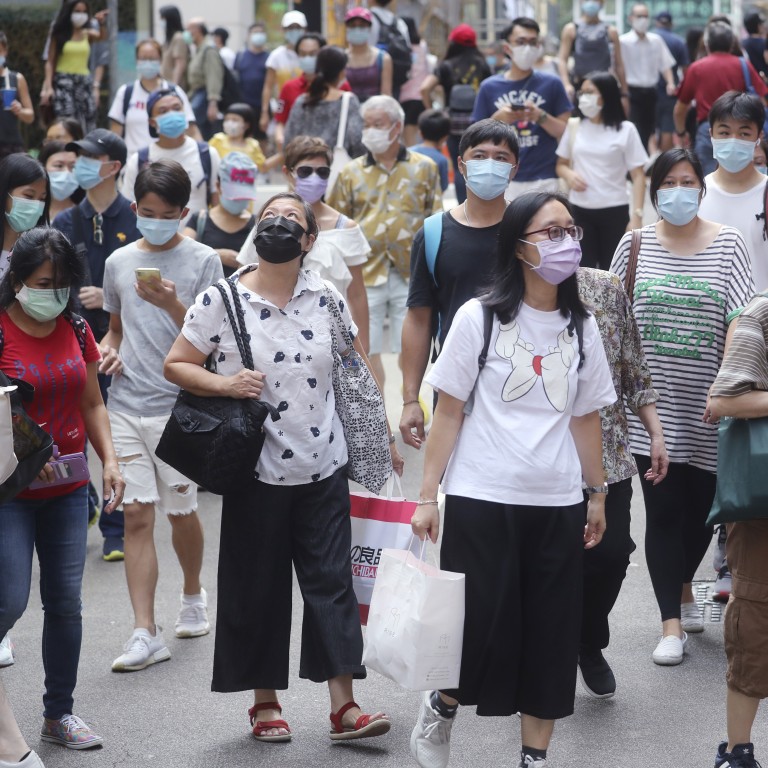 Hong Kong records nine new Covid-19 cases, as city faces return of infections from unknown sources
Officials warn public not to lower guard despite gradual decline in infections, saying authorities will step up enforcement against social-distancing violators
But the gradual relaxation of such regulations will continue tomorrow as bars, karaoke lounges reopen after a two-month ban
Hong Kong recorded nine new
Covid-19
cases on Thursday, with three locally transmitted infections coming from unknown sources.
On the eve of a further relaxation of the city's
social-distancing measures
, health officials warned the public not to lower their guard amid a recent decline in infections, saying authorities would step up enforcement against those violating the rules still in place.
"The reopening of some premises does not mean there is no risk," said Dr Chui Tak-yi, undersecretary for food and health. "At this stage, the public cannot assume there is no chance of infections in the community."
He noted overseas studies had suggested that apart from coughing and sneezing, singing and laughing loudly could also produce droplets and spread the virus.
Some venues that have been closed since July 15, including bars and pubs, party rooms and karaoke lounges, are set to reopen for business on Friday.
Among the six locally transmitted infections, three have not yet been traced to their origins: a 24-year-old man who lives in Tin Shui Wai, a 57-year-old woman from Yau Tong, and a 52-year-old Mong Kok woman.
Staff of a Tin Shui Wai restaurant visited by the man are to be tested, while colleagues of the two women will be quarantined.
The other three local cases were tied to previous known infections, while the imported trio involved returnees from Iran and Britain.
Thursday's confirmed cases brought the city's total to 4,993, with 102 related deaths.
There has been a gradual decline in the number of infections in the city since the beginning of September, with daily tallies ranging from a handful to about 20, compared with more than 50 cases per day in early August.
On Tuesday, Hong Kong recorded zero locally transmitted cases for the first time in more than two months.
Meanwhile, Dr Linda Yu Wai-ling, a chief manager at the Hospital Authority, said the community treatment facility for Covid-19 patients with mild symptoms at AsiaWorld-Expo would be put on standby from Friday.
There are currently three patients receiving care in the facility, which is based in the exhibition venue near Hong Kong International Airport.
One of those confirmed as being infected on Wednesday was a pupil at a Tuen Mun primary school. All 70 staff and 40 children there are to be tested for the virus.
Shum Yiu-kwong, principal of FDBWA Chow Chin Yau School, said he had suggested to the Education Bureau that the school shut down for two weeks as a precaution, but officials said there was no need for that, and classes were expected to resume next week as scheduled.
Shum said the infected pupil had been at the school since September 1 for online classes, but the Centre for Health Protection (CHP) said since most of the other children were not there during the child's incubation period, their return next Wednesday was considered relatively low risk.
Dr Chuang Shuk-kwan, head of the CHP's communicable disease branch, said health authorities would also consider testing other students and teachers who were worried about contracting the virus, provided the resources were available.
"Testing is universally available in the community, and also there might be other cases in the community, you never know. So if they are willing to be tested ... we will usually be more liberal and provide the tests to them," she said.
Chuang said testing would automatically be offered in schools where children or staff confirmed as infected were on site for any of the two days prior to the onset of their symptoms. She added: "We also advise the school to suspend [operations] for 14 days and carry out thorough disinfection."
Additional reporting by Lilian Cheng