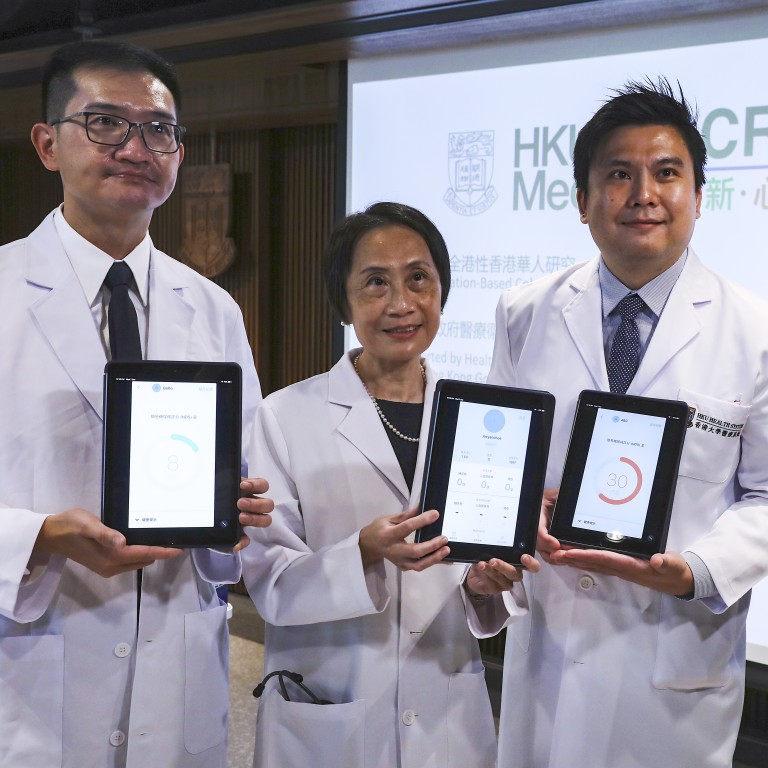 Diabetes alert for Hongkongers as researchers find alarming sixfold rise in incidence among 'high-risk' individuals
HKU researchers roll out smartphone app that allows users to regularly assess their risk of developing the disease
Many people with diabetes are asymptomatic and remain undiagnosed until complications arise, medical experts say
Health experts have urged Hongkongers to be vigilant to the threat of diabetes after a study found an alarming sixfold increase over 15 years among those deemed at high risk of developing the condition.
Researchers from the University of Hong Kong medical faculty issued the public health warning on Thursday as they rolled out a smartphone app allowing residents to regularly assess the risks they faced of developing the metabolic disease, which causes high blood sugar.
They hoped to encourage early diagnosis after finding that the incidence rate of diabetes among 488 people identified as high-risk soared to 33.7 per cent in the 20th year of the study, from 5.5 per cent in its fifth year.
Even for the 1,496 people labelled as low-risk, the incidence rate of diabetes rose to 11.6 per cent in the final year of the study from 1.5 per cent at the five-year mark.
"The study showed an alarming trend about diabetes incidence," said chair professor in medicine Karen Lam Siu-ling, who led the research.
"However, many people with diabetes are asymptomatic and remain undiagnosed until complications have developed. Early diagnosis in high-risk individuals is therefore important."
The 20-year survey was the first population-based study with a comprehensive assessment for cardiovascular risk factors, including diabetes, among Hong Kong Chinese.
The "Hong Kong Cardiovascular Risk Factor Prevalence Study" commenced in 1995 and involved about 2,000 participants aged between 25 and 74. It tracked risk factors such as age, hypertension and weight, and cardiovascular diseases.
The study found that 389 participants had developed diabetes over the two decades.
Based on the findings, the research team has developed the non-invasive diabetes score (NDS), which can be used to identify those at risk of undiagnosed diabetes using data such as blood pressure, age and weight.
Those with a score of 28 or above out of 50 NDS points are considered as high risk for undiagnosed diabetes while those below are deemed low risk.
Lam urged those identified as high risk to undergo blood tests for diabetes immediately and even if the results were negative to get tested regularly, at intervals of between one and three years.
She stressed the importance of seeking an early diagnosis, saying that based on an 1995 HKU study, about 9.8 per cent of Hong Kong adults had diabetes, which is a major cause of morbidity and mortality.
In 2018, 15,363 inpatient discharges and deaths were related to diabetes mellitus.
Lam said diabetes was the leading cause of blindness and kidney failure and triggered a high risk of cardiovascular diseases.
To raise public awareness, the team rolled out the smartphone app – called "HKCRISPS Health Risk Engines" and available in the Google Play store – for individuals to assess their diabetes risk.
"This is a simple and user-friendly screening tool that is suitable for promoting the regular evaluation for the risks of diabetes and early diagnosis of this common health condition," said Dr Paul Lee Chi-ho, clinical assistant professor of HKU's department of medicine.
Users need to input their basic health information and follow the in-app instructions to calculate their health risks.
Those assessed to be at high risk are advised to seek a medical consultation while low-risk users are encouraged to maintain a healthy lifestyle and use the app at regular intervals.