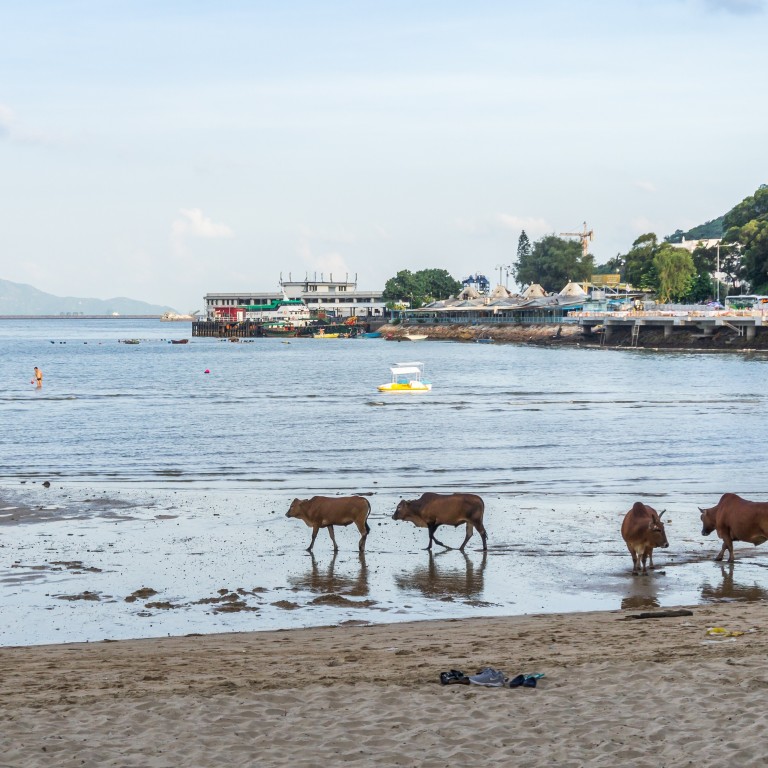 Coronavirus: Hong Kong tracking beach resort outbreak and officials close school after preliminary positive test, as city records seven new cases
Woman's preliminary positive test has authorities tracking four social groups as Fanling Lutheran Secondary School shuts for 14 days
Local confirmed case of unknown origin leads to 16 close contacts being quarantined, including four police officers
Hong Kong officials were tracking a
Covid-19
outbreak at a beach holiday resort and closed a school for two weeks after a woman tested preliminary positive, as the city recorded seven new cases on Sunday.
Six of the latest infections were imported, officials said, while the local case involved a 42-year-old Chinese national who a police source said was arrested in a vice operation targeting suspected prostitutes last Wednesday. The origins of her infection were unknown.
Before her arrest she stayed at Oriental Lander Hotel in Mong Kok. She was then held at Mong Kok Police Station for three days and transferred to Castle Peak Bay Immigration Centre, before being moved to Ma Tau Kok Detention Centre.
Police said the woman came into contact with 23 officers while in Mong Kok, and four of those had been quarantined. The station was also disinfected.
Hundreds celebrate Halloween in Hong Kong's popular nightlife district despite Covid-19
The Immigration Department said six detainees the woman had shared a cell with, and six members of staff were considered close contacts and had been quarantined. All six detainees had tested negative, the department said.
Sunday's figure took the total number of confirmed Covid-19 cases in Hong Kong to 5,330, with 105 related deaths.
There were fewer than 10 preliminary positive cases on Sunday, including a 26-year-old clerk who lives in Tai Po and works in Heung Yip Road, Wong Chuk Hang. The source of infection was unknown.
She recently went with family members to worship ancestors, and two other preliminary positive cases were linked to her.
One was a 15-year-old household contact who attends Fanling Lutheran Secondary School. Officials said specimen bottles would be distributed at the school, which would be closed for 14 days.
The other involved a 26-year-old man who works for Cable TV, and had stayed at the Seaview Holiday Resort, in Mui Wo's Silvermine Bay, with the clerk and other friends.
The man had a break at the hotel, and then shared hotpot with 10 other people at a friend's home in Pat Heung after his trip. According to the television company, seven of its staff members were at the dinner.
"For the Silvermine case, so far we have one [preliminary positive case linked to] two preliminary positive cases, so it's already an outbreak. We're putting the other close contacts under quarantine and it is possible that some other cases will test positive," said Dr Chuang Shuk-kwan, head of the Centre for Health Protection's communicable disease branch.
Authorities also revealed that a nurse at Ruttonjee Hospital in Wan Chai had been sent to an isolation ward for observation after taking a sample from an infected patient without wearing proper personal protective equipment.
The presence of local cases from unknown sources has meant the Hong Kong government has struggled to reopen borders with mainland China, and authorities there have maintained that the city must get the outbreak under control first.
A commentary by Communist Party mouthpiece People's Daily on Saturday used Macau as an example, and said the borders were reopened after the casino hub had the virus under control.
"The top priority for Hong Kong is to effectively control the epidemic, strictly prevent cases from rebounding, and stamp out local infections," the commentary said.
It said the central government had supported Hong Kong by sending a team of medical staff to help with the city's mass testing programme in September.
On Saturday night, police in Hong Kong inspected more than 30 businesses in Central and Tsim Sha Tsui
nightlife hotspots
after new social-distancing rules came into force the day before.
They issued fixed-penalty notices to more than 50 customers at three Tsim Sha Tsui bars, while pubs along Lan Kwai Fong and Peel Street in Central were also suspected of breaking
social-distancing rules
, with a man and three women fined during the operation.
Under the current measures, up to six people are allowed to be seated at a restaurant table, while the size limit for groups in bars is capped at four. Dine-in services are also permitted until 2am.
Saturday's crackdown followed the government revealing plans to open four new coronavirus testing centres this month.
Residents deemed at high risk can be screened for free while those requiring a negative test result for travel purposes will have to pay.
Former Hospital Authority chairman Anthony Wu Ting-yuk, who is also chairman of the Sunrise Diagnostic Centre, said the company had submitted its bid to provide the testing service.
He added that the testing firm had bought new equipment that could shorten screening times for Covid-19 in laboratories to just one hour.
Wu also noted the cost of testing in the private market had dropped.
"Since the venues for the four testing centres are provided by the government, the price of the tests will be lowered," he said. "I believe the public will find the cost reasonable."
Additional reporting by Danny Mok
This article appeared in the South China Morning Post print edition as: seven new infections confirmed