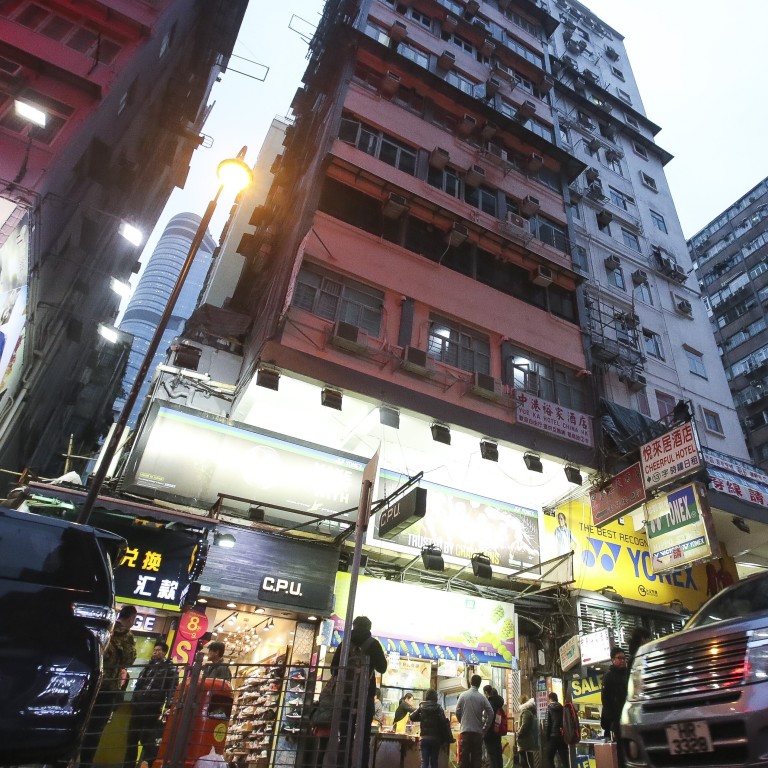 Hong Kong man who visited sex worker in Mong Kok before testing positive for coronavirus sparks police tracking operation
Officers called in by health authorities to trace contacts of the patient and locate sex worker involved
Source says case is similar to one in October where a prostitute who tested positive said she had sex with five clients daily on average
A Hong Kong man who sought the services of a sex worker in a Mong Kok brothel before testing positive for Covid-19 on Sunday has sparked a police contact-tracing operation to track down the sex worker involved and contacts of the patient.
The Post learned on Monday officers were deployed to locate the sex worker in King Hing Building at the junction of Fa Yuen Street and Argyle Street over the weekend, but were unable to find the woman.
"The sex worker was not found because the man was unable to tell which floor and unit the brothel is situated within the building," a police source said.
He said there were several brothel operations on two floors of the building the man had visited.
"Officers had asked sex workers there to undergo Covid-19 tests," he said.
Police were told the 35-year-old man visited the brothel on November 8. He tested preliminary positive for the coronavirus on Saturday, with the infection confirmed on Sunday.
The patient is unemployed and lives in Mong Kok. The source of his infection is unknown.
His case is one of the eight untraceable local infections among 73 new cases confirmed by the Centre for Health Protection on Monday.
The city's total number of confirmed infections stood at 5,701, with 108 related deaths.
"It is not known whether he was infected by the prostitute," the source said. "It is possible he developed symptoms before he visited the brothel."
He said police were helping the centre track down the man's contacts.
The source said he believed the man involved could be the first Covid-19 patient to admit visiting a sex worker since the pandemic erupted.
The building the man visited was in 2018 at the centre of one of Hong Kong's biggest anti-vice crackdowns. Police arrested nearly 100 suspected sex workers, including 17 Russians and seven Thai transgender women, in a raid there. Flats in the building had been illegally subdivided into more than 100 cubicles converted into brothel rooms.
About four weeks ago, meanwhile, a suspected sex worker from the mainland tested positive for Covid-19, following her arrest in a joint anti-vice operation by police and immigration officers in late October.
Police were tasked to track down about 70 of her clients as the woman claimed she had sex with an average of five men per day during her stay at a Mong Kok hotel.
"So far, none of her clients have been traced and no one has come forward and admitted they patronised her," the source said.
Police believe the woman in that case worked from a Sha Tin flat since entering the city from the mainland illegally in mid-August, and then moved into a hotel room in Mong Kok in October to ply her trade.