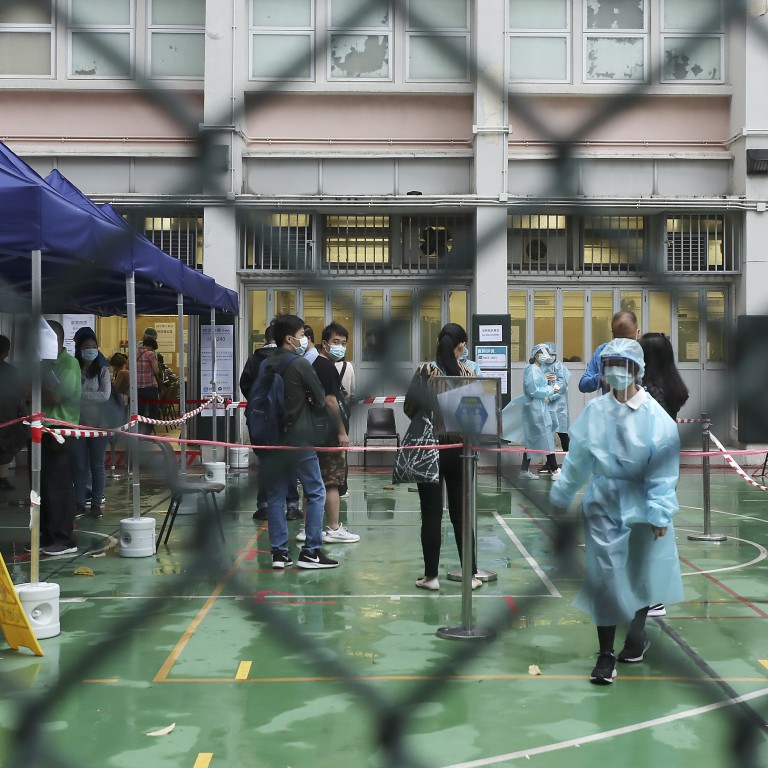 Explainer

|
Hong Kong lockdown: what thousands of residents trapped inside restricted zone can and cannot do after Covid-19 spike
Residents living inside cordon within Yau Tsim Mong district are barred from leaving as part of massive Covid-19 testing operation
Area covers some 200 buildings in Hong Kong's second most densely populated district
Some 10,000 Hong Kong residents have been locked down under the government's most drastic measure yet in the battle against the
coronavirus pandemic
.
Thousands of civil servants, police and other members of the disciplined services have been deployed to stop residents leaving the targeted section of Yau Tsim Mong district and to support the Covid-19 testing of all residents by the end of Saturday.
The government on Saturday declared a lockdown as it set a target of "zero cases" in the restricted area, which sits in one of the city's oldest neighbourhoods and is home to ageing, subdivided homes and haphazard sewage systems.
Those in the restricted area needing help may contact the Home Affairs Department at 2399 6949 or 2835 1473. A dedicated hotline available in multiple languages has also been set up for members of ethnic minority groups, and can be reached at 3755 6816.
1. Where is the lockdown?
The Hong Kong government officially confirmed at 4am on Saturday that the restricted area in Yau Tsim Mong district bordered by Woosung Street, Nanking Street, Battery Street and Kansu Street would be effectively locked down for 48 hours.
Starting on Saturday morning, residents living in some 200 buildings in the cordon will not be allowed to leave the area until the restriction is lifted, which could be as soon as 6am on Monday.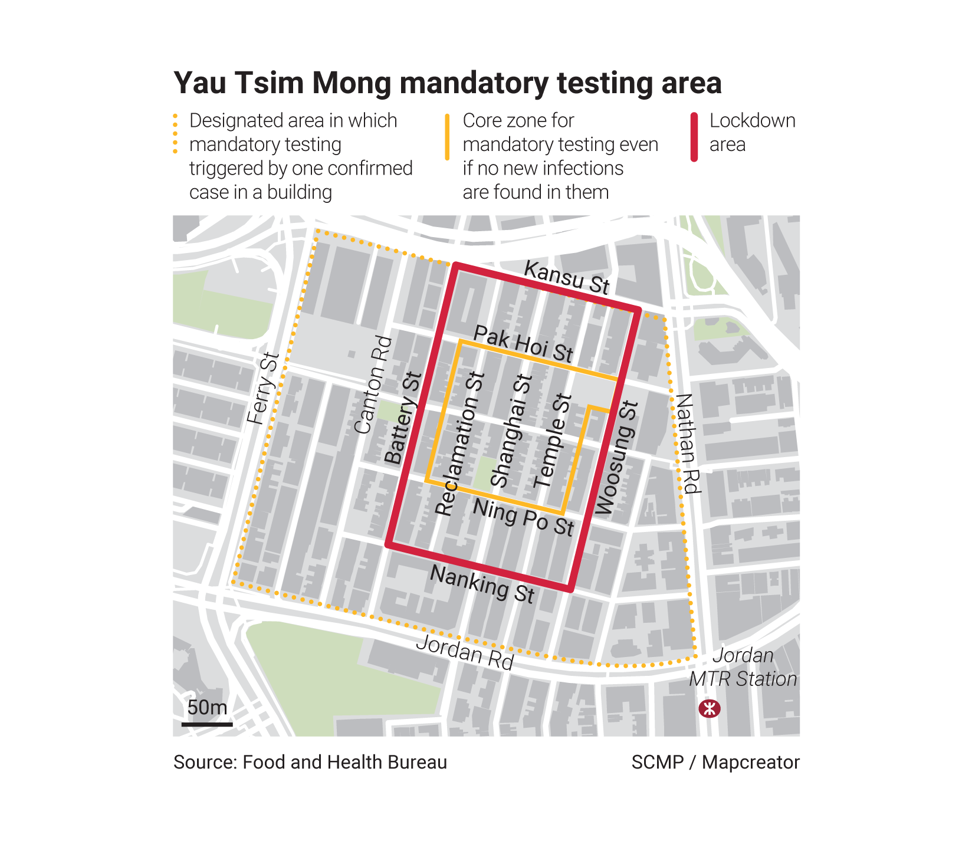 The restricted area lies in Jordan, which is in heart of the Yau Tsim Mong district in Kowloon, a stone's throw away from the thoroughfare Nathan Road.
The area is home to popular tourist sites such as Temple Street and its bustling night market.
However, other areas in the wider Yau Tsim Mong district have been spared lockdown, including locations such as the Ladies' Market and Flower Market in Mong Kok, as well as the wholesale fruit market.
About 4 per cent of Hong Kong's 7.5 million population live in Yau Tsim Mong, which is the second most populous of the city's 18 districts, based on official census data.
While the area under lockdown involves old residential blocks in Kowloon, the city's high density means it is close to glitzy shopping centres and skyscrapers housing international companies.
2. What is the legal basis for the order?
The legal framework which allows Hong Kong authorities to lock down parts of the city hit by Covid-19 for up to seven days was approved last December 8. Under the amendment to the Prevention and Control of Disease (Compulsory Testing for Certain Persons) Regulation (Cap. 599J), those breaking lockdown orders face a maximum penalty of six months in prison and HK$25,000 (US$3,225) in fines.
The amendment allows officers to require a restricted person to stay in a particular area unless granted an exemption.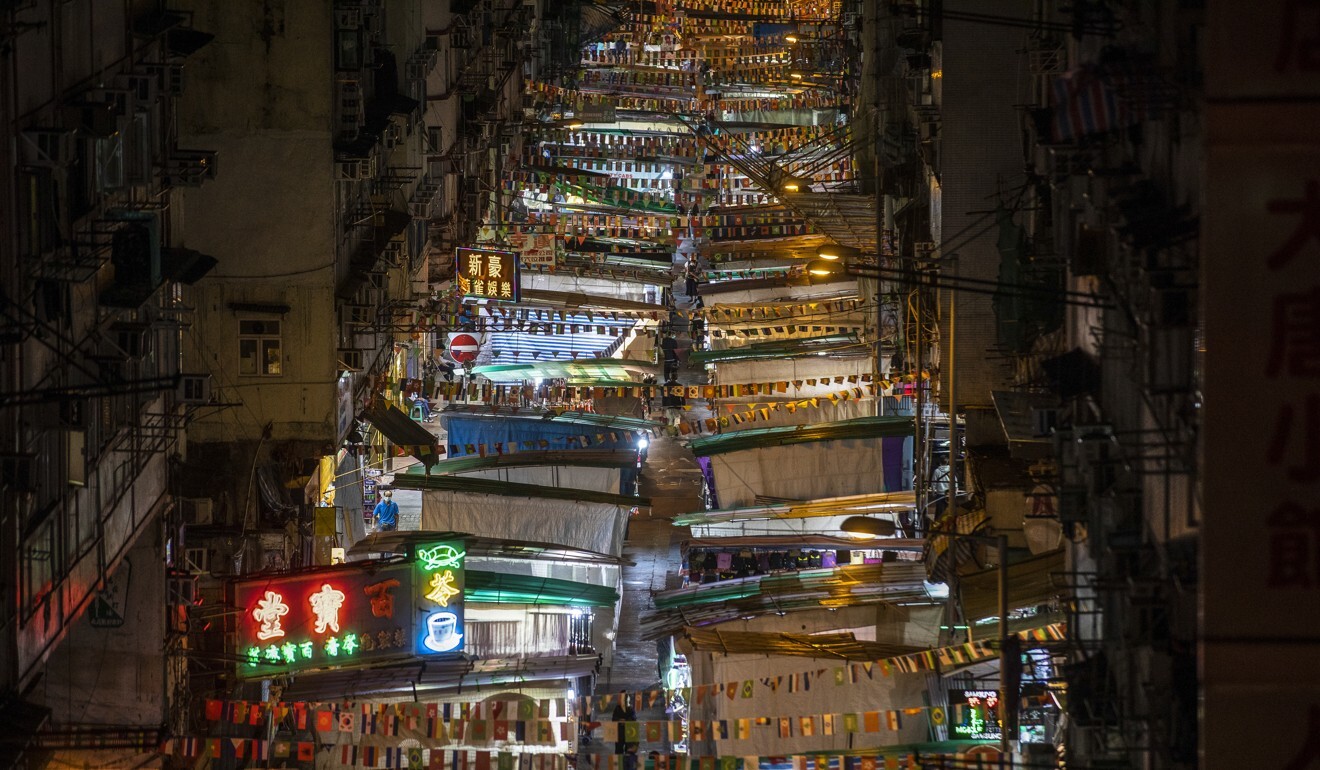 3. Who is affected? And what restrictions are there?
All persons within the restricted area must get screened for Covid-19 at 51 mobile testing facilities before the end of Saturday. No one can leave the zone until the restrictions are lifted.
Those receiving negative Covid-19 results under compulsory-screening notices issued last week are required to take a second test.
Government workers will go door-to-door and arrange for residents to get tested in batches.
The Food and Health Bureau further requires any person who visited the restricted area for more than two hours in the past 14 days to also get tested by the end of Saturday, in facilities such as the government's 19 community-testing centres.
Only three types of people are allowed to enter the area: residents, relatives staying in the same flat as those in need of care, and staff members in urgently needed sectors such as elderly care.
Exemptions are in place for residents who need to see a doctor, or face physical harm.
Even those who previously tested negative for the coronavirus under a compulsory-screening notice would be asked to remain at home as much as practicable, rather than wander within the locked-down zone, a government source said earlier.
Civil servants will provide food and daily necessities to residents in the restricted area, while stores will have to stay shut if the shopkeepers do not live there.
4. Why was a lockdown decided?
The government said it was imposing the lockdown to meet its target of zero cases in the district.
A spike of coronavirus cases had previously prompted the authorities to issue mandatory-testing orders across the wider Yau Tsim Mong district.
Researchers led by a team of University of Hong Kong experts also installed sewage-testing devices across the district to identify lingering traces of the virus.
Between January 1 and 20, the restricted area in Jordan recorded 162 infections out of 951 logged during the period.
The decision came after sewage samples in the restricted area had consistently returned positive readings for the coronavirus, suggesting there still might be infected people in the community.
Haphazard plumbing systems and poor ventilation in subdivided flats and tenement blocks, a perennial problem across housing units in the district, were identified as sources for transmission.
Health officials first isolated four tenement blocks on Reclamation Street on January 15, stopping people from entering or leaving those buildings to make sure all residents were screened for Covid-19.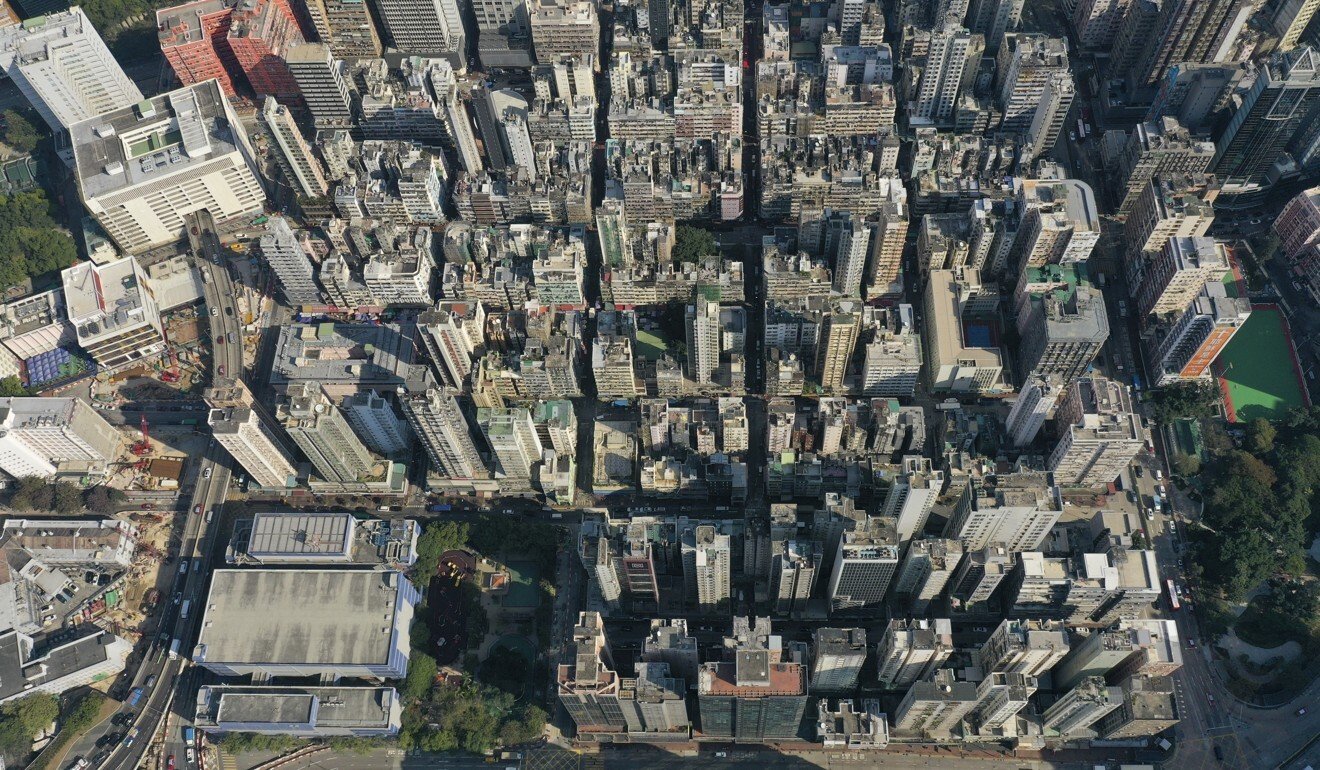 The compulsory testing order was also extended to 22 buildings in the areas bordered by Nathan Road, Jordan Road, Kansu Street and Ferry Street, after at least one infection was identified from the blocks across the wider Yau Tsim Mong district.
On Wednesday, a mandatory testing notice was issued to a smaller "core area" in Jordan bordered by Pak Hoi Street, Temple Street, Ning Po Street and Reclamation Street, regardless of whether there had been any infections in the 70 buildings in that neighbourhood.
Roughly 20,000 people have been screened at testing centres in Yau Ma Tei throughout the week, via mandatory notices and on a voluntary basis.
5. Is the lockdown necessary?
Respiratory disease expert Dr Leung Chi-chiu has advised that lockdown orders should have been implemented at the same time as compulsory orders were first issued to limit the movement of asymptomatic carriers within a specific area.
"When there is a very localised outbreak, implementing a lockdown at the very early stage when cases first emerge would prevent the infections from spilling over to other areas," Leung said.
He believed it was too late to issue an order now, as carriers living in the coronavirus hotspots could have spread the virus elsewhere while going about their lives day to day.
Frank Ho Fu-wing, district councillor for Jordan North, said issuing the order at the last minute left residents in the area unprepared.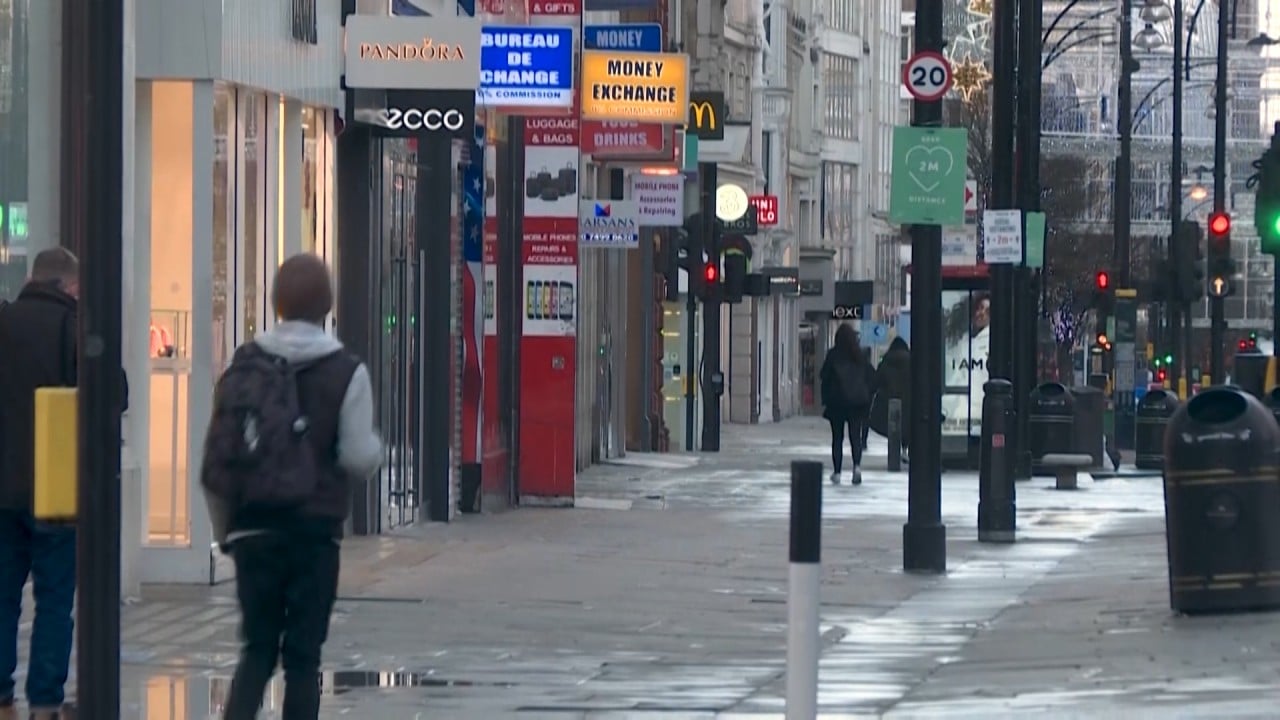 03:38
Coronavirus: UK issues toughest Tier 4 Covid-19 restrictions, countries ban flights from Britain
Coronavirus: UK issues toughest Tier 4 Covid-19 restrictions, countries ban flights from Britain
Sze Lai-shan, deputy director of the Society for Community Organisation, pointed out that residents in the working-class district were concerned about not being able to work over the lockdown period.
"People need to make a living during these tough times, many of them are working from hand to mouth, you can't ask them to stop work just like that," she said, and suggested the welfare department should offer relief goods or a stipend to those who miss out on their work shifts.
Sze added that residents in Yau Ma Tei had complied with the mandatory testing order and
social-distancing
rules, and urged the government to do more to fix long-neglected poor housing conditions in the area.
6. How were lock downs done elsewhere?
Specific city or provincial-level lock down orders have also been rising in China since the start of the year. More than 20 million people across the country are in lockdown.
For example, growing cases in Hebei have prompted the province to lock down its capital Shijiazhuang, located about 300km southwest of Beijing. A third round of mass testing was arranged for the 11 million residents in the city on Thursday. Thousands of people from villages in Shijiazhuang, where rural homes do not meet health requirements, were sent to hotels and school dormitories for quarantine.
Under lockdown on the mainland, most people are required to stay at home, with gates to housing communities blocked. Daily necessities can be bought online and delivered to the door. Public transport has been halted.
Meanwhile, Britain has been under a lockdown since December after a new coronavirus strain was detected in the country. Everyone in England has been ordered to stay at home except under certain circumstances in a national lockdown that is expected to last until mid-February. People can go out for grocery shopping, exercising outdoors, and for medical reasons.