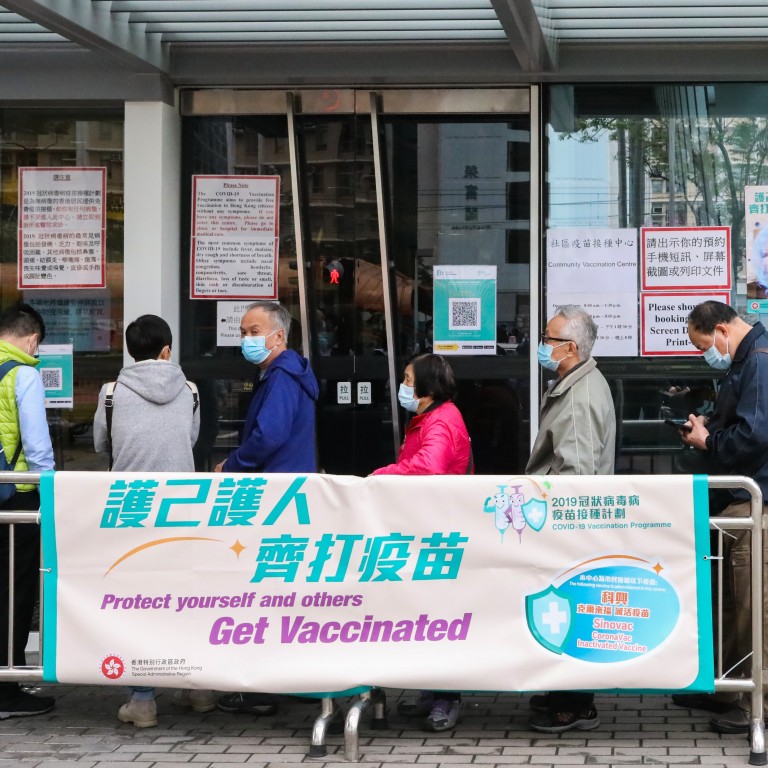 Coronavirus: experts say detailed autopsy report needed before deciding whether death of elderly Hong Kong man linked to vaccine
The 71-year-old man was rushed to hospital after experiencing unspecified symptoms on Sunday night, four days after getting Sinovac jab
Expert committee also reaches preliminary conclusion that there was no connection between vaccine and case of another patient who died recently
An expert committee monitoring the side effects of vaccines in Hong Kong is seeking a detailed autopsy report on the death of an elderly man with no public record of chronic illnesses before deciding whether it was linked to the Sinovac
Covid-19
shot he received days ago.
The committee reached a preliminary conclusion on Monday that there was no connection between the roll-out of the Chinese-made vaccine and the cases of another patient who died recently and two others who had to be taken into intensive care after being vaccinated. The experts reached the same decision in the case of the city's first such fatality last week.
The Centre for Health Protection warned of more such cases being reported during the mass vaccination programme, while the government announced it was expanding the campaign to include seven more eligible groups, including restaurant staff, bus drivers and teachers, starting from Tuesday.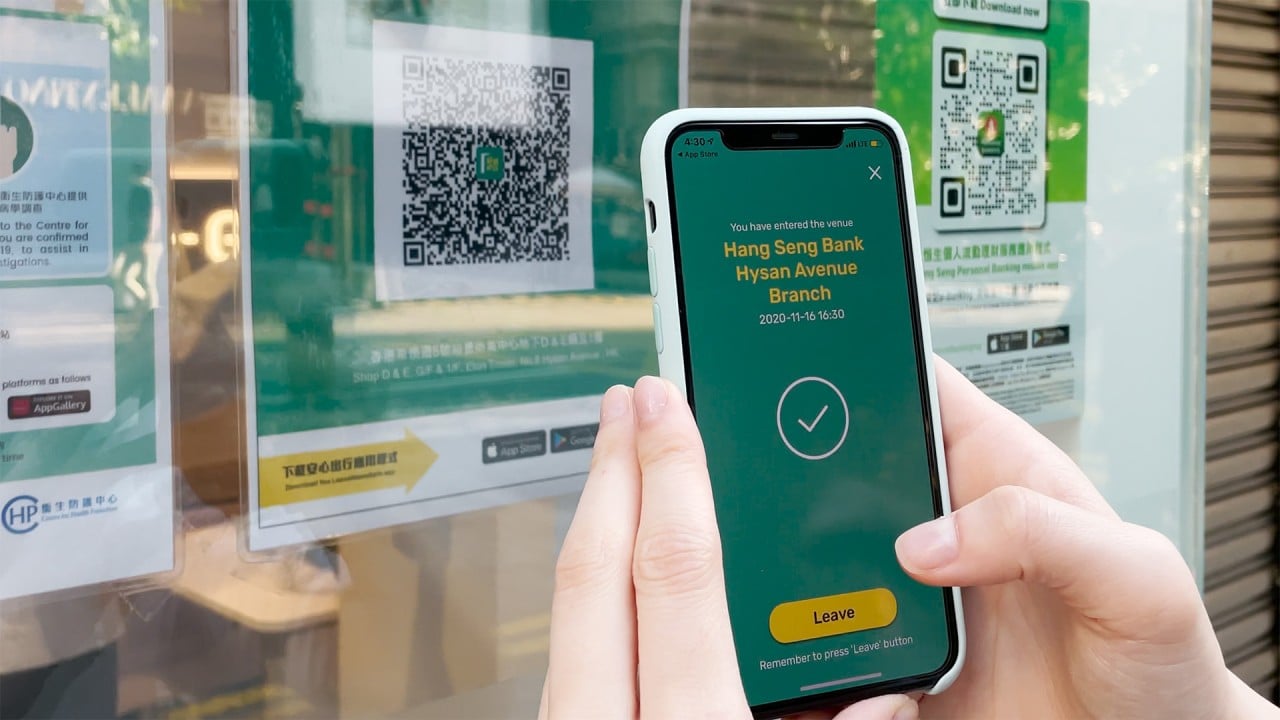 03:25
How Hong Kong's new coronavirus contact-tracing app works
How Hong Kong's new coronavirus contact-tracing app works
The third death during the vaccine roll-out has sparked new concerns because, unlike in the other two fatal cases, the 71-year-old patient's past medical history was unknown.
Dr Lee Cheuk-kwong, co-convenor of the Expert Committee on Clinical Events Assessment Following Covid-19 Immunisation, said more information was needed to investigate the death of the elderly man, who received a Sinovac shot on March 3 at a private doctor's clinic and died early on Monday in a public hospital after being admitted the previous night.
"As the patient died within a short period of time [after being hospitalised], we need more information from the autopsy to do an assessment," Lee said, noting that the case had been referred to the Coroner's Court for a follow-up.
The Department of Health issued a statement adding, "Based on available data, there is no particular safety concern detected from the [Sinovac] vaccine … patients with uncontrolled severe chronic diseases should not receive the vaccine."
Committee members were unanimous in their preliminary ruling that there was no link between the Sinovac jab that a 55-year-old woman received on March 2 and her death on March 6 after suffering from an acute stroke a day earlier.
"Based on initial information from the autopsy, the patient suffered from tearing in her large artery and blood vessels in her neck, causing stroke symptoms," said Professor Ivan Hung Fan-ngai, also a co-convenor of the committee. He added that the patient had also suffered from pre-existing conditions such as hypertension and hyperlipidemia.
The experts also found no link to vaccination in the cases of an 80-year-old man suffering from acute coronary syndrome, and a 72-year-old woman with chronic diabetes, both of whom were under intensive care in hospital.
Citing data from Sinovac, assistant director of health Frank Chan Ling-fung said of the 56 deaths reported among some 44 million doses of Sinovac administered worldwide by the end of February, 20 were related to coronary artery disease. The ages of the patients ranged from 50 to 98, and all the fatalities were found to be unrelated to the vaccine after assessment.
According to local mortality rates, on average each day around 10 people died from ischemic heart diseases and eight from cerebrovascular diseases in 2019.
Hong Kong health authorities have received reports of 16 non-serious adverse events following Covid-19 vaccinations, mainly involving headaches and tiredness, and 45 hospitalisation cases related to symptoms such as dizziness and palpitations.
Figures for the first batch of such cases would be released online on Thursday, Chan said.
Health authorities also disclosed that two people who received the BioNTech vaccine were among those seeking hospital treatment, the first such cases involving the newly arrived jab. The two women, aged 49 and 60, were discharged after treatment. The younger woman had felt a burning sensation in her chest while the older one developed rashes on her hands and arms.
Asked why Hong Kong went ahead with vaccinating people aged above 60 when mainland China still had not recommended the Sinovac vaccine for that age group, Hung said it was difficult to comment on the approach taken across the border. But he said there was a likelihood that the programme on the mainland would be extended to those aged above 60.
He partly attributed the city's decision to its Covid-19 experiences last summer.
"In the third wave, a lot of elderly people succumbed to Covid-19 … the scientific committee has come to the conclusion that the vaccine should be prioritised for elderly people."
Hong Kong on Monday recorded nine new Covid-19 infections – six of them local, including four from unknown sources. The three imported cases were from the United Arab Emirates, Pakistan and the Philippines. Hong Kong's total coronavirus infection tally stood at 11,099, with 202 related deaths.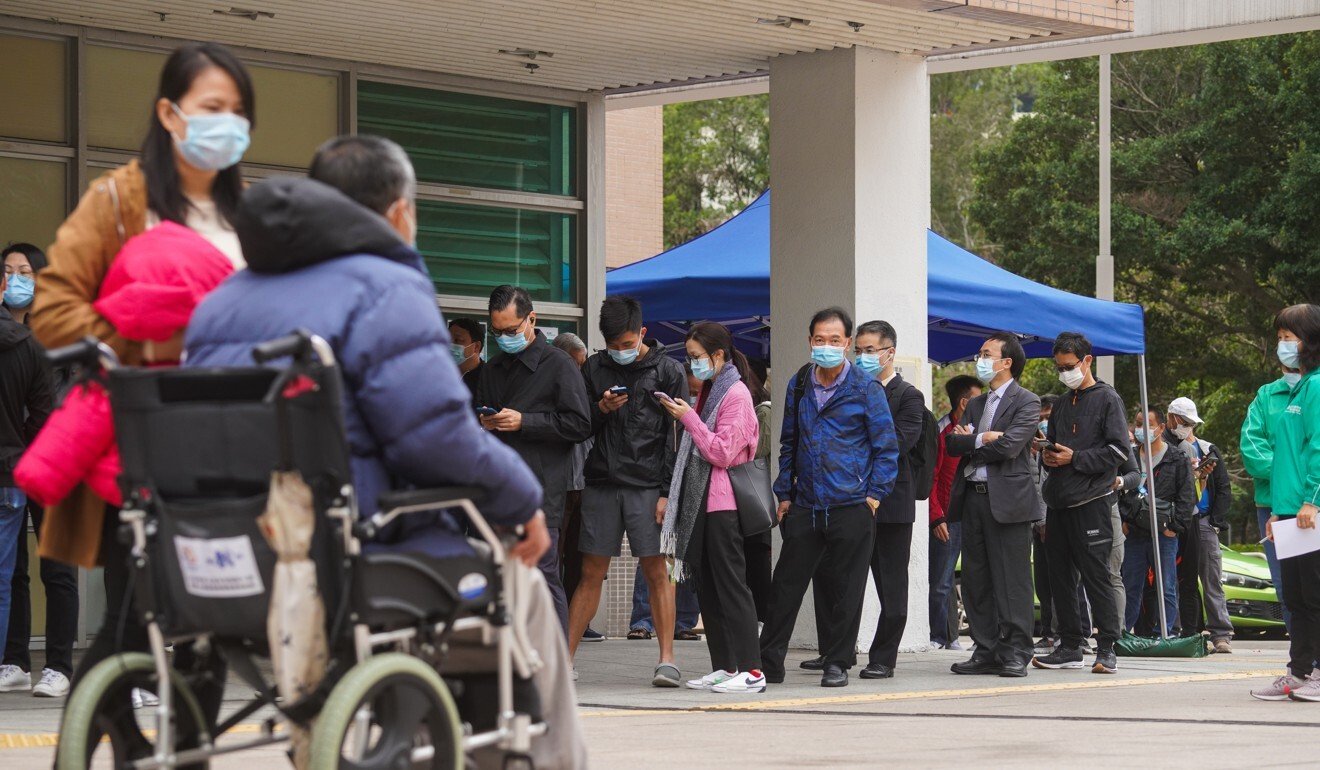 The government imposed a community lockdown on Monday, the first such move in about two weeks. It was the second time in a month that all residents of Tsim Sha Tsui Mansion were ordered to undergo Covid-19 screening.
The lockdown in Tsim Sha Tsui, which started at 8.30pm, was expected to end at 7am on Tuesday.
Meanwhile, Secretary for the Civil Service Patrick Nip Tak-kuen announced the expansion of the vaccination drive to cover seven more groups of workers.
Those working in the catering sector and supermarkets; public transport employees, including taxi drivers; construction workers; property management staff; teachers and other school employees; tourism sector staff; and people working in premises that were previously subject to social-distancing restrictions, such as gyms and beauty parlours, would now be covered.
Nip said the newly added groups involved about 1.3 million people, bringing the total number eligible in the city to be vaccinated to around 3.7 million.
Previously, only those aged 60 or older, health care workers, residents and staff of care homes, people maintaining critical public services and those providing cross-boundary transport services were eligible for vaccination.
Twelve more vaccination centres offering the BioNTech shot, marketed under the brand name Comirnaty, are set to open on March 16.
Nip said the new centres would add the capacity to handle an additional 140,000 bookings between March 16 and 30. Eligible citizens will be able to make appointments for the new centres starting on Wednesday morning.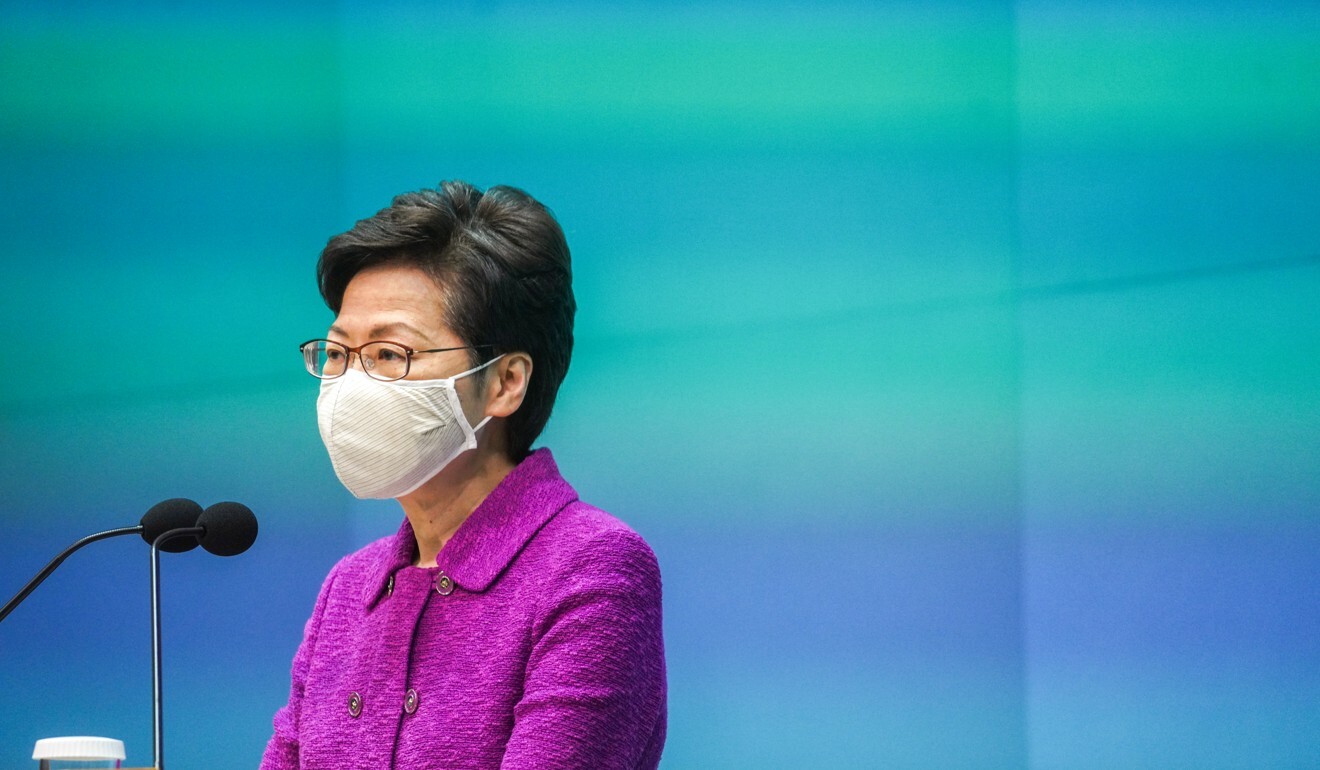 Also from Wednesday, the online system will add new days available for bookings on a rolling basis, rather than by periodic updates, as has been the case.
According to Nip, about 16,000 shots of the BioNTech vaccine and 6,000 Sinovac doses – sold under the brand name CoronaVac – would be available every day.
Chief Executive Carrie Lam Cheng Yuet-ngor, speaking a day after meeting Vice-Premier Han Zheng, noted the central government had encouraged Hong Kong to keep the coronavirus situation under control, and said the immunisation drive was a key factor in resuming cross-border and international travel.
"And so, the government will proceed with its efforts to [implement] the vaccination programme," she added.
Hong Kong started its inoculation programme in late February with Sinovac shots. The BioNTech vaccine – co-developed with US pharmaceutical giant Pfizer – has been available for some members of priority groups since Saturday. About 101,700 Hongkongers have been given Sinovac shots, and 2,100 have received BioNTech ones.
Additional reporting by Danny Mok