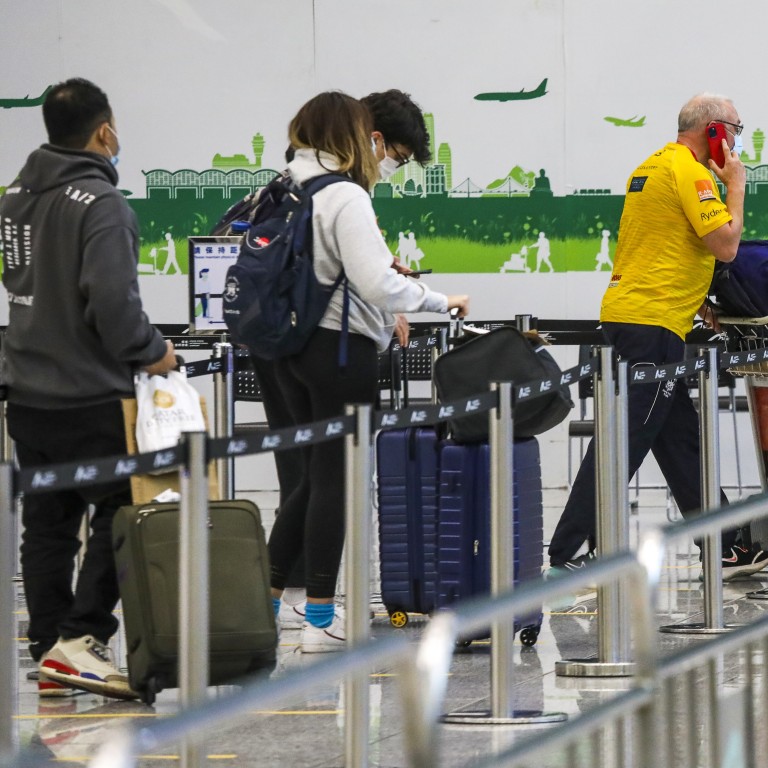 Coronavirus: Hong Kong to lift ban on residents stranded in Britain; quarantine rules to be eased for arrivals from Australia, New Zealand and Singapore
Compulsory quarantine period for arrivals from three low-risk nations will be cut by seven days to 14
Officials say they will also relaunch efforts to strike quarantine-free 'travel-bubble' deals with more than 10 countries and have already written to their counterparts in Japan, Korea, Thailand, Vietnam and Australia to start talks
Key points:
– Government urges Hongkongers to get vaccinated if they want to join potential travel-bubble arrangement with Singapore
– Officials have already written to Japan, South Korea, Thailand, Vietnam and New Zealand to resume talks on travel bubbles
– Non-residents from Australia, New Zealand and Singapore will be allowed to enter the city for the first time since entry ban on foreigners was introduced in March last year
– Compulsory quarantine period for arrivals from the three low-risk zones will be cut from 21 days to 14 with seven days of self-monitoring and a compulsory test on the 19th day
– Residents stranded in Britain will be allowed to return to Hong Kong from second half of April 
– 'Return2HK' programme will be extended by allowing Hongkongers to return via air travel from anywhere in mainland China compared with just Guangdong and Macau previously
– Social-distancing curbs will be eased on April 1 for cinemas, theme parks, public beaches and swimming pools. Church gatherings could be allowed on Wednesday at the earliest
– Restaurant, school and construction workers, if vaccinated, are exempted from regular Covid-19 tests
Hong Kong will lift its entry ban on residents stranded in Britain and allow designated flights to bring them home in late April, while all travellers from Australia, New Zealand and Singapore, deemed low-risk countries, can soon enter the city for the first time in over a year.
The compulsory quarantine period for arrivals from the three low-risk nations – now including non-residents – would be cut by seven days to 14, authorities announced on Monday in a partial easing of strict border controls and
social-distancing measures
amid the city's improving
Covid-19
situation.
Confirming a Post report, officials said they would also relaunch efforts to strike quarantine-free "travel-bubble" deals with more than 10 countries, and had already written to their counterparts in Japan, Korea, Thailand, Vietnam and Australia to start talks. 
The government will also look into expanding the "Return2HK" programme – which currently exempts quarantine only for residents returning from Guangdong and Macau if they test negative in the 72 hours before entry – to include all airports in mainland China.
A much-anticipated easing of local social-distancing measures, however, will be on a smaller scale. 
From Thursday, swimming pools and beaches will reopen, while cinemas, theme parks and performance venues will be allowed to admit more people, but officials said it was not yet time for a dramatic return to normal life. 
Unveiling the new rules in a cross-departmental press conference, Secretary for Food and Health Professor Sophia Chan Siu-chee said: "The fourth wave has lasted for about four months and recently started to be brought under control. The gains are hard won and we must not squander our hard work and effort."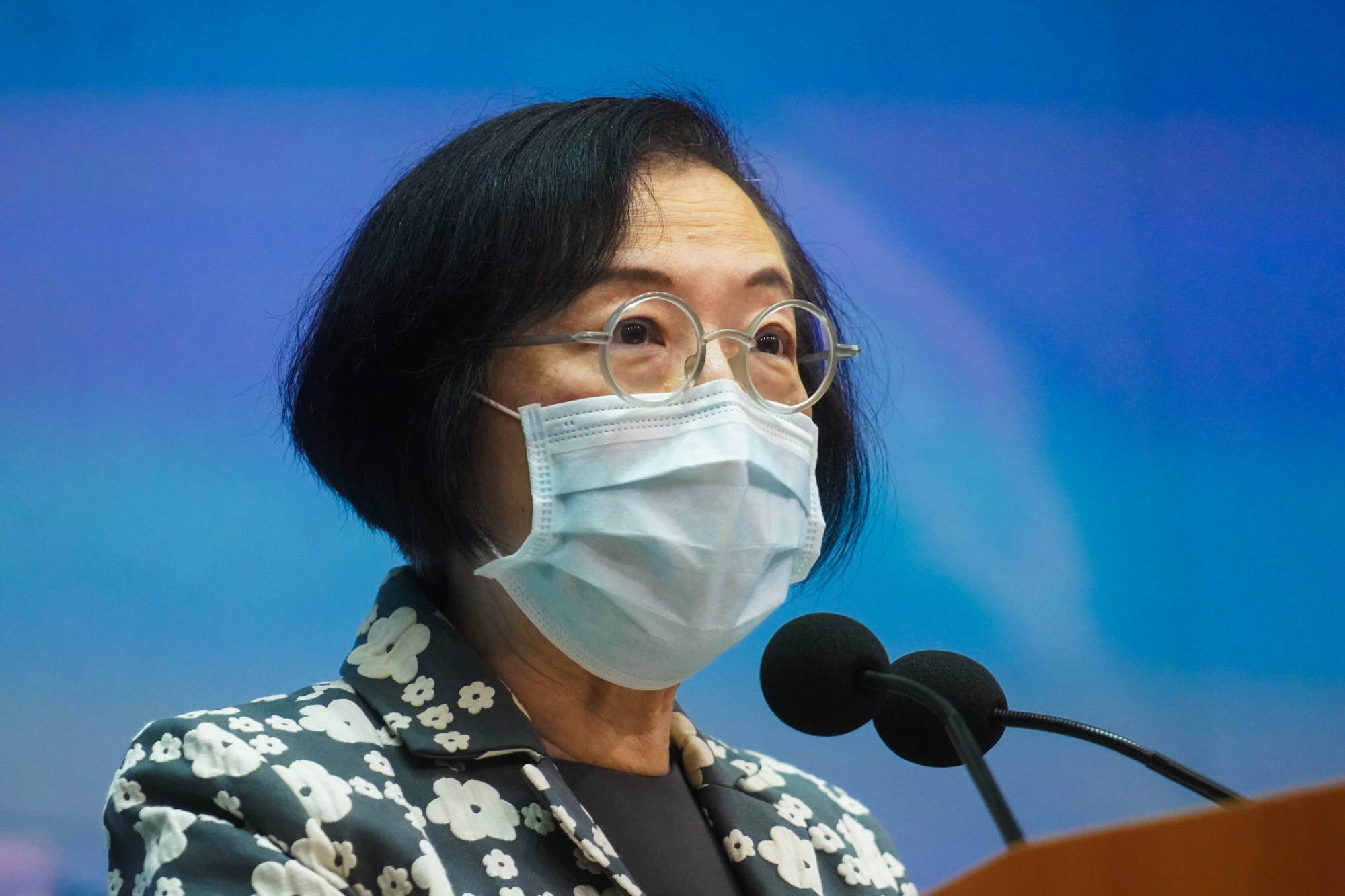 In a reminder of the risk, Hong Kong ended a two-day streak of zero local infections and confirmed eight new cases on Monday, bringing the city's overall tally to 11,454, with 205 related deaths. The sole local case involved a Baptist University student who had recently been on campus and coached football practice for 12 primary school pupils along with three other trainers who have all been sent to quarantine. 
About five preliminary-positive cases were also detected, all of them traceable. 
On the vaccination front, a 61-year-old man, who was a long-term smoker, became the 11th fatality days after receiving a Sinovac shot. The Department of Health said the man, who went to a public hospital on Saturday complaining of chest and shoulder pain, died on Sunday afternoon. He had been vaccinated 12 days before he died. 
Two others have died days after receiving the BioNTech vaccine.
Echoing the government's pandemic advisers, Chan said the city had entered a "critical stage" in its quest to eliminate the coronavirus and achieve zero infections. "We have no conditions to relax all social-distancing restrictions," she said, adding that most restrictions such as the closure of bars, karaoke lounges and mahjong parlours would continue for another two weeks until April 14.
Swimming pools and beaches, deemed less risky because the coronavirus is not believed to be commonly transmitted through water, will be reopened to offer residents "more sporting options" during the Easter holiday. 
Cinemas, performance venues and Hong Kong's two theme parks will be allowed to fill up to 75 per cent of capacity, up from the current 50. 
Health minister Chan said the government would seek the Executive Council's endorsement to exempt activities at religious venues from the rule capping public gatherings at four people and allow them to fill up to 30 per cent of capacity. 
Eating and drinking would remain banned except for holy communion and other rituals, she said. If approved, the relaxed rule would be effective from Wednesday, just ahead of the Easter break. 
The lifting of the travel ban on residents stuck in Britain, imposed since December, was prompted by an improvement of the country's pandemic situation as well as its vaccination take-up rate, according to Chan. 
Hongkongers will be allowed to return from Britain in an "orderly manner" on selected flights in the second half of April. They will still be required to undergo testing at Hong Kong's airport upon arrival, undergo quarantine in a designated hotel for 21 days, and submit to further tests on the 7th, 12th and 19th day of their stay.
Travellers from Australia, New Zealand and Singapore who are not Hong Kong residents will be allowed to enter the city for the first time since an entry ban on foreigners was imposed in March last year. After completing 14 days of quarantine in hotels, they will have to monitor their own health at home for a week and take a test on the 19th day. 
Quarantine arrangements for vaccinated people arriving from countries deemed middle-risk, such as Japan and South Korea, will be the same as those for arrivals from low-risk countries. Travellers who have not been fully vaccinated will still need to undergo quarantine for 21 days in designated hotels. 
The government has since last month been holding resumed talks with Singapore for a travel bubble, which was cancelled at the eleventh hour when the fourth wave of Covid-19 hit Hong Kong in late November.
Secretary for Commerce and Economic Development Edward Yau Tang-wah said the city was now in a position to discuss travel bubbles with other countries again.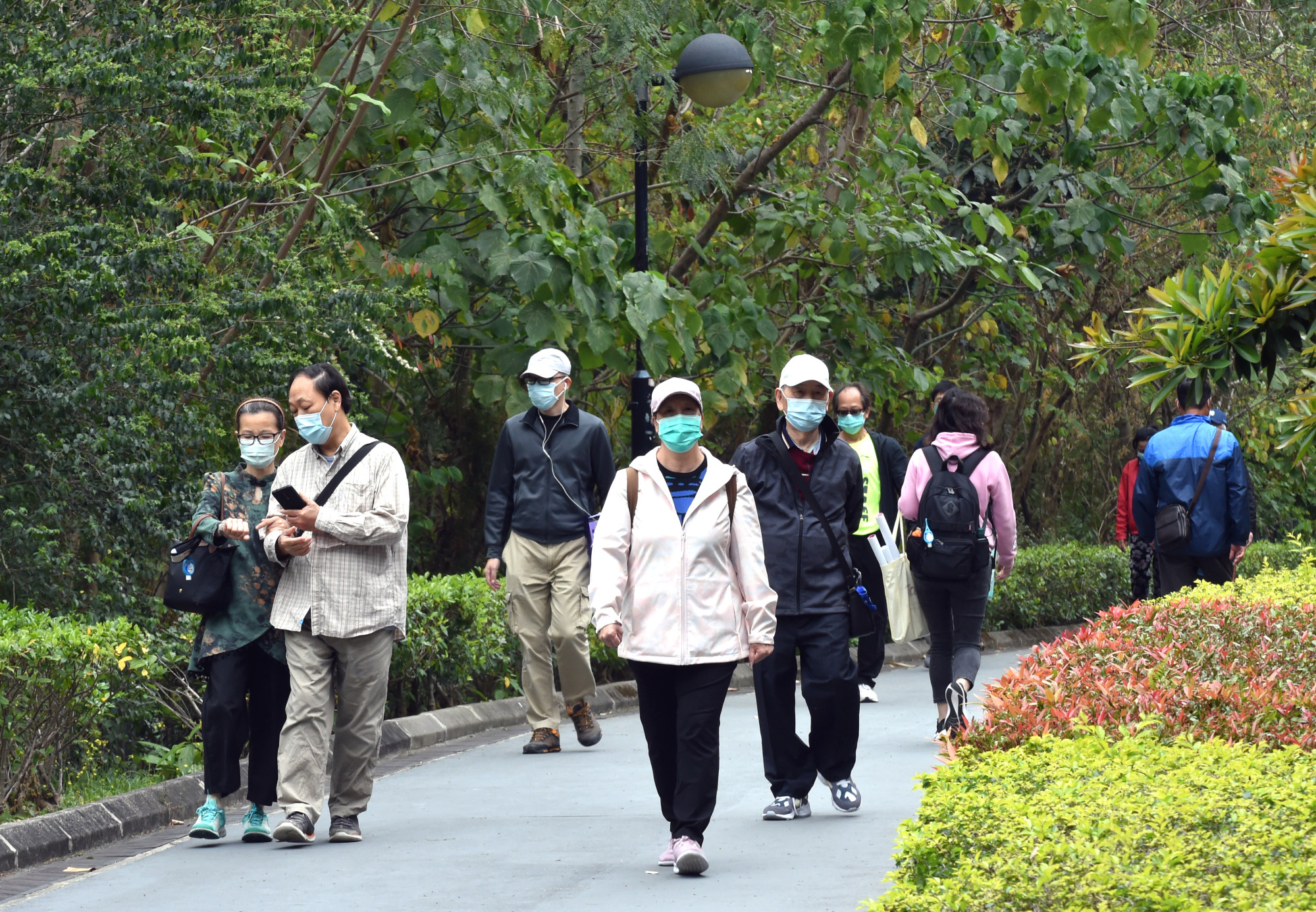 "The recent epidemic situation has improved, and we saw the seven-day average of local unlinked cases has dropped to below five, which was the figure which triggered the 'circuit breaker', since early March," Yau said. 
"Currently, we have the conditions to hold the discussions again and have already started the discussion with Singapore.
"We also recommend that if Hongkongers want to join the air travel bubble arrangement, they should first get vaccinated so they can protect themselves. In the long run, I believe this will also be a global trend." 
Singapore Transport Minister Ong Ye Kung said the city state had received the Hong Kong government's proposal, which it would study and respond to shortly.
Hong Kong tourism sector lawmaker Yiu Si-wing said whether to make vaccination mandatory for joining any travel bubble would be subject to a bilateral agreement with the other party. 
"The governments will have to reach a consensus on whether vaccination is a condition of the travel bubbles and what vaccines are recognised," he said. "Based on the existing pandemic control level, Singapore appears to be among the first that can form a travel bubble with Hong Kong."
While the city's Covid-19 vaccination programme was dealt a blow by the suspension of the BioNTech roll-out last Wednesday over packaging defects, officials expressed hope it would resume this week.
As of Monday, 450,500 people or 6 per cent of the city's 7.5 million population had received their first dose of a vaccine, with about 299,200 receiving the Sinovac jab and around 151,300 taking the BioNTech one. About 24,600 recipients, or 0.33 per cent of the population, had received their second Sinovac shot.