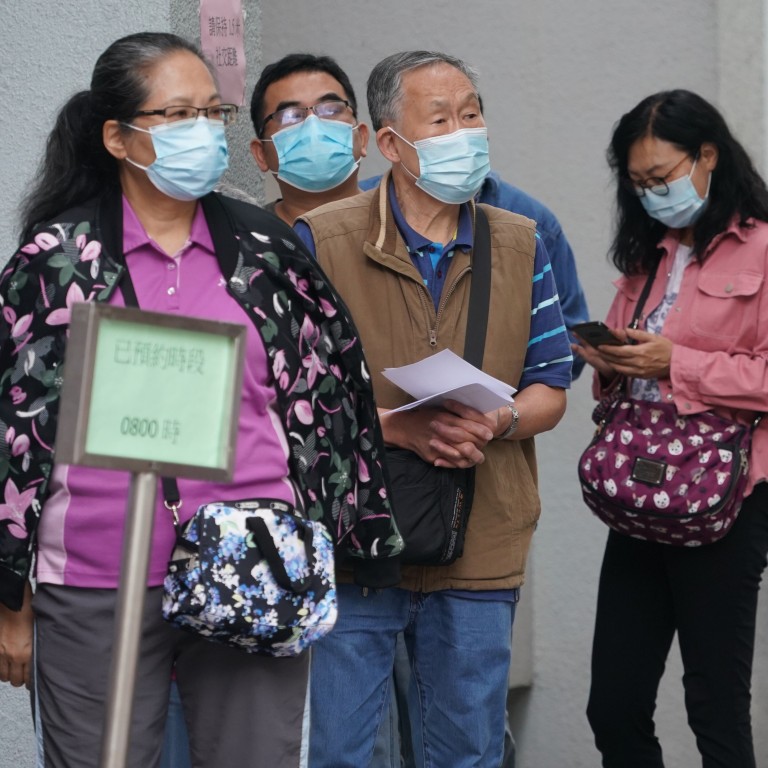 Hong Kong coronavirus: Pfizer-BioNTech vaccinations to resume on Monday, with new bookings for those who missed jabs
Those scheduled for April 5 and beyond will retain original appointments, while new booking times for residents who lost their slots can be adjusted online
City records 13 infections on Thursday – all but two imported – though both local cases come from unknown sources
Key points:
– BioNTech vaccinations will resume on Monday, April 5
– Residents who have booking on April 5 or after will retain their previously scheduled appointment
– Those whose first shot was cancelled during the March 24-April 4 halt will be allocated a new time slot that can be changed via the online booking system
– Residents who had their second shot cancelled during that period will be assigned slots between April 5 and 10, though they can also be rescheduled if necessary
– Hongkongers in Britain, Ireland, South Africa or Brazil can take a designated flight departing from London on April 21 and 28
Hong Kong will restart its BioNTech
Covid-19
vaccination scheme on Monday after a
12-day suspension
, with residents whose appointments were affected by the halt allocated new time slots that can be changed when the booking system reopens at 9am on Saturday.
Word of the new arrangements came as the government announced on Thursday that Hongkongers stranded in Britain, Ireland, South Africa or Brazil – countries on which the city had imposed an entry ban because of their infection rates – could take two designated flights departing from London on April 21 and 28 to return home. 
Health authorities also confirmed 13 new Covid-19 cases ahead of the Easter holiday weekend, with all but two imported. More than 10 people tested preliminary-positive. The city's confirmed case tally stood at 11,480, with 205 related deaths.
Distribution of the BioNTech vaccine was put on hold last Wednesday after frontline staff administering jabs identified more than 50 defects to vials, including cracks and leaks. 
An interim investigation
report
submitted by BioNTech to the Department of Health on Thursday pointed to the defects being the result of the vial lid crimping process and ultra-low storage temperature. The manufacturer was also sending a new batch of vaccines. 
"As the BioNTech vaccines were not found to have quality or safety issues, and the new batch of 300,000 doses of BioNTech is expected to arrive in Hong Kong [on Friday], the government decided to resume vaccinating with BioNTech on Monday, April 5," said Secretary for the Civil Service Patrick Nip Tak-kuen, who oversees the inoculation programme.
The
new batch
would be used first, while two batches already in stock, numbered 210102 and 210104, would be kept in storage until the manufacturer finishes its investigative report, officials said at an afternoon press conference.
Nip said about 183,000 people had booked appointments for either their first or second dose during the suspended period. Of those, about 30,000 were scheduled to get their second jab and would need to be vaccinated as soon as possible to develop immunity. 
Those scheduled to take their second shot on April 4 or earlier will now be allocated a time slot between April 5 and 10. The government will also assign new slots for those whose first shot had been scheduled to take place during the suspended period. 
"Those two groups, starting from April 2, will receive an SMS concerning their bookings," Nip said. "If they are not available for vaccination on the allocated date and time, they can change the time when the BioNTech vaccination online booking system reopens at 9am on [Saturday]." 
Those whose bookings were already scheduled for April 5 or beyond could show up for vaccination according to their original schedule, Nip added.
The Food and Health Bureau later said the affected batches might not be used in the future. 
"The government is also prepared to follow the recommendation of the drug manufacturer to suitably handle the relevant batches at a later time, including no longer administering the relevant batches of the BioNTech vaccine," it said in a statement.
Although the packaging defects had not affected the vaccine's efficacy or safety, according to the Director of Health Dr Constance Chan Hon-yee, who cited information from BioNTech, the new batch would come from a different manufacturing plant. The facility in Germany was under American firm Baxter, which had partnered with BioNTech to produce the jabs.
In Hong Kong, Fosun Pharma is in charge of delivering the jab jointly developed by BioNTech and US-based Pfizer. Asked what responsibility the manufacturer had to shoulder because of the defects, health minister Professor Sophia Chan Siu-chee said the government would discuss arrangements with Fosun. 
"We will follow up on the handling of the different batches … and the relevant financial arrangements," Chan said. "Under the principles of the agreement, the relevant products will have to be replaced without charge."

William Chui Chun-ming, president of the Society of Hospital Pharmacists, said the government should destroy the affected batches or return them to the manufacturer in Germany, and inoculate people with the new doses, to boost public confidence in the vaccination scheme. 
"This is not because of safety concerns," Chui said. "To regain public confidence, the manufacturer needs to bear responsibility."
Also revealed on Thursday were details about flights stranded Hongkongers can return home on. Two CX2252 flights departing from London to Hong Kong at 9.10am on April 21 and 28 will be designated for those stuck in Britain, Ireland, South Africa or Brazil. Cathay Pacific Airways would open the tickets booking system on April 8. Those who successfully book a ticket will need to undergo a 21-day mandatory quarantine at Rambler Garden Hotel in Tsing Yi, at a room rate of HK$400 to HK$500 per night.
Just 6.2 per cent of Hong Kong's 7.5 million population, or 466,300 people, have received their first dose of vaccine. Around 313,000 took the mainland China-produced Sinovac version, while about 151,300 chose the BioNTech jab.
About 0.7 per cent of the population, or 54,000 people, have already received their second dose of the Sinovac vaccine and are now fully vaccinated.
The relaunch of the BioNTech vaccine could give the vaccination rate a much-needed shot in the arm. The daily inoculation figure for the first dose of the Sinovac vaccine, currently the only available option, dwindled from 8,663 last Wednesday to 5,060 a week later. 
The latest official statistics showed the 60-69 age group made up around a quarter of recipients of a first shot, followed by people aged 40-49 and those in their 50s. Men made up 58.5 per cent of first shot recipients. 
"Only when the mass public is taking the vaccine, will it be safe enough. When there are not too many people receiving the jab, one might want to review one's peer circle to see if most of them have already been vaccinated," University of Hong Kong microbiologist Ho Pak-leung told a radio programme.
"If most of your peers in the circle have already been inoculated, herd immunity might happen within [the circle]. But if most of your peers have not received the vaccine, one might want to readjust the formation of the circle."