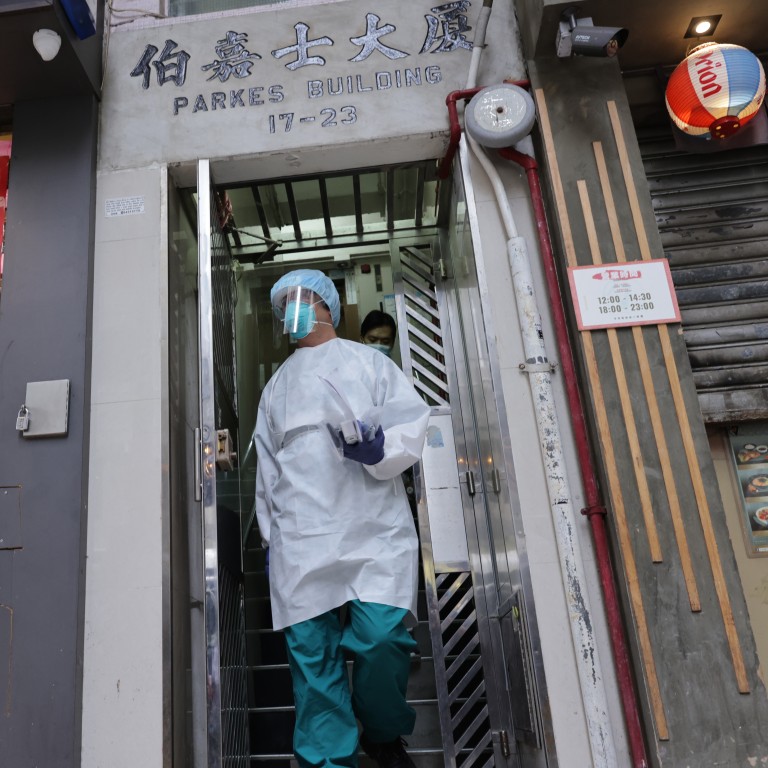 Coronavirus: Hong Kong bans travel from India, Pakistan, and the Philippines after second local case of mutant strain; city confirms 30 new infections
Two-week entry ban applies to all people from three nations, which are now categorised as 'extremely high risk'
Anyone from those countries already quarantined in Hong Kong must get tested on their 26th day in the city under emergency measures
Hong Kong slapped a two-week travel ban on people coming to the city from India, Pakistan, and the Philippines on Sunday, hours after officials confirmed a second local
Covid-19
case involving a mutated strain of the virus.
Authorities ramped up warnings of a potential surge in infections amid an ongoing investigation into the source of the strain's introduction into the community.
The move came as the city confirmed 30 new coronavirus cases on Sunday, 29 of which were imported. The new infections were the most recorded in a single day since March 15, taking the total case tally to 11,683, with 209 related deaths. About 10 preliminary-positive cases were also logged. 
All flights and people travelling from the three countries are to be banned from Tuesday, meaning India, Pakistan, and the Philippines are now classed as areas of "extremely high risk". The move was similar to action taken against Britain last Christmas, and anyone who has spent more than two hours in those three countries is also banned.
People already in quarantine in Hong Kong from those three nations will be ordered to take a further test on the 26th day after arriving in the city.
Health officials had earlier moved to ban Cathay Pacific's Manila flights, and India's Vistara services from Mumbai, for two weeks until May 2 after a number of passengers were found to be Covid-19 positive upon arriving in Hong Kong.
The two airlines joined Emirates, KLM and Scoot, who are serving flight bans from Dubai, Amsterdam, and Singapore. Hong Kong earlier this week rolled out stricter measures on imported infections, ensnaring the newest airlines.
A Vistara flight from Delhi which arrived in Hong Kong on April 4 is now at the centre of a growing coronavirus outbreak with 47 passengers on the 188-seater flight infected. The route, however, was subsequently banned for two weeks after a number of passengers arrived with Covid-19.
Twenty-two of the new cases were imported from India, and were uncovered in quarantine at the Regal Airport Hotel at Chek Lap Kok and at two Ramada Hong Kong Grand View locations in North Point and Sai Ying Pun.
All 22 had travelled to Hong Kong on flight UK6395 on April 4, just days before the route was suspended for two weeks, from April 6 to 19. 
Four of the new cases were imported from Indonesia, while Egypt and Canada also contributed one each. The remaining imported case, which came from the Philippines, was also confirmed to involve the variant strain of the virus.
Health officials banned Cathay Pacific's Manila flights and India's Vistara services from Mumbai for two weeks until May 2 after a number of passengers were found to be Covid-19 positive upon arriving in Hong Kong.
The two airlines join Emirates, KLM and Scoot in serving flight bans. Hong Kong earlier this week rolled out stricter measures on imported infections, ensnaring the newest airlines. 
Sunday's single local case, meanwhile, was a 31-year-old woman who lived on Parkes Street in Jordan, and was a friend of the first man found to be carrying the mutant strain in the community on Friday.
The woman's infection was detected at a government quarantine facility, with gene sequencing showing that she carried the N501Y mutation despite not having any recent travel history, the Department of Health said.
A total of 223 cases involving mutated versions of the coronavirus have been detected in Hong Kong, but until Friday, all of them had been imported, according to the department.
Authorities on Sunday were still scrambling to track the source of the first man's infection. The 29-year-old Hong Kong identity card holder had worked in Dubai as an engineer, and arrived back in Hong Kong on March 19 and finished quarantine on April 8. 
To prevent the more virulent N501Y mutant strain from spreading, about 80 residents of the Jordan building where the man had stayed were ordered to undergo quarantine for 21 days.
Secretary for Food and Health Sophia Chan Siu-chee said health authorities were "very concerned" about the mutant strain, and investigations into the man's infection were under way. The patient had been asymptomatic and tested negative during his 21-day quarantine. 
"We need to find out how he got infected," Chan told a radio programme on Sunday. "We have already tightened our passenger flight suspension mechanism on April 14 because even though some countries have seen a decline in infections after starting their vaccination programmes, overall, mutant strains are still spreading and that makes us nervous [about importing such cases]." 
Chan said authorities did not rule out the possibility that the man could have been infected when he was in Dubai and carried the strain in an unusually long incubation period. Cross-infections at the airport or quarantine hotel were also being considered.
Eight flights have already been halted under Hong Kong's tightened rules, which ban airlines from operating from a destination to the city for two weeks should any passengers on such flights bring in the N501Y strain over a seven-day period.
Asked if Hong Kong would extend the compulsory quarantine for arrivals to 28 days, Chan said authorities were discussing if people should instead get tested again after completing three weeks of isolation. About 4 per cent of cases among arrivals were detected from tests done on their 19th day of quarantine, Chan added.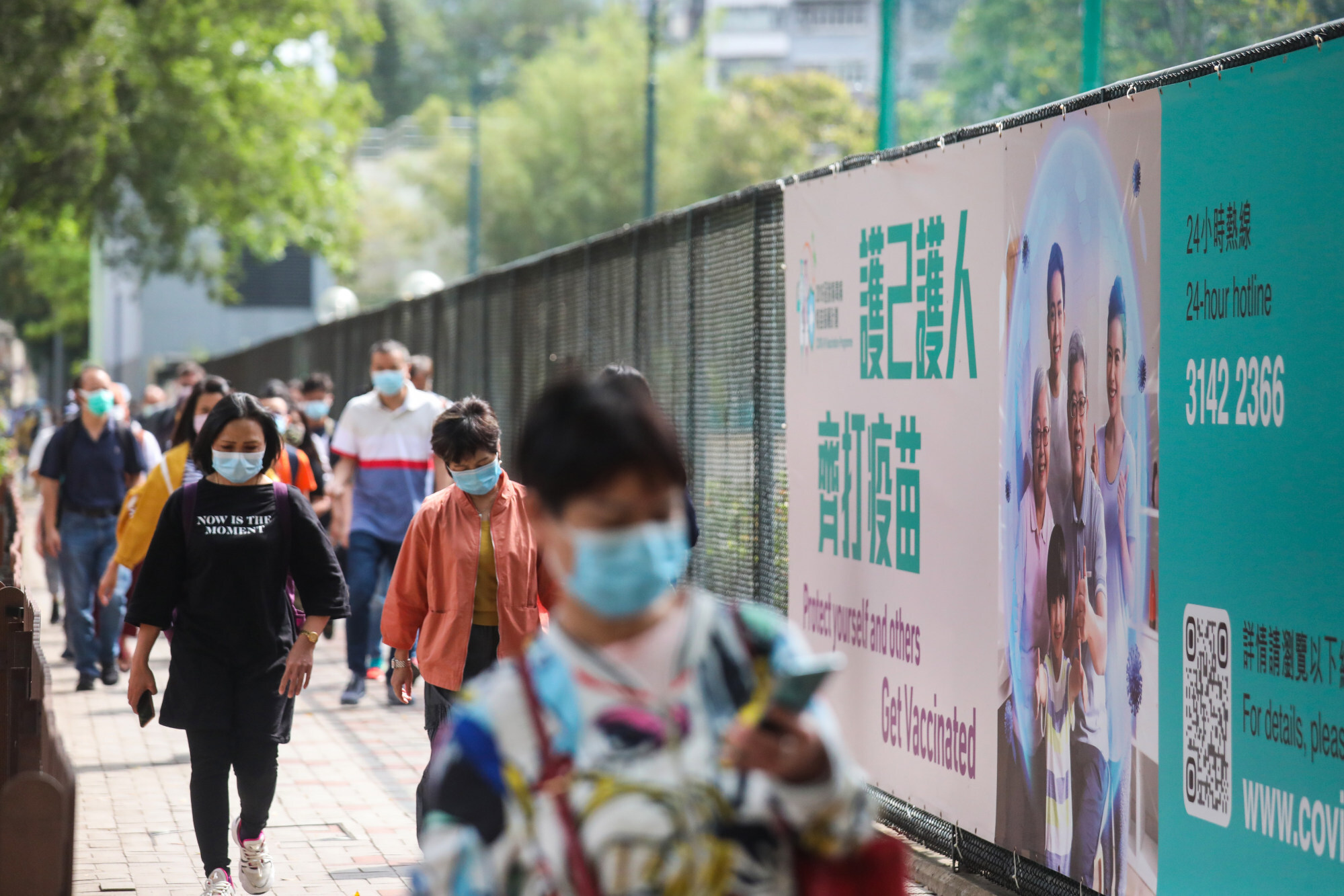 She also urged members of the public to limit social gatherings and called on residents to get vaccinated as soon as possible to protect themselves and others from the coronavirus. 
"Over the long holiday during Easter, some people may have let their guard down and there were more social gatherings during that period … so we would expect some cases to emerge in the coming days," she warned. 
Chief Secretary Matthew Cheung Kin-chung also said the discovery of the mutant strain in the community was worrying. Writing on his official Sunday blog, Cheung stressed the government would continue to impose strict quarantine and compulsory testing orders, as well as lockdown measures, to cut transmission chains as soon as possible.
"There are signs that the coronavirus epidemic could rebound fiercely," Cheung warned, as he urged people to get vaccinated.
Meanwhile, Secretary for Labour and Welfare Law Chi-kwong expressed concern that Hong Kong's stringent flight suspension rules would trigger a ban on routes from the Philippines and Indonesia, affecting thousands of employers and
foreign domestic workers
.
"Given the serious epidemic situation in the Philippines recently, there is a high chance it will be affected by the new place-specific flight suspension mechanism," Law said on his official blog. 
About 100 domestic workers arrive in the city every day. Suspending flight routes from the Philippines or Indonesia would not only delay newly hired helpers, but those who had returned to their home country for holidays or family visits might also be stranded, Law added.
He called on employers to encourage domestic workers to get vaccinated before leaving Hong Kong, especially if they needed to travel back to their home countries. 
"By doing so, not only are helpers protecting themselves, their employers and their friends in Hong Kong, but also their families and friends back home," Law said, adding that the group was among those prioritised for vaccination. 
Meanwhile, officials were unable to confirm the infection status of a 31-year-old kindergarten teacher who had tested preliminary-positive on Saturday. She was admitted to hospital for further tests.
The woman worked at the Choi Kai Yau Kindergarten-cum-Nursery in Tseung Kwan O, where more than 100 pupils and teachers were sent to quarantine. She had also been to a wedding banquet attended by around 200 people.
About 1,091,100 vaccine doses have been administered since the city launched its inoculation programme in late February. Some 719,900 people have received their first dose, while 371,200 people have been fully vaccinated.
Additional reporting by Gigi Choy