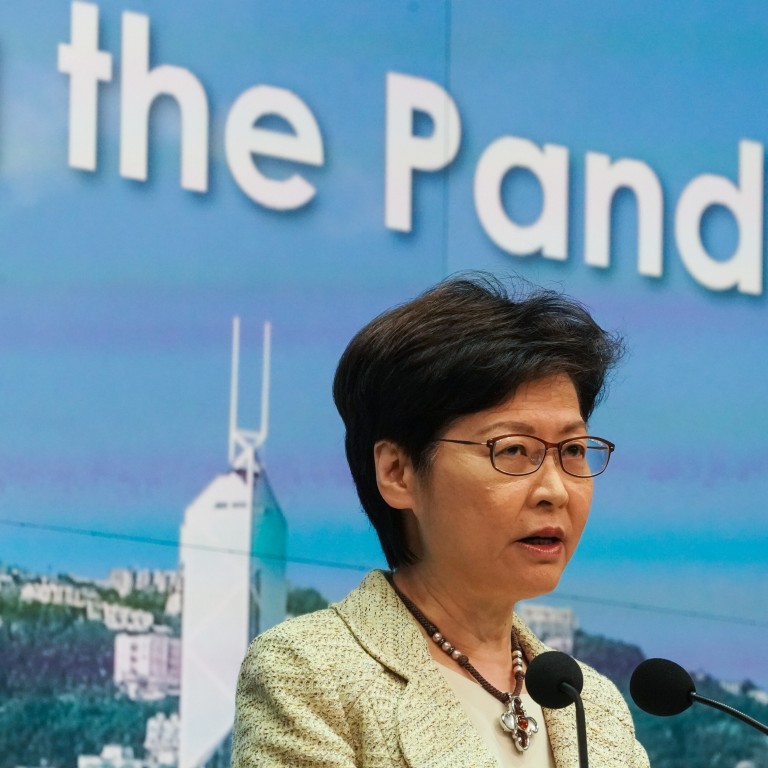 Coronavirus: Carrie Lam puts brakes on Hong Kong's new helper vaccine policy amid firestorm of criticism
City leader has asked labour secretary to review scheme and hold discussions with consulates from countries that provide most domestic workers
Chief executive also says authorities are reviewing whether full vaccination should play a role in determining mandatory quarantine lengths
Hong Kong's leader has suspended a controversial new policy that would have forced all foreign domestic workers to be vaccinated against
Covid-19
before their contracts could be renewed, amid a diplomatic backlash and complaints of discrimination.
Chief Executive Carrie Lam Cheng Yuet-ngor on Tuesday said the
policy
would be reviewed, while health authorities would also look into whether the 21-day mandatory quarantine for residents of any building where mutated strains of the coronavirus were discovered could be shortened if they had already received both doses of their vaccine.
Mandatory mass testing ordered by the government for domestic helpers
uncovered
third more cases of a variant infection among them on Tuesday.
The discovery of one case at the Allway Gardens private housing estate in Tsuen Wan prompted authorities to issue quarantine orders for residents of more than 200 flats in the affected block. Two buildings, the Royalton in Pok Fu Lam and Kornhill Garden Block N2, were later locked down as a result of the other infections.
In another development that could have a potential bearing on the latest plans for a
travel bubble
with Hong Kong, Singapore
announced
it would impose 21 days of quarantine on most inbound travellers after a recent flare-up of Covid-19 cases.
Hong Kong is still among seven jurisdictions considered safe enough to be exempted from the extended quarantine so far, and officials on both sides said they would monitor further developments.
The chief executive said the government had not decided yet on pushing ahead with its plan announced last week to have Hong Kong's 370,000 foreign domestic workers
vaccinated
.
"We have never done [mandatory vaccination] before, so I have asked the secretary for labour to review the whole policy, such as the rationale and feasibility, and to consult advisers and consulates for the countries where domestic workers primarily come from as to whether compulsory vaccinations can be done, or if it will cause other problems if we proceed," Lam said.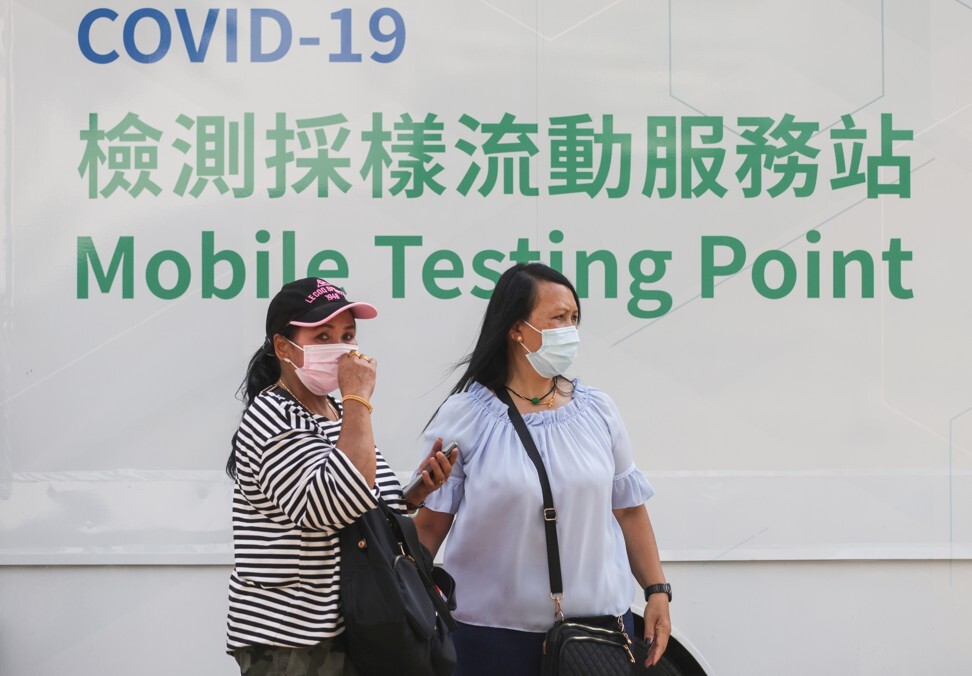 Philippine Consul General Raly Tejada thanked Lam and her government for their "understanding and magnanimity" in putting the compulsory vaccination plan on hold.
"We stand ready to work and engage with the Hong Kong government and other concerned consulates general in constructive dialogue on this important issue," he told the Post. "In the meantime, the Philippine consulate general in Hong Kong encourages all our nationals to avail of Hong Kong's free and voluntary vaccination programme."
Lam said compulsory testing for the city's 370,000 domestic helpers would continue, as it was "risk-based and does not involve racial discrimination".
"[Domestic helpers] have the habit of gathering on Sundays and often have to take care of children or the elderly, so we had to take appropriate measures to prevent possible transmission," she said.
More than 100,000 domestic helpers had been tested last weekend, while several thousand more had been vaccinated, Lam said. She was confident that all of them would be tested by the government's May 9 deadline.
Infectious disease specialist Dr Joseph Tsang Kay-yan said the Covid-19 cases among domestic helpers suggested the possibility of transmissions within families they worked for.
"An infection in a family could mean an outbreak there. If we cannot cut transmissions by Mother's Day and Father's Day when there are family gatherings … the fifth wave could break out at any moment," Tsang said.
The government sparked an outcry when it announced last Friday that all domestic helpers would have to be tested, with labour minister Law Chi-kwong saying it was not too much to ask as those affected could "choose not to work in Hong Kong".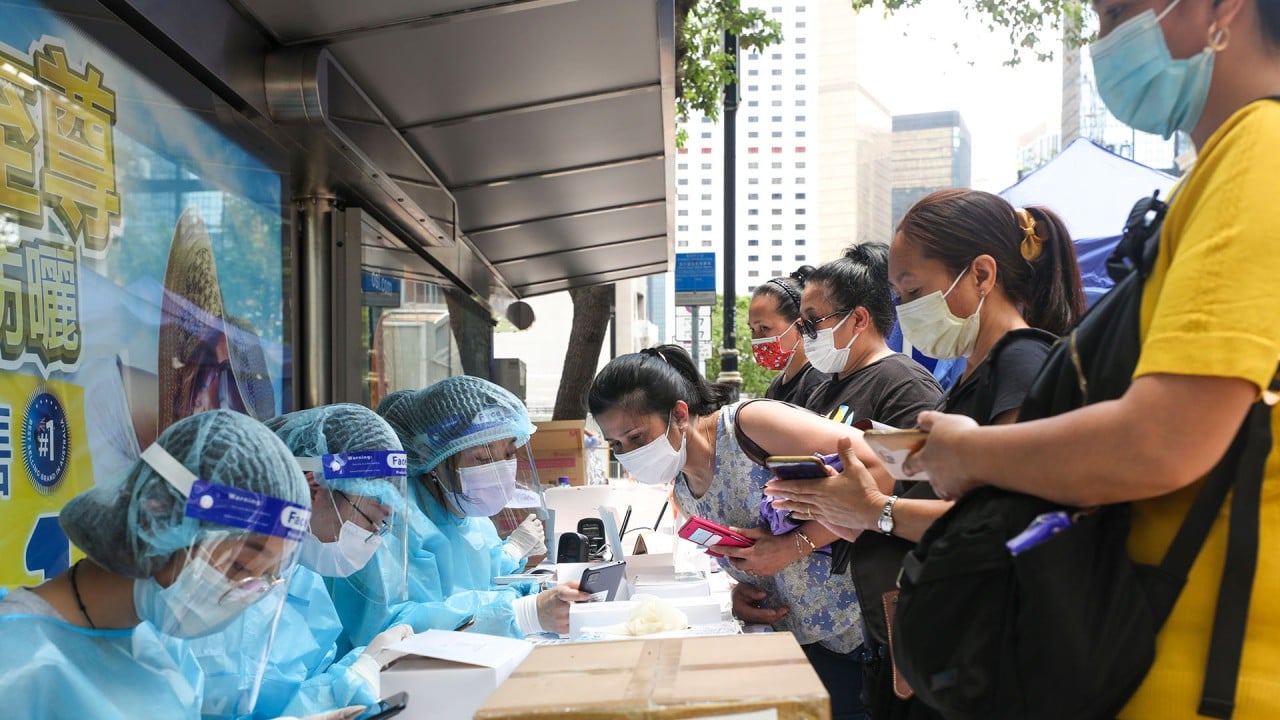 03:08
Hong Kong domestic helpers slam 'discriminatory' Covid-19 rules
Hong Kong domestic helpers slam 'discriminatory' Covid-19 rules
In response, Tejada on Saturday argued that if domestic helpers from his country were forced to accept the new policy, it should apply to all non-resident foreign workers for the sake of fairness. Philippine foreign affairs secretary Teodoro Locsin Jnr said the move "smacked of discrimination".
Indonesia joined the Philippines on Monday in appealing for a fairer application of anti-pandemic measures, while a group representing the city's domestic workers lodged a formal complaint with the Equal Opportunities Commission over the plan.
While the city's vaccination programme has been conducted on a voluntary basis, Lam said the overall rate of inoculation was improving, but still not satisfactory.
"We will try our very best to encourage the public to get vaccinated … so we can meet the biggest demand of the public, which is to get out of the pandemic that has lasted more than 15 months," she said.
The government has been issuing immediate lockdown orders for buildings with preliminary-positive cases of the new variants and sending residents into quarantine for 21 days.
"More than 1,600 residents have been sent to quarantine centres for 21 days [because of the first three cases]. We fully understand that this creates trouble and inconvenience for the public," Lam said.
"I have asked the Centre for Health Protection to reconsider if there can be a relaxation for residents who have taken two doses of
Covid-19 vaccines
and finished 14 days of quarantine."
Hong Kong has identified 10 cases of mutated strains in the city since April 17, three of which involve domestic helpers. Health authorities found the missing link between three of those cases on Monday – they had all visited a Tung Chung shopping centre.
The latest two confirmed cases with the N501Y mutation involved a housewife who returned from India about a month ago and a domestic helper who arrived from the Philippines in late March.  
The city's total of confirmed Covid-19 infections now stands at 11,790, with 210 related deaths.
This article appeared in the South China Morning Post print edition as: lam halts helper vaccine plan in wake of backlash