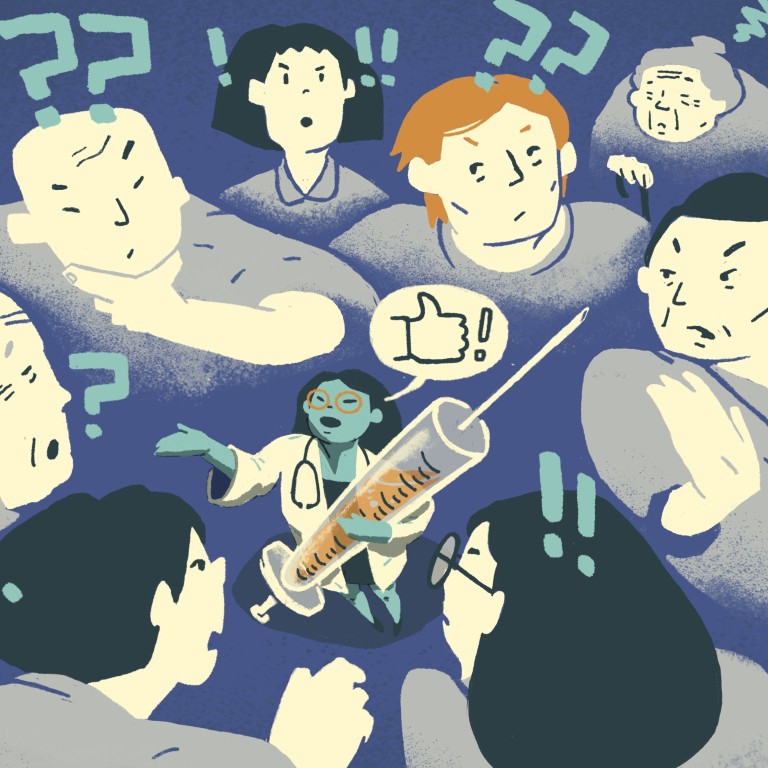 Coronavirus: 'vaccine bubble' incentives aren't enough, Hong Kong must get creative to dispel rumours, share facts about jabs, experts say
Sluggish response to vaccine drive reflects mistrust, worries over safety that must be addressed
Instead of 'top-down' approach, try getting well-known figures to promote jabs, experts suggest
This is the first of a two-part series looking into whether Hong Kong's vaccination programme against Covid-19 is on the right path and how the city can boost the vaccination rate to create herd immunity.
Hong Kong has succeeded in containing wave after wave of
Covid-19
infections, but its goal of reaching herd immunity through vaccination remains far from reach.
Public distrust of the government and fears about the safety of vaccines have kept Hongkongers from stepping forward for their jabs.
Since the government's vaccination campaign
began
in late February, only about 1.1 million of the city's 7.5 million people have received their first dose, including almost 720,000 who received their second shot.
With less than 15 per cent receiving at least one jab, medical and media experts say Hong Kong must overhaul its communication strategy to dispel misconceptions and fears.
Top-down messaging from the authorities did not help given a serious underlying problem – weak governance – in the city over the past few years, they said.
Kimmy Cheng, a lecturer at Baptist University's communication studies department, said the government had been too slow to put out positive information about vaccines and offer Hongkongers incentives to get their jabs.
"From a communications perspective, it's a disaster, because you've already let rumours or fake news settle in people's minds. It's very hard to erase all that and instil new beliefs," she said.
Vaccination pace stays sluggish
Hong Kong has approved only China's Sinovac and the German-made BioNTech vaccines for use, and both require two jabs.
The vaccination drive that began on February 26 covers 6.5 million people aged 16 or above, both Hongkongers and expatriates, including nearly 400,000 foreign domestic workers, and is free.
Only Sinovac was available at first, and there were concerns from the start about its efficacy. The vaccination drive received a boost when BioNTech shots became available on March 10, as the vaccine offers more protection.
Worries about the mainland China-produced vaccine deepened when there were medical emergencies involving those who received their shots. Then the
BioNTech roll-out was suspended
for 12 days from March 24 after more than 50 instances of defective vials were discovered.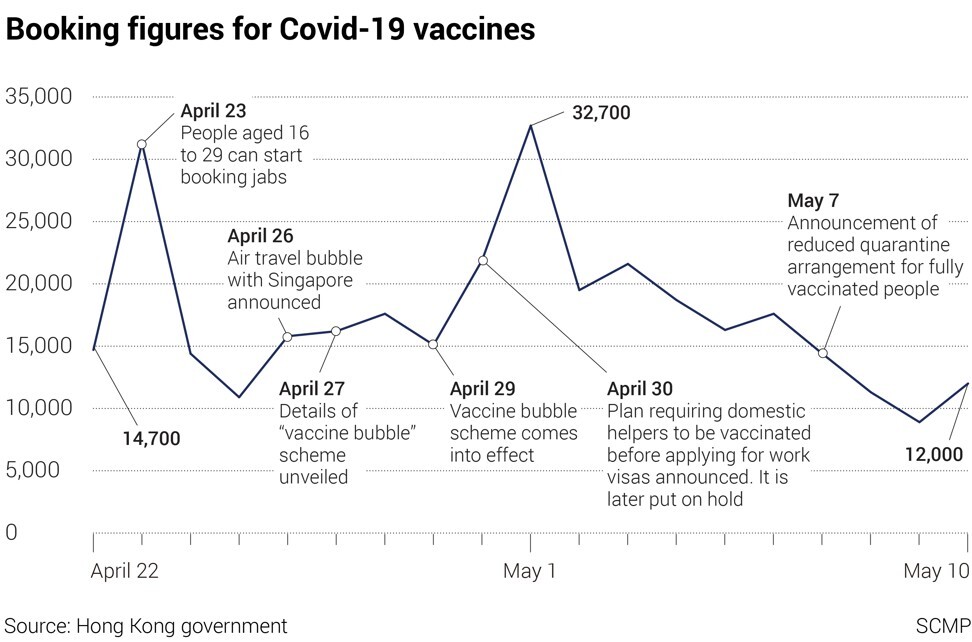 Last month, Chief Executive Carrie Lam Cheng Yuet-ngor
unveiled a "vaccine bubble" scheme
that eased pandemic restrictions for restaurants and bars, among others, depending on the vaccination status of patrons and staff of the establishments.
Essentially, people who have been vaccinated are able to dine out in larger groups of six or eight. And businesses whose staff have been vaccinated are allowed to divide their premises into different zones, accept more customers and offer dine-in services until midnight or even 2am.
Netizens were quick to poke fun at the scheme, asking how families can eat out together if some members had been vaccinated and others not.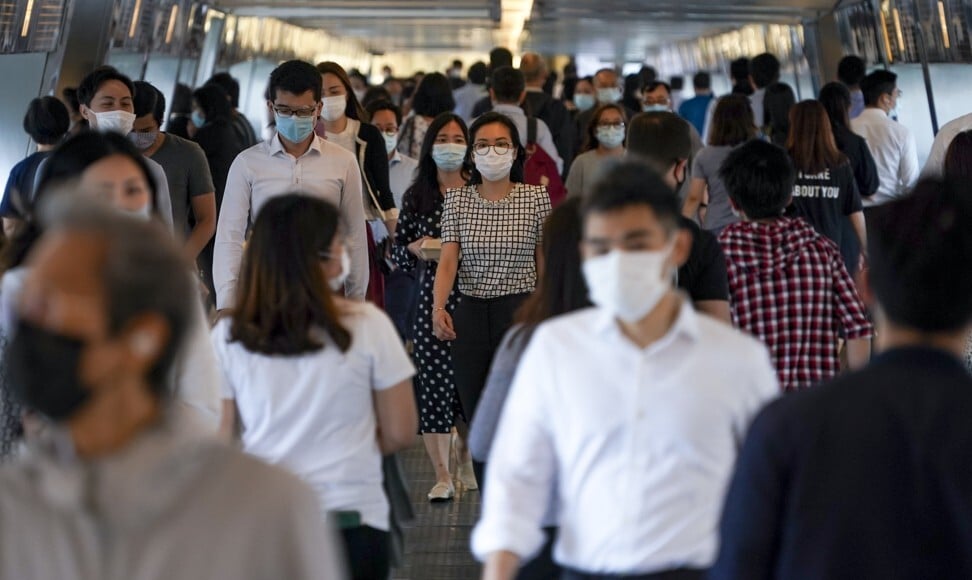 Then there is the potential of travelling again, with the quarantine-free
travel bubble
with Singapore expected to start on May 26. Those who are fully vaccinated could also have their quarantine period shortened when they return from overseas or have been in close contact with Covid-19 patients.
Despite these incentives announced in late April, the vaccination numbers have remained sluggish.
Daily bookings have ranged from a high of 32,700 on May 1 to as low as around 8,900 on May 9.
Misconceptions, missing information
Professor Keiji Fukuda, head of the University of Hong Kong's (HKU) school of public health and a government pandemic adviser, described the government incentives as reasonable, as vaccinated people were less likely to get infected and spread the disease and therefore deserve "the benefits of getting vaccinated".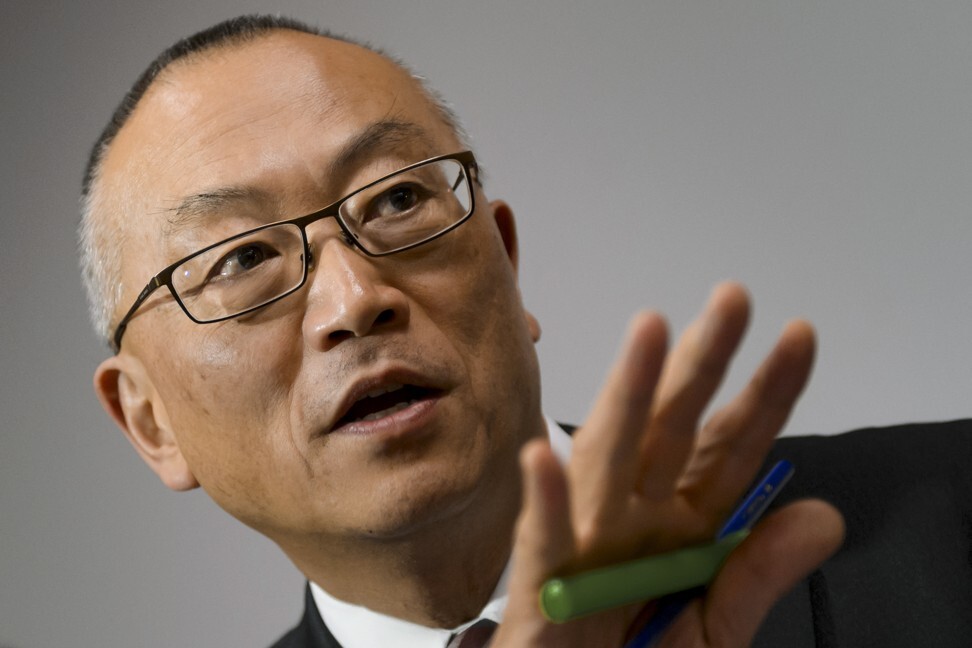 Vaccine hesitancy, however, is more of a mental hurdle that has to be overcome.
"Most people are not vaccinated because of fear and misinformation," Fukuda said. "People are afraid of side effects as well as serious matters such as whether they will get a heart attack or stroke."
In a recent survey by the Patients and Healthcare Professionals Rights Association, nearly nine in 10 of the 718 Hongkongers polled said the vaccine bubble scheme was not an incentive to get their jabs.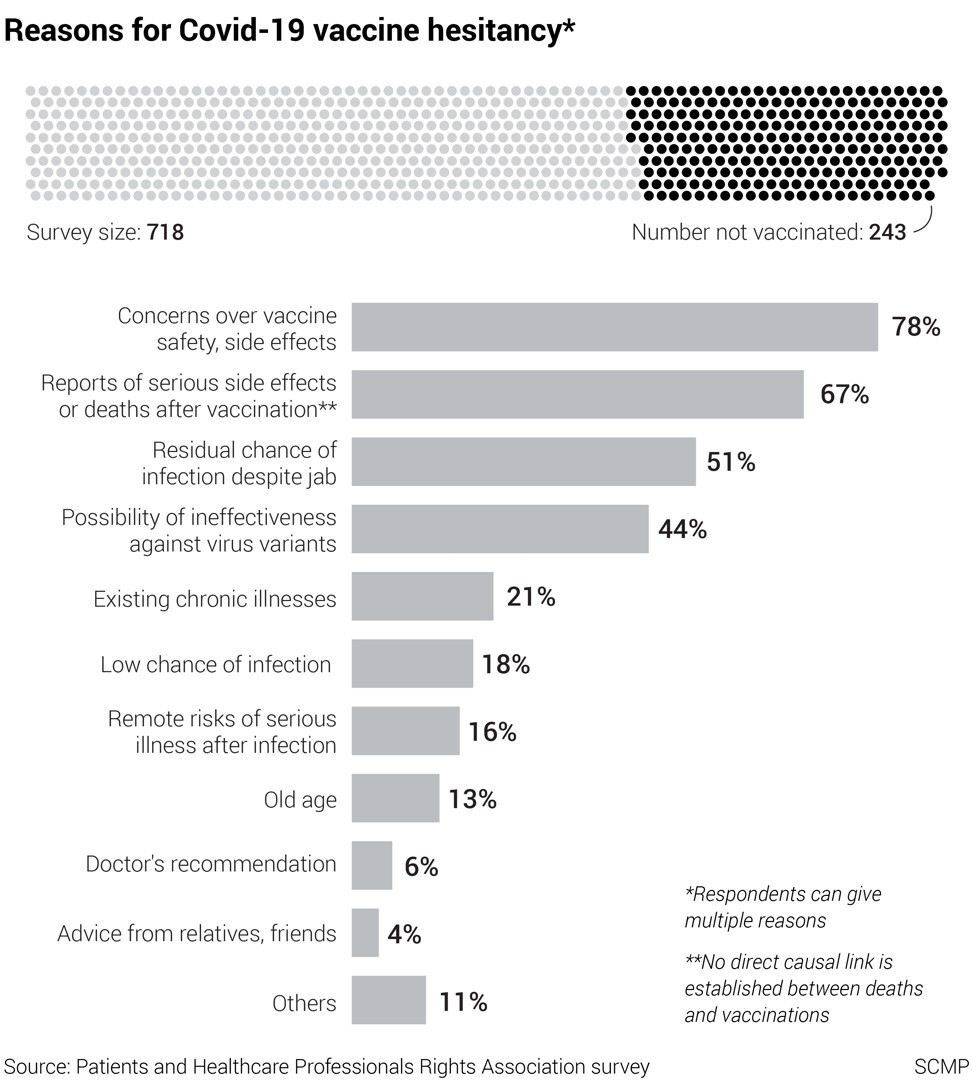 More than 240 said they had decided not to get vaccinated, citing insufficient tests of the vaccines, questions about safety, worries over reports of adverse reactions some people suffered after getting their jabs, as well as the possibility of being infected after the shots.
"Vaccine hesitancy is something which everybody talks about in every country. It's a broad phenomenon," Fukuda said. "It is made worse when people do not trust the government."
Hong Kong's success in controlling Covid-19 had also led to a perception among many that it did not really matter if they got their shots, he said.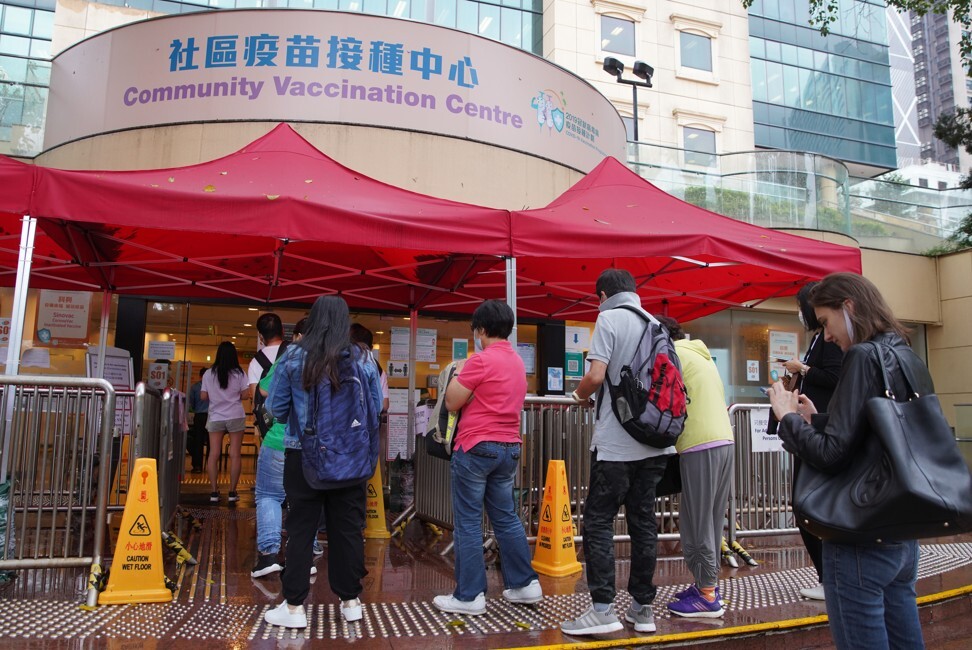 Hong Kong has recorded fewer than 12,000 cases and 210 related deaths since the pandemic began early last year, with 97 per cent of patients discharged. The city recorded no untraceable local infection for the fifth straight day on Wednesday.
Other countries have used various strategies to encourage people to get vaccinated.
Israel, one of the most successful, has inoculated 63 per cent of its population with at least one dose and introduced a "Green Pass" scheme allowing those who have been vaccinated to dine indoors, go to gyms and attend cultural events.
In the US, government officials and businesses teamed up to give out goodies such as free doughnuts, beer or baseball tickets to those who have received at least one jab.
In mainland China, popular girl band SNH48 was an official ambassador for the vaccination campaign in a Shanghai district, and its members offered a special stamp to people who had their jab.
But Indonesia took a sterner approach, punishing those who refused the vaccine with heavy fines.
Professor Martin Wong Chi-sang of Chinese University (CUHK), who is studying public acceptance of vaccination in Hong Kong, said Hongkongers were more receptive to carrots than sticks.
"If very strict measures are introduced over a short period to push up the inoculation rate, there could be a counter-effect," he said.
Some governments give out cash to those who get their jabs, but Wong felt this could be controversial in terms of medical ethics.
He said: "Getting a jab is a civic responsibility, why does a government need to give out money for people to fulfil their responsibility?"
What mattered, he added, was putting out the information needed to allay fears and put the health risk of vaccines in perspective.
A report on someone suffering
facial paralysis
after being vaccinated might put off others from getting their jabs, but people need to know that the overwhelming majority have no such reaction.
"The government should include information on how many people were fine and healthy after receiving a jab," he said, adding that the chances of suffering a stroke or facial paralysis among those vaccinated was actually lower than among those not vaccinated.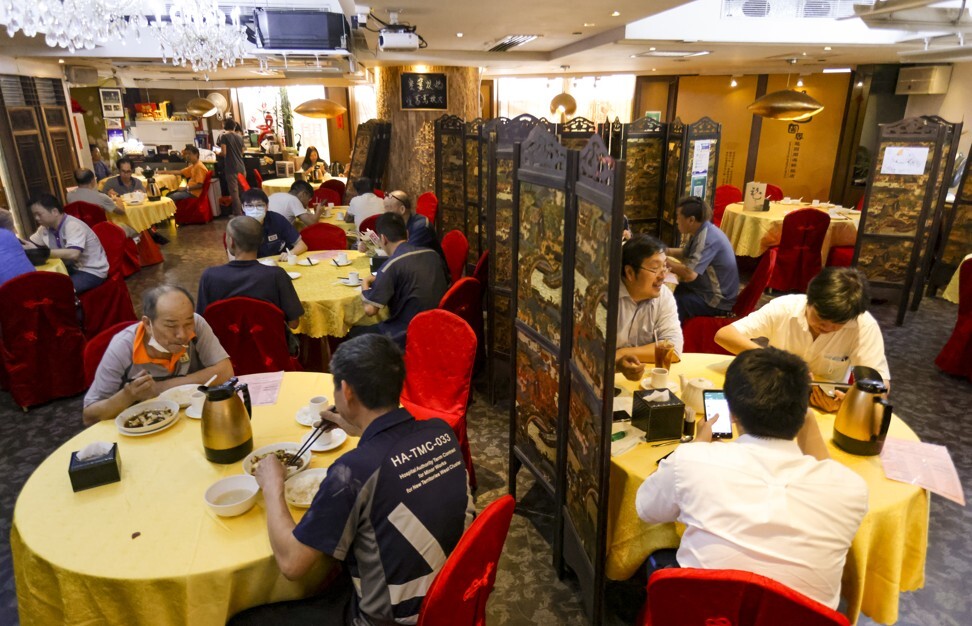 The death rate among those inoculated from April 12 to May 9 was 0.16 per 10,000 people, whereas it was 4.67 among the non-inoculated, according to internal Hospital Authority data seen by the Post.
But such information, which could help reassure the public, is not included in the daily vaccination statistics. A source on Wednesday said that information would be updated weekly on the government's vaccination website.
'Time to start over from scratch'
To encourage people to get their jabs, the city's officials, politicians and experts have taken the lead in getting vaccinated, and the government has posted videos on social media featuring people from all walks of life sharing their reasons for getting the jabs.
The Centre for Health Protection has also introduced five Facebook profile frames with banners that say "I'm vaccinated" in English or Chinese, for Hongkongers to show their support for the drive.
But Masato Kajimoto, associate professor of practice at HKU's journalism and media studies centre, said it was harder to change people's minds after they had been exposed to messages that worried them.
"Anxiety is an emotional reaction … Once you trigger someone's emotional reaction, it's really hard to make them change their minds by just giving facts," he said.
Kajimoto thought it understandable that many were taking a "wait and see" attitude, given the city's success in containing Covid-19 and lingering concerns about the safety of vaccines.
They were willing to put off getting their jabs as a precaution because they did not feel an immediate risk, while if they decided they wanted the shots later, it would still be convenient to do so, he said.
Annisa Lee Lai Chun-hing, associate professor at CUHK's school of journalism and communication, said the authorities had not done enough to allay fears at a time when there was weak public trust in government.
The public sentiment is linked to the
social unrest in 2019
and Beijing's tightening grip on the city, including the imposition of a sweeping
national security law
last June and recent overhaul of the city's electoral systems.
"If mistrust in the government is high, conspiracy theories will also rise. That's inevitable," she said.
"Vaccination is a neutral thing, it's not political. This is something for the health of society, and yet the government cannot do it well. The credibility and acceptability of the government are hurting the campaign."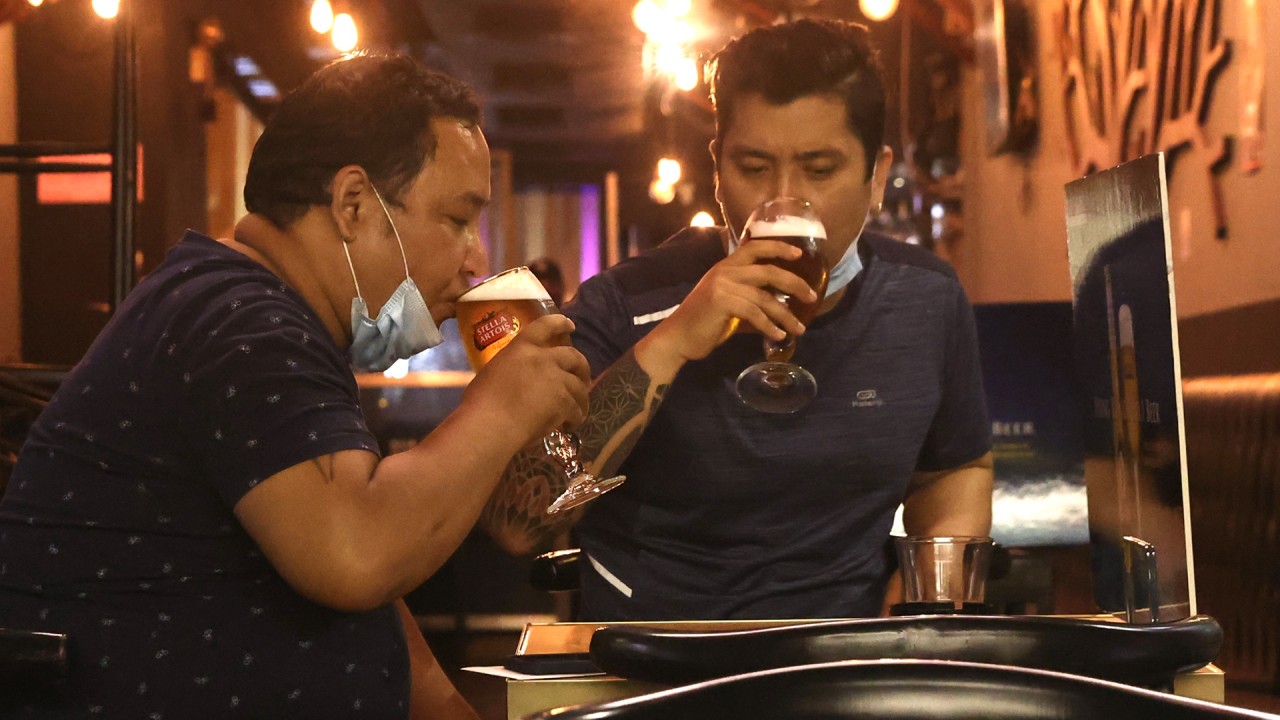 01:52
'Vaccine bubble' allowing Hong Kong bars and party rooms to reopen leaves many confused
'Vaccine bubble' allowing Hong Kong bars and party rooms to reopen leaves many confused
If Hong Kong wanted to achieve herd immunity, Lee said, authorities must start over from scratch, understand the needs of every section of society, and develop a publicity campaign.
Young people, for example, are more sensitive to peer influence. Creating a label, with social media filters, and making them feel proud of taking the jab could encourage more to book slots.
The elderly, on the other hand, could gain more confidence after hearing positive testimonies from those with chronic illnesses who have been inoculated.
More working people might be encouraged to get their jabs if they are given paid time off and compensation if they are unable to work because of side effects.
Lee said officials must be empathetic and show they care for people, not just their policies or resuming economic activity.
"The tone and manner for persuasion, for a successful campaign, are always warm and competent," she said. "These kinds of messages and little policies can make people's lives easier."
Such moves might be afoot. Last week, the government said it was looking to partner with different broadcasters to produce content involving key opinion leaders and artists in publicity efforts to improve the sluggish vaccination rate.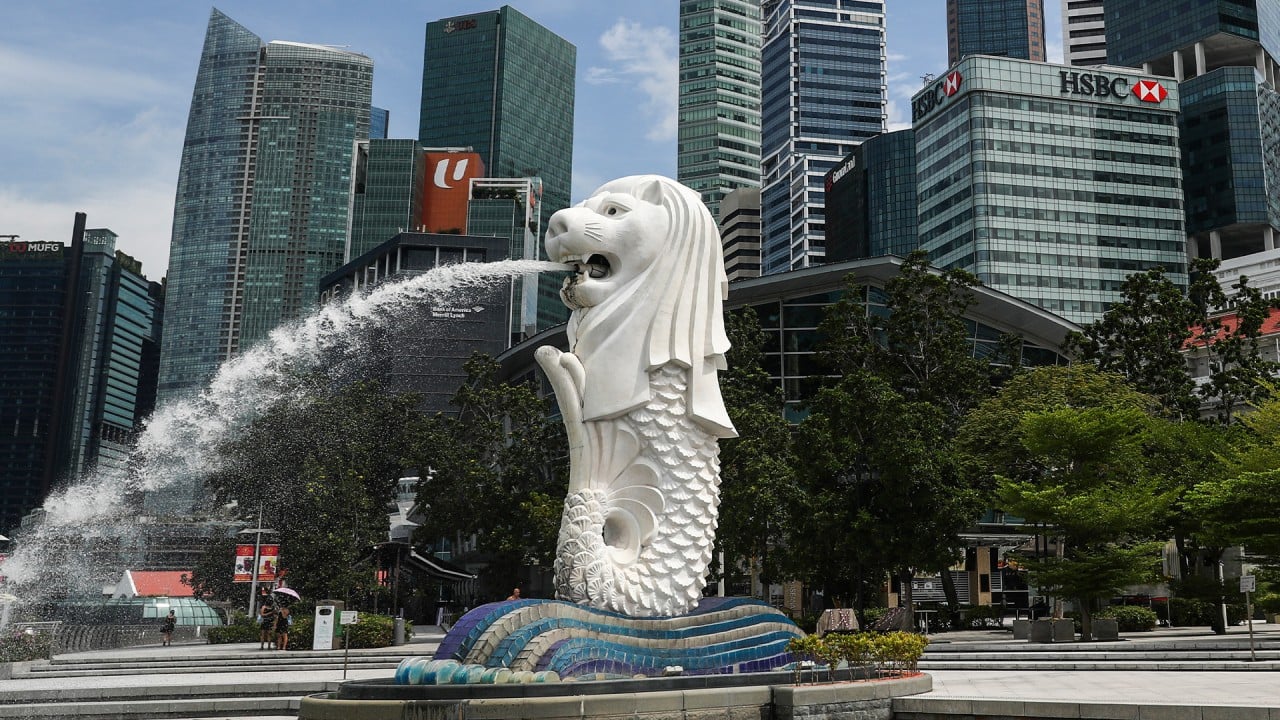 01:40
Travel bubble: Hong Kong and Singapore to launch quarantine-free entry after long delay
Travel bubble: Hong Kong and Singapore to launch quarantine-free entry after long delay
Dr Gabriel Choi Kin, president of the Medical Association, said that many young people might go for a jab if they were given tickets to concerts by a popular boy band.
Pushing the facts in an entertaining way is what Singapore did, by bringing back its well-known television sitcom character, Phua Chu Kang, a curly-haired contractor in trademark yellow boots, for a catchy music video that addresses vaccine safety concerns.
In a country that has a "Speak Good English Movement", the video is done in local "Singlish" patois that mixes English and Chinese dialects, among others.
It has drawn more than 900,000 views on the Singapore government's Twitter channel and more than 580,000 views on YouTube since May 2.
CUHK's Martin Wong believes the government needs to pull out all the stops to change public opinion on vaccines.
Instead of the usual top-down approach, it can mobilise community groups, such as patients' groups or residents' organisations, to help, as they have built a stronger relationship with the public.
It can also identify popular figures to promote good information to specific groups. Veteran stars such as Nancy Sit Ka-yin or Bowie Wu Fung could speak to the older Hongkongers, and popular singers like Keung To might appeal to younger ones.
"If your idols have been vaccinated, your chances of wanting to get the jab will be higher," he said.
In a bottom-up effort that has caught on, some Hongkongers have taken to social media to promote vaccinations, sharing post-jab selfies and tips on which vaccination centres handed out stickers, badges and masks.
The hashtag "HKTwitterGetsVaxxed" has been tweeted about 3,400 times, according to data from Twitter.
CUHK's Lee Lai said: "People wanted to do it and they help each other do it in the way they feel is acceptable to them, not a top-down command that makes people feel alienated and repressed."