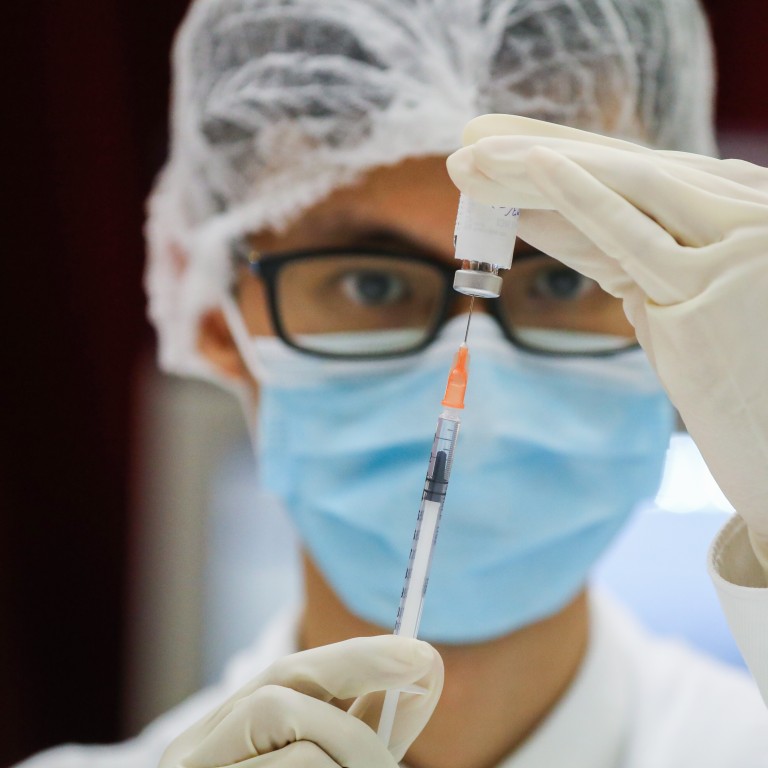 Coronavirus: Hong Kong to start offering Covid-19 vaccines to visitors from mainland China and asylum seekers already in the city
The 40,000 holders of two-way permits, which allow mainlanders to visit Hong Kong, will be eligible to book jab slots
With just over 12 per cent fully vaccinated out of a population of 7.5 million, government is also considering extra leave for civil servants who take their shots
Hong Kong will start offering
Covid-19 vaccinations
to tens of thousands of visitors from mainland China as well as asylum seekers already in the city, opening up its sluggish mass inoculation programme to non-residents for the first time.
With just over 12 per cent fully vaccinated so far out of a population of 7.5 million, the government is also considering extra leave for civil servants who take their shots. It will also consider delaying vaccine delivery, not taking delivery of some jabs, or donating some unused shots to countries in need rather than let them go to waste as their expiry dates loom closer.
The government also warned that supplies of vaccine were not likely to be replenished this year even if there was a sudden surge in demand later, as manufacturing, quality control and logistics took time.
The city's leader, Chief Executive
Carrie Lam Cheng Yuet-ngor
, on Tuesday rejected calls to offer cash incentives to boost the vaccination rate.
"Providing cash handouts or material rewards should not be something for the government to do. In fact, in view of current circumstances, it could have the opposite effect," Lam said.
In a continuing reflection of the improving infection situation in Hong Kong, one of the reasons cited by many refusing to be vaccinated, authorities confirmed two new coronavirus cases on Tuesday. Both were untraceable cases, involving recent arrivals from Pakistan and the Philippines, which took the city's overall total to 11,835, with 210 related deaths.
The government said the 40,000 or so visitors to the city from the mainland holding so-called two-way permits, as well as about 13,000 torture claimants and refugees, would be eligible for vaccination, with bookings opening as soon as Friday.
Two-way permits are granted by mainland authorities to allow residents there to visit Hong Kong for up to three months, and many are in the city to be close to relatives. They include mainland residents looking after children as well as elderly and sick relatives.
"From a public health perspective, providing vaccination to them will not only protect them from infection, but also prevent the spread of the virus in the community and thus enhance Hong Kong's overall anti-epidemic capability," a government spokesman said.
Starting on Friday, two-way permit holders who are allowed to stay in the city for the time it takes to receive two vaccine doses – with a gap of three to four weeks required between each jab – can visit a post office to book an appointment at any of the city's 29 community inoculation centres.
When booking, applicants will need to present their two-way permits, as well as relevant landing slips or extension of stay documents issued by the Immigration Department.
Vaccinations for torture claimants and refugees will start in July at the earliest in one of the four to six community centres providing translation services.
The government is conducting a survey through the International Social Service Hong Kong Branch to assess how receptive the group is to getting vaccinated.
Officials said applications for extensions of stay made solely for the purpose of getting vaccination would "not be considered".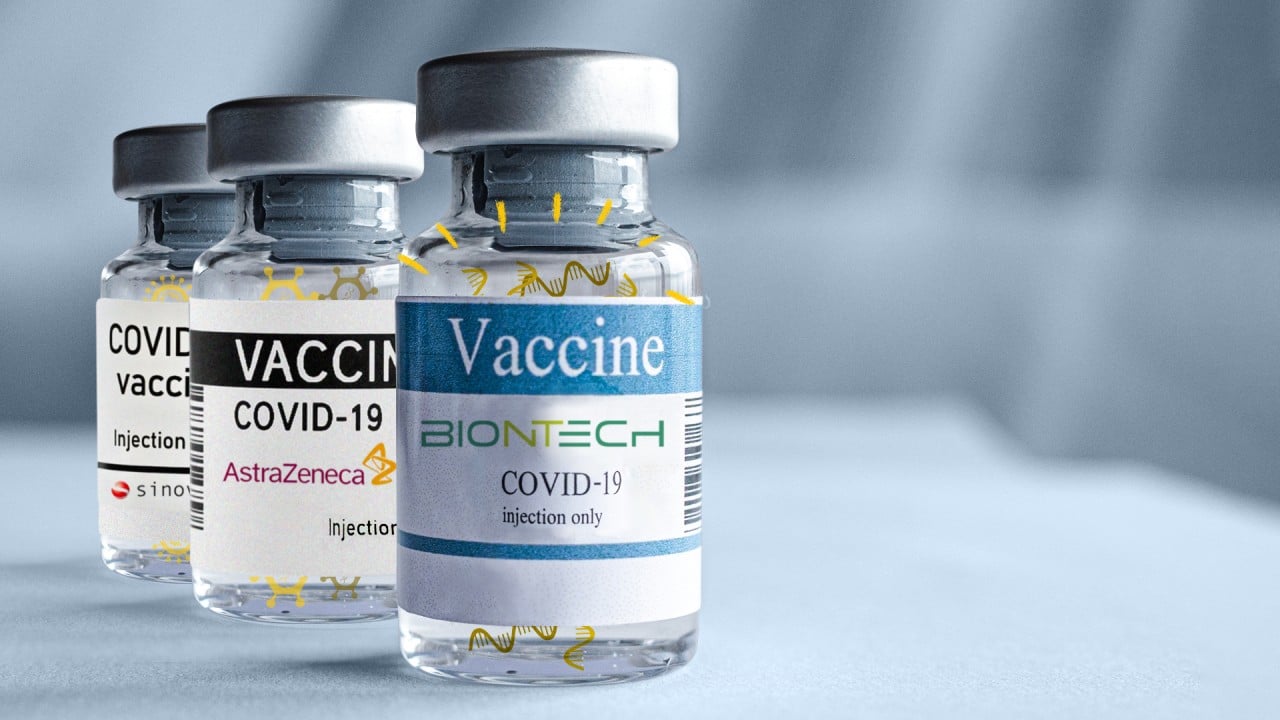 06:18
SCMP Explains: What's in a Covid-19 vaccine?
SCMP Explains: What's in a Covid-19 vaccine?
Sze Lai-shan, community organiser at the Society for Community Organisation, welcomed the move and said stakeholders hoped a higher vaccination take-up rate would help pave the way for the resumption of quarantine-free travel between Hong Kong and the mainland.
"Many two-way permit holders normally cross the border to work and then return later to take care of their children," she said.
"Some also need to take care of older relatives on the mainland. These people cannot afford to undergo quarantine on both sides of the border."
Sze urged the government to provide more financial support for two-way permit holders. She said they were treated like foreigners when they sought hospital treatment and had to fork out about 10 times the amount Hongkongers do for the same services.
The Justice Centre, an NGO providing legal support to asylum seekers, also welcomed the development and said it would work with the International Social Service, other non-governmental organisations and stakeholders towards a smooth roll-out of the vaccination drive within the refugee community.
Three months since the start of the Covid-19 vaccination scheme, about 1.28 million people, or 17 per cent of the population, have received their first dose. Around 920,000 have been given a second shot.
Dr Thomas Tsang Ho-fai, from the government's task force on the vaccination programme, urged the public to come forward for the jabs before it was too late.
"The vaccines all have expiry dates, they cannot be used after the expiry dates. The community vaccination centres for the BioNTech [vaccine], according to the present plan, are going to cease operating after September. So we only have maybe a three-month window to get vaccinated if you are going to do BioNTech," he told a radio programme on Tuesday.
"And the whole world is scrambling for vaccines, it is just not right that we can buy a vaccine overnight and we just have it. What we have is probably all we have for the rest of the year."
Tsang added: "In Hong Kong we are quite lucky because we have enough vaccines for everybody, theoretically speaking, our problem is people are not coming forward as much as we'd like."
So far 2 million doses of Sinovac
Covid-19 vaccines
and about 3.26 million doses of BioNTech jabs have been delivered to Hong Kong. But 1.19 million of the BioNTech shots were returned to Germany following packaging defects in the first two batches.
There were more concerns over potential wastage of the German-made vaccine because of its shorter shelf life, which has to be used within six months of production. The mainland-made vaccine can be stored for up to 12 months.
About 1.25 million BioNTech vaccine doses have been administered so far in Hong Kong, while 823,000 shots being held in the city have not yet been used. About 953,300 Sinovac shots have been given out, and there are still more than 1 million unused doses.
In a statement released on Tuesday evening, the government confirmed the stock of BioNTech vaccines would expire in mid-August.
More incentives were being considered by the government to boost the vaccination rate, with Lam saying inoculated civil servants might be allowed to take a day of compensatory leave, with details to be announced later.
But she dismissed legislators' recent calls to offer economic incentives as a way to boost the vaccination rate, saying that would be "inappropriate", instead she encouraged business owners to come up with ways to heighten interest, saying improving the take-up would help stimulate economic consumption.
The two new cases confirmed on Tuesday were both considered to be locally transmitted infections. The patients, a construction worker, 43, and a domestic helper, 37, arrived in Hong Kong in mid-March and completed quarantine in early April.
The construction worker from Pakistan tested positive on Sunday during compulsory, regular screening for his industry. But it took the authorities until Tuesday to locate him, as he could not be contacted on Monday. He was employed at the Tseung Kwan O-Lam Tin tunnel construction site.
In the other case, the helper from the Philippines was found to be carrying the more infectious N501Y and E484K mutant strains. She tested positive for antibodies upon admission to hospital.
Fewer than five people tested preliminary-positive.
The Department of Health, meanwhile, reported that a man who returned from overseas on Monday violated his quarantine order twice in a day. He first violated the rule at the quarantine hotel and was sent to the Penny's Bay quarantine centre, which he left without officers' approval at night.
Police said the 34-year-old man was picked up by a private car and officers found him at a flat on Tong Chun Street in Tseung Kwan O.
The department said the man, who is not infected, was sent back to the quarantine camp on Tuesday afternoon.
This article appeared in the South China Morning Post print edition as: City set to offer jabs to visitors from mainland