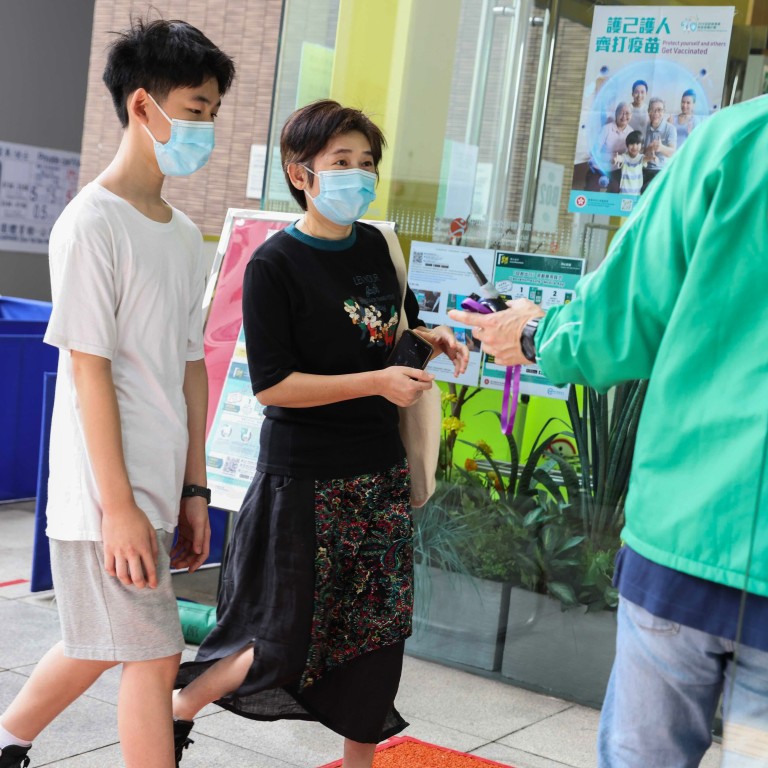 Coronavirus: Hong Kong parents and children slow on uptake as Covid-19 vaccine drive expands to include 12 to 15-year-olds
Handful of children visit vaccination centres around city, with about 10 getting BioNTech shot in Prince Edward
Medical source says Hong Kong expecting one new imported infection on Monday
A handful of parents and children headed to Hong Kong's
Covid-19 vaccination
centres on Monday as the immunisation drive expanded to include 12 to 15-year-olds, while a medical source said the city was expecting one new imported infection.
The lowering of the age limit meant the coronavirus jabs were available to 240,000 more Hongkongers, but Post reporters did not see many children at two vaccination centres on Monday morning.
About 10 secondary school pupils took their first BioNTech vaccine dose at Boundary Street Sports Centre in Prince Edward, between 9.30am and 10am, while even fewer were at the Tsuen King Circuit Sports Centre in Tsuen Wan.
Among them was Kayn Kan, 13, whose father accompanied him to the vaccination centre.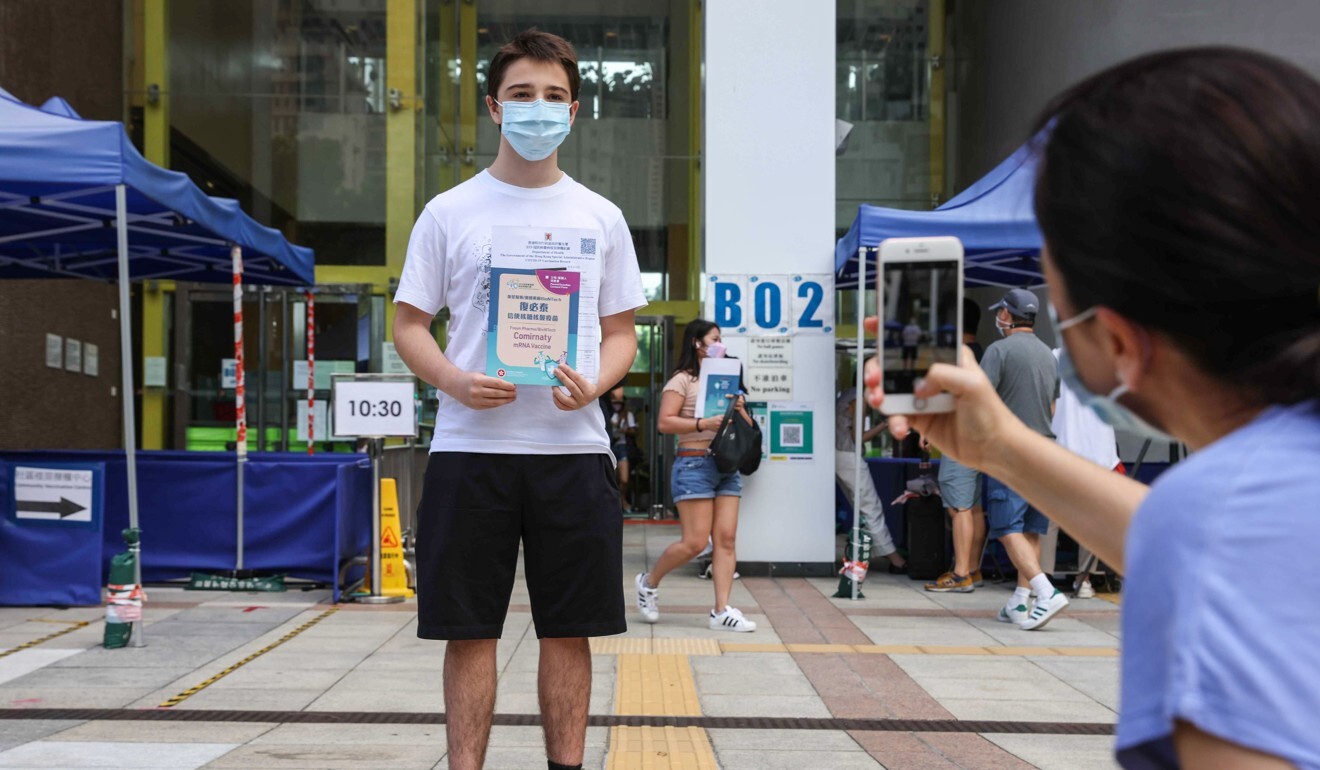 "My father was fully vaccinated in May and he didn't show any problems, so I think it's safe for me to get vaccinated," Kan said.
"For me, I just don't want to be stuck at home so much, I want to eat out and hang out with my friends without the risk of getting Covid-19."
Hong Kong's vaccination rate remains stubbornly low, with only 1.2 million people, or 15.9 per cent of the city's 7.5 million residents, fully immunised as of Sunday.
The city's health experts have urged children to get vaccinated, noting they were a key part of the drive to prevent them from spreading the coronavirus to other, older family members.
At the Sun Yat Sen Memorial Park Sports Centre, teenager Tristan also got his first jab. After getting his shot, the 13-year-old from Korea showed the injection site to reporters outside the centre.
Javier Adrada Rodriguez, 15, meanwhile, also had a picture taken by his mother to commemorate getting vaccinated.
In Prince Edward, Leo Cheung, was also hoping a jab meant he could safely go out with his friends again.
The 14-year-old said he got vaccinated because his mother told him to do so.
"I think I'm somewhat informed about the safety and reasons we should get vaccinated through the news," Cheung said. "We should trust the science and technology that has been approved globally."
He said it was hard to estimate whether his peers were also planning to get vaccinated as the widened programme just started, but was hoping the rate would pick up.
In Tsuen Wan, Sharmine Leung, 12, was only at the centre because her father was getting the shot.
"I'll only get the vaccine when my school tells me to, but since they haven't I won't take it now," she said. "More people are going to take it together [with me] so it's safer that way."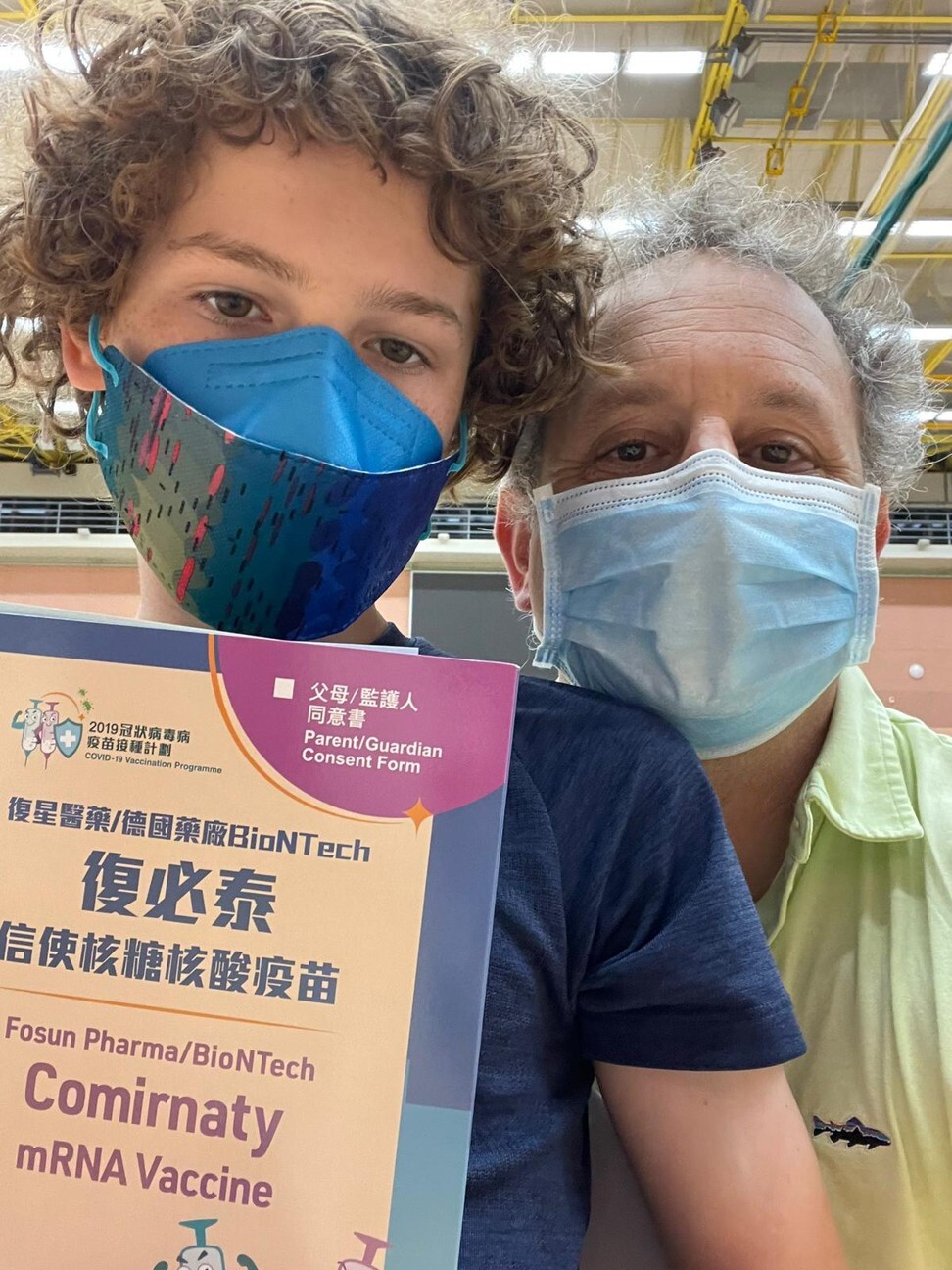 Jed Kaplan, who took his son to the Sun Yat Sen Memorial Park Sports Centre, told the Post the 12-year-old could not wait to get vaccinated.
"He really wanted the vaccine, in part because most of the older kids in his running club are already vaccinated," Kaplan said.
"I think in his class at international school most of the kids will get it pretty soon. His best friend is going tomorrow. My son told me he wanted to be first to get vaccinated so he could show off to his classmates tomorrow!"
On Sunday, Hong Kong recorded no new coronavirus infections, with the total number of confirmed cases staying at 11,877, with 210 related deaths.
The Hospital Authority also announced a further effort to boost the vaccination rate, offering chronically ill patients at its general outpatient clinics vaccination consultations, to ensure it was safe for them to get the jabs.