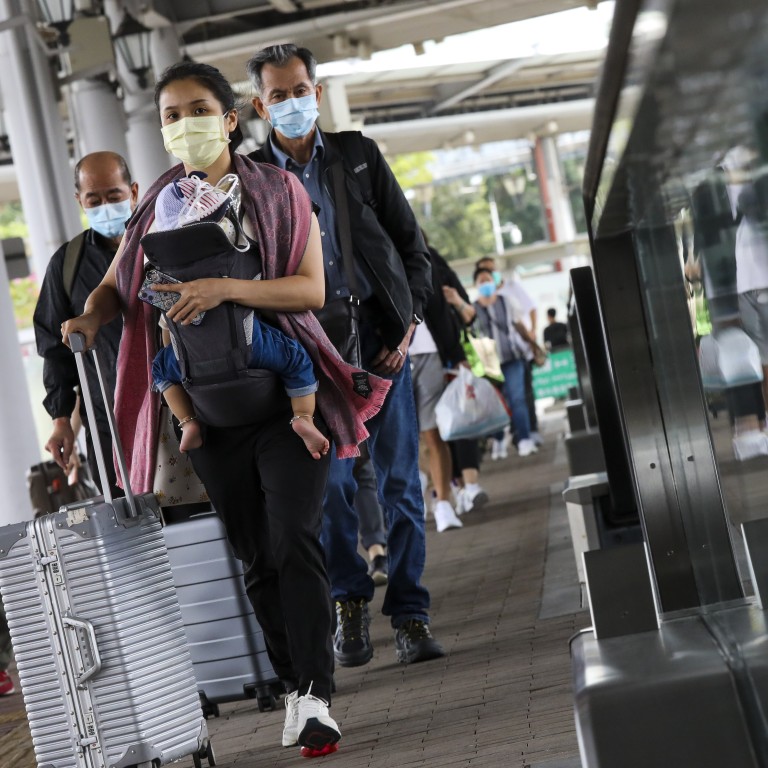 Coronavirus: Hong Kong leader hopeful over talks on reopening mainland China border, but experts warn against moving too fast
Philippines' top diplomat in city also says plan being discussed to allow in vaccinated Hongkongers and people with work visas from countries currently under direct flight ban
No new coronavirus infections recorded for first time since mid-June, while genome sequencing of case involving airport worker recorded on Sunday is ongoing
Hong Kong's leader on Monday said she was waiting for "positive instructions" from Beijing on the possibility of resuming quarantine-free, cross-border travel between the city and mainland China, but sources and experts cautioned that both sides were not ready yet.
Chief Executive
Carrie Lam Cheng Yuet-ngor
revealed that she had submitted a report to Beijing on the
Covid-19 situation
in Hong Kong, adding that no preconditions had been set for talks to begin on reopening the border, which has been closed for more than a year.
The city had no new coronavirus infection to report on Monday, its first day without a fresh case since June 17. A day earlier, a 50-year-old airport worker
broke
Hong Kong's 33-day run of zero community infections.
The overall tally of confirmed cases remains at 11,951, with 212 related deaths.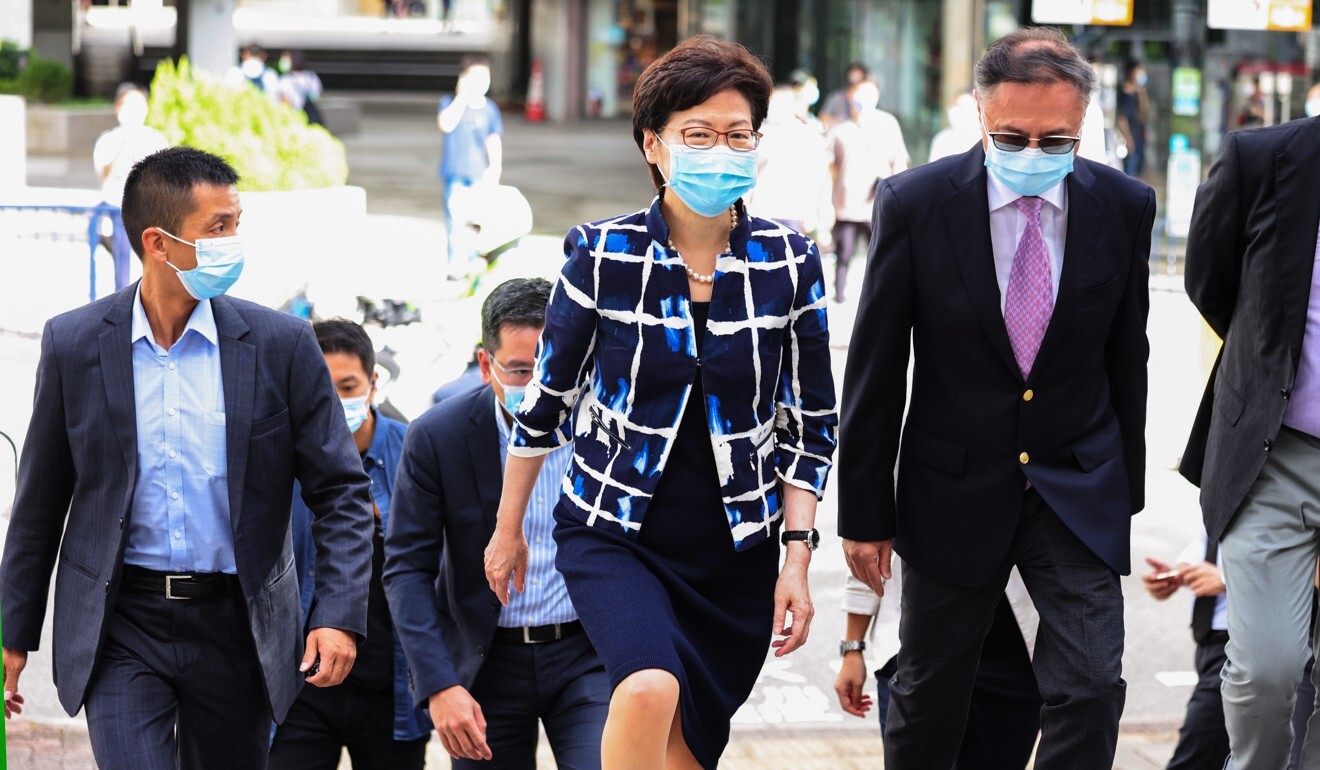 In a related development, the Philippines' top diplomat in Hong Kong, Raly Tejada, revealed on Monday that the city was considering the possibility of allowing in vaccinated Hongkongers and people with work visas from countries currently under a direct flight ban. But the plan was not finalised yet, and details still needed to be ironed out, he added.
The Philippines and Indonesia, which provide most of Hong Kong's foreign domestic helpers, are currently among eight countries categorised as "extremely high-risk" because of the pandemic.
The city's government said Russia would join the list of very high-risk countries from Friday after the country reported a surge in cases and several arrivals were found to be carrying Covid-19 variants.
Under the new arrangement, arrivals from Russia will have to quarantine for 21 days instead of 14, even if they are fully vaccinated, and must undergo four tests while in isolation, as well as a fifth on the 26th day after landing.
According to Lam, talks on reopening the border with the mainland were not preconditioned on achieving any fixed targets and she stressed that negotiations could resume at any time. But residents who wanted to cross the border would have to be inoculated, she warned.
"If you have been vaccinated, you are giving me more ammunition and power to resume the flow of people with the mainland," Lam said.
Last November, Lam pointed to a target of zero local infections – at which Hong Kong had gone 14 days without an untraceable case – as an important condition for reopening the border.
While some countries such as Britain and Singapore were planning a wide-scale easing of social-distancing restrictions on the basis that society must return to a level of normality, Lam said Hong Kong would not adopt such an approach soon.
But given the city's advances in testing and tracing, its stable pandemic situation and the economic and livelihood needs of the population, Lam said she hoped the central government would give "positive instructions" to Hong Kong about reopening the border.
According to a mainland government source, authorities in neighbouring Guangdong have already received information from Beijing about taking the step and the provincial government was in close communication with Hong Kong officials on the matter.
But the insider cautioned that Guangdong was still reviewing its pandemic-control strategies following serious outbreaks in May and June.
"More convenient travel arrangements with Hong Kong might come after this stage. The arrangement could only come after Guangdong has secured its protective measures," said the source, who did not elaborate how long the review would take.
"A pilot programme with a daily quota for businesspeople who have regular travel needs is still on the table," he said, referring to a Hong Kong proposal.
Professor David Hui Shu-cheong, a government pandemic adviser, said the push to resume normal travel arrangements had been complicated by the local Covid-19 case on Sunday.
"[Hong Kong] is not yet ready," Hui said. "If the mainland is not sure whether there has been transmission in the community [in Hong Kong], how would it allow reopening of the border?"
The Department of Health said it was continuing to investigate the infection of the airport worker and trying to determine whether his genome sequencing matched any previously reported cases in Hong Kong.
Meanwhile, officials with the Innovation and Technology Bureau told a Legislative Council panel that development of the Health Code System, which displays an individual's testing results, had been completed last year.
Tony Wong Chi-kwong, deputy government chief information officer, said the system would be recognised by Guangdong and Macau and available once quarantine-free travel was available with the mainland.
As of Monday evening, about 4.46 million doses of
Covid-19 vaccine
had been administered to the public, with 2.63 million people receiving their first shot, covering 35 per cent of the population. Roughly 1.83 million people, or 24.4 per cent of the population, had taken their second dose.
Additional reporting by Phila Siu
This article appeared in the South China Morning Post print edition as: lam hopeful on negotiations to reopen border