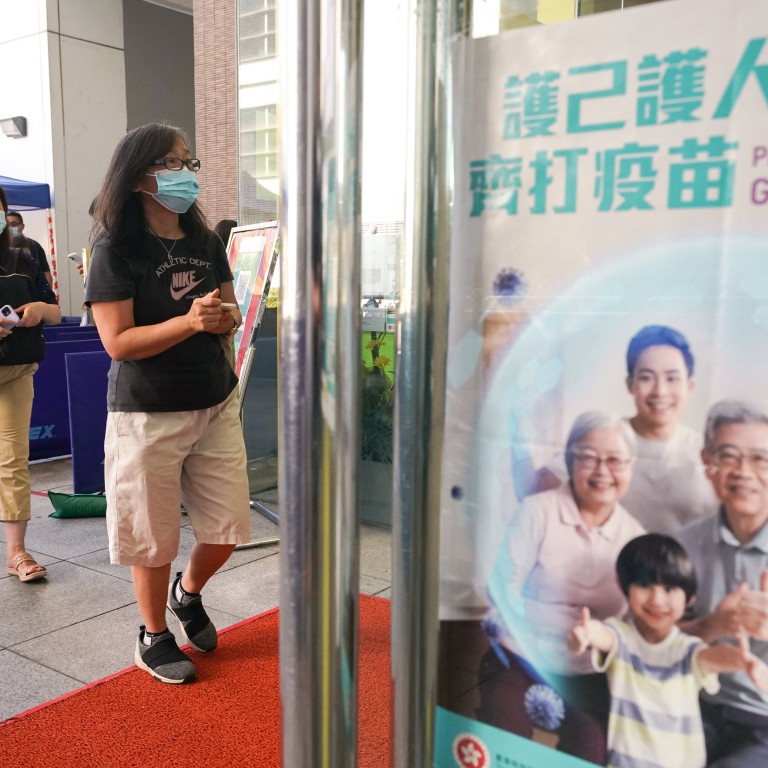 Coronavirus: Hong Kong could hit 70 per cent vaccination by October, but that still won't be enough for life to return to normal, says top adviser
Professor Gabriel Leung says even though city is on track to vaccinate half of the population by next month, that will not be enough
Protecting elderly has to be focus and only 5 per cent of care home residents have been jabbed
Hong Kong could inoculate 70 per cent of its population with at least one shot of a
Covid-19 vaccine
by October under the current daily rate of 30,000 doses, but this alone would not be enough to return the city to normalcy or allow it to reopen its borders, a top government health adviser said.
Speaking to the Post, Gabriel Leung, dean of the University of Hong Kong's faculty of medicine, said the key was to raise the vaccination coverage of vulnerable groups such as residents of homes for the elderly to at least 80 per cent.
Short of achieving that, Hong Kong would not be ready to change its strategy from total elimination to a more relaxed one where people could "live with the virus" with fewer
social restrictions
, he said.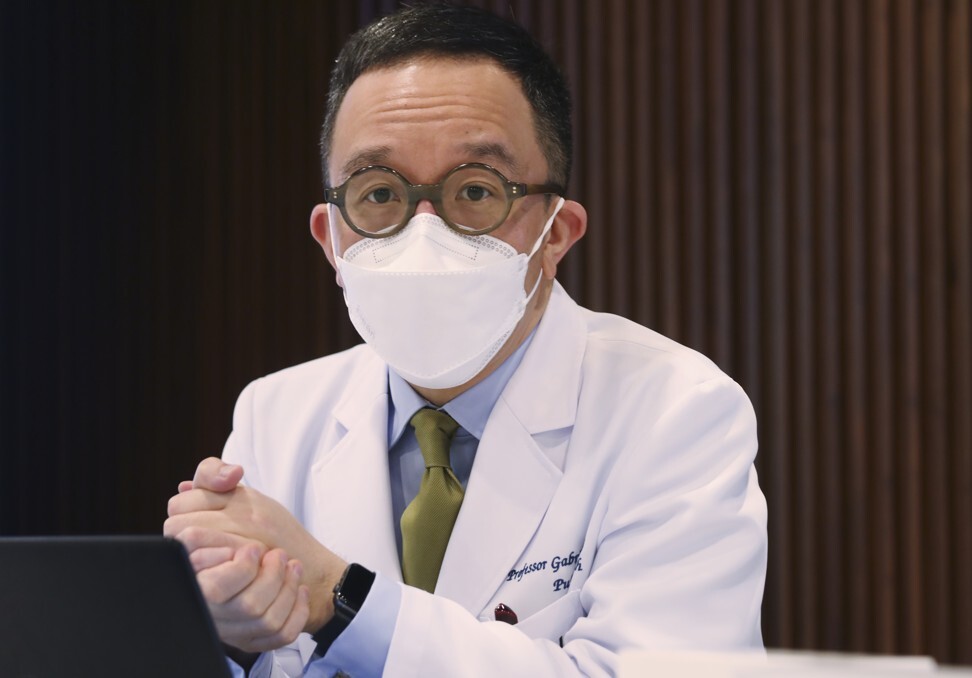 Leung, who advises the government on its
coronavirus
strategy, estimated the city could achieve that goal but not until mid-2022.
"That will be our medium- to long-term strategy. In the short term, the priority is to protect our vulnerable groups, particularly from the Delta variant," he said.
"We have to remember that half of the 200 Covid-19-related deaths in Hong Kong happened in elderly homes."
His comments came as Hong Kong's inoculation programme picked up speed after a sluggish start, with the daily take-up rate at one point hitting 70,000.
Patrick Nip Tak-kuen, the civil service chief who is also in charge of Hong Kong's vaccination campaign, said on Sunday that at least 2 million people still needed to get vaccinated.
He agreed with Leung that homes for the elderly should be a priority target.
"If we maintain the pace of having about 30,000 people getting their first shot every day, we will get about 1 million vaccinated in a month," Nip said. "It would mean 70 per cent of people would have received their first jab in the next two months."
Hong Kong needs to inoculate at least 70 per cent of its population with two shots of a
Covid-19 vaccine
before it can be considered to have achieved "herd immunity," which means that a large portion of the community becomes immune to a virus by way of vaccination or past infection, thus stopping its spread.
Leung, a top epidemiologist, said the threshold needed to be set even higher now because of the more contagious Delta variant.
Nip said achieving herd immunity was a precondition for the city to lift its border restrictions with mainland China and other places and return to a normal life.
First identified last December, the Delta strain has already become the dominant Covid-19 variant in many parts of the world including the United States, India and Britain. The World Health Organization has called it the "fastest and fittest" variant.
It was found to be 50 per cent more contagious than the original strain of Sars-CoV-2 first reported in Wuhan.
Leung told the Post that a carrier of the Delta variant could infect four to five people. An average person infected with the Alpha variant, in comparison, could infect just 2.5 people, according to the US Centres for Disease Control and Prevention.
Because of this, Leung said Hong Kong needed to use a "conservative estimate" as to when it could declare herd immunity. He agreed the city was on track to reach 50 per cent vaccination rate next month on current trajectories, but that it was far from enough.
He said the test to decide when the city could return to normal was not to achieve high vaccination rates among the working population but among the vulnerable groups.
Leung pointed out that only 5 per cent of the elderly who needed institutionalised care had been vaccinated so far.
He accused the health authorities of pursuing the wrong vaccination strategy in care homes.
Leung believed the initial government guidelines on vaccination for elderly people with high blood pressure was "overcautious" and confusing.
This caused many old people to avoid taking the jab out of concern for potential side effects. But in fact, Leung said, they should be the first ones to get vaccinated because their underlying conditions would make a Covid-19 infection more deadly.
He said officials should adopt an "opt-out" model where vaccination was the norm, just like how annual seasonal flu jabs were routinely administered in care homes when medical staff from the public or private sector visited those facilities.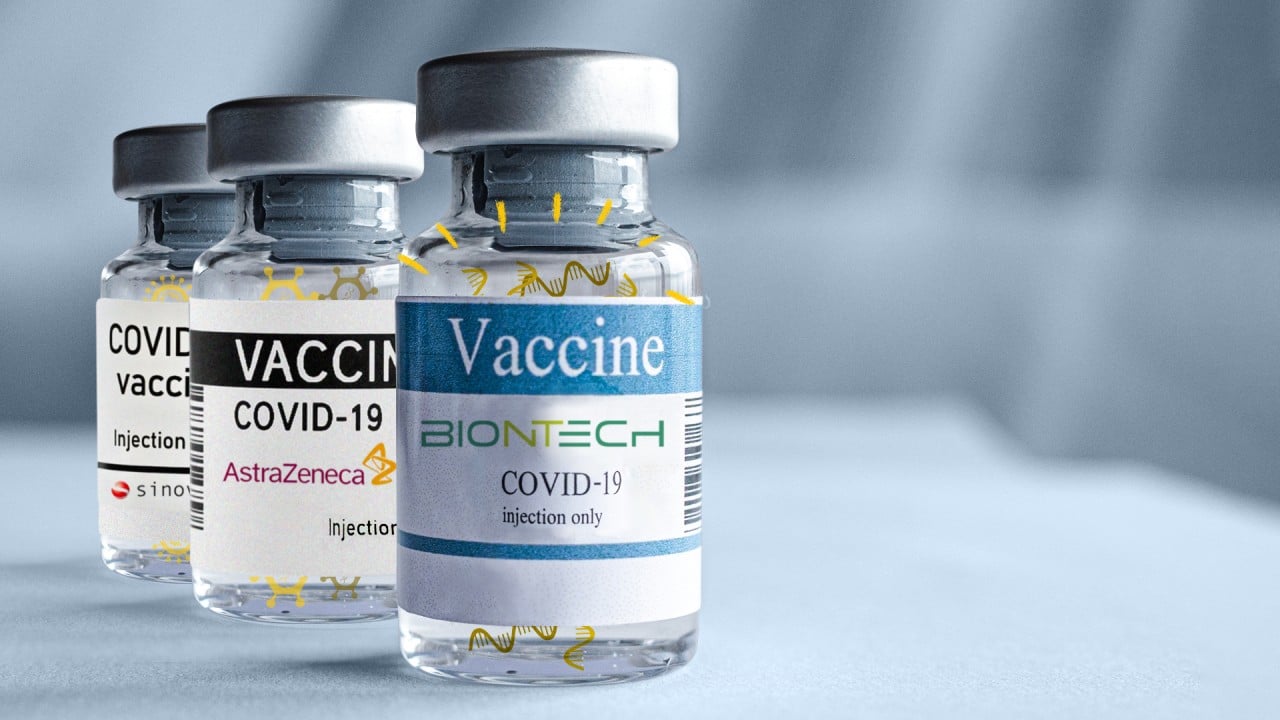 06:18
SCMP Explains: What's in a Covid-19 vaccine?
SCMP Explains: What's in a Covid-19 vaccine?
As of Sunday, Hong Kong had administered more than 4.8 million
Covid-19 vaccine
doses. About 37.6 per cent of the 7.5 million population received the first jab and 26.8 per cent have had two doses.
But resumption of quarantine-free travel with the mainland – which is key to the city's economy – remains a distant dream.
Hong Kong Chief Executive
Carrie Lam Cheng Yuet-ngor
first said it would be possible if the city could achieve an undisrupted zero local infection record for two weeks.
The city has now kept the record for more than a month. Lam now said the border reopening hinged on high vaccination rates, without giving a specific figure.
Leung said he believed mainland authorities were thinking "10 steps ahead" given the fast spread of new variants. He said the mainland government would only consider relaxing border controls after getting its own vulnerable groups fully vaccinated.
He expected the central government to keep its strict Covid-19 policy ahead of the Winter Olympics in Beijing in February. China would also closely watch and evaluate Covid-19 containment at the Summer Games in Tokyo which open next week.
"Hong Kong is the southern gate of the country, and China's overriding strategy is still elimination of the virus," Leung said. "Before it can vaccinate enough of its population, it will not open its borders to us or anyone."
This article appeared in the South China Morning Post print edition as: 'Curbs could be in place until middle of 2022'