Hong Kong residents to pay for trash as lawmakers approve waste-charging scheme, but launch date uncertain
Legco passes long-delayed legislation requiring households and shops to pay for rubbish bags expected to cost the average household up to HK$51 a month
Mandatory waste-charging scheme aims to encourage residents to recycle and reuse rather than rely on landfill
Lawmakers have passed long-delayed legislation to charge Hong Kong residents for their household rubbish, but it remains unclear when the scheme will launch after officials extended the implementation period indefinitely.
Environment minister Wong Kam-sing agreed to requests from legislators to allow at least 18 months to set up the system that will require residents to buy government-made bags to dispose of their trash.
But green groups blasted the concession on Thursday, saying the lack of a clear timeline for implementation – originally set for between a year and 18 months – would prevent waste reduction from moving "full steam ahead".
"We will use this preparation time well," Wong said after the bill was passed in the Legislative Council by a vote of 37 to one. "This does not mean the change will only come after the 18 months. Rather, we will spend this time raising awareness and supporting a green transition."
Ahead of the vote, Wong met calls from lawmakers to boost recycling by promising to open 10 sites across the city and expand an existing pilot scheme for collecting plastic to cover nine districts, up from three.
The legislator who opposed the amendments to the Waste Disposal Ordinance was localist Cheng Chung-tai from Civic Passion. Hours later, Cheng was
unseated from Legco
with immediate effect after a powerful vetting group for the Election Committee, which chooses the city's leader, decided he could not uphold allegiance to the Basic Law.
Under the scheme managed by the Environmental Protection Department, residents and operators of street-level shops that use government refuse collection services must buy rubbish bags produced and sold by the administration.
They will be available in 11 sizes and prices. A 15-litre bag, about as large as what supermarkets offer for groceries, will cost HK$1.70, so a household that used one a day would end up spending HK$51 a month.
But legislator Tommy Cheung Yu-yan warned the government against assuming that simply passing the waste-charging bill would solve the city's rubbish problems.
"Without a coherent set of policies including on the proper recycling of sorted waste and food waste, everything ends up back in landfills anyway," he said.
In addition to lobbying for a longer preparation period, lawmakers of the pro-establishment Democratic Alliance for the Betterment and Progress of Hong Kong (DAB), the city's biggest political party, urged the government to give out the designated bags to residents free of charge for a year.
Lawmakers were previously accused of holding up the bill on the basis they were reluctant to levy fees on their constituents.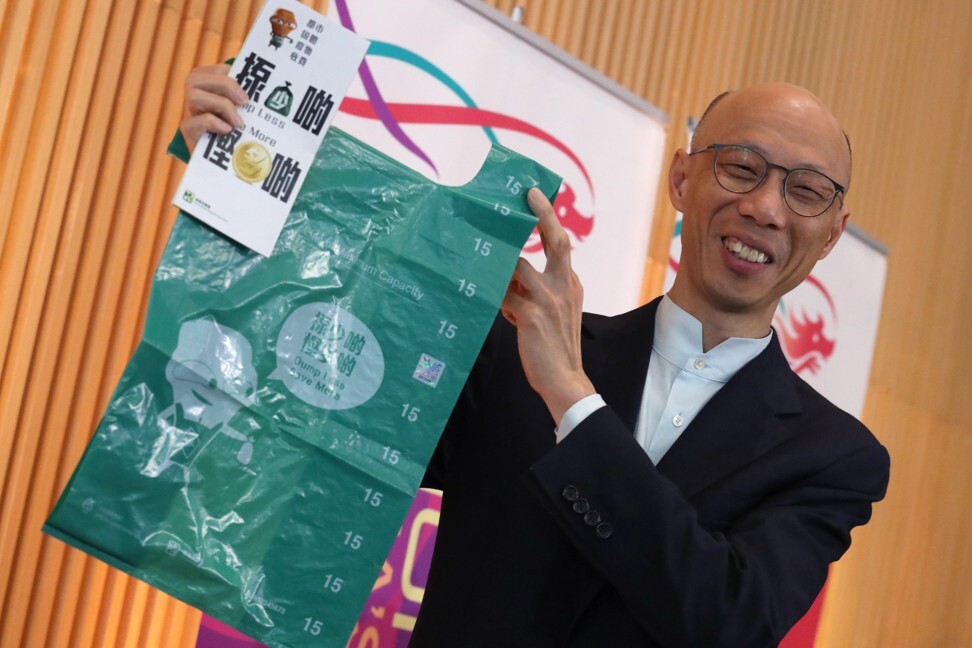 Wong said the department would give out the designated rubbish bags without charge when the programme took effect, but did not say how long the handouts would last. Residents on social welfare schemes would also be guaranteed free bags for a certain period.
While environmental groups welcomed the bill's passage, they were generally opposed to the extended implementation phase. Once that period is over, Legco will carry out a review before the scheme can be gazetted into law.
"There is a huge variable here – by the time the 18 months is over it will not even be the same government and the same lawmakers," said Hahn Chu Hong-keung from The Green Earth. "All of these factors make us worry that this driving policy will lack real power."
Friends of the Earth HK also opposed the 18-month period, saying: "Hong Kong had more than a decade to prepare, and most of the city is ready for it. Delaying its implementation for any reason is unfair to Hong Kong citizens who have to continue subsidising society's big wasters."
Greenpeace said the period designated for laying the scheme's groundwork meant the passage of the bill was "as good as nothing", as no clear timeline or targets existed for how much waste the government intended to cut.
The supply of free bags was also criticised, with both The Green Earth and Greenpeace arguing they should be distributed for no longer than three months.
"If the government really takes the DAB's suggestion and gives out free bags for a year, then residents will simply come to expect them for free, which defeats the purpose of the charging scheme," Chu said.
He urged the government to monitor paper recycling policies in mainland China to ensure local recyclers would be able to continue to send pulp to factories there.
Chu also demanded officials roll out centralised plastic collection in all 18 districts of the city within the 18-month preparation period to ensure collected waste could be processed effectively.
Helga Vanthournout, a solid waste expert and founder of sustainability firm Wealth of Flows Consulting, said the government must not resteven after the legislation took effect.
"It's nice to say we're going to motivate [residents] to create less waste, but if there are no alternatives, if every single item in the supermarket is overly packaged, there's no way out of this," she said.
Vanthournout said the government must now introduce legislation targeting areas such as supermarket packaging and single-use plastic tableware.
It would also have to reconsider the design of public rubbish bins to discourage residents of buildings without centralised waste management systems from continuing to dispose of their trash there, she added.
In 2019, each Hongkonger sent on average 1.47kg of rubbish to landfill per day, a slight drop from the previous year's 1.53kg, but local environment groups have warned the figure for 2020 would rise again because of the increased use of disposables during the Covid-19
pandemic
.
This article appeared in the South China Morning Post print edition as: legco passes waste-charging bill, but start still up in air