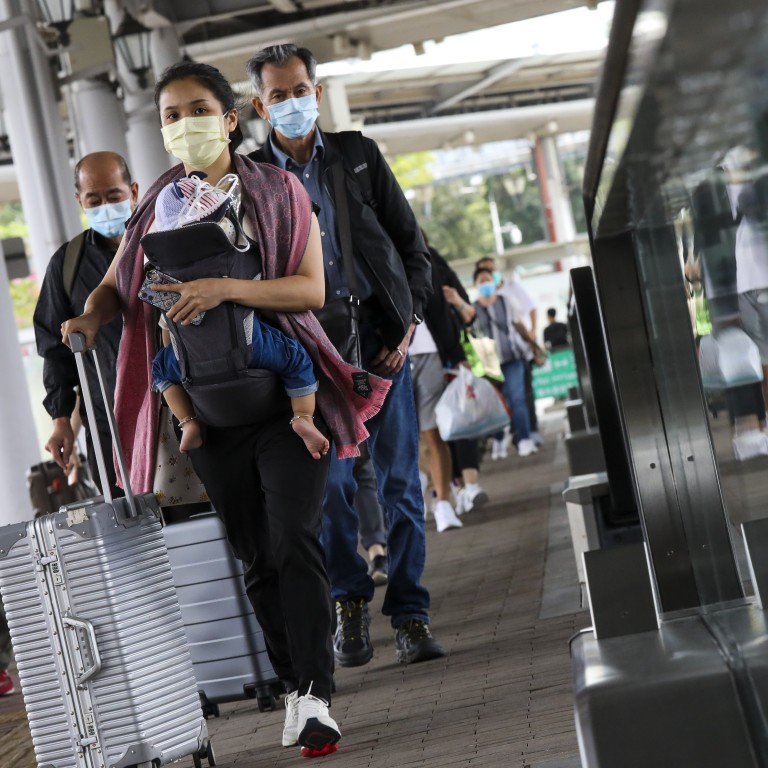 Coronavirus: Wednesday relaunch of quarantine-free 'Return2HK' scheme for Hongkongers, doors open to others from mainland 1 week later
Return of programme for residents will see six medium- or high-risk areas excluded, with 'Come2HK' scheme for non-residents on September 15
Hong Kong confirms six new imported cases of Covid-19 in arrivals from Britain, the Philippines, Tanzania and the US
Hong Kong residents will be allowed to return home from mainland China or neighbouring Macau without having to go through quarantine under a partially suspended scheme that will be revived from Wednesday, while a similar arrangement for non-residents will be launched a week later.
Chief Executive
Carrie Lam Cheng Yuet-ngor
on Tuesday announced the resumption of the "Return2HK" scheme – launched last November for Guangdong province and Macau, then extended to the rest of the mainland in April – for returning Hongkongers who have passed a
Covid-19
test at least 72 hours before arrival.
But six mainland areas currently considered medium- or high-risk for Covid-19 will be excluded from the scheme, which caps the daily quota for returning residents at 6,000.
The programme was suspended last month for Macau and mainland provinces other than neighbouring Guangdong in a bid to prevent a resurgence of infections across the border from spreading into the city. The suspension meant most returning residents needed to spend 14 days in isolation at home and submit to five rounds of testing.
"Since last November when the 'Return2HK' scheme was launched, more or less 200,000 residents have returned, but not a single case of infection was found. So we can proceed with this plan without worries," Lam said.
The chief executive also announced that the "Come2HK" scheme, which was suspended before it could take off as planned in mid-May, would now be launched on September 15, enabling non-residents in Guangdong province and Macau – including mainlanders and expatriates – to come to the city without undergoing compulsory quarantine. The quota will initially be capped at 2,000 people per day.
Hong Kong confirmed six new coronavirus cases on Tuesday, all imported and involving arrivals from Britain, the Philippines, Tanzania and the United States. They all carried the L452R mutation, which has been linked to several coronavirus variants, including the Delta one.
Five of the infected were fully inoculated, while the sixth had received just one shot of vaccine. Fewer than five preliminary-positive cases were reported.
The city's total number of confirmed cases stood at 12,129, with 212 related deaths.
In her remarks, Lam also noted the city had last recorded a locally transmitted Covid-19 case three weeks ago on August 17, an important milestone as the period was equal to incubation period of the virus.
"We can basically say the city has achieved zero cases," she said.
The government's decision to fully resume the two quarantine-free travel schemes was a step in the right direction, according to tourism sector lawmaker Yiu Si-wing, although he expressed doubt over whether they would significantly boost cross-border traffic.
"It signals that mainland Chinese authorities are willing to test the waters and allow people to enter or return to Hong Kong," Yiu said. "But there's still a long way to go before they allow travel to return to normal levels.
"Cross-border travel has been stalled for a long time, even though both Hong Kong and the mainland have had stable coronavirus conditions, so we can expect business travellers and those with family or health matters to return to the city first."
Yiu added that the long-awaited "Come2HK" scheme was like a "tester" to see if there was sufficient demand among travellers from the rest of the mainland to come to the city.
"Both schemes are not reciprocal, Hong Kong residents would still have to quarantine if they cross over, indicating that mainland China is still not ready to fully reopen its borders yet," he said.
Sze Lai-shan, from the Society for Community Organisation, said tens of thousands of people in the city were estimated to have spouses or family members living across the border.
"For those who must travel to the mainland, their total time spent on quarantine is now reduced by half," said Sze, who focuses on the rights of mainland-Hong Kong families.
"But it is still not easy to go back to the mainland … People in general are still subject to [at least] 14 days of quarantine."
June Wang, 31, from Guangzhou, is studying for her PhD at a university in Hong Kong. She has been stuck in Guangzhou for several months because of quarantine measures. She found the requirements for isolation on either side too cumbersome.
Wang previously served home quarantine for half a month when she came into Hong Kong and for 21 days when she returned to the mainland.
The latest policy change coincided with her need to enter Hong Kong again and finish proposal work for her PhD.
"I feel very relaxed and happy. I think the epidemic control in Hong Kong is good. Although I still have to be quarantined when I return to the mainland, it's terrible to spend more than a month in quarantine on both sides, if not for this policy change," she said.
Another Guangzhou resident, Bob Chen, 30, was not as lucky. He will be leaving for Hong Kong on Friday to start his year-long assignment and had already booked a quarantine hotel in the city for seven days, costing HK$4,500 (US$578). The "Come2HK" scheme, which would have saved him the money, will only kick in next week during his quarantine.
"I feel heartbroken about my loss," Chen said. "Of course, this change in policy is still a good thing and takes the burden off people like us."
The Food and Health Bureau announced the government would replace deep-throat saliva specimens with combined nasal and throat swabs as the compulsory testing method from Wednesday as they were deemed more reliable. Samples can be taken at any of the 18 community testing centres or at recognised medical groups.
Separately, 800 places at the Penny's Bay government quarantine facility will officially be made available for returning domestic helpers from September 20, for less than HK$500 a night. Registration will start a week in advance.
Under recently revamped anti-pandemic measures, Hong Kong began allowing fully vaccinated helpers from the Philippines and Indonesia to return to the city from August 30, but they must hold a recognised inoculation certificate and quarantine for three weeks.
The 409-room Silka Tsuen Wan hotel, at a cost of HK$800 a night, was originally the only designated facility for the domestic workers, but was fully booked within a day of authorities announcing the new policy.
Officials were also hoping to further boost vaccination rates by allowing five more specific groups for Covid-19 jabs at community inoculation centres without the need to book.
Starting from Thursday, staff of care homes, medical organisations, schools, as well as people working on school buses, in the catering businesses and on construction sites can collect a same-day ticket at vaccination centres by presenting their Hong Kong identity cards and declaring their target groups.
The arrangement was first launched in late July for people aged 70 and older. It was later extended to those aged 60 and above, and students who were at least 12 years old.
A total of 4,100 same-day tickets will be available for distribution at 21 of the 29 vaccination centres.
So far 4.26 million people in the city, or 56.8 per cent of the population, have received at least one vaccine dose. But there has been a decreasing trend in the daily number of people receiving the first jab, dropping to around 15,400 on Monday from roughly 30,000 in mid August.
On Monday, Chinese University announced that all staff and students would be required to be vaccinated. Those unable to be jabbed for medical reasons would be required to undergo virus testing every two weeks.
The University of Science and Technology, Baptist University, and Polytechnic University have previously brought in similar requirements for their staff and students.
Additional reporting by Kathleen Magramo and Guo Rui
This article appeared in the South China Morning Post print edition as: 'Return2HK' scheme resumes today