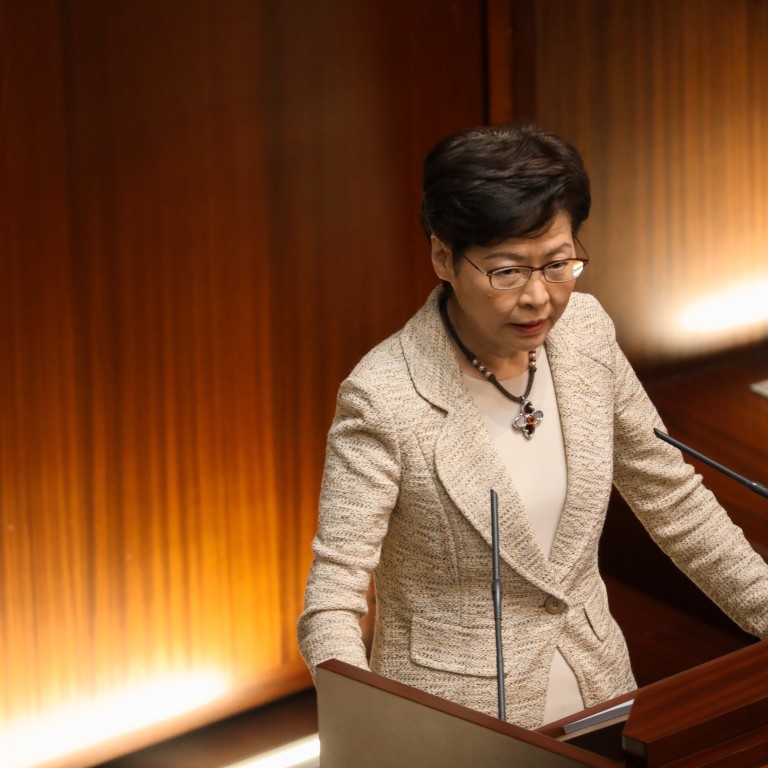 Travel plans: Hong Kong leader in push for talks between local, mainland medical experts with goal of easing Covid-19 curbs
Carrie Lam tells lawmakers she has been actively lobbying central government to reopen border
Mainland side has been cautious about any opening up, concerned about Hong Kong's border-control measures and continued reporting of imported cases
Hong Kong's leader has asked Beijing to establish a dialogue between medical experts from the city and mainland China with the goal of gradually relaxing travel
restrictions
to allow the resumption of cross-border activity that will be crucial to economic recovery.
Chief Executive
Carrie Lam
Cheng Yuet-ngor told lawmakers on Wednesday that she had been actively lobbying the central government to reopen the border, given the city's recent progress in putting a lid on
coronavirus
infections.
The mainland side has been cautious so far about any opening up, concerned in particular about Hong Kong's border-control measures and continued reporting of imported cases. The inability to track Hongkongers' movements on the other side also remains a major obstacle, as the city's health code is not linked to the mainland's because of privacy concerns.
"Now, the epidemic is well under control. We have achieved zero local cases for more than 21 days in a row," Lam said at a question and answer session in the Legislative Council.
"We also have very strict measures to guard the city against imported cases. The measures are so strict that some business chambers have opposed them."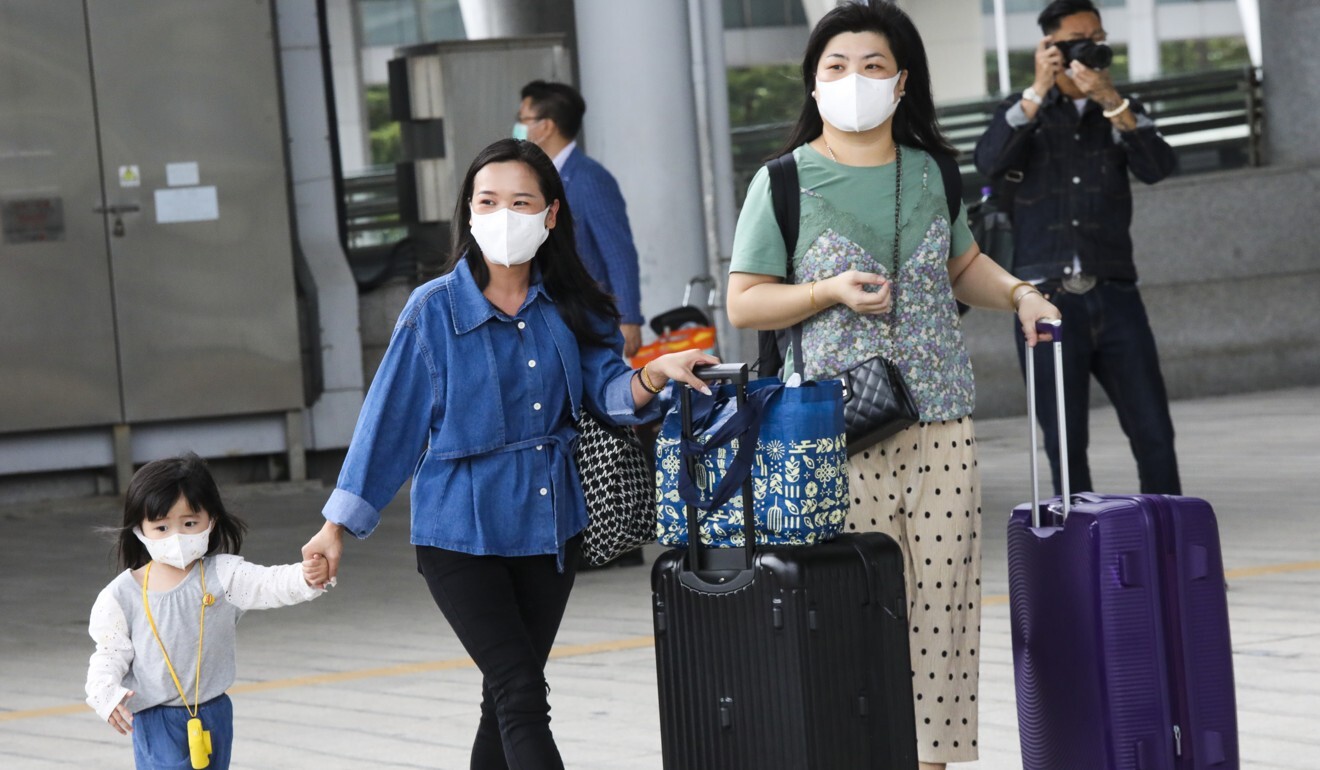 Hong Kong confirmed two new Covid-19 cases on Wednesday, involving arrivals from South Korea and Serbia. Both patients, who had been vaccinated, carried the L452R mutation, linked to several variants, including the highly infectious Delta type.
The city's infection tally stood at 12,131 cases, with 212 related deaths.
Fewer than five preliminary-positive cases were reported. One patient, who arrived from overseas but had been living in Hong Kong within the past three weeks, carried the L452R mutation, sparking compulsory testing notices. Anyone who had been at Amber Garden on Blue Pool Road in Happy Valley and Artis Jewellery in Wan Chai between August 17 and Wednesday for more than two hours and one hour, respectively, must get screened.
A mandatory testing notice was also issued to those present at Yan Oi Tong Mrs Augusta Cheung Kindergarten Cum Nursery in Tai Po for more than two hours from August 26 to Wednesday due to an outbreak of upper respiratory tract infection there.
Pro-establishment lawmaker Starry Lee Wai-king asked Lam to explain why authorities were still reluctant to allow residents to travel to the mainland without lengthy quarantine requirements.
Only the day before, Lam had unveiled plans to let visitors from the mainland travel to Hong Kong without a mandatory isolation period beginning next week.
"What are we lacking? Is it because our vaccination rate is not high enough, or because our coronavirus tracking mechanism is not sufficiently sound? What are Beijing or Guangdong authorities' worries?" Lee asked.
Lam said she believed cross-border professional exchanges were needed to find out what else Hong Kong needed to do.
"I cannot speak for the central government on what areas Hong Kong needs to strengthen so we can achieve a gradual and orderly border reopening," she said.
"But I have proposed to the central government that we need exchanges between the experts, so that this gradual and orderly reopening can take place."
Lam added that despite complaints from foreign consuls, strict quarantine measures for overseas travellers were needed, especially when the pandemic was still raging around the world.
Asked by Chan Kin-por, who represents the insurance sector in Legco, if Hong Kong had considered adopting a strategy of coexisting with Covid-19 to resume international travel and maintain the city's status as a financial hub, Lam replied: "Hong Kong cannot and should not adopt an epidemic prevention strategy of 'coexisting with the virus' … otherwise there is no hope of [quarantine-free] cross-border travel with the mainland."
A government spokesman did not give details when asked later who might be involved in the dialogue and when it would begin.
"We will maintain liaison with the mainland and Macau to actively explore the resumption of normal cross-boundary activities amongst the three places in a gradual and orderly manner, on the premise that the epidemic situation in the three places is under control and without posing additional public health risks," the spokesman said.
Speaking to reporters after the question and answer session, business sector lawmaker Jeffrey Lam Kin-fung urged the government to set up a health code system that was mutually recognised by the mainland and Macau to help speed up the possibility of resuming cross-border travel.
He also welcomed the resumption of the "Return2HK scheme" for Hongkongers travelling from the mainland or Macau who had passed a Covid-19 test within three days of entry.
The programme restarted on Wednesday with a daily quota of 6,000 people, after it was suspended last month for Macau and provinces other than neighbouring Guangdong in a move to prevent a resurgence of infections spreading to the city.
Meanwhile, the long-awaited "Come2HK" scheme, which enables people who live and work on the mainland and Macau to travel to Hong Kong without undergoing quarantine, will start next Wednesday. But the programme will initially only apply to Guangdong and Macau, with the quota capped at 2,000 people per day.
Kenny Tam Wai-kit, 45, who runs a start-up in Guangzhou, used to cross the border two to three times a month for work. But he has not travelled to Hong Kong for nearly two years because of pandemic travel restrictions.
Although quarantine exemptions only applied in Hong Kong, Tam said the two schemes were "still valuable".
"During this difficult period, the schemes can still help business travellers save 14 days when they go to Hong Kong," he said.
Tam said he understood why the mainland was cautious about reopening its borders but hoped travel restrictions would be eased soon.
"There are different conditions [for reopening] because the mainland is very big and there are many people. In comparison, Hong Kong is much smaller," he said. "The mainland is very concerned about the contact-tracing aspect to prevent a major outbreak."
Tam said that when quarantine-free travel between Hong Kong, the mainland and Macau resumed, it would be best to start with a quota system and require travellers to be fully vaccinated.
Additional reporting by Elizabeth Cheung
This article appeared in the South China Morning Post print edition as: experts should discuss border reopening: lam