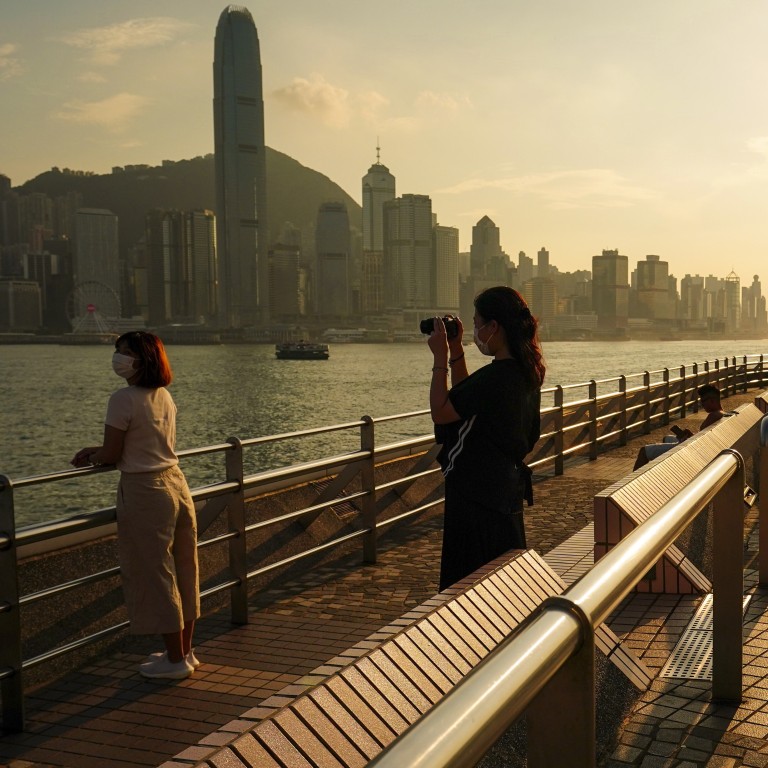 Slim chance of typhoon warning for Hong Kong as double storm moves away
Observatory had previously believed two storms brewing in the Pacific could merge into a 'double typhoon'
But after Tropical Cyclone Conson changed course that possibility became unlikely
This story has been made freely available as a public service to our readers. Please consider supporting SCMP's journalism by subscribing.
The Hong Kong Observatory said the chances of the city seeing a typhoon warning signal on Thursday were slim, a marked reversal from previous assessments that a brewing double storm system was expected to affect the entire region.
Originally forecast to blow by some 500km south-southwest of the city, Tropical Cyclone Conson is now predicted to pass even farther away than previously thought, reducing its impact on Hong Kong.
"Generally, when a typhoon of this size moves farther away, we know the chances of it affecting local winds will be lower," said the Observatory's acting senior scientific officer, Hon Kai-kwong. "This was not a snap decision. We have been closely monitoring the storm's movements for quite a time already."
Forecasters had also originally warned a second storm, Tropical Cyclone Chanthu, which is over the northwestern pacific, would interact with Conson, creating a "double typhoon" affecting the wider southern China region. Hon said the chances of that happening now were low.
"Chanthu will move towards Taiwan and the Luzon Strait, but Hong Kong will still feel some indirect effects," Hon said.
The outer subsiding air around the tropical cyclone would bring very hot weather to the city, resulting in sudden, squally showers over the coming weekend, Hon said, urging the public to stay alert.
He also warned that the winds from Tropical Cyclone Conson would lead to large ocean swells along the city's coastline, so residents should avoid any activities by the shore.
The Observatory has issued eight tropical cyclone warnings so far this year, the highest being No 3 signals posted for Typhoon Cempaka in July and tropical storm Lupit in August.
In June 2018, the Observatory warned of unstable conditions in the region as two tropical storms built up around the city.
Later that year, the city was battered by
Typhoon Mangkhut
in September. The typhoon was later declared Hong Kong's most intense storm, causing HK$3.1 billion in damage.
This article appeared in the South China Morning Post print edition as: Chances of double storm system slim with Conson giving city wider berth