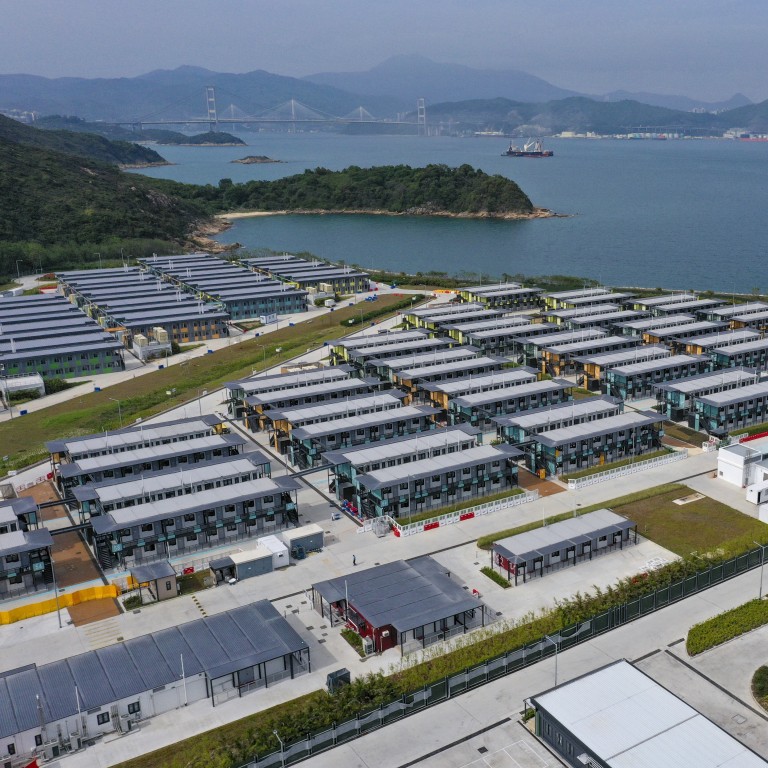 Coronavirus Hong Kong: 800 quarantine rooms for domestic helpers gone within minutes of becoming available
The snapping up of spots at Penny's Bay facility easily outpaces the 24 hours it took to book the 409-room Silka Tsuen Wan hotel
'If you spent even just two minutes longer to double-check passport details … you would've been too late to book a slot,' employment agency figure says
A Hong Kong
quarantine
facility offering 800 places for the swelling number of
foreign domestic workers
headed back to the city was fully booked within minutes of its online reservation system opening on Tuesday morning.
Users were allowed to start waiting 45 minutes before the bookings opened for the spots dedicated to inbound workers – mainly arrivals from the Philippines and Indonesia – at the government's Penny's Bay quarantine facility.
Hong Kong confirmed two new
Covid-19
infections involving airline passengers from the Philippines and Qatar on Tuesday, pushing the city's tally of cases to 12,148, with 213 related deaths. Fewer than five preliminary-positive cases were also reported.
Separately, the city's "Come2HK" scheme, a quarantine-free travel arrangement for non-Hong Kong residents arriving from Guangdong and Macau, is slated to start on Wednesday. The scheme's designated online booking system, offering 2,000 slots a day, will open every Wednesday for the next 2½ weeks, with reservations offered on a first come, first served basis.
Also from Wednesday, arrivals to the city holding Covid-19 vaccination records issued outside Hong Kong will be able to receive a QR code showing proof of inoculation for local use, such as when entering certain bars and restaurants. Inbound air travellers will be issued the QR code along with their compulsory quarantine order, with the arrangement set to be extended to land arrivals from September 28.
New arrivals who are already in Hong Kong can apply for the codes online or at designated post offices. The QR codes, which allow users to present their vaccination record in an electronic format, can be stored on the government's "Leave Home Safe" app.
Meanwhile, authorities on Tuesday announced that most of the city's current
social-distancing
rules will be extended by another two weeks, until September 29. The only rule to be relaxed going forward is one concerning group classes in gyms.
Under the revised rule, participants in groups of no more than four will no longer need to stay at least 1.5 metres apart, as long as all staff are vaccinated and everyone is masked. Trainers, however, will need to remain in a fixed location at least 1.5 metres from anyone else.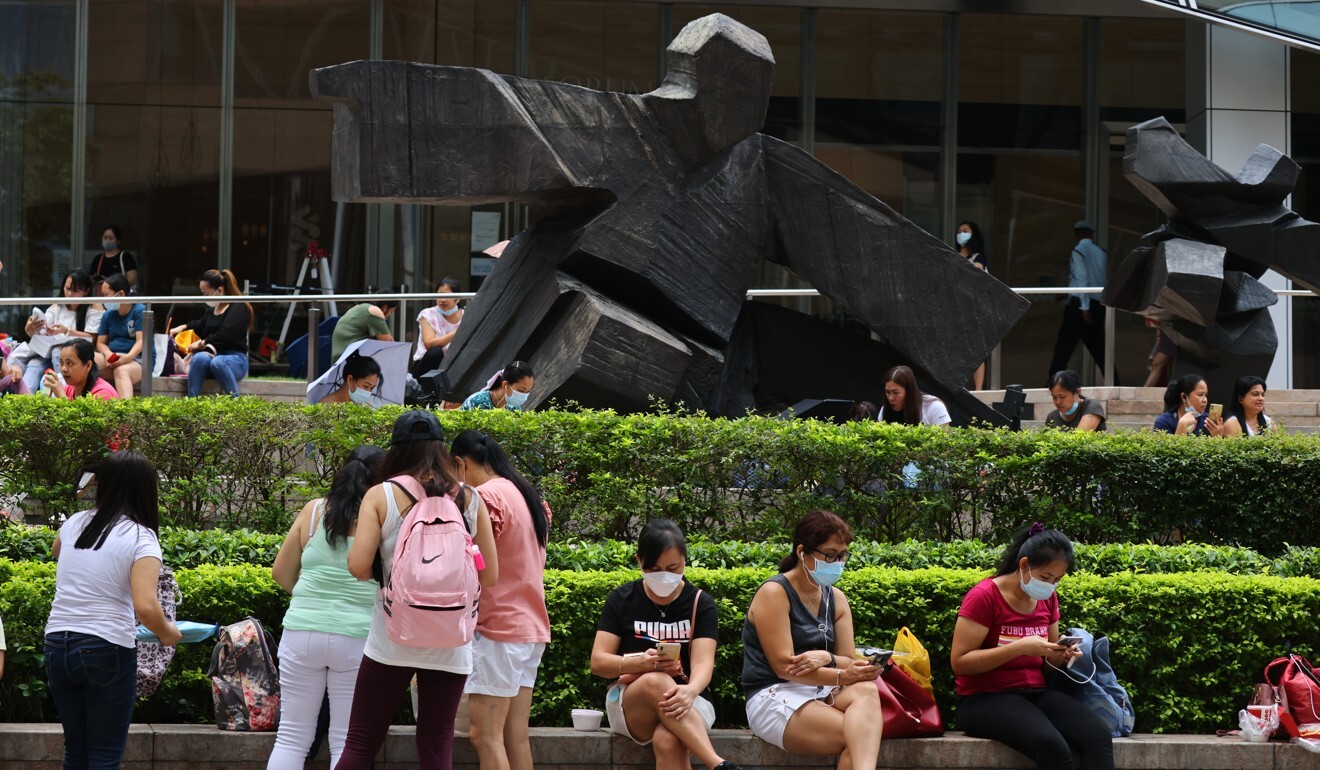 The rush on the Penny's Bay booking system, which was offering reservations beginning on September 20, began at 9am, with online queues forming even earlier. By 9.30am, a Post reporter was unable to access the system at all.
"The centre only accepts bookings until October 19 and was fully booked within five minutes," said Cheung Kit-man, chairman of Hong Kong Employment Agencies Association. He estimated that about 300 employers were unable to book a slot and would have to try again when more became available.
For those unable to secure accommodation in the latest round, bookings will open on September 17 at 9am for reservations starting on October 20, according to a government update.
New reservation opportunities would then launch daily, the statement said, adding: "For example, rooms for October 21 would be available for booking on September 18."
Thomas Chan Tung-fung, chairman of the Hong Kong Union of Employment Agencies, said one family of six queued online before the system opened and snapped up a room for their domestic helper within minutes.
"It's first come, first served. The faster you move, the higher your chances of securing a room," Chan said. "If you spent even just two minutes longer to double-check the passport details of the domestic helper, you would've been too late to book a slot."
The speed at which bookings filled up has frustrated some families in urgent need of help. A first-time mother, who gave her name as Mrs Li, was reduced to tears after failing to book a quarantine room on Tuesday.
Li had hired a helper from the Philippines in January this year to care for her newborn son, but ran into delays with flight suspensions and vaccine documentation.
The secondary school teacher said the system returned an error message after her application was submitted, compounding her frustration.
"I was in tears when I realised the application couldn't go through quickly enough," she said, adding the stress of the whole process had worsened her postpartum depression.
Li said neither she nor her husband could afford to take more time off work. She was willing to pay more for a helper, "but there are simply no more domestic helpers left in Hong Kong that I could find to hire".
Foreign domestic workers in Hong Kong are paid a minimum wage of HK$4,630 (US$595) per month.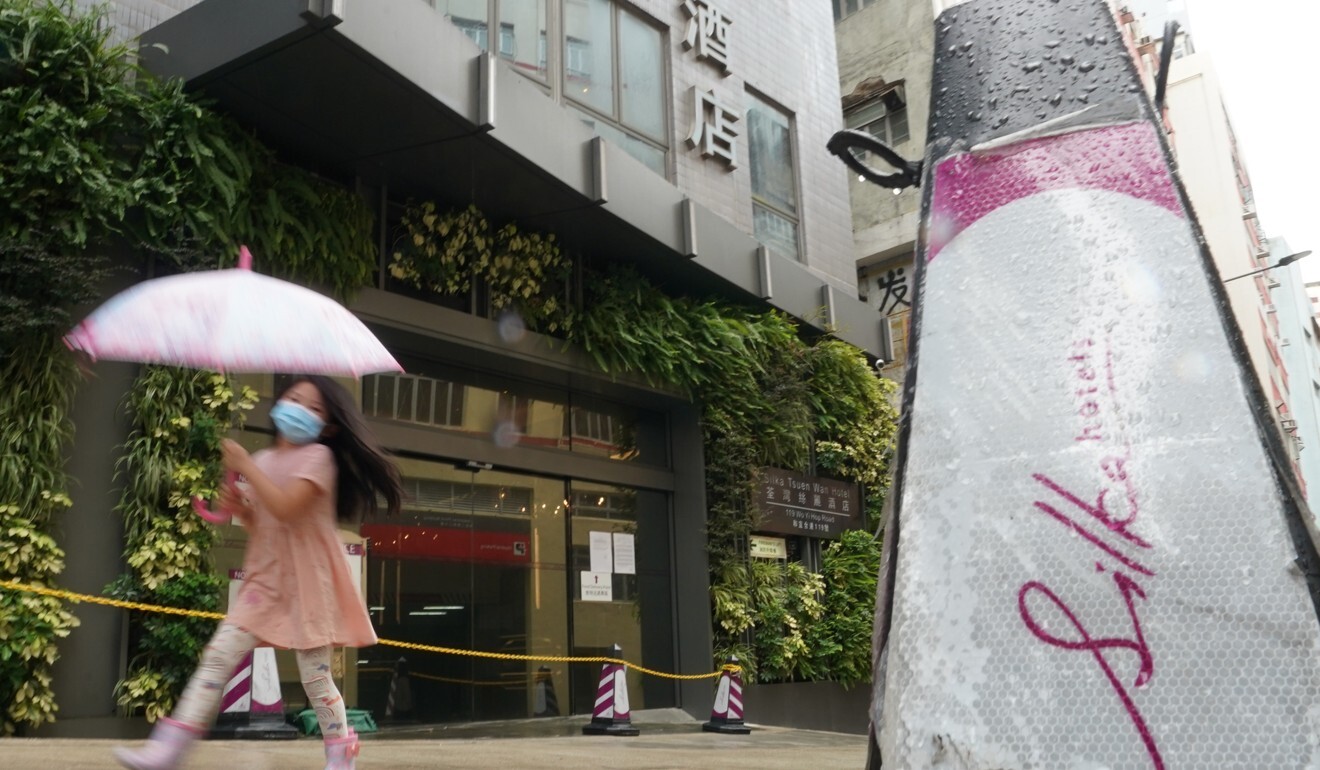 Secretary for Labour and Welfare Law Chi-kwong on Saturday said about 50 quarantine rooms at the facility would be released on a daily basis, estimating that all slots would be filled within 16 days.
Even after a reservation has been successfully submitted online, the application does not necessarily guarantee the room, according to a notice on the system.
The Labour Department must then process the applications to verify the travel documents and vaccination record of the helper.
The entire process can take up to three to four days, with a phone call from the department to confirm the reservation. A 21-day quarantine stay at the government-run facility, including three meals per day, costs HK$10,080 (US$1,295).
But as the facility does not have Wi-fi, helpers have been told to bring their own mobile phone and charger, along with a functioning SIM card, so they can communicate with health authorities.
The government announced on Friday that the Lantau Island facility would begin operating as quarantine accommodation for fully
vaccinated
foreign domestic workers following complaints that the more expensive 409-room Silka Tsuen Wan hotel had been fully booked.
Bookings at the Silka, which charges HK$800 per night, were all snapped up within 24 hours of its reservation system opening. Before Tuesday, it was the sole quarantine option for incoming workers after the government's decision to begin recognising vaccination records from the Philippines and Indonesia.
Previous
coronavirus
travel bans on those destinations – the two countries that supply most of the city's foreign domestic workers – led to a labour shortage in the sector and complaints from employment agencies and would-be employers alike.
Chief Executive Carrie Lam Cheng Yuet-ngor said in late August that the special arrangement letting in workers from the two high-risk destinations had to be "rationed and controlled".
Chan said it was not ideal that foreign domestic worker agencies and would-be employers had to vie for the limited spaces allocated.
He suggested the government could have given priority to households who needed domestic workers the most, especially for families who required someone to care for people with disabilities, the elderly or newborns.
Additional reporting by Elizabeth Cheung
This article appeared in the South China Morning Post print edition as: New isolation rooms for helpers booked in minutes