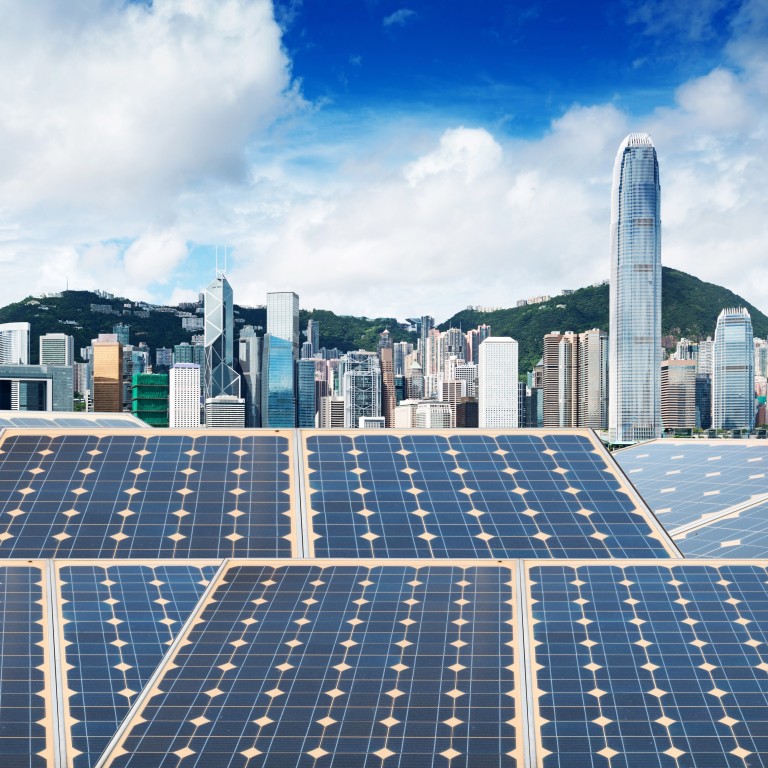 Hong Kong to phase out coal as a power generation source by 2035, Carrie Lam pledges in policy address
Carrie Lam sets fresh target of ending Hong Kong's use of coal for electricity generation within 14 years
Local green groups say the city must go even further across a range of areas to deliver on its flagship pledge on carbon neutrality by 2050
Hong Kong will strive to phase out coal as a power generation source by 2035 while increasing its renewable energy share to 10 per cent, the city's leader has pledged as part of the city's push towards carbon neutrality.
Chief Executive Carrie Lam Cheng Yuet-ngor gave greater emphasis to climate initiatives in Wednesday's
policy address
than in her previous speeches, laying out clearer goals for putting the city's fuel mix on a greener footing.
"Our interim target is to cease using coal for daily electricity generation by 2035," Lam said, with coal currently accounting for about a quarter of Hong Kong's energy mix.
Her pledge to end reliance on coal came on the heels of Beijing's promise at the UN last month to stop building new plants abroad that were powered by fossil fuels.
But local green groups said Lam's latest steps did not go far enough and urged the government to commit to a wider programme of concrete and swift action if officials wanted Hong Kong to reach the target of being carbon neutral by 2050.
Secretary for the Environment Wong Kam-sing is expected on Friday to unveil the city's long-delayed Climate Action Plan 2050, and Lam said she would lay out "more vigorous interim decarbonisation targets" in an effort to halve emissions by 2035.
The plan would also include pilot plans for electric taxis and hydrogen buses in addition to making Hong Kong's energy sector more environmentally friendly.
"As carbon dioxide is the major culprit in
climate change
, our country and many parts of the world have pledged to draw up timetables and roadmaps for decarbonisation," Lam said. "Hong Kong is no exception."
Lam also told lawmakers on Wednesday that the government would be tackling
climate change
across three major areas – energy, transport and waste.
Measures include saving energy and designing greener buildings, as well as less polluting forms of transport and better waste management. Those sectors together emit 90 per cent of the city's greenhouse gases.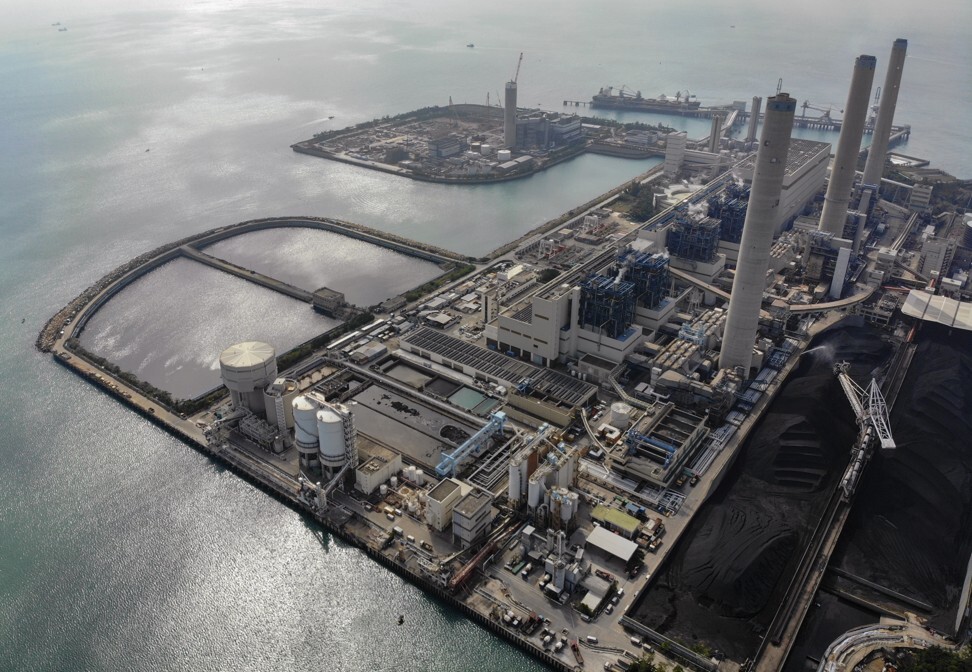 Under Lam's strategy, emissions from commercial buildings via energy consumption would fall by up to 40 per cent from 2015 levels by 2050, while electricity use in residential properties would be reduced by up to 30 per cent.
Lam said the government aimed to reach half of the targets by 2035. A government source said regulations would be introduced to push developers to switch to more efficient appliances, while energy audits would become more frequent.
Hong Kong's two power companies had already reduced the proportion of coal in the fuel mix from 50 per cent in 2015 to 25 per cent this year, and would carry on phasing it out in the years to come, Lam said. Coal would be replaced by less carbon-intensive forms of energy – natural gas, renewables and nuclear.
While the government previously said that Hong Kong's limited space and resources would cap its renewable energy generation at just 4 per cent, the latest policy blueprint increased that figure to between 7.5 per cent and 10 per cent by 2035, and to 15 per cent after that.
However, a government source said it was too early to predict the proportion of each power source in the fuel mix after 2035 as technology – such as wind, solar and hydrogen – would continuously develop.
But Jeffrey Hung Oi-shing, chief executive of Friends of the Earth HK, a green NGO, said Hong Kong could easily increase the proportion of renewable energy in its fuel mix to between 30 and 50 per cent, particularly if it collaborated with other countries and cities.
"Of course it's hard to immediately hit 100 per cent, that's the same for the whole world," Hung said. "But we have untapped potential in offshore wind farms, solar panels on more buildings and regional collaboration. Shouldn't we be aiming higher?"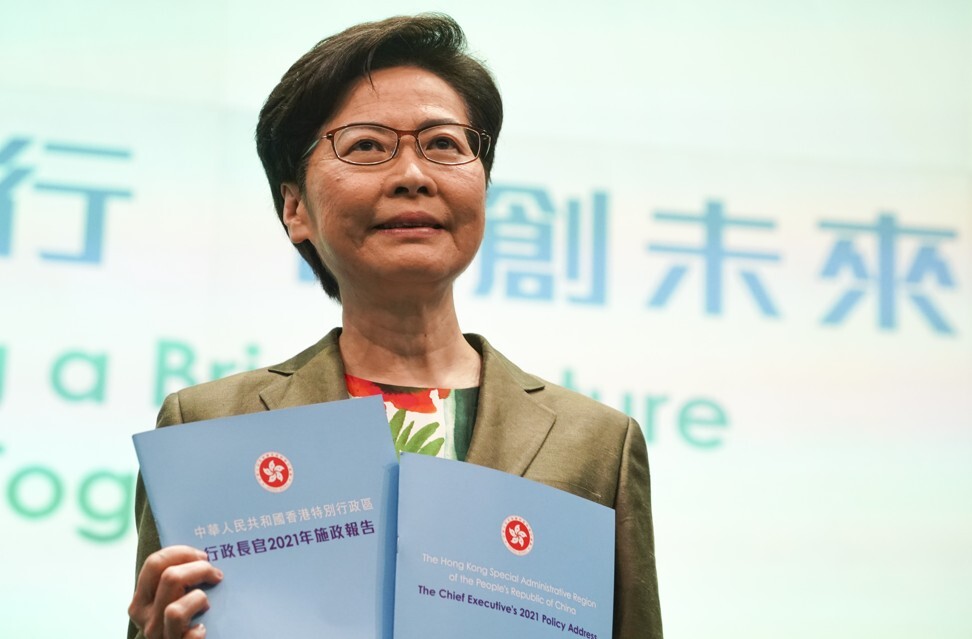 The Green Earth's founder and executive director Edwin Lau Che-feng called the government's renewable energy targets "basic", noting that its definition included energy developed by incinerators and food waste processing.
"The government must also avoid increasing the proportion of nuclear energy. It is not a solution to the problem, it is using one problem to solve another problem," he warned.
Lau added that nuclear power plants posed inherent risks to the city, particularly as they were potentially vulnerable to extreme weather brought about by climate change.
Meanwhile, Lam said a new climate change office would be set up under the Environment Bureau to lead the overall planning of measures to tackle the climate crisis, while HK$240 billion would be set aside for adaptation and mitigation measures.
The money would go towards waste-to-energy facilities, green transportation, public works to protect the city's coastlines from rising sea levels, flood prevention and slope protection, as well as more research on the effects of extreme weather on infrastructure, a government source said.
Hung welcomed the new climate office, but said he hoped it would bring about more cross-departmental cooperation as tackling climate change must involve a range of different bureaus, including those covering transport, water and development.
Lam also revealed the government would start developing plans to move towards public transport powered by new forms of energy such as hydrogen in 2025, but Hung said the pace of delivery was too slow.
"Transport and energy are the two most carbon-intensive sectors, but the government does not appear to be tackling them head on," Hung said. "I hope the climate change plan can lay out more concrete action rather than just stating more dates and targets."