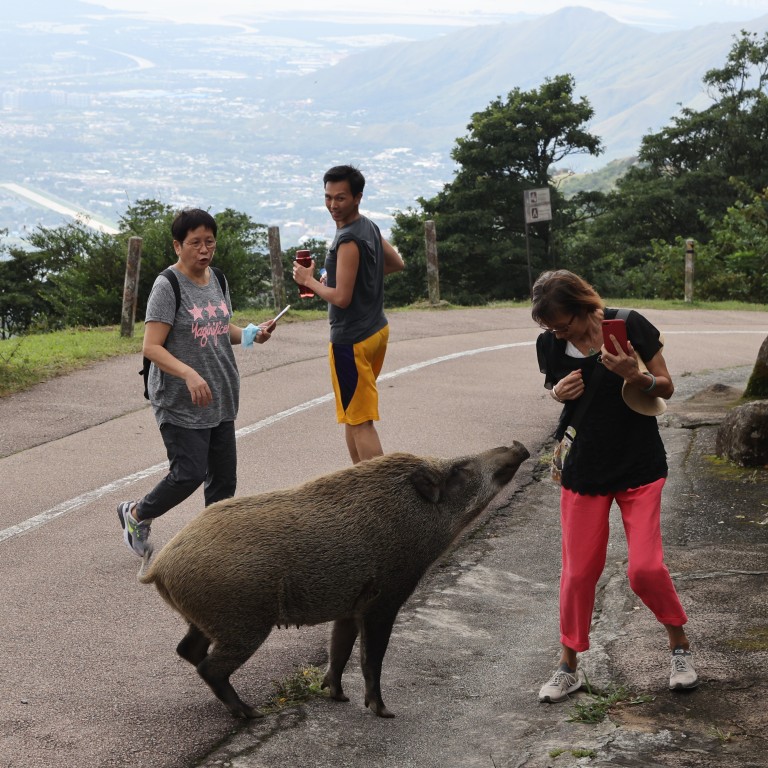 Those who feed wild boars could face harsher penalties, Hong Kong leader warns
Carrie Lam defends culling boars entering urban areas following criticism of policy shift from animal rights groups
Wildlife authorities announced last week they would capture, euthanise boars found in built-up parts of the city, just days after wild pig attacked police officer
Tougher penalties could be imposed on people who feed
wild boars
, Hong Kong's leader has said, as she defended a new policy of culling the animals when they entered urban areas.
Chief Executive Carrie Lam Cheng Yuet-ngor said wildlife authorities could not ignore the increased risk to Hongkongers from wild pigs venturing into populated parts of the city in greater numbers, with about 30 cases of boar attacks reported over the past few years.
"As a responsible government, we need to take action," Lam told her weekly press briefing on Tuesday.
"Public safety comes first. I understand that many in Hong Kong love wild animals, nature, wetlands and ponds. But ultimately, our society has to ensure the safety of residents."
Lam noted some people would even feed the boars on a regular basis, a habit causing them to flock to built-up areas.
She stressed the government discouraged such acts and warned: "We will not refrain from considering raising the penalties so people will not feed these wild animals."
The Agriculture, Fisheries and Conservation Department revealed on Friday it would start regularly capturing and euthanising wild boars found in urban areas, sparking concern among animal rights groups.
Over the weekend, several such groups petitioned officials to drop the culling plan, arguing the innocent boars would suffer for simply responding naturally to changes in their habitat. Among those campaigning for a policy reversal were the Hong Kong Wild Boar Concern Group and the Hong Kong Animal Post.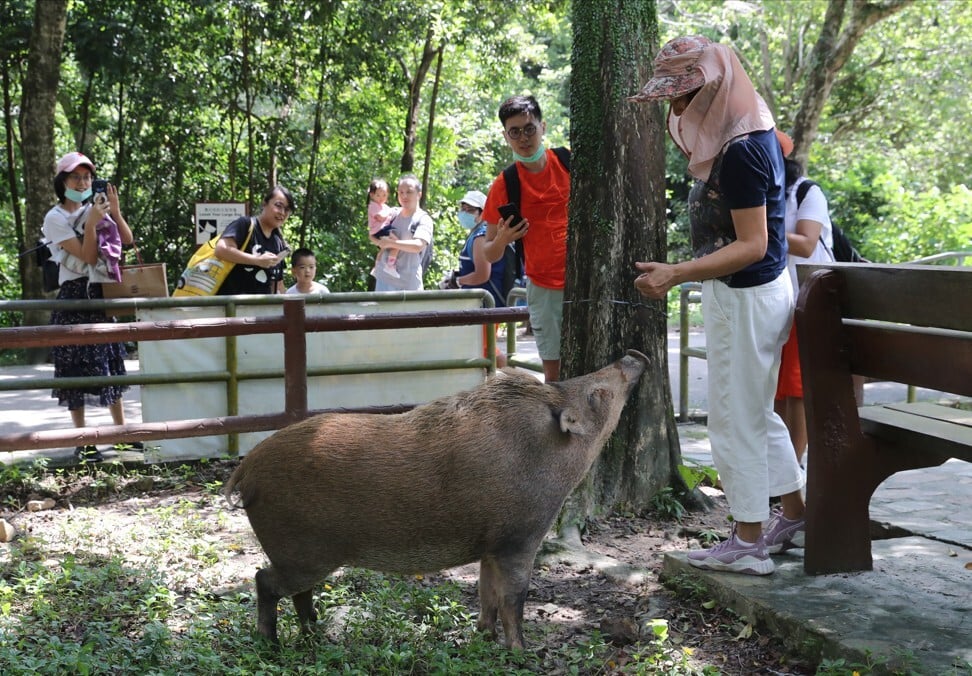 But authorities said the tougher approach – as opposed to the previous strategy of neutering and relocation – was a necessary response to the surge in the numbers of boars entering populated areas. Hong Kong has about 3,000 wild boars, according to official figures, and they are not a protected species.
The policy change was first mentioned in a Legislative Council paper in June. It was formally announced last week, two days after a wild boar floored a part-time police officer and bit him on the leg in Tin Hau on Wednesday. The creature subsequently fell off the edge of a car park, plunging about 10 metres to its death.
"Many have seen short clips online recently and are highly concerned and worried that these boars were roaming about on the roads, or entering housing estates to injure residents, especially children," Lam said.
There were 562 boar sightings and nuisance reports in the first half of this year, up from 401 in the same period of 2020.
City wildlife authorities captured 286 boars last year, compared with 279 in 2019 and 197 in 2018.
Feeding wild animals is currently prohibited in several country park areas, including Lion Rock between Sha Tin and Kowloon Tong and Shing Mun Country Park in Tsuen Wan.
But none of the bans cover the urban areas of Hong Kong Island where boars have been spotted and the policeman was attacked. Those who flout the ban face a maximum fine of HK$10,000.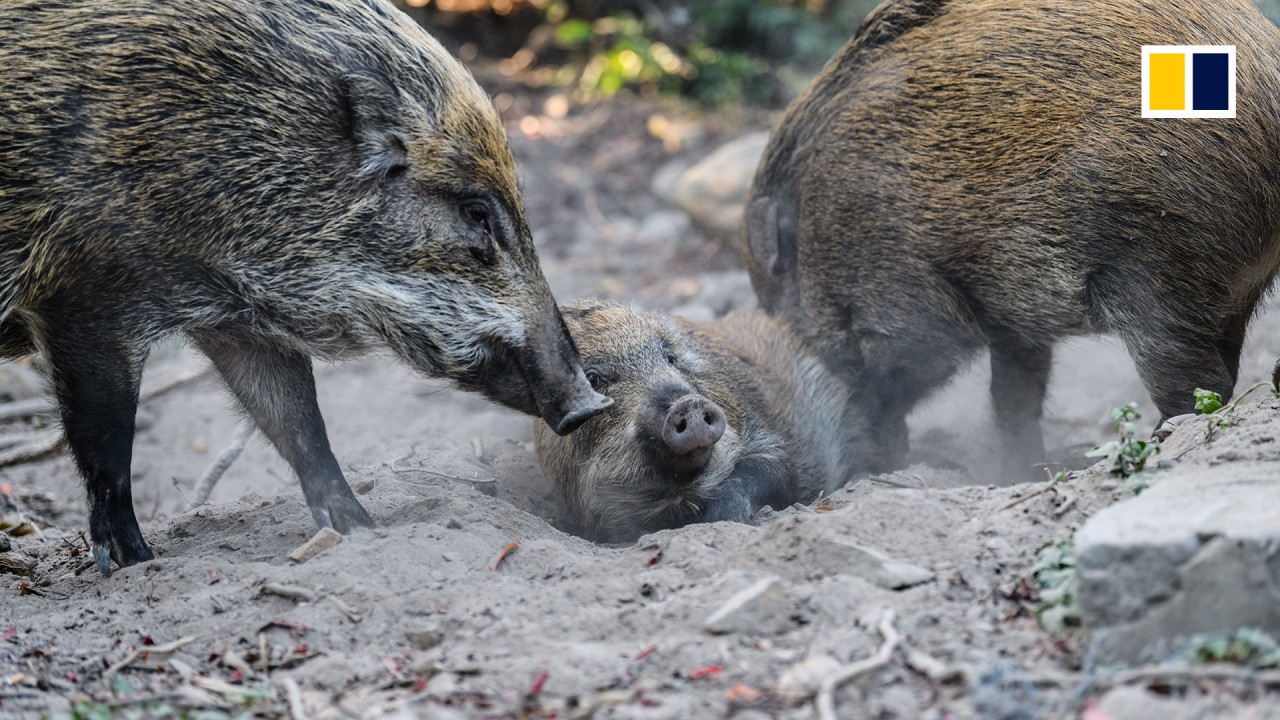 01:17
Hong Kong wrestling with wild boar dilemma in the Year of the Pig
Hong Kong wrestling with wild boar dilemma in the Year of the Pig
Committee member Roni Wong Ho-yin, of the boar concern group, said increasing penalties might work, but urged Lam to "stop demonising the boars".
He said there was important context behind the boar attack data which Lam failed to acknowledge – in that some of the animals reacted to being cornered in such a way that people might have misinterpreted their response. He also suggested people were getting too close to injured boars.
In the longer run, he added, the government should invest more in educating the public about not feeding the animals, while expanding its current team to deliver the neutering and relocation strategies.
Over the weekend, the concern group joined Hong Kong Animal Post, which said the mammals only attacked when they were frightened, to recommend the government improve the design of rubbish bins in country parks and urban areas, so that wild boars did not enter in search of food.
This article appeared in the South China Morning Post print edition as: Warning of rise in fines for feeding wild boars