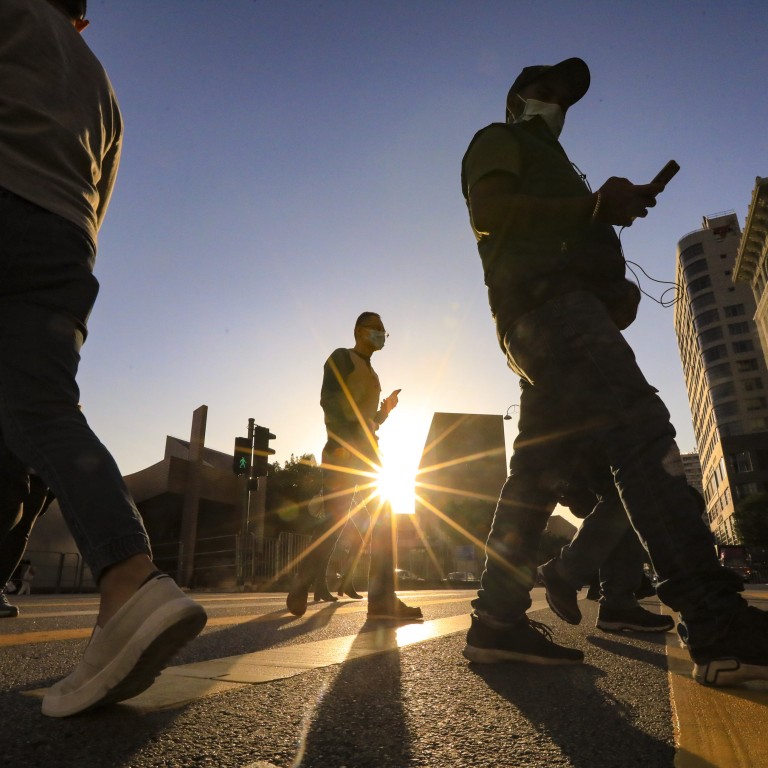 Hong Kong not living up to its climate commitments under Paris Agreement, new report says
The city's targets for reducing emissions fall short of what is needed to ensure global temperatures rise no more than 1.5 degrees Celsius, according to an NGO
'This is a really serious index, which raises questions over whether we can really pull ourselves back from the brink,' researcher says
Hong Kong's current climate plan falls short of meeting its commitments under the 2015 Paris Agreement, according to a new NGO report, which also called on the city to ensure a fair transition to a low-carbon economy for the underprivileged.
The "Paris Watch: Hong Kong Climate Action Report", released by the NGO CarbonCare InnoLab on Thursday, gave the city's performance on environmental issues over the past year a grade of "C minus".
Despite the government publishing several plans this year detailing how Hong Kong could achieve its goal of becoming carbon neutral by 2050, the group noted it had failed to address the more pressing 10-year window for ensuring global temperatures did not rise more than 1.5 degrees Celsius, as prescribed by United Nations scientists.
"If we don't start aggressively making carbon cuts, we will reach 1.5 degrees really soon," researcher Kevin Li Yuk-shing said. "This is a really serious index, which raises questions over whether we can really pull ourselves back from the brink."
The Environment Bureau released its long-awaited climate action plan for 2050 this October, pledging to increase the share of renewable energy used for power generation to 10 per cent in the future, and to continue phasing out highly polluting coal.
CarbonCare InnoLab, like other green groups, welcomed the promises, but warned that poor planning and a lack of clear interim targets would frustrate residents and lead to the city failing to live up to its action plan.
Hong Kong is signatory to the Paris Agreement, under which it must commit to keeping global temperature increases to within 1.5 degrees, but its current interim target of a 50 per cent reduction in emissions by 2035 from 2005 levels was not enough, according to CarbonCare InnoLab.
Calculations by both the NGO and UN scientists have found a 60 per cent reduction by 2030 is necessary to meet the goal.
Hong Kong in 2020 generated 4.6 tonnes of planet-warming carbon dioxide equivalents per person, a 15 per cent decrease from 2019.
The city's current target puts it behind the likes of Tokyo and Seoul – which have pledged emissions reductions of 50 per cent and 60 per cent by 2030, respectively – but ahead of Singapore, which has yet to set any targets, Li said. Hong Kong's goal for 2030 is a reduction of between 26 and 36 per cent.
While Li said he hoped the government would be more ambitious in its renewable energy targets and make green buildings mandatory rather than just incentivising them, he also urged it to ensure the city's underprivileged were not left behind in the push to go green.
Ringo Mak Wing-hoi, co-founder of the
climate change
concern group 350 Hong Kong, said the government should be making the health of all of the city's residents the highest priority in its plans, with no exceptions.
Thursday's report noted the city's elderly and poor would be disproportionately affected by rising temperatures, while those living in cramped subdivided housing have also reported suffering from the warmer climate of recent years.
Mak also urged the government to ensure direct financial aid would go to the city's poor.
"We can't just have those bankers and people on Wall Street profiting off green finance when the poor don't even have the money to start investing," Mak said, referring to the recent rise in stocks linked to environmentally friendly projects.
"Of course we support the development of these financial options, but we need to ensure a portion of the earnings can go directly to those who will be the worst hit by
climate change
."